Our Graduate Success Stories
New Orleans Testimonials
What I like most about Herzing University was that the admissions and registration process went really smooth and the financial advisors were really helpful to me.
New Orleans - Continuing Education - Notary Preparation
Are you interested in becoming a notary Public?
Supplement your studies with our notary course.
Class Schedule
Classes are every Saturday from 9:00 a.m. – 3:00 p.m. for 10 weeks. The next class begins soon. Call your campus for upcoming dates.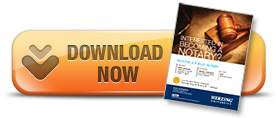 Payment Details
The cost is $600 plus the cost of books.
Payment for class must be paid in full by first class.
Full refunds will only be made within 3 days from date of payment. If you do not attend your reserved class, your payment is forfeited.
Payment can be made online at secure.herzing.edu/students/pay-online.
Select Payment Type (Other) and type in Notary class.
Contact Information
Classes will be held at
Herzing University
2500 Williams Blvd
Kenner, LA 70062
Contact: Kervin Doyle (kdoyle@nor.herzing.edu)
Business Telephone: 504.733.0074
Business Fax: 504.733.0020