Find your second career in a growing field
Interested in a career change that's expected to be high in demand while also offering a wide selection of job industries?
Then you might want to consider a career in software development/engineering.
Software developers often work with a team of other technology experts to achieve business goals. Software development also entails a more analytical, logically driven skill set while also giving room for creativity in the way you are able to implement systems and computer programs into existing networks.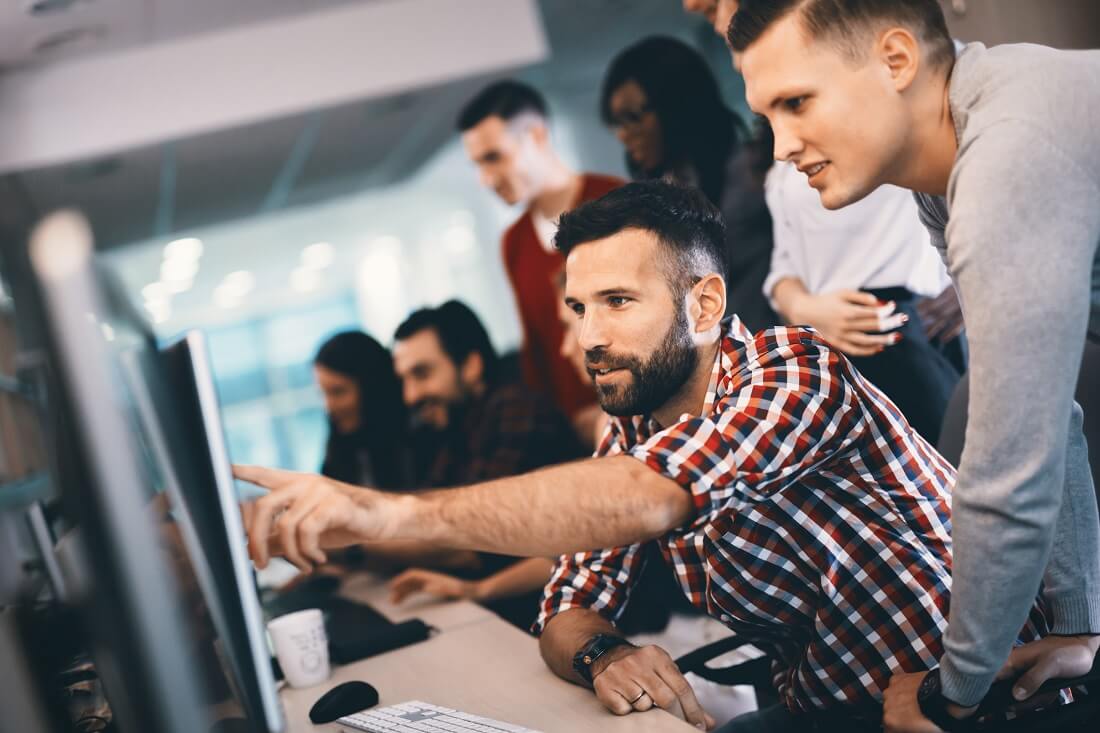 Compensation and job outlook
Software development is slated to be one of the highest paying jobs in the tech industry from 2020 to 2030.* Due to the technological nature of software development, there's generally more acceptance of remote job opportunities for mid and senior level developers, allowing you to factor in a healthy work life balance.
How does a degree program differ from coding bootcamps?
Coding bootcamps typically offer a certificate of completion after 12 weeks, which sounds easy and convenient, but can have some serious downsides that will impact your career in the long run. For instance, a coding bootcamp can sound enticing due to the low amount of time spent in the classroom, however, you may end up spending more time in an entry level position, while a degree earner will typically have a more robust set of skills to take on more advanced, senior level positions.
Outcome: Official associate or bachelor's degree from accredited university
Goal: Comprehensive, thorough study on software development covering each industry facet in-depth
Completion: 16-32 months with Herzing
Outcome: Certificate of completion
Goal: Intensive, quick process meant to give you an understanding of the basics
Completion: Typically 12 weeks1
What are the typical skillsets of a software developer?
While software development or engineering is by nature a more technical skillset, there are positions that require a more creative approach to business problems. Software developers are often divided into two types: back-end and front-end, which can include either a more analytical or creative approach respectfully, depending on what you want to specialize in.
Back end software developers will often work with databases, system architecture, and the underlying logic of a business application. Meanwhile, front end developers will work with the user interface and implement aesthetically pleasing, easy to use designs for the interactive elements of the application. 
What types of jobs are available to software developers?
Software developers may pursue many different types of job possibilities. Because we have become so accustomed to using applications in today's day and age, almost every type of business can benefit from having a software developer work on their applications.
Whether you want to help support a non-profit organization, develop a web application for tracking metrics of a specific cause, or you want to work for a large corporation handling large amounts of data on an ecommerce platform, the opportunities are many.
What are you waiting for?
The first step down your new career path is only a few clicks away. At Herzing, we offer experienced, professional instructors dedicated to helping you reach your goal of becoming a software developer.
We offer in-depth, technical learning that will give you the skills you need to pursue higher level job opportunities, while also allowing you to pick and choose the right job opportunities for your interests.
---
* Bureau of Labor Statistics (BLS), U.S. Department of Labor, Occupational Outlook Handbook 2021. BLS estimates do not represent entry-level wages and/or salaries. Multiple factors, including prior experience, age, geography market in which you want to work and degree field, will affect career outcomes and earnings. Herzing neither represents that its graduates will earn the average salaries calculated by BLS for a particular job nor guarantees that graduation from its program will result in a job, promotion, salary increase or other career growth.
Classes Start July 10th
Learn More Today