Bridge from RN to Adult Gerontology Acute Care Nurse Practitioner
CCNE accredited1
Program length: 28-36 months, depending on your chosen degree pathway
6 start dates with no wait list!
100% online classes with 630 clinical hours
We pledge your clinical placement
Choose your degree path: go from ADN to AGACNP in our accelerated RN to MSN program, or earn your BSN on the way (RN to BSN to AGACNP)
Accelerate to Acute Care NP with Herzing
You don't need a BSN in order to begin earning the education you need to become an Adult Gerontology Acute Care Nurse Practitioner (AGACNP). Our accelerated RN to AGACNP program is designed for current licensed Registered Nurses (RN) with an associate degree in nursing (ADN/ASN) looking to advance into a new career path as a nurse practitioner specializing in the adult/geriatric patient population.
Earn the degree you need to apply for certification as an AGACNP and advance your career to the next level:
Learn online in Herzing's Everywhere Classroom: on your schedule, at your pace
Class topics include undergraduate and graduate level study in nursing leadership and management, community health nursing, nursing informatics, health policy, skills and procedures for acute care, and much more
Prepare for certification exams from the American Nurses Credentialing Center (ANCC) and the American Association of Critical-Care Nurses (AACN) Certification Corporation
Post master's pathways: after graduating with an MSN, you can potentially transfer credit into a post master's certificate program with your choice of several concentrations
We exist to support your first big step towards practicing as an acute care NP. Your new career path IS possible with Herzing University.
Classes Start Sept 8th
Learn More Today
Pathways
Choose your path to go from RN to AGACNP
RN to BSN to MSN-AGACNP Path
Go from RN to BSN online, then work towards a master's degree in nursing.
Curriculum built to help you earn a BSN and MSN faster
How long? 36 months on average
Earn a bachelor's degree that may be required by some employers
Accelerated RN to MSN-AGACNP
Bridge directly from ADN to AGACNP in the Herzing Accelerated RN to MSN program.
Curriculum built to accelerate your MSN-AGACNP completion
How long? As few as 28 months
Best for nurses seeking to advance their practice and vault their career to the next level
RN to AGACNP program classes & curriculum details
The program is designed to advance your undergraduate nursing study and seamlessly progress into graduate-level advanced practice nursing classes. Courses include bridge, core, specialty concentration, and clinical courses.
All classes are delivered online with 630 total clinical hours.
| Program | Months* | Credits |
| --- | --- | --- |
| Master of Science in Nursing (MSN) with a Concentration in Adult Gerontology Acute Care Nurse Practitioner – Accelerated RN to MSN (MSNAGACNPA) | 28 | 64 |
*Average number of months for students to complete program. Program availability varies by location.
How to go from RN to BSN to MSN-AGACNP
You may choose to stop for a BSN by combining our online RN to BSN and MSN-AGACNP degree programs. You can view their respective curriculums and course information here: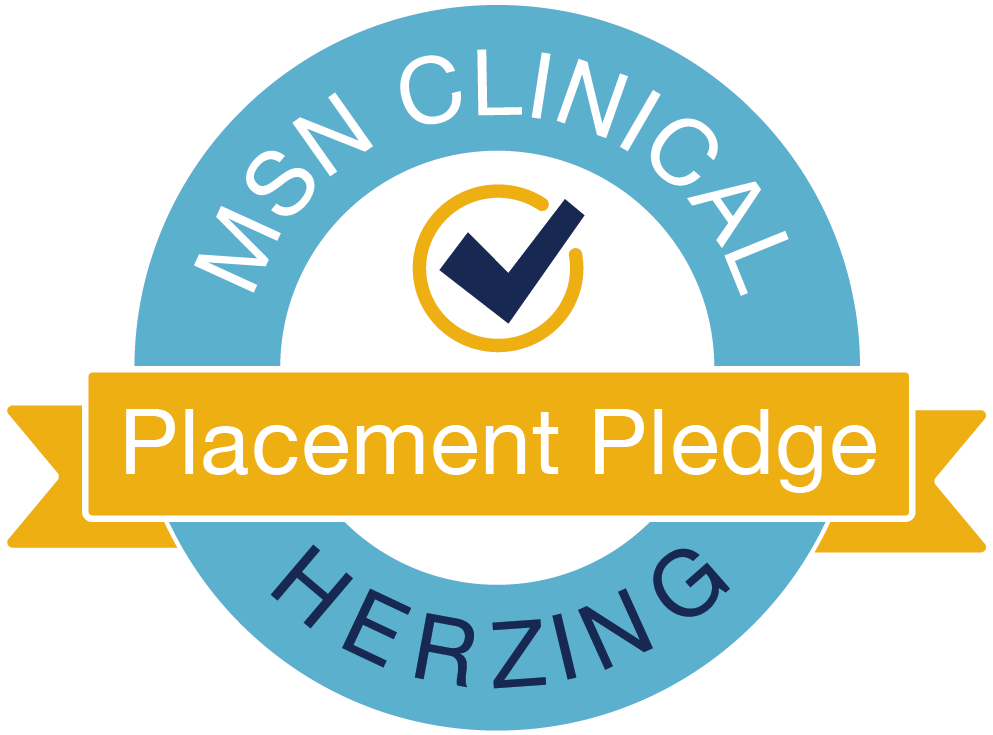 Your clinical placement is our pledge.
We understand securing clinical placement as part of an AGACNP master's degree program is one of the biggest concerns students face. At Herzing, we offer guidance and support through our step-by-step Clinical Guidance Process to ensure you can get the clinical practice experiences you need.
As a Herzing student, we'll encourage you to find your own preceptor and clinical sites as there are many benefits to doing so. However, we provide extensive support should you find difficulty along the way. With Herzing, you are never on your own.
Because of our strong relationships with healthcare providers across the U.S. and our comprehensive Clinical Guidance Process, we are confident in our ability to help you find clinical placement. So much so that if you are unable to find a clinical site on your own, we pledge to step in and help you secure clinical placement.*
* Subject to terms and conditions outlined in the enrollment agreement.
Tuition & Cost
We want to help you make this big step in your nursing career as affordable as possible and become the best nurse practitioner you can be. That's why we are always evaluating our programs behind the scenes to both minimize the cost and prepare students best for success in their work.
We offer many options to help you invest in yourself and earn your master's degree in nursing. Financial aid options include:
RN to AGACNP program enrollment prerequisites
Enrollment requirements are the same whether you choose the accelerated RN to MSN-AGACNP or RN to BSN to MSN-AGACNP path. Prerequisites include:
Live in a state where Herzing University is authorized to offer the RN to MSN program
Hold a current, active and unrestricted license as a registered nurse (RN) in the same state in which they practice
Hold an associate degree (ADN/ASN/AASN) in nursing from a nationally or regionally accredited college or university
Participate in an interview to identify your goals and determine if the program is right for you
RN to MSN - Adult Gerontology Acute Care Nurse Practitioner Degree Programs
Showing 1 programs for the Online campus
To learn more about this program, click the Request Info button to the right.
Ready to get started?
Contact us to request more information
Accreditation & Disclosures
1. The master's degree program in nursing at Herzing University - Madison is accredited by the Commission on Collegiate Nursing Education (http://www.ccneaccreditation.org). Herzing University is approved to offer programs in an online learning modality through association with the main campus in Madison, Wisconsin.