Reach new career heights in nursing
Develop the knowledge, skills and expertise to become a difference-maker as a nurse leader. If you're ready to take the next step in your nursing career and ascend to upper-level management positions, the Herzing Post Master's Certificate in Nursing Leadership and Administration is designed for you.  
Our curriculum helps you build a foundational education in the business and systems of healthcare, helping you to become an advanced practice nurse steering healthcare institutions toward successful outcomes.
This program is designed for licensed registered nurses (active, unrestricted license) who have earned a Master of Science in Nursing (MSN) and are seeking jobs in nursing leadership and administration.
Choose a lifelong partner in learning dedicated to your career success. The next big step forward in your nursing career IS possible with Herzing University.
Classes Start October 4th
Learn More Today
Classes & curriculum details
Our post master's curriculum includes MSN core courses designed to help you learn what it means to be a decision maker influencing big-picture organizational changes. Study and training include analysis of the impact of regulatory healthcare agencies, the evolving healthcare landscape, and ethical and legal principles regarding healthcare delivery to diverse populations.
All lecture classes are delivered online, and the program includes 135 total clinical hours. Our goal is to prepare you best to succeed in your work in nursing leadership and administration.
| Program | Monthsi | Credits |
| --- | --- | --- |
| Post Master's Certificate Nursing Leadership and Administration (PMCNLA) | 8 | 16 |
i. Average number of months for students to complete the program attending full-time
Required Courses in Nursing Leadership and Administration Certificate Program
16.00 semester credit hours are required. NU 621, NU 610, and NU 636 will be required if not completed successfully with the prior Master of Science in Nursing degree.
NU 525 - Technology and Nursing Informatics in Advanced Practice 3.00
This course provides an overview of the integration of technology and nursing informatics in various healthcare environments. Legal, ethical, and cultural issues directing use of technology are examined. The influence of technology on patient outcomes will be explored.
NU 650 - Healthcare Economics, Finance and Resource Management 3.00
This course focuses on optimizing the nurse leader role and providing the nurse leader student with an appreciation for the fiscal status of both the global health system and healthcare organizations. The nurse leader role in financial management and value-based purchasing will be discussed.  Fiscal management of human and physical resources, talent acquisition and policy development for health care organizations are also addressed.
NU 651 - Leading and Managing in Complex Organizations 3.00
This course is designed to provide the nurse leader student with the knowledge and skills necessary to be an effective leader and manager within complex organizations from a systems perspective. The concepts of collaborative leadership, shared decision making, leading change, adopting and adapting within the dynamic healthcare environment, applying evidence-based practices, implementing quality improvement strategies, conflict management, and project management will be explored. Contemporary leadership theories, organizational culture and ethics, communication, and diversity, will be addressed.
NU 652 - Dynamic Healthcare Leadership Practicum 3.00
This direct care practicum course provides the knowledge and skills necessary for the nurse leader to adapt to and adopt change and apply evidence-based practice to promote transformation of healthcare delivery and patient care systems. Strategies to provide guidance to individuals and groups within the complex global healthcare system to implement change will be addressed. Strategic planning, quality and risk management, and the effect of regulatory agencies and policies exert on quality healthcare delivery will be discussed. Students will engage in self-reflection and formulate their personal goals as an advanced practice nurse leader.
NU 653 - Transformation of Care in Health Delivery Systems Practicum 3.00
The capstone/practicum is the culminating experience of the graduate nursing program and provides the student with the opportunity to synthesize and apply knowledge and competencies acquired from the core and track courses. All students enrolled in the nursing program leadership track are required to complete a final capstone practicum to exhibit mastery and expertise as a nurse leader. The students in the nurse leader this course will complete a practicum with a mentor in an approved nursing leadership/administration setting.
PD 600 - Applied Scholarship 1.00
This course is an opportunity for the graduate student to explore and reflect on the state of scholarship and rigor for solving problems within the profession. Questions such as: Is it appropriate? What are the challenges to scholarship, rigor and improvement in the profession? What strategies can improve the profession? How might I as a graduate student and professional a) improve my own scholarship as well as b) contribute to the scholarship and improvement of the profession will be asked and answered allowing for the development of a personal and professional career plan, including scholarly improvement.  
Admission Prerequisites
The post master's nursing leadership and administration certificate program is open to registered nurses who:
Possess a Master of Science in Nursing degree from an accredited university or college
Hold a current, active and unrestricted license as a registered nurse in the state in which they live (Note: Holding a multi-state, compact state license and being a resident in a compact license state will be deemed to have met this requirement).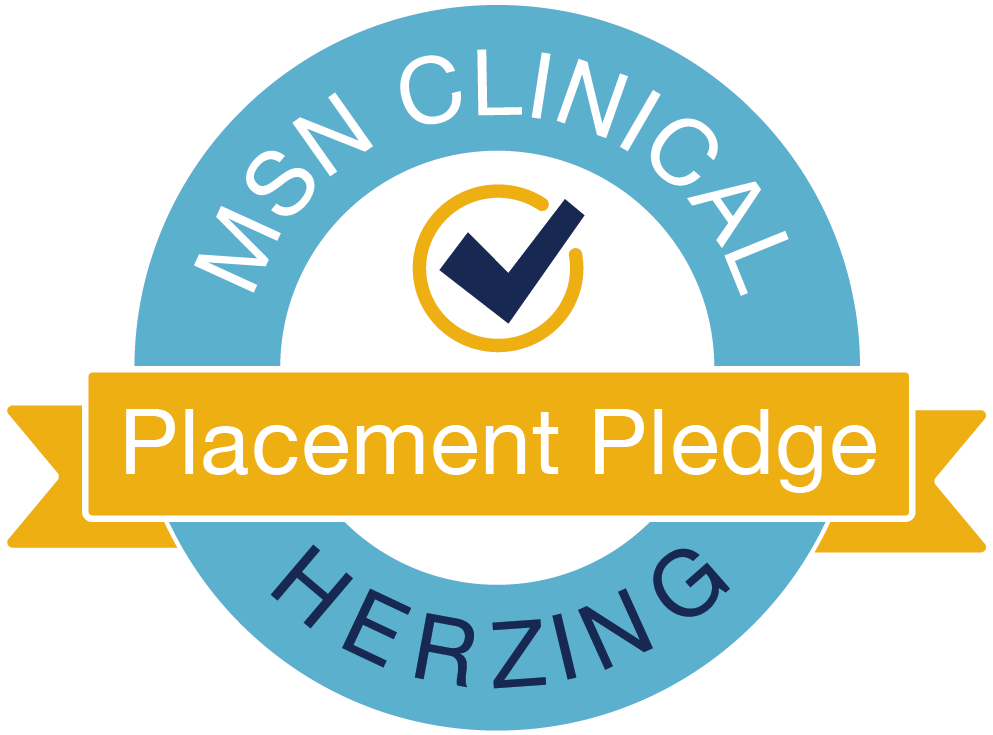 Your clinical placement is our pledge.
We understand securing clinical placement as part of a post master's certificate in nursing leadership and administration program is one of the biggest concerns students face. At Herzing, we offer guidance and support through our step-by-step Clinical Guidance Process to ensure you can get the clinical practice experiences you need.
As a Herzing student, we'll encourage you to find your own preceptor and clinical sites as there are many benefits to doing so. However, we provide extensive support should you find difficulty along the way. With Herzing, you are never on your own.
Because of our strong relationships with healthcare providers across the U.S. and our comprehensive Clinical Guidance Process, we are confident in our ability to help you find clinical placement. So much so that if you are unable to find a clinical site on your own, we pledge to step in and help you secure clinical placement.*
* Subject to terms and conditions outlined in the enrollment agreement.
Advance your nursing career to the next level
Become the change you've always wanted to see. Earning a graduate certificate and adding to your nursing credentials complements your unique skillset and experience as a nurse, equipping you well for your next career step towards a managerial position.
Graduating from this post-graduate certificate program can help you qualify for job opportunities including:
Nurse Leader
Nurse Executive
Nurse Administration
Chief Nursing Officer
Chief Nurse Executive
How can I continue to advance my career? Herzing offers multiple educational pathways to prepare you for the next big job opening. We offer post master's certificates in additional nursing concentrations, as well as MBA options for students seeking a role more heavily focused in business administration (including a healthcare management concentration).
According to the Bureau of Labor Statistics, employment of medical health and service managers, including nurse administrators, is expected to rise 32% from 2020-2030, much faster than the average across all U.S. occupations.*
Now is an excellent time to begin earning the education you need to compete for jobs in this rapidly growing field.
FAQ
Frequently Asked Questions
Post Master's Certificate - Nursing Leadership & Administration Degree Programs
Showing 1 programs for the Online campus
To learn more about this program, click the Request Info button to the right.
Ready to get started?
Contact us to request more information
Accreditation
Accreditation & Disclosures
Herzing University is accredited by the Higher Learning Commission (hlcommission.org), an institutional accreditation agency recognized by the U.S. Department of Education.
View Herzing University Accreditation and Approvals
State requirements for the availability of required clinical courses may vary by state. Check with your applicable state board of nursing before enrolling in any graduate nursing program.
* Bureau of Labor Statistics (BLS), U.S. Department of Labor, Occupational Outlook Handbook 2020. BLS estimates do not represent entry-level wages and/or salaries. Multiple factors, including prior experience, age, geography market in which you want to work and degree field, will affect career outcomes and earnings. Herzing neither represents that its graduates will earn the average salaries calculated by BLS for a particular job nor guarantees that graduation from its program will result in a job, promotion, salary increase or other career growth.