Earn a degree and become a medical assistant
Online classes + hands-on clinical labs & externship
Typical program length: 20 months
Transfer up to 45 approved credits into a higher degree
Prepare for the Registered Medical Assistant (RMA) certification exam – we pay for your first attempt!
Advance your education in allied health with many options at the bachelor's degree level
Make a real impact in a new career path
Getting off to a fast start in a growing, rewarding career IS possible. Discover a job you can qualify for in less than 2 years offering valuable experience in a healthcare institution, a diverse set of roles and responsibilities, and several gateways to further career opportunities. All while making a big difference in your community improving the delivery of healthcare to those in need.
Medical assisting represents a healthcare profession poised for growth: according to the Bureau of Labor Statistics, employment of medical assistants is expected to rise 19% from 2019-2029, much faster than the average U.S. occupation.1
By earning an associate degree with Herzing University you'll become highly qualified for entry-level jobs as a medical assistant.
Learn online in Herzing's Everywhere Classroom: on your schedule, at your pace
Class topics include medical terminology, administrative skills, insurance claims, ethics and professionalism, and general education courses
Degree options: choose the 20-month associate degree or consider pursuing a diploma in medical assisting to earn a credential faster (8 months)
Classes offered fully online—with labs and an externship
Bachelor's degree pathways: Advance your undergraduate allied health education into health sciences or healthcare administration
Take your first big step in a new career with Herzing University. We are your lifelong learning partner, eager to help you earn a college degree and carve YOUR unique career path.
Classes Start May 10th
Learn More Today
Curriculum
Medical Assisting associate degree classes & curriculum details
Our associate degree program builds upon our diploma in medical assisting, introducing students to the overall operation of a physician's office. You'll be trained in basic clinical and administrative tasks including exam room assistance, routine lab procedures, handling financial records, insurance forms and more. You will prepare for and sit for the Medical Assisting Certification Exam as part of the program.
All classes are delivered online. The curriculum also includes hands-on clinical experience and an externship.
| Programs | Months* | Credits |
| --- | --- | --- |
| Associate of Science in Medical Assisting Services | 20 | 60 |
*Average number of months for students to complete the program attending full-time
Required Courses
All courses, 24.00 semester credit hours, are required.
HC 101 - Medical Terminology 1.00
This course introduces common medical terms through the analysis of word components. Emphasis will be placed on the structure of terms-Greek and Latin roots, prefixes, and suffixes. A medical vocabulary will be developed through the study of the anatomical structures, physiological functions, diagnostic and therapeutic procedures, and pathologies of the body systems. Terminology will be practiced through the use of common abbreviations, spelling, pronunciation and definitions.
HC 120 - Introduction to Healthcare Management 3.00
This course is designed to provide students with a foundational understanding of the roles healthcare managers perform within varied settings in the healthcare field.  Using the theories and principles of healthcare management, the student will examine the responsibilities of a healthcare manager as well as how they work with other healthcare professionals.  Students will explore different types of job opportunities and conduct a talent inventory to identify their strengths.
MC 110 - Introduction to Billing and Coding 3.00
This course will introduce students to health insurance and medical billing practices.  Students will understand the health insurance industry, legal and regulatory issues, and differences in reimbursement methodologies. The student will learn principles of medical billing related to proper claim form preparation, claim submission, payment processing and follow-up.
MC 120 - Patient Privacy 3.00
This course will introduce students to the foundational principles of patient privacy and security of personal health information.  Students will understand the confidential and sensitive nature of medical information and how to protect it.  The course will emphasize the Health Insurance Portability and Accountability Act (HIPAA) privacy and security rules, patient rights and reporting requirements.  
MO 160 - Pathophysiology and Pharmacology 3.00
This course provides instruction in the study of human diseases with focus on the symptoms, signs, causes, and diagnosis of disease. Additionally, students will learn about pharmacology, drug abbreviations, drug categories, diagnostic equipment including lab values, and pharmacological treatment related to human diseases.  This course has a lab component. 
MO 180 - Administrative Skills for the Medical Office 3.00
This course introduces the student to administrative and operational procedures and policies pertaining to the medical office. Students will learn about various medical office software including patient registration, appointments, office financial management, and electronic health records.  Students will learn about the different types of healthcare systems, diversity among coworkers/patients, licensure, accreditation and patient privacy (HIPAA).
MO 185 - Ethics and Professionalism 1.00
This course is designed to introduce the student to important ethics as it pertains to the healthcare profession which includes controversial health care issues. The student will be introduced to patient confidentiality and information security as identified and enforced through HIPAA regulations. Additionally, the student will learn about the importance of professionalism in the workplace.
MO 205 - Insurance Claims, Processing and Adjudication 3.00
In this course, the student will understand the basic types of medical insurance programs available in today's healthcare environment. It acquaints students with billing formats, using universal claim forms, and it provides the skills necessary to master basic aspects of medical insurance billing and adjudication. Current reimbursement methodologies and compliance will also be covered.
SC 144 - Introduction to Anatomy and Physiology 4.00
This course provides an introduction to the study of the structure and function of the human body. Topics include an introduction to homeostasis, cells, and tissues, along with a survey level study of organ systems and their interrelationships. The lab component of this course provides active learning to reinforce and clarify anatomical and physiological features of the body.
Required Clinical Courses
All courses, 13.00 semester credit hours, are required.
MS 263 - Medical Clinical Assisting I with Lab 4.00
This course is designed to provide the basic theoretical knowledge and hands-on experience in assisting physicians or medical office staff with medical exam room preparation and routine patient examination preparation with an emphasis on various communication techniques. Students will be introduced to basic clinical procedures including vital signs, first aid, injections, and emergency preparedness.
MS 265 - Medical Clinical Assisting II with Lab 4.00
This course is a continuation of MS 263 Medical Clinical Assisting I with Lab. It is an introduction to diagnostic procedures routinely performed in the physician's office laboratory setting. Students will be introduced to electrocardiography, respiratory testing, hematology, microbiology, proper specimen collection techniques, quality control, and equipment inventory and maintenance.
During the externship phase of training, the student will experience various aspects of working in the actual industry that they have trained for. The externship will provide the student with the opportunity to experience and participate in the duties typical of a real workplace setting which include clinical and administrative components. Instruction centers on observing experienced personnel as well as participating in actual procedures under close supervision of trained professionals. This 180-hour portion of training must be completed within one year of completion of didactic training.
MS 281 - Program Certification Review 1.00
This directed practice seminar is a course in which the student will participate in seminars to prepare for their transition into the workplace as well as successful completion of one of two national certification examinations for medical assisting. Students will complete cover letters, résumés, and reference lists to use in job placement. Professional credentialing opportunities are addressed as well as practice examinations focused on the graduate sitting for either of two national certification examinations. At locations where the Medical Assisting Services program holds specialized accreditation by ABHES or CAAHEP, the Certified Medical Assistant (CMA) certification offered by the American Association of Medical Assistants will be covered. At other locations, the Registered Medical Assistant (RMA) certification offered by the American Medical Technologists will be covered. (See the "Accreditation" section of the Undergraduate Catalog for accredited locations.)
* Enrollment and successful completion in a student readiness training course is required two terms prior to MS 263 and MS 268. 
Healthcare Elective Courses
A minimum of 2.00 semester credit hours is required from a combination of healthcare electives and/or credits transferred from the core (non-general education) courses of a healthcare-related associate or diploma programs. Students not transferring in 2.00 semester credit hours in healthcare courses may make up the difference with elective courses in healthcare and/or related subject areas.
General Education Requirements - Associate
Students enrolled in this bachelor's degree must complete a minimum of 24.00 semester credit hours in general education distributed among the following disciplines. 9.00 Semester Credit Hours in Communications EN 104 – English Composition I EN 111- Information Literacy EN 116 – Speech 6.00 Semester Credit Hours in Humanities HU 140 – Cultural Diversity HU 240 – Introduction to Humanities 3.00 Semester Credit Hours in Mathematics MA 109 – College Algebra 3.00 Semester Credit Hours in Science SC 144 – Introduction to Anatomy and Physiology* 3.00 Semester Credit Hours in Social and Behavioral Sciences PS 101 – Psychology *This requirement is being met by the programmatic science course requirement, SC 144, above.
Tuition & Cost
20 months
|

60 credits
$441 per credit
after scholarship*
You are worth it.
*When student accepts awarded scholarship.
Tuition & Cost
With Herzing University, an affordable, career-focused education is within your reach. We are always striving to make college more affordable for everyone.
Opportunities for financial aid include:
Certification
Get educated and certified
Our goal is to maximize your chance of finding a job as soon as possible after graduation.
That's why our associate degree curriculum includes prep for the Registered Medical Assistant (RMA) exam and we pay for your first attempt.
After earning your associate degree and certification you'll be well positioned for your first job and a healthcare career full of possibilities.2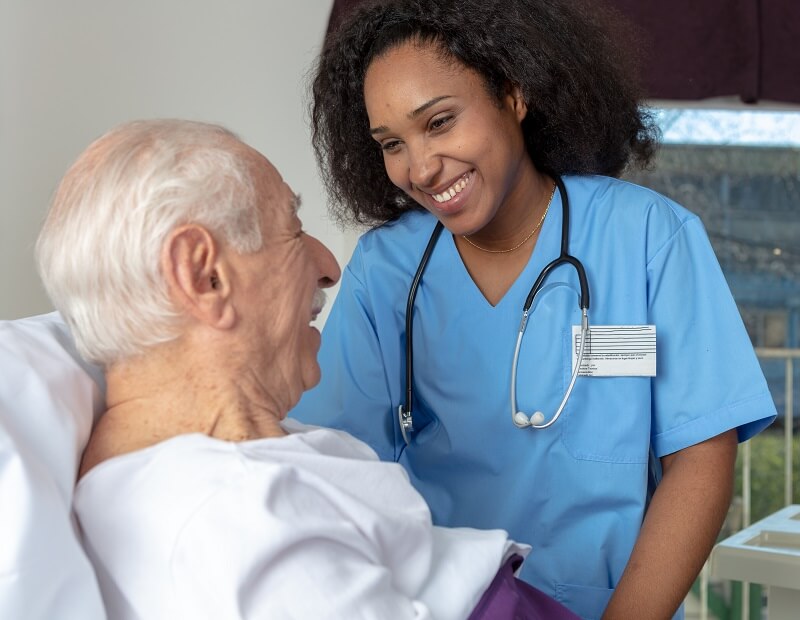 Clinicals: how the associate degree program works
There are two requirements to complete the medical assisting associate degree program outside of regular online classes:
Two terms prior to the externship, you will be required to take two clinical courses. Most coursework will be completed online, but you will also be required to meet with a proctor at a healthcare facility (possibly a Herzing campus) to demonstrate mastery in medical assisting skills. Prior to your labs you will need to take and pass a Student Readiness Training (SRT) proctorship. You must complete a Basic Life Support (BLS) CPR class from the American Heart Association or the American Red Cross as part of the requirement.
You will complete 180 hours at a medical clinic or doctor's office in an eight-week period during your final term—Monday-Friday during daytime hours. Depending on the requirements of your externship site, expect about 25-40 hours per week. Herzing's clinical coordinator can assist you in your search, but it will be your responsibility to locate and secure a proctor and externship site in your geographic area during your Student Readiness Training Seminar (SRT).
Finding a proctor for your clinicals. Herzing's Proctor Prep SRT seminar provides guidance on how to search and secure a proctor to assist in your clinical courses. This course is usually scheduled two terms before the first clinical course. In order to succeed, you'll need to be in frequent communication with the SRT instructor. You will have access to a clinical coordinator who will assist in your search, but ultimately it is your responsibility to secure proctorship.
Contact us and we can provide answers to any further questions you have about the clinical/externship component of the medical assisting program.
Requirements
Medical Assisting associate degree enrollment requirements
Prerequisites to enroll in the Herzing University Medical Assisting associate degree program include:
Completion of a high school diploma, GED or equivalent
Meet and interview with a Herzing University admissions advisor
Complete an enrollment application
Your rewarding career path in medical assisting
Medical assisting offers you an entry point into your unique career path in healthcare. In less than 2 years you can earn an associate degree in medical assisting, find your first job and position yourself to advance your career in the future.
As a medical assistant you'll be charged with variety of many different types of tasks in either clinical or administrative roles (or both, depending on the size of the institution), including drawing blood, taking vital signs, scheduling appointments, preparing exam rooms and communicating with patients and other medical personnel.
Medical Assistant Ranked #10 Best Health Care Support Jobs of 2021 by U.S. News & World Report
You will become a key contributor in a healthcare institution and learn what it takes to succeed as part of a medical team.
Seeking a job in an office environment? Students interested in pursuing a role exclusively working in administration might prefer to pursue an associate degree in medical office administration. You'll be able to focus your study developing the knowledge and skills necessary to succeed in a medical office.
According to the Bureau of Labor Statistics, employment of medical assistants is expected to increase 19% from 2019-2029, much faster than the average across all U.S. occupations.1
It's a great time to begin earning the education you need to join this rapidly growing field and build a strong foundation for a career in healthcare.
FAQ
Frequently Asked Questions
A career in medical assisting involves a diverse array of roles and responsibilities. Depending on the practice you work for and department you are in, your normal everyday tasks can vary widely.
Potential tasks include (but not limited to):
Answering the phone and greeting patients
Informing physicians about patient concerns
Scheduling appointments
Gather patient information: contact info, insurance info, etc.
Measuring patient vital signs
Taking blood pressure, pulse and respirations
Setting up exam rooms for procedures
Visual and hearing tests
Drawing blood
Pregnancy tests
Making patients comfortable during an appointment
No matter what's required in your day-to-day experience on the job, what ties everything together is your professionalism, care for patients and attention to detail. Your resourcefulness will make you a valuable resource in a fast-paced healthcare environment.
Read more about a typical day in the life of a medical assistant and what you can expect after getting a job in the field.
According to 2019 data from the Bureau of Labor Statistics (BLS), medical assistants earn an average salary of $35,720 per year ($17.17 per hour). As you earn more experience and gain more skills, your earning opportunity will improve.
The BLS also projects growing demand for medical assistants in coming years, predicting a 19% change in employment from 2019-2029. It's a good time to get your foot in the door and work towards your new career.
Beginning your career as a medical assistant is a great way to build a strong foundational education in healthcare, gain meaningful real-world experience and prepare yourself to continue growing professionally.
What is the next level after medical assistant? It depends on your strengths, preferences and overall career goals in healthcare.
Three fields in healthcare are popular landing spots for medical assistants looking to specialize or branch into a new career path:
Healthcare Management
Health Information Management
Nursing
Herzing University offers many degree and diploma programs for practicing medical assistants to take a leap and embark on a new career path. Our health sciences degree program is designed to help you complete your bachelor's degree and advance your career to the next level.
Considering your career options in healthcare? Here are a few other types of jobs where you can potentially get off to a fast start:
Medical Records Technician. Medical records technicians are responsible for the recordkeeping of confidential patient information. These types of jobs have no responsibilities in clinical care.
Medical Billing and Coding. Billers and coders focus on healthcare revenue cycle management, concerned primarily with how patients and insurance companies are billed for healthcare services. These professionals do communicate with patients (most often medical billers) but again, play no role in clinical care.
Certified Nursing Assistant (CNA). CNAs, on the other hand, do not play a role on the administrative side. They work exclusively in patient care, helping patients get dressed, bathe/shower, move from beds to wheelchairs, or eat meals. CNAs more often perform tasks needed around the clock, so hours/shifts in these positions can be less predictable.
Licensed Practical Nurse (LPN). LPNs have a different scope of practice than medical assistants, focusing more directly on patient care under the supervision of an RN or physician. This represents a more direct career path into nursing. Learn more about the difference between medical assistants vs. LPNs.
Dental Assistant. Dental assistants also perform one or a mix of clinical and administrative tasks, but only in regard to dental care.
How long it takes depends on what level of education you pursue. Partner with Herzing University and you can expect a range of 8 months–20 months to get your education, get certified and start looking for a medical assistant position, depending on whether you choose a diploma or degree program.
The following timelines are based on full-time status:
Associate degree: 16-20 months
Diploma – online program: 8 months
After earning your degree or diploma, we recommend becoming certified as a Registered Medical Assistant (RMA) or Certified Clinical Medical Assistant (CCMA) even if it isn't required in your state. With a diploma/degree and a certification, you'll be positioned well for your first job.
With Herzing University, an affordable, career-focused education is within your reach. We are always striving to make college more affordable for everyone.
Student loans & secured loans. Loans offer a way to pay for all or part of your tuition.
Scholarships. We offer a variety of scholarships based on academic achievement, financial need or community affiliations. Contact an admissions advisor about current scholarship opportunities by calling 1-800-596-0724 or request for information online.
You can find an estimate for grant and scholarship aid using the net price calculator, and find an estimate for tuition for the online medical assisting program using Herzing University's tuition wizard.
Your choice depends on the career path you'd like to pursue.
If your number one priority is finding a job as a medical assistant as quickly as possible, a diploma program may be a better choice. You can earn a diploma in a year or less when attending full-time and be ready to enter the workforce as a certified medical assistant.
If you envision medical assisting as step one on a long career path in healthcare, you may prefer to choose the associate degree program. In addition to core medical assisting courses, you will take general education classes you can transfer into a bachelor's degree program in the future. Baccalaureate options for medical assistants include healthcare administration, health sciences and health information management. Earning an associate degree will likely only take a few months longer and position you very well for the next step in your education.
According to the Bureau of Labor Statistics, these are the most common places of employment for medical assistants:
Physician's offices
Hospitals
Offices of other health practitioners
Outpatient care centers
Retirement communities / assisted living
Because medical assistants can wear so many different hats there are many important skills needed to thrive in different healthcare environments:
Professionalism. In many positions you will need to handle customer service tasks, basic patient care and clearly communicate physician information to patients. Medical assistants must demonstrate professionalism and tact when interacting with patients.
Attention to detail. Medical assistants may gather patient contact or insurance information and keep medical records organized. You must be meticulous and highly detail oriented to succeed.
Compassion. Making patients comfortable and empathizing with their concerns is crucial ensuring patients are calm and collected for medical procedures.
Multi-tasking. Staying organized and measured in the face of quickly changing circumstances and a lengthy "to-do" list will make you indispensable to a healthcare team.
These are just a few key medical assistant skills that will help you excel in medical assisting and beyond to many other career opportunities in healthcare.
Medical assistants can hold a variety of titles, roles and responsibilities based on the employer. There are two broad types of medical assistants:
Clinical medical assistants. These medical assistants focus on patient care, including taking vital signs, drawing blood, visual/hearing tests, preparing exam rooms for procedures, communicating with physicians, and much more. Our medical assisting program is designed for students seeking these kinds of roles working directly in patient care.
Administrative medical assistants. Sometimes referred to as "front office medical assistants," administrative assistants handle scheduling, patient records, insurance claims and additional accounting/billing tasks to help the delivery of healthcare run smoothly. These types of medical assistants can specialize their education in a medical office administration program.
Experienced medical assistants, particularly on the clinical side, may specialize in a certain type of care or age group, such as pediatrics, obstetrics, cardiology, orthopedics, or many others.
Associate Degree in Medical Assisting Services Degree Programs
Showing 1 programs for the Online campus
To learn more about this program, click the Request Info button to the right.
Ready to get started?
Contact us to request more information
Accreditation
Accreditation & Disclosures
View Herzing University Accreditation and Approvals
1. Bureau of Labor Statistics (BLS), U.S. Department of Labor, Occupational Outlook Handbook. Multiple factors, including prior experience, age, geography and degree field, affect career outcomes. Herzing does not guarantee a job, promotion, salary increase or other career growth. BLS estimates do not represent entry-level wages and/or salary.
2. Certification in this program is not a state requirement.