Master's Degree
RN to Public Health MSN
Accelerated Online Program Option
Master's Degree
RN to Public Health MSN
Accelerated Online Program Option
Go from BSN to MSN – Public Health with Herzing University
| | |
| --- | --- |
| Accreditation | CCNE accredited,1Accredited by the Higher Learning Commission |
| Choose your path | Choose our Accelerated RN to MSN curriculum, or stop for a BSN on the way (RN to BSN to MSN) |
| Format | 100% online coursework with hands-on clinical practicum experience |
| Paying for school | Scholarships and financial aid available for those who qualify; transfer approved credit from prior college coursework to reduce cost and time |
| Our pledge | We pledge your clinical placement! |
| QuickPaths | Transfer credit, stackable credentials, and adaptive learning technology build a faster pathway to a higher education with Herzing University |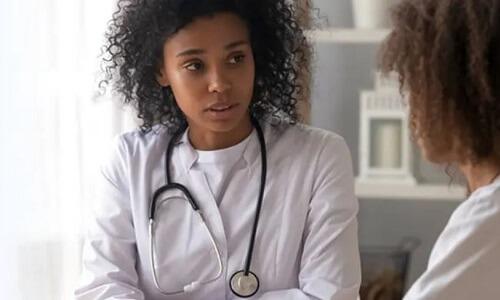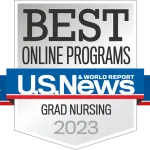 Overview: RN to MSN - Public Health
The RN to MSN – Public Health degree pathway is a 52-credit graduate program which prepares you for a career as a leader in public health nursing. The degree program provides students with fundamental knowledge and skills in community and public health nursing, dimensions of advanced nursing practice, advocacy and policy, health promotion, and much more.

Career-focused curriculum
Discover the crucial knowledge and skills required to succeed in your work and build a foundation for continued career growth.

Flexible schedule
We work hard to help you maintain school-life balance, striving to be as flexible as possible for busy non-traditional students.

Virtual services
Access to extensive virtual services, including academic advising, tutoring, support services, technical support and library services.

Lifelong support
We support your ongoing career advancement by providing comprehensive, personalized student services with lifelong career coaching.

Rolling admissions
No application deadlines to worry about. Apply when you're ready and prepare to get started soon.
RN to MSN-PH courses & curriculum details
All didactic lecture-style courses are delivered 100% online. You will also be required to complete 180 clinical practicum hours.
You may also elect to earn a bachelor's degree on the way as part of an RN to BSN to MSN pathway, which combines our RN to BSN (12 months) and MSN – Public Health (16 months) programs. Please contact admissions for more details.
| Program | Monthsi | Credits |
| --- | --- | --- |
| Master of Science in Nursing (MSN) with a Concentration in Public Health - Accelerated RN-MSN (MSNPHA) | 28 | 52 |
i. Average number of months for students to complete program.
Tuition & Cost
Tuition & Cost
The cost of tuition for the RN to MSN - Public Health program is $615 per credit.
You can potentially earn even greater savings by transferring credit from prior college coursework, applying for financial aid, or potential partnership opportunities through your employer.
Our goal is your career advancement. That's why we are always working to improve our curriculum and processes to make our program as affordable as possible while preparing you best for success in your work.
Find my estimate
 Scholarships & Financial Aid
You may be eligible for multiple scholarships and grants—including our Nurses Circle of Achievement scholarship, which offers up to 10% tuition reduction.
 Military/Veteran Discounts
Veterans, Active Duty U.S. Servicemembers, and spouses may qualify for a 10% tuition discount or tuition reduction to $250 per credit.
Admissions requirements
Enrollment requirements are the same whether you choose the Accelerated RN to MSN-PH or RN to BSN to MSN-PH track. Prerequisites include:
Live in a state where Herzing University is authorized to offer the RN to MSN program
Hold a current, active and unrestricted license as a registered nurse (RN) in the same state in which they practice
Hold an associate degree (ADN/ASN/AASN) in nursing from a nationally or regionally accredited college or university
Participate in an interview to identify your goals and determine if the program is right for you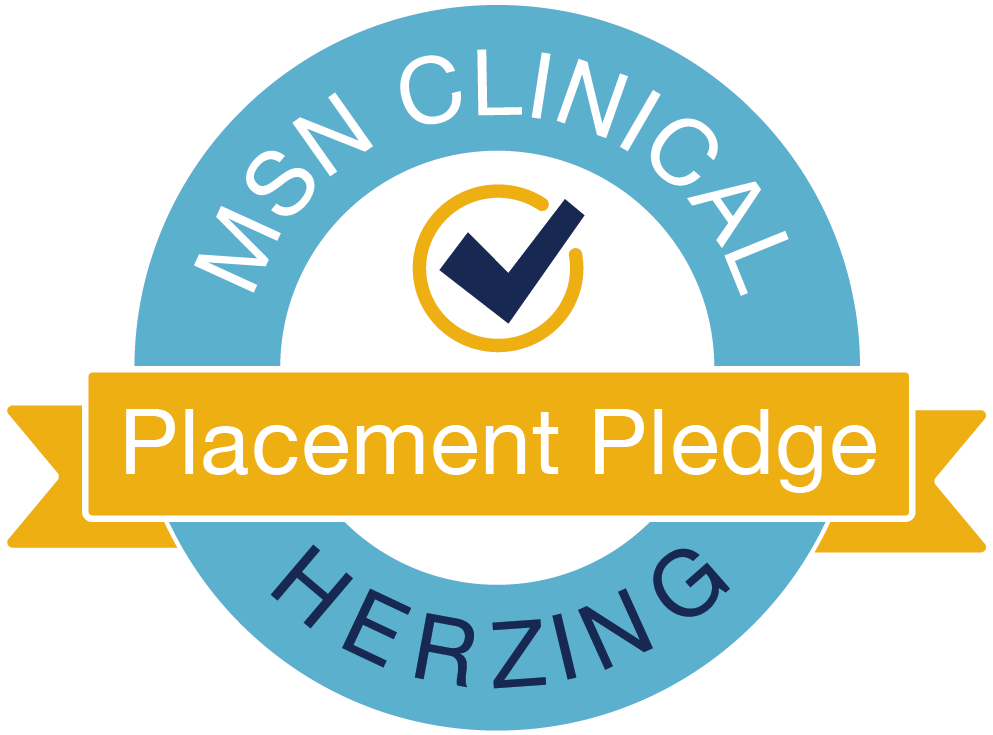 Your clinical placement is our pledge.
We understand securing clinical placement as part of an RN to MSN - Public Health program is one of the biggest concerns students face. At Herzing, we offer guidance and support through our step-by-step Clinical Guidance Process to ensure you can get the clinical practice experiences you need.
As a Herzing student, we'll encourage you to find your own preceptor and clinical sites as there are many benefits to doing so. However, we provide extensive support should you find difficulty along the way. With Herzing, you are never on your own.
Because of our strong relationships with healthcare providers across the U.S. and our comprehensive Clinical Guidance Process, we are confident in our ability to help you find clinical placement. So much so that if you are unable to find a clinical site on your own, we pledge to step in and help you secure clinical placement.*
* Subject to terms and conditions outlined in the enrollment agreement.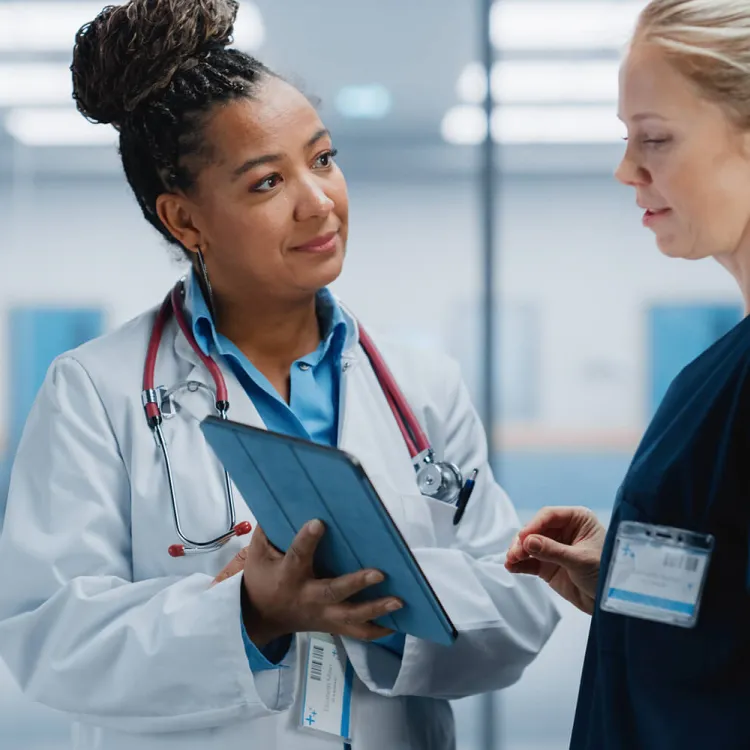 Become a leader in public health nursing
You can begin shaping the way nursing is done by specializing in the field of public health nursing. Apply what you've learned and experienced as an RN to become a population health advocate, analyst, and decision-maker. You can become a health educator and coordinator of important medical and social services people need to stay healthy.
Instead of primarily treating illness and disease that has already occurred, you can work to prevent it in the first place.
Earning a master's degree can help you build the knowledge and skills needed to climb the ranks and qualify for leadership and managerial positions in public health nursing.
FAQ
Frequently Asked Questions
A Public Health Nurse (PHN) can work in a variety of community-based roles. They assess, evaluate, and implement interventions to improve health systems and policies. Their work can involve smaller communities or larger public and global patient populations.
Some job responsibilities can include health education, case management, program planning, policy development, epidemiology and disease prevention, and much more.
Learn more about what public health nurses do, including examples of the different kinds of work you can do and the skills required for success in the field.
Salaries in the public health nursing specialty can vary widely depending on your education, experience, and state of employment.
In the case of your first entry-level nursing job in public health, you may not be required to advance your education to the master's level to qualify. Registered nurses across all specialties earn an average salary of $89,010 per year ($42.80 per hour), according to the Bureau of Labor Statistics (BLS).*
Earning a master's degree can help you qualify for upper-level managerial and leadership positions in public health nursing. The BLS reports the average salary for medical and health service managers is $127,980 per year ($61.53 per hour).*
"Public" and "community" nursing are terms often used interchangeably—but they aren't necessarily the same thing.
Community health nurses typically work directly with individuals, families, and groups to achieve better health outcomes.
Public health nurses usually take a broader approach to patient populations. They focus on advocating for change in systems, reforming policy, and health promotion.
In general—community health nurses directly help people make the best use of the systems in place, while public health nurses focus on improving those systems.
Of course, there are several factors behind why jobs are named the way they are. When you start looking for jobs in public health or community health nursing, be sure to thoroughly read through the job description to determine if it's the right kind of role for your skillset and preferences.
It's right in the name—the MSN in Public Health is a nursing degree designed for current RNs, while an MPH is designed for non-nursing professionals.
Enroll in an MSN in Public Health and you'll take nursing specific courses covering topics such as technology and nursing informatics, research methods, evidence-based practice, pathophysiology, pharmacology, and much more. You'll have the opportunity to pursue the public health track while continuing to advance your nursing knowledge and skills.
After earning a master's degree you may pursue further nursing credentials in a post-master's certificate in nursing program. Herzing offers multiple certificate options with concentrations in:
After earning master's-level preparation in the specialty of your choosing, you can then advance to the doctorate level by enrolling in our online Post Master's DNP program.
Earning an MSN or DNP represents a huge step forward in your education, but there is always more to learn. We are your lifelong partner in learning, dedicated to helping you earn the education needed to reach your highest career goals.
One of the top certifications for public health professionals is the Certified in Public Health (CPH) certification from the National Board of Public Health Examiners (NBPHE). You'll need a combination of education and experience to qualify to sit for the exam.1
You may not need to be certified to earn every type of job in public health nursing. However, CPH certification can separate your resume from the rest, and shows employers you've got the knowledge, skills, and experience to excel in the position.
1. You must meet specific eligibility criteria to sit for the CPH exam. The Herzing University MSN program in Public Health is not accredited by CEPH.
Public health nurse refers to a broad category of different types of nurses focused heavily on education and illness prevention. Common types of community and public health nurses include school nurse, maternal and child health nurse, occupational health nurse, and case management nurse.
PHNs with advanced education and experience can qualify to become a consultant or lead a team as a director or manager of a team of nurses.
RN to MSN - Public Health Degree Programs
Showing 1 programs for the Online campus
To learn more about this program, click the Request Info button to the right.
Ready to get started?
Contact us to request more information
Disclosures
1. The master's degree program in nursing at Herzing University - Madison is accredited by the Commission on Collegiate Nursing Education (http://www.ccneaccreditation.org). Herzing University is approved to offer programs in an online learning modality through association with the main campus in Madison, Wisconsin.
Herzing University is accredited by the Higher Learning Commission (hlcommission.org), an institutional accreditation agency recognized by the U.S. Department of Education.
* Bureau of Labor Statistics (BLS), U.S. Department of Labor, Occupational Outlook Handbook 2022. BLS estimates do not represent entry-level wages and/or salaries. Multiple factors, including prior experience, age, geography market in which you want to work and degree field, will affect career outcomes and earnings. Herzing neither represents that its graduates will earn the average salaries calculated by BLS for a particular job nor guarantees that graduation from its program will result in a job, promotion, salary increase or other career growth.