Master's Degree
RN to FNP Online Program
Accelerate from ADN to Family NP
Master's Degree
RN to FNP Online Program
Accelerate from ADN to Family NP
Bridge to the next level in your nursing career
| | |
| --- | --- |
| Accreditation | CCNE accredited,1 Accredited by the Higher Learning Commission |
| Our pledge | Herzing pledges your clinical placement |
| Clinicals | 630 total clinical hours with 500 total patient encounters; 64 credits required to graduate from the Accelerated RN to MSN program |
| Format | 100% online coursework with inter-professional educational opportunities |
| Options | Go from ADN to FNP in our accelerated RN to MSN program, or earn your BSN on the way in our RN to BSN to MSN-FNP track |
| QuickPaths | Transfer credit, stackable credentials, and adaptive learning technology build a faster pathway to a higher education with Herzing University |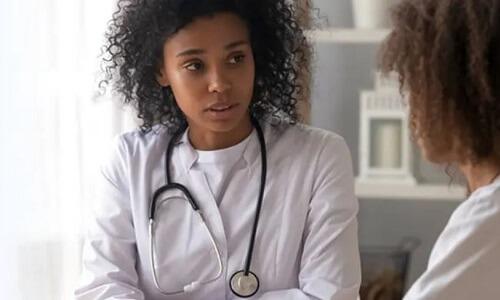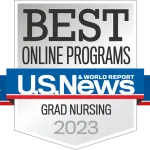 Overview: Accelerated Online RN to MSN-FNP Program
The RN to Master of Science in Nursing with concentration in Family Nurse Practitioner degree is a 64-credit graduate program (RN to MSN) which prepares you for a career as an FNP.
The online degree program provides students with fundamental knowledge and skills in advanced pathophysiology and pharmacology, health promotion across the life span, adult, geriatric, and pediatric healthcare, and much more.

Career-focused curriculum
Discover the crucial knowledge and skills required to succeed in your work and build a foundation for continued career growth.

Flexible schedule
We work hard to help you maintain school-life balance, striving to be as flexible as possible for busy non-traditional students.

Virtual services
Access to extensive virtual services, including academic advising, tutoring, support services, technical support and library services.

Lifelong support
We support your ongoing career advancement by providing comprehensive, personalized student services with lifelong career coaching.

Rolling admissions
No application deadlines to worry about. Apply when you're ready and prepare to get started soon.
Classes Start January 8th
Learn More Today
RN to MSN-FNP classes and curriculum details
The Herzing RN to MSN curriculum offers graduate-level nursing coursework as well as career-focused education, from foundational and core courses to valuable clinical experience.
All classes are delivered online with clinicals totaling 630 hours with 500 unique patient encounters.
| Program | Monthsi | Credits |
| --- | --- | --- |
| Master of Science in Nursing (MSN) with a Concentration in Family Nurse Practitioner - Accelerated RN-MSN (MSNFNPA) | 24 | 64 |
i. Average number of months for students to complete program
Required Bridge Courses
All courses, 16.00 semester credit hours, are required prior to completing graduate level coursework.
EN 304 - English Composition II 3.00
This course requires students to analyze discourse communities, execute a well-designed academic research project, apply reading strategies to academic texts, and use texts as models for writing. Analyzing discourse communities involves identifying how communication conventions change in different contexts. Designing and executing an academic research project involves formulating research questions, conducting primary and/or secondary research, synthesizing ideas from multiple sources, discussing findings, and presenting the results in APA format. Applying reading strategies to academic texts involves using a process for reading, identifying text features, evaluating sources, and organizing reading notes. Using texts as models for writing involves analyzing and imitating the scope, structure, methods, use of evidence, and tone common to academic writing.
This course presents the study of basic statistical theory and concepts. Topics include statistical probabilities, measures of central tendency, measures of variation, hypothesis testing, regression, and correlation.
NSG 321 - Advanced Leadership and Management 3.00
This course uses theoretical frameworks in critical thinking strategies to study the coordinating role of the profession nurse within the healthcare delivery system.  Current theories of leadership and management in relation to nursing practice.
NSG 323 - Community and Public Health Nursing 5.00
This course focuses on the role and competencies of the nurse in the community setting, to promote whole-person health.  The principles of professional nursing care are applied to culturally diverse individuals, families, and groups and are integrated throughout the health-illness continuum. In the clinical setting, students care for selected patients in various community-based settings, integrating knowledge of epidemiology and factors that influence population health.
NU 480 - Dimensions of Advanced Nursing Practice 2.00
Using the knowledge, skills, research, technology, and experience, learners will expand and explore advanced nursing practice as an educator, leader, and practitioner. This course will examine nursing theory, professional role competencies, and standards related to practice, education, and leadership.
Core Courses
All courses, 15.00 semester credit hours, are required.
HA 610 - Health Policy and Management 3.00
This course takes an interdisciplinary approach to guide students in evaluating healthcare policy issues that impact decision making and outcomes in healthcare. Students will explore healthcare delivery systems and analyze issues which impact the delivery of healthcare and nursing at global, national, and state levels of government. Students will analyze the development, formulation, and implementation of policies and related economic issues that can influence healthcare practice today. In addition, the course includes topics such as the relationship between healthcare providers and patients, insurance policies, quality management, legislative liability issues, ethical decision making, and other policy issues.
NU 500 - Theoretical Foundations for Nursing 3.00
The theoretical foundations for this nursing course focus on exposing the advanced practice nurse to a wide range of theory. The course will provide students with the basis for understanding, constructing, formulating, applying, and evaluating theory. It will also examine the role that theory plays in providing the scientific basis for nursing praxis. Selected theories and conceptual frameworks will be studied and critiqued for their utilization in terms of nursing knowledge development as they relate to practice and research.
NU 525 - Technology and Nursing Informatics in Advanced Practice 3.00
This course provides an overview of the integration of technology and nursing informatics in various healthcare environments. Legal, ethical, and cultural issues directing use of technology are examined. The influence of technology on patient outcomes will be explored.
NU 530 - Organizational Systems and Behaviors 3.00
This course examines organizations from a systems perspective, addressing the concepts of leadership, motivation, and behavior. Strategic planning, fiscal responsibility, legal and ethical issues, and performance improvement are explored.
NU 560 - Research Methods and Evidence-Based Practice 3.00
This course will introduce, and apply research methods and designs, knowledge-based research techniques, evidence-based practice, outcome evaluation, and evaluation of research processes. Grant writing and national guidelines regarding human subject research protection will be covered. Students will be exposed to the critique of qualitative and quantitative research methods. Ethical issues in research and the value of nursing and healthcare research will be critically explored. In addition, students will be able to develop a research proposal or carry out a quality improvement project.
Required Direct Care Core Courses
All courses, 9.00 semester credit hours, are required.
NU 610 - Advanced Health Assessment 3.00
This course is an examination of the process of holistic assessment (physical, psychosocial, and cultural) of individuals across the lifespan. Focus is critical thinking and decision-making related to the role of the advanced practice nurse in a primary care setting.
*Students in the FNP program must take NU 610 and NU 611 in the same semester.
NU 621 - Advanced Pathophysiology 3.00
The course examines scientific concepts of pathophysiology essential to diagnostic reasoning and clinical management of common disease states. The dilemma of cost and need for laboratory and radiographic evidence to support diagnosis is examined.
NU 636 - Advanced Pharmacology 3.00
This course is designed to advance the student's knowledge of pharmacokinetics, pharmacodynamics, and pharmacotherapeutics in the management of health and disease states. Major categories of pharmacological agents are examined in the context of the life span, culture, and health and disease states. State and federal regulation related to purchase, possession, administration and patient education about controlled substances, pharmacologic agents and non-pharmacologic agents used as medications are examined.
Required Courses in FNP Concentration
All courses, 24.00 semester credit hours, are required.
NU 580 - Health Promotion Across the Life Span 3.00
This course presents an array of clinical case studies that give the graduate student the opportunity to assess and intervene in healthcare problems across their lifespan at the primary, secondary, and tertiary levels of healthcare. Key concepts such as healthy lifestyles, selfcare, holisms, healing therapeutics, caring communication, critical thinking, diversity, healthcare technology, and nursing leadership and education will be addressed.
NU 611 - Clinical Decision-Making 2.00
This course is an examination of the processes applicable to clinical decision making. Models for clinical decision making will be presented.  An overview of key assessments and the wide range of clinical activity categories that impact clinical decision making will be provided. Application of course concepts will be accomplished through engagement with hypothetical clinical scenarios.
NU 623 - Adult Healthcare 4.00
This course focuses on the provision of care to the adult patient, aged 18 to 64 years of age, by the family nurse practitioner. This clinical course continues to develop diagnostic and clinical reasoning skills in students. Students apply theoretical knowledge, evidence-based guidelines and contemporary practices in the assessment and management of health and disease states in the adult population.
NU 626 - Roles for Nurse Practitioners 3.00
This course examines the expanded roles of the advanced practice nurse in various primary care settings. Details of specific state and federal regulations are explored.
NU 627 - Geriatric Healthcare 4.00
As the population ages, care of the older adult becomes an increasing need in primary care. Family nurse practitioners in primary care focus on care of patients across the lifespan including this older adult population. This clinical course will explore the special needs of the older adult (65 and older) by synthesizing theoretical knowledge, evidence-based guidelines and contemporary practices in assessment and management of health and disease states in the geriatric population.  Since this course is reflective of the last course in the clinical sequence, APEA testing for board certification preparation will be incorporated to assist the student with preparation for the exam.
+ Chair approval is needed for PMC students to take NU 627 with another clinical course simultaneously.
NU 631 - Healthcare of Women across the Lifespan 4.00
The focus of this clinical course is on integrating theoretical knowledge, evidence-based guidelines and contemporary practice in the assessment and management of health and disease states specific to women across the lifespan. Personal, family, cultural, community, and societal influences are analyzed for their impact on the physical and emotional health of women. Health risk identification, health promotion, health maintenance, and treatment alternatives are examined.
NU 632 - Healthcare of Infants, Children and Adolescents 4.00
The focus of this clinical course is on synthesizing theoretical knowledge, evidence-based guidelines and contemporary practices in assessment and management of health and disease states in the pediatric population from birth through adolescence. The context of family-centered care in relation to individual child growth and development, safety, and cultural practices is explored. Health risk identification, health promotion, health maintenance, and treatment alternatives are applied to individuals, families, and populations.
Clinical Proficiency Exam
The following courses are 0.00 semester credit hours associated with the policy outlined above. Students are required to take as co-requisite courses along with NU 611, NU 664, or NU 671, depending on the program of study. NSG 0600 - Clinical Proficiency Exam Semester Credit Hours: 0.00 NSG 0600R - Clinical Proficiency Remediation Course (if needed) Semester Credit Hours: 0.00
RN to BSN to MSN-FNP Track
This track combines our online RN to BSN and BSN to MSN-FNP degree programs. You can view their respective curriculums with all course information here:
Tuition & Cost
Tuition & Cost
The cost of tuition for the RN to MSN-FNP program is $735 per credit.
You can potentially earn even greater savings by transferring credit from prior college coursework, applying for financial aid, or potential partnership opportunities through your employer.
Our goal is your career advancement. That's why we are always working to improve our curriculum and processes to make our program as affordable as possible while preparing you best for success in your work.
 Scholarships & Financial Aid
You may be eligible for multiple scholarships and grants—including our Nurses Circle of Achievement scholarship, which offers up to 10% tuition reduction.
 Military/Veteran Discounts
Veterans, Active Duty U.S. Servicemembers, and spouses may qualify for a 10% tuition discount or tuition reduction to $250 per credit.
Requirements
RN to FNP program enrollment prerequisites
Enrollment requirements are the same whether you choose the accelerated RN to MSN-FNP or RN to BSN to MSN-FNP track. Prerequisites include:
Live in a state where Herzing University is authorized to offer the RN to MSN program
Hold a current, active and unrestricted license as a registered nurse (RN) in the same state in which they practice
Hold an associate degree (ADN/ASN/AASN) in nursing from a nationally or regionally accredited college or university
Participate in an interview to identify your goals and determine if the program is right for you
Eligible states for enrollment: Alabama, Alaska, Arizona, Arkansas, California, Colorado, Connecticut, Delaware, District Of Columbia, Florida, Georgia, Hawaii, Idaho, Illinois, Indiana, Iowa, Kansas, Kentucky, Louisiana, Maine, Maryland, Massachusetts, Michigan, Minnesota, Mississippi, Missouri, Montana, Nebraska, Nevada, New Hampshire, New Jersey, New Mexico, North Carolina, North Dakota, Ohio, Oklahoma, Pennsylvania, Rhode Island, South Carolina, South Dakota, Tennessee, Texas, Utah, Vermont, Virginia, West Virginia, and Wisconsin.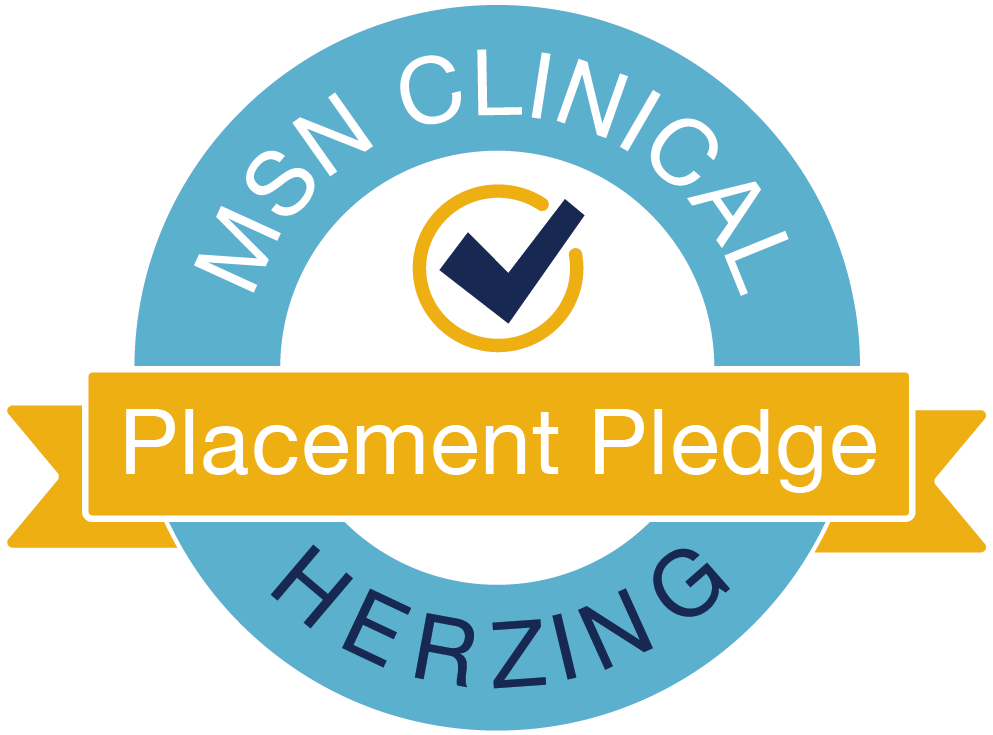 Your clinical placement is our pledge.
We understand securing clinical placement as part of an RN to MSN-FNP program is one of the biggest concerns students face. At Herzing, we offer guidance and support through our step-by-step Clinical Guidance Process to ensure you can get the clinical practice experiences you need.
As a Herzing student, we'll encourage you to find your own preceptor and clinical sites as there are many benefits to doing so. However, we provide extensive support should you find difficulty along the way. With Herzing, you are never on your own.
Because of our strong relationships with healthcare providers across the U.S. and our comprehensive Clinical Guidance Process, we are confident in our ability to help you find clinical placement. So much so that if you are unable to find a clinical site on your own, we pledge to step in and help you secure clinical placement.*
* Subject to terms and conditions outlined in the enrollment documents.
Pathways
Choose your path to go from RN to FNP
RN to BSN to MSN-FNP Path
Earn your BSN, then work towards a master's degree in nursing.
Curriculum built to help you earn a BSN and MSN faster
How long? 32 months on average
Earn a bachelor's degree that may be required by some employers
Accelerated RN to MSN-FNP
Bridge directly from an ADN to FNP in the Herzing Accelerated RN to MSN program.
Curriculum built to accelerate your MSN-FNP completion
How long? As few as 2 years (24 months)
Ideal for nurses looking to advance their practice and leap forward in their career
Your career as a nurse practitioner IS possible
Become a family nurse practitioner and you'll develop skills to handle patient care across the lifespan under the umbrella of family practice.
After earning your master's degree, you can qualify to become an important contributor in many different types of settings in patient care:
Family practice
Primary care
Public health
Retail health clinics
Acute care
Psychiatry/mental health
Urgent care clinics
Emergency rooms
Veterans administration
Women's Health
According to the Bureau of Labor Statistics, employment of nurse practitioners is expected to rise 45% from 2022-2032, far surpassing the average across all U.S. occupations.*
Now is a great time to begin earning the education you need to join a rapidly growing field in healthcare.
How can I continue advancing my career? Nurse practitioners considering an additional credential in teaching or instruction may be interested in a post-master's certificate in nursing education.
FAQ
Frequently Asked Questions
Sometimes hospitals form partnerships with schools like ours to provide employees with unique benefits should they choose to pursue an advanced nursing degree.
Employees of Herzing partners can potentially earn college credit for prior work or military experience, transfer existing credit, or earn a scholarship to make going back to school more affordable.
If you are currently an RN considering becoming a nurse practitioner, view our educational partnerships or check with your employer for potential possibilities.
Increasingly yes, but it ultimately depends on the institution who issued the degree.
As the popularity of online degrees continues to rapidly trend upward in the wake of the COVID-19 pandemic, so has mainstream acceptance of online degree programs.
Attitudes toward online degrees were already becoming more positive before the pandemic forced the issue. According to a 2019 study from Northeastern University, 61 percent of HR leaders say online learning is "of equal or greater quality to more traditional methods." More than half believe that in the future, most advanced degrees will be online.
Regarding nursing applicants who earned online degrees, there are a few important factors employers consider:
The school and degree program's accreditation. Herzing University is accredited by the Higher Learning Commission (HLC) and programmatically accredited by the Commission on Collegiate Nursing Education (CCNE).i
If you have earned nursing licensure. Our programs are designed to help you pass any necessary exams and become licensed before getting your first job.
The school's reputation and history of producing excellent employees. Consider our many happy graduates and 50+ years producing more than 40,000 alumni.
For all these reasons employers know what it means when they see "Herzing University" on a resume!
i. Programmatic accreditation varies by program and by campus location. Find details about all Herzing University accreditations and approvals.
Completing the Accelerated RN to FNP option with Herzing takes 24 months. If you choose this path you will not earn a BSN.
If you choose to earn your BSN first, you'll need 12 months to go from RN to BSN, and another 20 months to go from BSN to FNP in our MSN-FNP program—for a total of at least 32 months.
Here's a selection of the most common types of nurse practitioners:
Women's Health Nurse Practitioner (WHNP)
Note: Herzing does not offer a track in Women's Health Nurse Practitioner (WHNP).
Each specialty has its own unique requirements in terms of job experience and certification.
According to the Bureau of Labor Statistics, nurse practitioners earn an average salary of $124,680 per year ($59.94 per hour). Pay depends on many factors, including your location, what healthcare institution you work for and your level of experience.*
Discover the average nurse practitioner salary by state and find out what nurse practitioners make on average near you.
Nurse practitioner represents an advanced practice role in nursing—it's not an easy job, and our goal is to prepare you best for success! We strive to keep coursework manageable, but provide you with the knowledge, skills, and valuable clinical experiences to succeed as a nurse practitioner.
Our goal is to help you balance the challenge of an NP curriculum with everything else in your life, including your work, family and friends. You can take courses at the right pace for you, so you can get the most out of going back to school and be ready to practice as a nurse practitioner.
Nurse practitioners have an expanded scope of practice compared to registered nurses. In addition to RN duties, nurse practitioners may also write prescriptions, order lab tests, diagnose illnesses, and more (although specifics vary by state). NPs have greater autonomy in delivering patient care, and for that reason, the education requirement is higher. 
Learn more about the main differences between RN vs. NP.
No. Registered nurses holding an associate degree who enroll in an accelerated RN to MSN (Nurse Practitioner concentration/track) program may skip earning a Bachelor of Science in nursing (BSN) on their way to earning their MSN.
Those who want to become an NP but only have a non-nursing bachelor's degree may be eligible to enroll in our online Direct Entry MSN program, which makes it possible to earn a master's degree in nursing in as few as 20 months without earning a BSN on the way.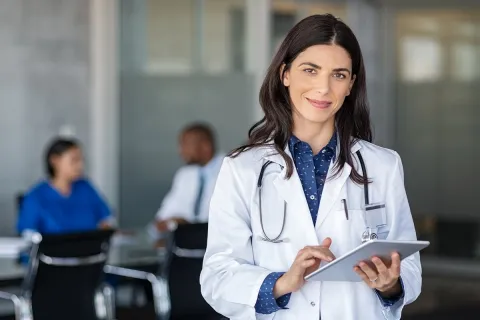 Choose your NP pathway
Considering all of your options for nurse practitioner specialties?
Herzing University offers multiple nurse practitioner programs for current nurses holding an associate, bachelor's, or master's degree in nursing.
Our goal is to help you walk your career path no matter where you are, or where you want to go.
Explore Herzing NP programs
Disclosures
Accreditation
Accreditation & Disclosures
1. The baccalaureate degree program in nursing and master's degree program in nursing at Herzing University - Madison are accredited by the Commission on Collegiate Nursing Education (http://www.ccneaccreditation.org). Herzing University is approved to offer programs in an online learning modality through association with the main campus in Madison, Wisconsin.
Herzing University is accredited by the Higher Learning Commission (hlcommission.org), an institutional accreditation agency recognized by the U.S. Department of Education.
* Bureau of Labor Statistics (BLS), U.S. Department of Labor, Occupational Outlook Handbook 2022. BLS estimates do not represent entry-level wages and/or salaries. Multiple factors, including prior experience, age, geography market in which you want to work and degree field, will affect career outcomes and earnings. Herzing neither represents that its graduates will earn the average salaries calculated by BLS for a particular job nor guarantees that graduation from its program will result in a job, promotion, salary increase or other career growth.