Master's Degree
MSN-PMHNP Online Program
Psychiatric Mental Health Nurse Practitioner
Master's Degree
MSN-PMHNP Online Program
Psychiatric Mental Health Nurse Practitioner
Enroll in the Herzing MSN-PMHNP program to go from BSN to PMHNP
| | |
| --- | --- |
| Accreditation | CCNE accredited,1 Accredited by the Higher Learning Commission |
| Transfer credit | Up to 9 approved credit hours |
| Format | 100% online coursework |
| Clinicals | 540 clinical hours across the lifespan; we pledge your clinical placement |
| Immersion Exp. | 180-hour, 16-week immersion experience to prepare for your first job |
| Get started | 6 start dates per year - with no wait list! |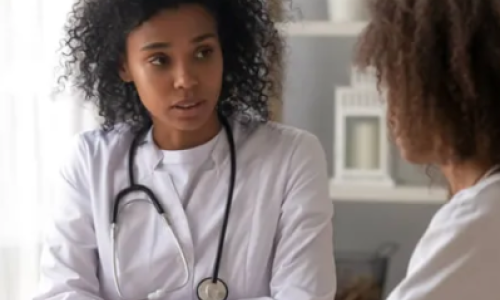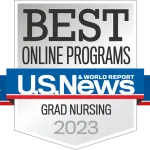 Overview: Online MSN-PMHNP Program
The MSN-PMHNP degree (BSN to PMHNP) is a 48-credit graduate program which prepares you for a career as a psychiatric mental health nurse practitioner. The degree program provides students with fundamental knowledge and skills in advanced psychopharmacology and health promotion, counseling and psychotherapy, clinical decision-making, and much more.

Career-focused curriculum
Discover the crucial knowledge and skills required to succeed in your work and build a foundation for continued career growth.

Flexible schedule
We work hard to help you maintain school-life balance, striving to be as flexible as possible for busy non-traditional students.

Virtual services
Access to extensive virtual services, including academic advising, tutoring, support services, technical support and library services.

Lifelong support
We support your ongoing career advancement by providing comprehensive, personalized student services with lifelong career coaching.

Rolling admissions
No application deadlines to worry about. Apply when you're ready and prepare to get started soon.
Classes Start October 30th
Learn More Today
Every experience counts.
Herzing University integrates an "Every Experience Counts" experiential learning approach in the 540-hour clinical component of our PMHNP program. We believe the best preparation for an advanced practice role is real, prescriptive learning through every day experience.
Earn clinical credit hours for unique nursing experiences—either direct patient care in your community or telemedicine/virtual care. Examples of potentially eligible activities include:
Grief counseling for patients and families in hospice
Assistance with group therapy in a mental health institution
Providing mental health education to inmates in a correctional facility
Interviewing patients in a crisis stabilization unit
Assessment of psychiatric patients in the emergency room
If you discover an opportunity to further develop your skills as a PMHNP you may apply for credit towards your total clinical hours.
Build your career foundation from a variety of instructive and rewarding nursing experiences. Our program makes it possible.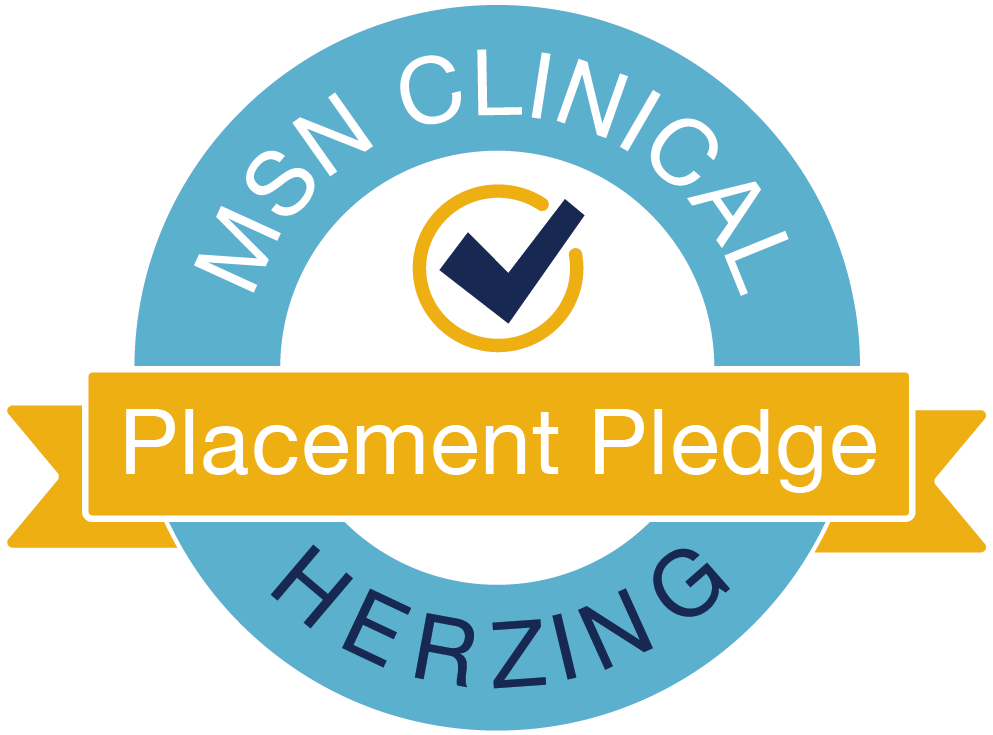 Your clinical placement is our pledge.
We understand securing clinical placement as part of a PMHNP program is one of the biggest concerns students face. At Herzing, we offer guidance and support through our step-by-step Clinical Guidance Process to ensure you can get the clinical practice experiences you need.
As a Herzing student, we'll encourage you to find your own preceptor and clinical sites as there are many benefits to doing so. However, we provide extensive support should you find difficulty along the way. With Herzing, you are never on your own.
Because of our strong relationships with healthcare providers across the U.S. and our comprehensive Clinical Guidance Process, we are confident in our ability to help you find clinical placement. So much so that if you are unable to find a clinical site on your own, we pledge to step in and help you secure clinical placement.*
* Subject to terms and conditions outlined in the enrollment documents.
Psychiatric Mental Health NP program classes & curriculum details
Herzing's online graduate degree program provides students with the knowledge, skills and expertise to apply for certification as a PMHNP. The curriculum includes core MSN courses, specialty concentration courses and hands-on clinical courses. Upon graduation you'll be qualified for the Board Certified PMHNP (PMHNP-BC) exam from the American Nurses Credentialing Center (ANCC).
The ability to connect with patients virtually to provide remote care is becoming increasingly important. Herzing's curriculum provides instruction in the principles of telehealth, including the use of appropriate technology, provisions for coding and reimbursement, and the legal and ethical implications of remote patient encounters.
All classes are delivered online with 540 total hours of clinical experience, featuring a 180-hour immersion experience to help you prepare for your first job as a PMHNP.
| Program | Monthsi | Credits |
| --- | --- | --- |
| Master of Science in Nursing (MSN) with a Concentration in Psychiatric Mental Health Nurse Practitioner (PMHNP) | 24 | 48 |
i. Average number of months for students to complete program
Required Core Courses
All courses, 15.00 semester credit hours, are required.
HA 610 - Health Policy and Management 3.00
This course takes an interdisciplinary approach to guide students in evaluating healthcare policy issues that impact decision making and outcomes in healthcare. Students will explore healthcare delivery systems and analyze issues which impact the delivery of healthcare and nursing at global, national, and state levels of government. Students will analyze the development, formulation, and implementation of policies and related economic issues that can influence healthcare practice today. In addition, the course includes topics such as the relationship between healthcare providers and patients, insurance policies, quality management, legislative liability issues, ethical decision making, and other policy issues.
NU 500 - Theoretical Foundations for Nursing 3.00
The theoretical foundations for this nursing course focus on exposing the advanced practice nurse to a wide range of theory. The course will provide students with the basis for understanding, constructing, formulating, applying, and evaluating theory. It will also examine the role that theory plays in providing the scientific basis for nursing praxis. Selected theories and conceptual frameworks will be studied and critiqued for their utilization in terms of nursing knowledge development as they relate to practice and research.
NU 525 - Technology and Nursing Informatics in Advanced Practice 3.00
This course provides an overview of the integration of technology and nursing informatics in various healthcare environments. Legal, ethical, and cultural issues directing use of technology are examined. The influence of technology on patient outcomes will be explored.
NU 530 - Organizational Systems and Behaviors 3.00
This course examines organizations from a systems perspective, addressing the concepts of leadership, motivation, and behavior. Strategic planning, fiscal responsibility, legal and ethical issues, and performance improvement are explored.
NU 560 - Research Methods and Evidence-Based Practice 3.00
This course will introduce, and apply research methods and designs, knowledge-based research techniques, evidence-based practice, outcome evaluation, and evaluation of research processes. Grant writing and national guidelines regarding human subject research protection will be covered. Students will be exposed to the critique of qualitative and quantitative research methods. Ethical issues in research and the value of nursing and healthcare research will be critically explored. In addition, students will be able to develop a research proposal or carry out a quality improvement project.
Required Direct Care Core Courses
All courses, 9.00 semester credit hours, are required.
NU 610 - Advanced Health Assessment 3.00
This course is an examination of the process of holistic assessment (physical, psychosocial, and cultural) of individuals across the lifespan. Focus is critical thinking and decision-making related to the role of the advanced practice nurse in a primary care setting.
*Students in the PMHNP program must take NU 610 and NU 671 in the same semester.
NU 621 - Advanced Pathophysiology 3.00
The course examines scientific concepts of pathophysiology essential to diagnostic reasoning and clinical management of common disease states. The dilemma of cost and need for laboratory and radiographic evidence to support diagnosis is examined.
NU 636 - Advanced Pharmacology 3.00
This course is designed to advance the student's knowledge of pharmacokinetics, pharmacodynamics, and pharmacotherapeutics in the management of health and disease states. Major categories of pharmacological agents are examined in the context of the life span, culture, and health and disease states. State and federal regulation related to purchase, possession, administration and patient education about controlled substances, pharmacologic agents and non-pharmacologic agents used as medications are examined.
Required Courses in PMHNP Concentration
All courses, 24.00 semester credit hours, are required.
NU 626 - Roles for Nurse Practitioners 3.00
This course examines the expanded roles of the advanced practice nurse in various primary care settings. Details of specific state and federal regulations are explored.
NU 670 - Advanced Psychopharmacology and Health Promotion 3.00
This course provides scientific knowledge of psychopharmacology and its application to treatment of clients with psychiatric disorders across the lifespan. This course studies the advanced concepts related to neuroscience, pharmacokinetics, and pharmacodynamics of psychotropic drugs as well as applications of psychopharmacology in the treatment and management of disorders in mental health. Substance abuse is explored with context of mental health disorders.
NU 671 - Clinical Decision-Making in Psychiatric Mental Health 2.00
This course is an examination of the processes applicable to clinical decision making across the life span with patients exhibiting psychiatric disorders. Models for clinical decision making in mental health will be presented. An overview of key assessments and the clinical activity categories that impact clinical decision making will be provided. Application of course concepts will be accomplished through engagement with hypothetical clinical scenarios in the mental health patients. 
NU 672 - Counseling and Psychotherapy 4.00
This course examines the guiding principles and ethics of counseling and the therapeutic environment for mental health patients across the lifespan. Techniques of counseling are introduced and correlated with relationships. Students will demonstrate techniques in the clinical setting in therapeutic milieus. 
NU 673 - Psychiatric Mental Healthcare I 4.00
This course prepares students to assess, diagnose, and manage mental health care needs across the life span. Emphasis will be placed on underlying acute and chronic psychiatric/mental health diagnoses. Clinical opportunities will be utilized to all the PMHNP to apply concepts in primary and acute care settings with adults and families. 
NU 674 - Psychiatric Mental Healthcare II 4.00
This purpose of this course is to provide students further studies related psychiatric/mental health care management of patients across the life span to include underlying acute and chronic psychiatric/mental health disorders. Clinical opportunities will be utilized to apply concepts in primary and acute care settings with adults and families.
NU 675 - Psychiatric Mental Health Nurse Practitioner Practicum 4.00
This course is an immersion experience into a mental health practice and the role of the Psychiatric Mental Health Nurse Practitioner. 
Clinical Proficiency Exam
The following courses are 0.00 semester credit hours associated with the policy outlined above. Students are required to take as co-requisite courses along with NU 611, NU 664, or NU 671, depending on the program of study. NSG 0600 - Clinical Proficiency Exam Semester Credit Hours: 0.00 NSG 0600R - Clinical Proficiency Remediation Course (if needed) Semester Credit Hours: 0.00
Tuition & Cost
Tuition & Cost
The cost of tuition for the MSN-PMHNP program is $735 per credit.
You can potentially earn even greater savings by transferring credit from prior college coursework, applying for financial aid, or potential partnership opportunities through your employer.
Our goal is your career advancement. That's why we are always working to improve our curriculum and processes to make our program as affordable as possible while preparing you best for success in your work.
 Scholarships & Financial Aid
You may be eligible for multiple scholarships and grants—including our Nurses Circle of Achievement scholarship, which offers up to 10% tuition reduction.
 Military/Veteran Discounts
Veterans, Active Duty U.S. Servicemembers, and spouses may qualify for a 10% tuition discount or tuition reduction to $250 per credit.
PMHNP program enrollment requirements
Enrollment prerequisites for the Herzing University MSN – Psychiatric Mental Health Nurse Practitioner program include:
You must live in a state where Herzing University is authorized to offer the MSN-PMHNP program
Hold a current, active and unrestricted license as a registered nurse (RN) in the same state in which you live (Note: Holding a multi-state, compact state license and being a resident in a compact license state will be deemed to have met this requirement)
Hold a Bachelor of Science in Nursing (BSN) degree from an accredited university or college with an overall minimum GPA of 3.0 on a 4.0 scale
Eligible states for enrollment: Alabama, Alaska, Arizona, Arkansas, California, Colorado, Connecticut, Delaware, District Of Columbia, Florida, Georgia, Hawaii, Idaho, Illinois, Indiana, Iowa, Kansas, Kentucky, Louisiana, Maine, Maryland, Massachusetts, Michigan, Minnesota, Mississippi, Missouri, Montana, Nebraska, Nevada, New Hampshire, New Jersey, New Mexico, North Carolina, North Dakota, Ohio, Oklahoma, Pennsylvania, Rhode Island, South Carolina, South Dakota, Tennessee, Texas, Vermont, Virginia, West Virginia, and Wisconsin.
Advance your career into a rewarding NP specialty
Begin walking a new fulfilling career path and join a true profession of the heart. As a Psychiatric Mental Health Nurse Practitioner, your job will be to help patients with mental illness become whole again.
PMHNPs have the expertise to diagnose and treat common psychological illnesses and disorders within their scope of practice, including anxiety, depression, insomnia and dementia.
Focus on mental health, including hands-on physical care
Perform psychological consulting (psychotherapy)
Prescribe medication and monitor its effects
Educate patients or clients on a variety of coping skills
Work in private practice, hospitals, community clinics, and more
Approach patient care like a detective, using all information at your disposal to solve complex psychological issues
Multiple sources suggest the demand for PMHNPs will be on the rise in the near future.
Now is an excellent time to begin working towards joining a specialty poised for growth.
How can I advance my career? The hallmark of an excellent healthcare provider is their continuing education. After earning your master's degree you may consider earning further postgraduate credentials. We also offer many post master's certificate options for nurses seeking additional education for their next career move, including concentrations in Family Nurse Practitioner (FNP), Nursing Education, Nursing Leadership and Administration, and Adult Gerontology Primary Care Nurse Practitioner (AGPCNP).
FAQ
Frequently Asked Questions
The role of a PMHNP can overlap with psychiatrists, psychologists, social workers and other healthcare professionals who routinely perform psychotherapy. However, the total scope of practice for each role is different and varies by state requirements.
Psychiatric-mental health nurse practitioners hold a master's degree or doctorate in nursing, while a psychiatrist is a physician who went to medical school and completed a residency program specializing in psychiatry.
PMNHPs can do many things a psychiatrist does, including psychotherapy, prescribing medications, developing and managing treatment plans and educating patients and their families.
Psychiatrists are typically able to treat more complex types of disorders, but PMNHPs may treat many common disorders like anxiety, depression, Attention Deficit Disorder (ADD), Schizophrenia, substance abuse/addiction, and much more.
There is a difference between being licensed and certified. Becoming a certified PMHNP shows employers you are capable of patient care in a psychiatric setting. Licensure determines if you are legally allowed to practice in your state of residence. Employers may require board certification before hiring a PMHNP even if practicing without certification is legally permissible.
Each state has their own requirements for licensure. You will need to find the requirements from your state's board of nursing.
We strongly recommend getting certified after graduating with your degree. You'll be in the best position to find a great job and follow your career path in nursing.
While registered nurses with an ADN or BSN may pursue roles related to mental health and gain professional experience there, working as a nurse practitioner represents the next level of clinical knowledge and education.
To become a board certified psychiatric-mental health nurse practitioner, you will need to earn at least a master's degree from an accredited PMHNP program. View all of eligibility requirements from the American Nurses Credentialing Center (ANCC).
Here's a selection of the most common types of nurse practitioners:
Women's Health Nurse Practitioner (WHNP)
Note: Herzing does not offer a track in Women's Health Nurse Practitioner (WHNP).
Each specialty has its own unique requirements in terms of job experience and certification.
According to the Bureau of Labor Statistics, nurse practitioners earn an average salary of $124,680 per year ($59.94 per hour).*
NPs specializing in psychiatry/mental health may increase their earning potential by becoming board certified, gaining valuable experience and continuing their education.
Learn more about how much psych NPs can make, including a state-by-state breakdown and estimates across several unique healthcare facilities.
With Herzing University you are never alone. It's our goal to provide all students an affordable, career-driven education. Financial aid options include:
You can find an estimate for tuition and expenses by using the Herzing University tuition wizard.
A PMHNP is a type of Advanced Practice Registered Nurse (APRN) who holds expertise in behavioral health and wellness. Their role is to assess, diagnose and treat patients exhibiting psychiatric or addictive disorders. A PMHNP's job description and scope of practice can include:
Provide psychological counseling (psychotherapy)
Prescribe medication and monitor its effects
Collaborate with additional health professionals: doctors/physicians, nurses, administrators and other healthcare staff
Conduct research to improve the delivery of mental healthcare
Educate and consult nurses and other mental health professionals
Order and interpret diagnostic tests
Whole health begins with mental health—including all ages and demographics across the lifespan. As a nurse practitioner within the mental health specialty, you will have the opportunity to continue your education and focus your experience in many different types of care, including pediatric, geriatric/adult, women's health, public health and much more.
Where do they work? PMHNPs may work in many different healthcare environments, including hospitals, private practices, mental health centers, primary care offices or governmental institutions.
There is a significant difference between being a medical/surgical nurse and a psychiatric nurse. General nursing in a medical or surgical role is based primarily on physical illness, while psychiatric nursing is based on mental illness. As a psychiatric-mental health nurse practitioner, your role will be much more verbal than hands-on.
Daily tasks include new patient evaluations and follow-up appointments, reviewing patient charts and lab results, monitoring and documenting medication, adjusting patient care strategies, responding promptly to patient questions and concerns, and working with additional healthcare staff to deliver the best possible psychiatric care.
MSN - Psychiatric Mental Health Nurse Practitioner Degree Programs
Showing 1 programs for the Online campus
To learn more about this program, click the Request Info button to the right.
Ready to get started?
Contact us to request more information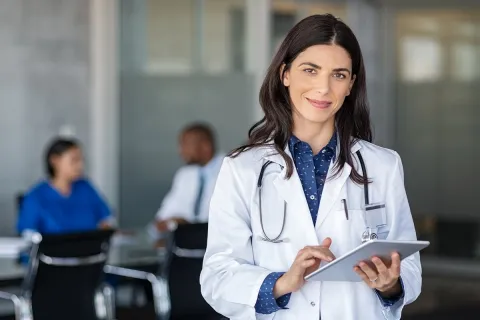 Choose your NP pathway
Considering all of your options for nurse practitioner specialties?
Herzing University offers multiple nurse practitioner programs for current nurses holding an associate, bachelor's, or master's degree in nursing.
Our goal is to help you walk your career path no matter where you are, or where you want to go.
Explore Herzing NP programs
Accreditation
Accreditation & Disclosures
1. The master's degree program in nursing at Herzing University - Madison is accredited by the Commission on Collegiate Nursing Education (http://www.ccneaccreditation.org). Herzing University is approved to offer programs in an online learning modality through association with the main campus in Madison, Wisconsin.
Herzing University is accredited by the Higher Learning Commission (hlcommission.org), an institutional accreditation agency recognized by the U.S. Department of Education.
* Bureau of Labor Statistics (BLS), U.S. Department of Labor, Occupational Outlook Handbook 2022. BLS estimates do not represent entry-level wages and/or salaries. Multiple factors, including prior experience, age, geography market in which you want to work and degree field, will affect career outcomes and earnings. Herzing neither represents that its graduates will earn the average salaries calculated by BLS for a particular job nor guarantees that graduation from its program will result in a job, promotion, salary increase or other career growth.