Find your career path with Herzing
Discover the knowledge and skills you need to find success in your work. Our university is built for you, providing career-focused education for students seeking to advance careers in nursing, healthcare, behavioral health, business, technology, legal studies or public safety.i
Our Nashville campus is located northeast of the airport just off of I-40, home to faculty and staff eager to help you prepare for the career you've always wanted to build.
As your lifelong learning partner, we exist to support every step you take towards the career you've always wanted. We know that you are possible.
Herzing University
Nashville Campus
Visit us
100 Centerview Dr
Suite 100
Nashville, TN 37214
Programs
Programs available at the Nashville Campus or through Herzing University Online
1
Select an area of study...
2
Select a program level...
1Herzing University is approved to offer programs in an online learning modality through association with the main campus in Madison, Wisconsin.
FAQ
Frequently Asked Questions
No, we are not a for-profit university. Herzing University is a nonprofit educational institution as of 2015.
Availability of evening or night classes varies by program and class type. General education courses can typically be completed online on your schedule. In some cases, certain classwork or exams may require a set log-in time.
We work hard to fully prepare you for success in your work and provide as much flexibility as possible to achieve the right school-life balance. Our admissions team can help you determine how much coursework you can potentially complete in nights and evenings.
We have 6 start dates spread across full year-round study, resulting in start dates about every two months. Semesters last for 16 weeks (about 4 months) each.
You can view our academic calendar to see specific upcoming general start dates and other important dates to remember. We offer rolling admissions with no application deadlines.
Keep in mind start dates can vary by program and certain programs have a limited number of openings for new students. Your best bet is to contact admissions to confirm how soon you can enroll and start your new career path.
Tuition, fees, and expenses varies widely by program. After determining your program of interest, you can use our Tuition Wizard to find an initial estimate.
You are never alone! We offer many possibilities for financial aid for those who qualify, including scholarships and grants, loan options, VA/military benefits, and much more.
Herzing University is dedicated to YOU. Here at Herzing, we are career-focused, convenient and caring. Our specialized nursing programs were designed to help you achieve the career that you want in nursing at an affordable price.
Herzing offers diploma, undergraduate and graduate nursing degrees across 8 states at 11 different campuses and our online program, so you can choose the program and location.
But don't take our word for it! Hear from current and graduated students who agree that Herzing helped them attain their educational and career goals.
No, we do not have dormitories. We recommend that students live in housing that is near the campus with access to appropriate transportation allowing them to get to class and meetings on campus.
I decided to enroll in Herzing University because I was ready to advance my degree and take the next step in my nursing career.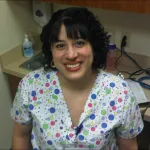 Nursing Program
Online Campus
Disclosures
i. Programs vary by location and are subject to change. Please check with your local campus for any updates, course outlines, and graduation requirements.