Earn your MSN-FNP with Herzing and become possible
CCNE-accredited*
100% online classwork with inter-professional educational opportunities
Herzing pledges clinical placement
Average program length: 20 months
48 credits, 675 clinical hours
6 start-dates per year
Complete your Master of Science in Nursing - Family Nurse Practitioner (MSN FNP) online from Herzing University and take a leap towards becoming a family nurse practitioner.
Herzing's online MSN FNP program is offered exclusively on the web, allowing working BSN nurses to go from BSN to FNP by completing coursework on their schedule.
How long will the MSN FNP program take?
The Herzing University online FNP program is typically completed in 20 months. When attending full-time the program length is 5 semesters. Program length and time to complete can vary based on transfer credits and whether the student chooses a full or part-time schedule. 
Candidates for the MSN Family Nurse Practitioner degree must complete:
48 semester hours, 30 of which are in the FNP concentration
675 total clinical hours
500 total patient encounters
You'll need to meet two minimums for each of the 5 clinical courses in the program: 135 clinical hours and 100 patient encounters
Herzing University's goal is to empower you to become a better caregiver – our patient encounter requirement ensures you are exposed to a wide variety of different cases, equipping you to be more fully prepared to thrive in your own practice.
Classes Start May 10th
Learn More Today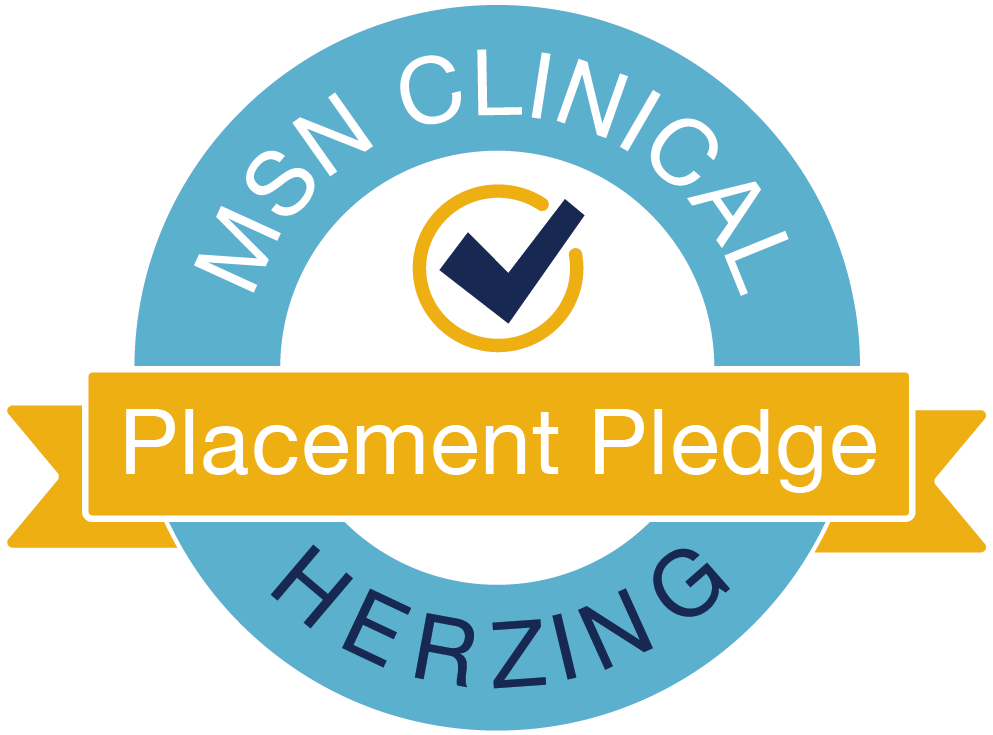 Your clinical placement is our pledge.
We understand securing clinical placement as part of an MSN-FNP program is one of the biggest concerns students face. At Herzing, we offer guidance and support through our step-by-step Clinical Guidance Process to ensure you can get the clinical practice experiences you need.
As a Herzing student, we'll encourage you to find your own preceptor and clinical sites as there are many benefits to doing so. However, we provide extensive support should you find difficulty along the way. With Herzing, you are never on your own.
Because of our strong relationships with healthcare providers across the U.S. and our comprehensive Clinical Guidance Process, we are confident in our ability to help you find clinical placement. So much so that if you are unable to find a clinical site on your own, we pledge to step in and help you secure clinical placement.*
* Subject to terms and conditions outlined in the enrollment agreement.
Clinicals
Clinical Experience: Herzing supports your search for a preceptor
Finding a preceptor or clinical location for a nurse practitioner program can be a pain point for many prospective nursing students. With Herzing University you are never on your own.
Benefits of the Herzing FNP program clinical experience
Strong University guidance. Herzing goes above and beyond to help you find a clinical site. Our Clinical Guidance Process backed by the Herzing MSN Clinical Placement Pledge ensures you are able to secure clinical placement as part of the MSN-FNP program.
You will be ready. Our program includes a Clinical Readiness Course to prepare you for success in the practicum your clinical experiences during your time here at Herzing University. 
Interdisciplinary opportunities. Exposure to diverse patient care environments makes you a better, more prepared nurse practitioner. Our priority is your experience to build upon in your new career—the Herzing FNP program requires a minimum of 100 patient encounters and 135 clinical hours in your clinical courses as part of the 675-hour requirement to ensure you see a variety of patients. You will earn personalized, valuable clinical experience with a deeper background treating patients of many ages across the lifespan including times of wellness and illness.
Flexible scheduling. Fitting clinical hours into an already hectic life can be a challenge. In collaboration with your clinical preceptor, you will identify a schedule that works best for you.
We treat you like a professional. You are a student—but in a clinical setting you are accountable to a licensed healthcare provider and their patients. From enrollment to completion we treat you like the nursing professional you are working so hard to become.
If you'd like more detail on the process, read our guide to finding a nurse practitioner preceptor, which includes information on what sites you may choose, what kinds of preceptors you can work with, and tips on how to secure a clinical.
MSN FNP Program Curriculum
Ranging from newborn to geriatric, Herzing's online FNP program is a population-focused curriculum completed in the primary care setting. The program is designed for BSN nurses looking to go from BSN to FNP - to be completed over twenty months (5 semesters) when attending full-time.
The curriculum offers advanced, immediately relevant training through core MSN courses, direct care courses, and clinical courses. A minimum of 48.00 semester credit hours and 675 practicum hours are required for graduation.
Options for RNs with an ADN
We also offer an RN to FNP program for nurses who hold associate degree or RN diploma in nursing.
Choose to go from RN to MSN or earn your BSN on the way in our RN to BSN to MSN track.
Required Core Courses
All courses, 15.00 semester credit hours, are required.
HA 610 - Health Policy and Management 3.00
This course takes an interdisciplinary approach to guide students in evaluating healthcare policy issues that impact decision making and outcomes in healthcare. Students will explore healthcare delivery systems and analyze issues which impact the delivery of healthcare and nursing at global, national, and state levels of government. Students will analyze the development, formulation, and implementation of policies and related economic issues that can influence healthcare practice today. In addition, the course includes topics such as the relationship between healthcare providers and patients, insurance policies, quality management, legislative liability issues, ethical decision making, and other policy issues.
NU 500 - Theoretical Foundations for Nursing 3.00
The theoretical foundations for this nursing course focus on exposing the advanced practice nurse to a wide range of theory. The course will provide students with the basis for understanding, constructing, formulating, applying, and evaluating theory. It will also examine the role that theory plays in providing the scientific basis for nursing praxis. Selected theories and conceptual frameworks will be studied and critiqued for their utilization in terms of nursing knowledge development as they relate to practice and research.
NU 525 - Technology and Nursing Informatics in Advanced Practice 3.00
This course provides an overview of the integration of technology and nursing informatics in various healthcare environments. Legal, ethical, and cultural issues directing use of technology are examined. The influence of technology on patient outcomes will be explored.
NU 530 - Organizational Systems and Behaviors 3.00
This course examines organizations from a systems perspective, addressing the concepts of leadership, motivation, and behavior. Strategic planning, fiscal responsibility, legal and ethical issues, and performance improvement are explored.
NU 560 - Research Methods and Evidence-Based Practice 3.00
This course will introduce, and apply research methods and designs, knowledge-based research techniques, evidence-based practice, outcome evaluation, and evaluation of research processes. Grant writing and national guidelines regarding human subject research protection will be covered. Students will be exposed to the critique of qualitative and quantitative research methods. Ethical issues in research and the value of nursing and healthcare research will be critically explored. In addition, students will be able to develop a research proposal or carry out a quality improvement project.
Required Direct Care Core Courses
All courses, 9.00 semester credit hours, are required.
NU 610 - Advanced Health Assessment 3.00
This course is an examination of the process of holistic assessment (physical, psychosocial, and cultural) of individuals across the lifespan. Focus is critical thinking and decision-making related to the role of the advanced practice nurse in a primary care setting.
*Students in the FNP program must take NU 610 and NU 611 in the same semester.
NU 621 - Advanced Pathophysiology 3.00
The course examines scientific concepts of pathophysiology essential to diagnostic reasoning and clinical management of common disease states. The dilemma of cost and need for laboratory and radiographic evidence to support diagnosis is examined.
NU 636 - Advanced Pharmacology 3.00
This course is designed to advance the student's knowledge of pharmacokinetics, pharmacodynamics, and pharmacotherapeutics in the management of health and disease states. Major categories of pharmacological agents are examined in the context of the life span, culture, and health and disease states. State and federal regulation related to purchase, possession, administration and patient education about controlled substances, pharmacologic agents and non-pharmacologic agents used as medications are examined.
Required Courses in FNP Concentration
All courses, 24.00 semester credit hours, are required.
NU 580 - Health Promotion Across the Life Span 3.00
This course presents an array of clinical case studies that give the graduate student the opportunity to assess and intervene in healthcare problems across their lifespan at the primary, secondary, and tertiary levels of healthcare. Key concepts such as healthy lifestyles, selfcare, holisms, healing therapeutics, caring communication, critical thinking, diversity, healthcare technology, and nursing leadership and education will be addressed.
NU 611 - Clinical Decision-Making 2.00
This course is an examination of the processes applicable to clinical decision making. Models for clinical decision making will be presented.  An overview of key assessments and the wide range of clinical activity categories that impact clinical decision making will be provided. Application of course concepts will be accomplished through engagement with hypothetical clinical scenarios.
*Students in the FNP program must take NU 610 and NU 611 in the same semester.
NU 623 - Adult Healthcare 4.00
This course focuses on the provision of care to the adult patient, aged 18 to 64 years of age, by the family nurse practitioner. This clinical course continues to develop diagnostic and clinical reasoning skills in students. Students apply theoretical knowledge, evidence-based guidelines and contemporary practices in the assessment and management of health and disease states in the adult population.
NU 626 - Roles for Nurse Practitioners 3.00
This course examines the expanded roles of the advanced practice nurse in various primary care settings. Details of specific state and federal regulations are explored.
NU 627 - Geriatric Healthcare 4.00
As the population ages, care of the older adult becomes an increasing need in primary care. Family nurse practitioners in primary care focus on care of patients across the lifespan including this older adult population. This clinical course will explore the special needs of the older adult (65 and older) by synthesizing theoretical knowledge, evidence-based guidelines and contemporary practices in assessment and management of health and disease states in the geriatric population.  Since this course is reflective of the last course in the clinical sequence, APEA testing for board certification preparation will be incorporated to assist the student with preparation for the exam.
+ Chair approval is needed for PMC students to take NU 627 with another clinical course simultaneously.
NU 631 - Healthcare of Women across the Lifespan 4.00
The focus of this clinical course is on integrating theoretical knowledge, evidence-based guidelines and contemporary practice in the assessment and management of health and disease states specific to women across the lifespan. Personal, family, cultural, community, and societal influences are analyzed for their impact on the physical and emotional health of women. Health risk identification, health promotion, health maintenance, and treatment alternatives are examined.
NU 632 - Healthcare of Infants, Children and Adolescents 4.00
The focus of this clinical course is on synthesizing theoretical knowledge, evidence-based guidelines and contemporary practices in assessment and management of health and disease states in the pediatric population from birth through adolescence. The context of family-centered care in relation to individual child growth and development, safety, and cultural practices is explored. Health risk identification, health promotion, health maintenance, and treatment alternatives are applied to individuals, families, and populations.
Requirements
Enrollment requirements
To enroll in Herzing's online family nurse practitioner program, prospective students must live in a state where Herzing University is authorized to offer the MSN FNP program, and:
Hold a current, active and unrestricted license as a registered nurse (RN) in the same state in which they live. (Note: Holding a multi-state, compact state license and being a resident in a compact license state will be deemed to have met this requirement.)
Hold a Bachelor of Science in Nursing (BSN) degree from an accredited university or college with an overall minimum GPA of 3.0 on a 4.0 scale.
Questions?
Speak with an advisor today
Pathways
Choose your path to become an FNP
MSN-FNP Program
Go from BSN to MSN-FNP in the MSN – Family Nurse Practitioner online program.
Curriculum designed for RNs with a BSN
How long? 20 months when taken full-time
Flexible online scheduling available to meet the demands of work, home and life
Accelerated RN to MSN-FNP
Bridge directly from RN to FNP in the Herzing Accelerated RN to MSN program.
Curriculum built to accelerate your MSN-FNP completion
How long? As few as 2 years (24 months)
Ideal for nurses looking to advance their practice and leap forward in their career
Preparing for a career as a
Family Nurse Practitioner
---
Earning the right credential can help you build lifelong success.
The demand for Family Nurse Practitioners has never been greater. Now is the time to make a change that can deliver benefits for years to come. Download a copy of our complimentary guide to learn more about Herzing's MSN FNP program and the unique advantages it provides you.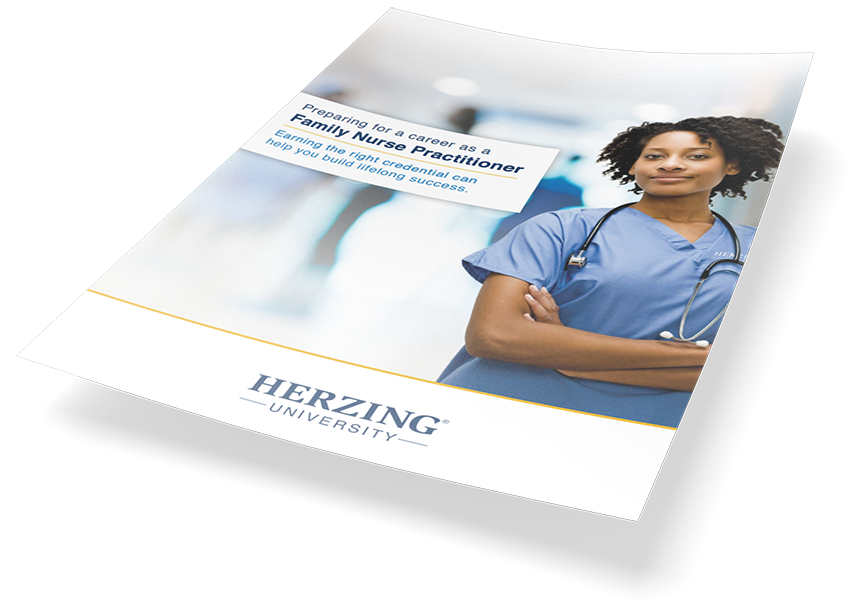 Download Career Guide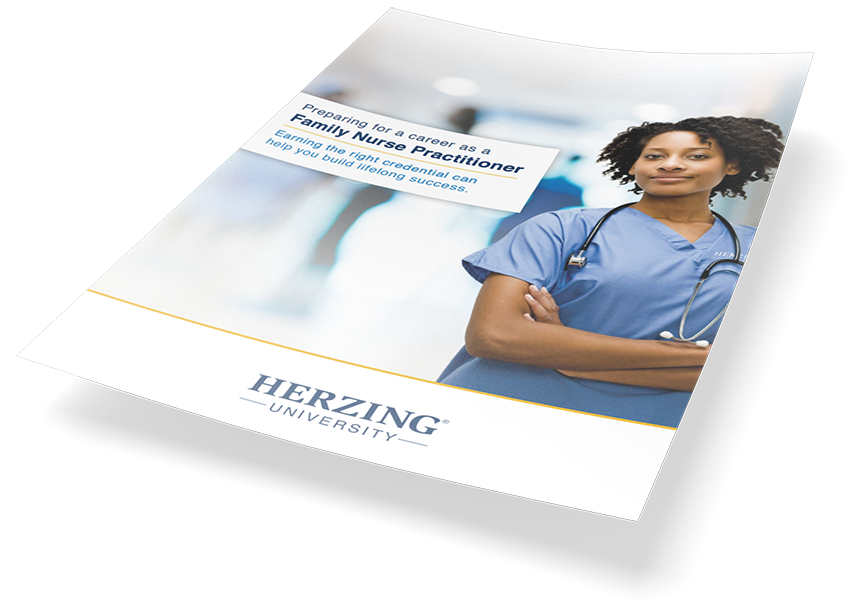 *The master's degree program in nursing at Herzing University - Madison is accredited by the Commission on Collegiate Nursing Education (http://www.ccneaccreditation.org). Herzing University is approved to offer programs in an online learning modality through association with the main campus in Madison, Wisconsin.
Accreditation acknowledges that Herzing's nursing programs meet specific national standards including institutional resources, quality curriculum and teaching practices, and program outcomes related to completion rates, pass rates and employment.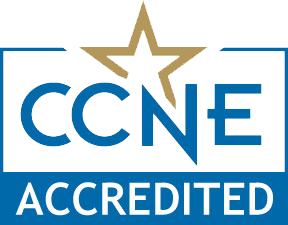 Online Learning and On-Site Training
One of the most important elements of our online MSN FNP program is the opportunity to engage with patients and preceptors in the clinical environment. As a Herzing FNP student, you will complete online classes with on-site clinical experiences that provide you the opportunity to practice skills and apply your learning in real-world settings.
Our Clinical Readiness Course prepares you to be successful in your clinical experience.
Our Virtual Bootcamp helps you prepare for the certification exam.
Clinical Experience Assistance
The clinical experience is an integral part of our program to help prepare you for your advanced practice nursing career. At Herzing, you'll have clinical coordinators who serve as a resource to students in finding and securing appropriate clinical sites.
Convenience and Support
Herzing's online FNP program is designed for busy professionals looking to get their nurse practitioner degree online. Flexible online scheduling is available to accommodate the demands of work, home, and life. And like Herzing's local campuses, you can expect the personalized attention and support that Herzing is known. Masters-prepared academic coaches offer one on one assistance and coaching to enhance study skills, build confidence, and provide support in helping MSN FNP students achieve academic success.
Collaborative, Real-World Experience
Learn from expert teaching faculty whose rich, professional experiences enhance our students' education. And with an interactive online learning environment, you'll have the opportunity to collaborate with nurses from around the country.
What exactly is a family nurse practitioner?
With the changes in healthcare reform, Family Nurse Practitioners serve a vital role; counseling patients for health prevention, promotion and disease management, as well as seeing, diagnosing and treating patients who would have historically waited weeks to see a physician. In recent years, the role of nurse practitioners has expanded. Along with the increase in duties performed, so too has the need for more qualified graduates risen. Help fill the need with a Master of Science in Nursing - Family Nurse Practitioner degree from Herzing University.
Family nurse practitioners provide care for patients of all ages and have great flexibility in choosing a specialty. Nurse Practitioners often select positions in family practice, geriatrics, pediatrics, Ob-Gyn, urgent care, internal medicine and primary care.
Graduates of Herzing's Family Nurse Practitioner concentration are prepared to work in diverse healthcare and academic environments with patients across the lifespan, including:
Family Practice
Primary Care
Public Health
Retail Health Clinics
School Health
Urgent Care Clinics
Veterans Administration
Women's Health
FNP vs NP – the "family" difference
The difference between FNP and NP is that Family Nurse Practitioners (FNP) specialize in family medicine, and Nurse Practitioners (NP) generally adopt a medical specialty under a smaller umbrella. FNPs may work in pediatrics or geriatrics, while an adult gerontology nurse practitioner (AGNP) only works with adult/older patients; a pediatric nurse practitioner (PNP) only works with children and young adults.
Becoming an FNP makes you more qualified for more kinds of family care, making you a valuable resource to all sorts of different medical institutions. Learn more about what a family nurse practitioner is, what they do, where they work and how they most often specialize.
How much can I make as a family nurse practitioner?
The average annual salary for a nurse practitioner is $110,030 per year ($52.90 per hour). Nurse practitioners working in outpatient care centers make the most on average ($116,550 per year) although NP's most often work in physician's offices (see a full industry profile).
A high average salary combined with optimistic estimates for projected growth in nurse practitioner employment in coming years means earning your master's degree now puts you on track to be in high demand on the job market.
FAQ
Frequently Asked Questions
Our online FNP program has 6 start dates per year, ensuring that you will have a start date coming up soon, but giving you enough time to get your personal affairs in order before jumping in. You can take the first step and apply now or contact an admissions advisor by calling 855-285-3809.
Yes! We'd love to have you. We have several campus locations and you're welcome to come in for a tour if you're nearby. The doors are always open to you for study time, to meet with financial aid counselors or meeting other Herzing students.
One of the most important elements of the online MSN-FNP program is the clinical. At Herzing you'll have a clinical coordinator who will serve as a resource to students, guiding and assisting with securing appropriate clinical sites.
Herzing has been partnering with clinical sites for decades, which affords students the best clinical settings due to our reputation of strong clinical presence in a wide range of facilities.
With Herzing University you are never alone. Read our guide to finding preceptorship for the FNP program and get more information on who you can choose, what kinds of sites you can look for, and how we support your search.
No, an FNP is not a doctor, or physician. Their duties, roles and responsibilities are very different, along with their required education and certification.
However, family nurse practitioners are more and more regularly acting as primary care providers, especially in rural locations and certain states where there is less restrictions on what nurse practitioners can and can't do. FNPs are often given independence and autonomy in the right circumstances.
The Herzing University online FNP program is not entry level. We require a BSN degree from an accredited university or college and a current, active and unrestricted license as an RN for acceptance into our FNP program.
If you have no experience in nursing and are considering a second career as a family nurse practitioner, see our accelerated BSN program option. This puts you on track to earning your bachelor's degree in nursing to become an RN and qualify for our master's degree program to become an FNP.
Nurse practitioners work primarily in hospitals (state, local & private), physician's offices, outpatient care centers, educational facilities and offices of other health practitioners, according to the Bureau of Labor Statistics.
Learn more about where family nurse practitioners work and their average salary in each type of healthcare facility.
The answer really depends on the state where you'd be working. There are a few basic levels of practice: full, reduced and restricted.
Explore this map from the American Association of Nurse Practitioners to discover your state's standards and get an understanding of what it means.
Over the course of your education, you'll learn much more detail about the scope of practice for family nurse practitioners vs. other roles in healthcare.
With Herzing University you are never alone. It's our goal to provide all students an affordable, career-driven education. Financial aid options include:
You can find an estimate for tuition and expenses by using the Herzing University tuition wizard.
Licensure requirements for FNPs vary from state to state. Most require a current RN license and a master's degree in nursing. Graduates from Herzing University's FNP program are eligible to sit for one of the FNP certification exams. Two main bodies offer FNP certification:
You may choose which exam you'd like to take. After completing your master's degree, you will need to get certified and obtain licensure in the state you wish to practice before opening your practice as an FNP.
According to the Bureau of Labor Statistics, the need for nurse practitioners is expected to rise 52% from 2019 through 2029, an expectation far surpassing the average across all occupations.
Expect your skills and abilities to be in very high demand by the time you get your master's degree.
Disclosures
Accreditations
Accreditations & Disclosures
Not all programs approved in all states. Individual considering the MSN-FNP program should be aware that state requirements for availability of required clinical courses and eligibility to apply for licensure as a family nurse practitioner vary from state to state. Applicants should check with their applicable state board of nursing before enrolling in any graduate nursing program.
View Herzing University Accreditation and Approvals