Associate Degree
Associate in Nursing
ASN Program (RN Prep)
Associate Degree
Associate in Nursing
ASN Program (RN Prep)
Earn an associate in nursing and become possible
| | |
| --- | --- |
| Accreditation | Accredited by the Higher Learning Commission |
| Program length | 20-24 months |
| Credits to graduate | 72-73 credits |
| Locations | Offered at multiple campus locations |
| Format | Online general education classes + core on-campus courses |
| Transfer credits | Up to 52-54 approved credits |
| Benefits | Faster ASN bridge pathways for LPNs, paramedics, CVTs, RTs, and military medics; degree pathways to continue your education (BSN, MSN) |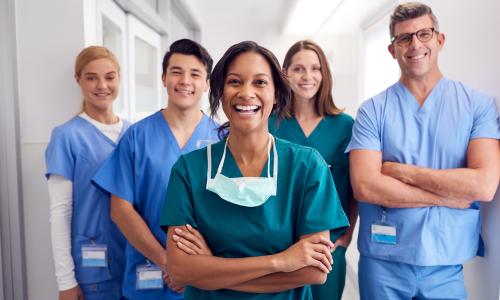 Overview: Associate Degree in Nursing Programs
The Associate of Science/Applied Science in Nursing degree is a 2-year (or less) undergraduate program which prepares you for a career as a Registered Nurse (RN).
The degree program provides students with fundamental knowledge and skills in the basics of nursing care, health assessment, evidence-based practice, and much more.

Career-focused curriculum
Discover the crucial knowledge and skills required to succeed in your work and build a foundation for continued career growth.

Flexible schedule
We work hard to help you maintain school-life balance, striving to be as flexible as possible for busy non-traditional students.

Experienced faculty
Get face-to-face instruction from experienced and credentialed faculty with real-world success in the field.

Lifelong support
We support your ongoing career advancement by providing comprehensive, personalized student services with lifelong career coaching.

Rolling admissions
No application deadlines to worry about. Apply when you're ready and prepare to get started soon.
Classes Start January 8th
Learn More Today
Locations
Offered at multiple Herzing campus locations:
Alternative online pathways
While the ASN program does offer the opportunity to complete general education courses online, it is not an online program. You will need to take nursing classes in-person at one of our campuses in Alabama, Florida, Tennessee, or Ohio.
We do offer alternative online nursing pathways to students who want to become an RN, and an additional online pre-nursing general studies associate degree option for those whose GPA is too low to qualify for nursing school right now.
---
3. Pursue a master's degree
Non-nursing bachelor's degree holders have the option to choose an online MSN program.
MSN - Direct Entry program
Enrollment requirements
Please contact admissions for enrollment procedures.
It's never too late
You can join fellow students like Victoria and a group of passionate and caring faculty dedicated to your career success. We know you are possible.
FAQ
Frequently Asked Questions
Yes. Demand remains extremely high for all registered nurses, and if you earn an associate degree, pass the NCLEX and meet the board of nursing requirements in your state, you're one of them.
Nurses with bachelor's degrees may have an advantage in earning a nursing position at a hospital (especially hospitals seeking Magnet status), but nurses are currently in such high demand many healthcare organizations are eager to hire ASN nurses.
You cannot truly complete any accredited associate degree program in nursing 100% online. There are some programs that offer all online coursework, but in any program you will need to complete a required amount of lab or clinical hours, and that cannot be completed online.
The Herzing University ASN program does offer flexibility to complete your general education classes online. Otherwise the remainder of the program must be completed on campus.
Because nurses with a BSN have earned that next degree level and generally have the edge on the job market, they will on average earn a slightly higher salary than nurses with an ASN. However, there are always exceptions; an ASN with several years of an experience may earn a higher salary than an RN with a BSN who is just starting their career.
It's a question of:
What your goals are
How quickly you want to reach them
If your goal is to go from LPN to RN quickly, the best choice may be an associate's degree program since you may be able to become an RN in less than 2 years.
If your goal is to become an RN and potentially advance further by working towards a master's degree in nursing (MSN), your best option is a bachelor's degree in nursing program.
Read about the most basic differences between ADN vs. BSN and discover what's best for you.
With Herzing University you are never alone. It's our goal to provide all students an affordable, career-driven education. Financial aid options include:
You can find an estimate for tuition and expenses by using the Herzing University tuition wizard.
Herzing University wants to empower you to reach your educational goals. We can help you earn an associate's degree which is the first step to becoming a registered nurse. Give us a call at 800-596-0724 or request for more information to begin your new career.
ASN: Associate of Science in Nursing
ADN: Associate Degree in Nursing
AASN: Associate of Applied Science in Nursing
For the purposes of being eligible for the NCLEX exam and becoming a registered nurse, there isn't much of a difference between these types of degrees. Either way you will get an associate degree and be qualified to become an RN.
In general, higher education institutions determine the terminology to use based on the nature of their program and what they emphasize as a priority.
As a career-focused organization, Herzing University stresses the importance of real, engaging coursework to prepare you for a job in the field—so we offer an Associates of Science in Nursing (ASN) at our Birmingham, Nashville, Orlando, and Tampa campuses, and our Akron campus offers an Associates of Applied Science in Nursing (AASN). 
Compare ADN vs. BSN and discover the difference between the two undergraduate degree paths for nurses.
The biggest difference between a diploma in nursing and an associate degree nursing program is that students in an associate degree program take college courses, and students in a diploma program do not. Earning a practical nursing diploma takes less time than an associate degree (our program can be completed in as few as 12 months). Associate degree programs can take around 2 years to complete and prepare students for licensure as a registered nurse.
The advantage of an associate degree program is you can qualify to become an RN and get a head start on further education—your college course credit can potentially transfer into an online RN to BSN or RN to MSN program should you choose to advance your education in the future.
The advantage of a diploma program is you can get starting working in nursing faster as an LPN (Licensed Practical Nurse) and more quickly discover if nursing is the right career for you.
Disclosures
Accreditations
Accreditations & Disclosures
Herzing University is accredited by the Higher Learning Commission (hlcommission.org), an institutional accreditation agency recognized by the U.S. Department of Education.
| Program | Completion Rate | Pass Rate (NCSBN)* |
| --- | --- | --- |
| Akron Campus: Associate of Applied Science in Nursing | 43.52% | 72.97% |
| Birmingham Campus: Associate of Science in Nursing | 46.96% | 91.43% |
| Birmingham Campus: Practical Nursing | 23.91% | 100% |
| Orlando Campus: Associate of Science in Nursing | 28.24% | 78.51% |
Note (1): NCLEX Pass Rate is based on first time exam takers from January 1, 2022 through December 31, 2022.
*Official Data is still under review by NCSBN.
Note (2): Program Completion Rate calculation for students who complete the program of study on-time begins with calculating enrollment on the first day of the first nursing course and ends with completion of course required for conferral of the degree. Data presented is in the aggregate for students who started the program in 2020.
* Bureau of Labor Statistics (BLS), U.S. Department of Labor, Occupational Outlook Handbook 2021. BLS estimates do not represent entry-level wages and/or salaries. Multiple factors, including prior experience, age, geography market in which you want to work and degree field, will affect career outcomes and earnings. Herzing neither represents that its graduates will earn the average salaries calculated by BLS for a particular job nor guarantees that graduation from its program will result in a job, promotion, salary increase or other career growth.
When I got to Herzing it was like having a real-life family. They truly care about their students. If you're willing to put in the work, study and really go the extra mile for your education, then nursing is the field for you.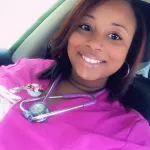 Nursing Program
Birmingham Campus