Associate Degree
Business Management
Online Associate Degree Program
Associate Degree
Business Management
Online Associate Degree Program
Hit the ground running in your new fast-paced career
| | |
| --- | --- |
| Accreditation | IACBE accredited,1 Accredited by the Higher Learning Commission |
| Transfer credit | Up to 46 approved credits |
| Pathways | Take the first step in YOUR degree pathway towards a bachelor's degree in business management and/or MBA |
| QuickPaths | Transfer credit, stackable credentials, and adaptive learning technology build a faster pathway to a higher education with Herzing University |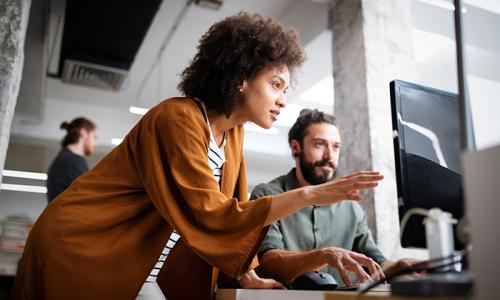 Overview: Associate Degree in Business Management
The Associate of Science/Applied Science in Business Management degree is a 62-credit undergraduate program which prepares you for a variety of business careers.
The online degree program provides students with fundamental knowledge and skills in accounting, finance, marketing, business law, economics, and much more.

Career-focused curriculum
Discover the crucial knowledge and skills required to succeed in your work and build a foundation for continued career growth.

Flexible schedule
You can take classes during the day or in the evening. We strive to be as flexible as possible for busy non-traditional students.

Virtual services
Access to extensive virtual services, including academic advising, tutoring, support services, technical support and library services.

Lifelong support
We support your ongoing career advancement by providing comprehensive, personalized student services with lifelong career coaching.

Rolling admissions
No application deadlines to worry about. Apply when you're ready and prepare to get started soon.
Classes Start January 8th
Learn More Today
Curriculum
Associate degree classes & curriculum details
The business associate degree program prepares graduates for entry-level positions in any sector. Students learn the fundamentals of how business is conducted and the different areas that are required to maintain a successful business.
All classes are delivered online with a required research project or internship (if available in your state).
| Program | Monthsi | Credits |
| --- | --- | --- |
| Associate and Associate of Applied Science in Business Management | 20 | 62 |
i. Average number of months for students to complete program
Program availability varies by location.
Required Core Courses
All courses, 30.00 semester credit hours, are required.
AC 107 - Accounting I 3.00
This introductory course in accounting provides the practical application of the principles of financial accounting for service and merchandising businesses. Topics include an introduction to the conceptual framework of accounting using GAAP rules established by FASB, analysis and recording of transactions in the general journal and posting to the general ledger, completion of the accounting cycle by preparing end-of-period adjusting and closing journal entries, financial statements and the post-closing trial balance, an introduction to internal controls, and the calculation of inventory and cost of goods sold using the FIFO, LIFO, and weighted average methods.
This course introduces corporate financial management and analysis. Topics include evaluating financial performance, measuring cash flow, capital budgeting, and the cost of capital.
BU 106 - Introduction to Business 3.00
This course introduces the environment of American business with an overview of various topics that serve as a foundation for further study of business. Topics include the environments in which businesses operate, the organizational structures of businesses, management functions in an enterprise, and the challenges of managing marketing, operations, information technology, finance, and human resources.
BU 204 - The Digital Firm and Business Communications 3.00
This course presents an overview of technology-based issues within a business environment. Topics include the concept of digital firms and ERP systems in the areas of marketing, operations, human resources, manufacturing, finance, social networking, and supply-chain management. Additional areas to be discussed are privacy issues, government regulations, and technology on a global scale.
BU 206 - Business Law I 3.00
This course provides a study of the American legal system and its effect on business and business organizations. Topics include an overview of the ethical issues that businesses encounter, the foundation of the American legal system, business ethics, torts, intellectual property, criminal law, cyber crimes, contracts, and sales and leases.
BU 220 - Principles of Marketing 3.00
This course provides an overview of the principles and applications of marketing in organizations. Topics include the marketing process and strategic planning, the global marketing environment, developing marketing opportunities and strategies, developing the marketing mix through product development, pricing strategies, distribution channels, promotion techniques, managing marketing through customer relationships, social responsibility, and marketing ethics.
BU 302 - Leadership and Organizational Behavior 3.00
The focus of this course is to introduce students to the basic principles of human behavior that effective managers use when managing individuals and groups in organizations. The overall goal of this course is to develop an understanding of the key issues managers need to master in order to manage the interface between people and organizations. Topics include theories relating to individual differences in abilities and attitudes, attribution, motivation, group dynamics, power and politics, leadership, conflict resolution, organizational culture, and organizational structure and design.
BU 345 - Project Management 3.00
This course provides instruction in the principles and concepts of project management. Topics include project management concepts, needs identification techniques, proposed solutions preparation, the project life cycle, the project manager's responsibilities and skills, the composition of an effective project team, types of project organizations, project communication and documentation, project planning, scheduling, and control, resource planning, and cost planning and performance evaluation.
EC 111 - Principles of Microeconomics 3.00
This course provides an overview of economics and the economy from a microeconomics perspective. Topics include economic analysis, factors in the market system, market structure and pricing strategies, the availability of resource markets, supply and demand, and the impact of public policy on markets.
EC 121 - Principles of Macroeconomics 3.00
This course provides an overview of economics and the economy from a macroeconomics perspective. Topics include an introduction to economic concepts, the fundamentals of macroeconomics, macroeconomic theory and policy, the role of money, banking, and monetary policy, and the relationship of macroeconomics to the global economy.
Open Elective Courses
■ A minimum of 3.00 semester credit hours of open electives is required.
Required Internship or Research Project
■ 3.00 semester credit hours are required.
This course will cover the real-work experience, along with classroom instruction, for entering the workplace. Topics will cover interviewing, networking, résumé preparation, workplace etiquette, and learning on the job. Additional topics are employment communications and management issues.
BU 270 - Research Project 3.00
Students select a topic or project, with instructor approval. This course prepares students to understand the research project in the business environment. Students will be required to complete a professional white paper and give an oral presentation.
General Education Requirements
Students enrolled in this associate's degree must complete a minimum of 24.00 semester credit hours in general education distributed among the following disciplines. Refer to the General Education section of the catalog for specific information about courses within each discipline. 9.00 Semester Credit Hours in Communications 6.00 Semester Credit Hours in Humanities (must include 3 semester credit hours of cultural diversity) 3.00 Semester Credit Hours in Mathematics 3.00 Semester Credit Hours in Science  3.00 Semester Credit Hours in Social and Behavioral Sciences
Personal and Professional Development Courses
2.00 semester credit hours are required.
PD 121 - Professional Development I 1.00
This course is designed to introduce students to methodologies that will prepare them for academic and professional success.  Topics include but are not limited to Canvas support, student support services, e-books, university policies, resumes, self-reflection, time management, goal setting, and strategies for anxiety reduction.
PD 202 - Professional Development II 1.00
This course provides an opportunity for students to critically examine their skills and develop a plan to further their career and own financial literacy. Topics include research, job searching, developing career documents, refining interview and communication skills, and creating a personal budget.
Tuition & Cost
Tuition & Cost
When you accept the 10% tuition discount from our Financial Commitment Scholarship, the cost of tuition for the Associate of Science in Business Management program is $464 per credit.1
You can potentially earn even greater savings by transferring credit from prior college coursework, applying for financial aid, or potential partnership opportunities through your employer.
Our goal is your career advancement. That's why we are always working to improve our curriculum and processes to make our program as affordable as possible while preparing you best for success in your work.
 Scholarships & Financial Aid
You may be eligible for multiple scholarships and grants, both through Herzing University and several national scholarship websites.
 Military/Veteran Discounts
Veterans, Active Duty U.S. Servicemembers, and spouses may qualify for a 10% tuition discount or tuition reduction to $250 per credit.
i. Financial Commitment Scholarship eligibility requirements: Recommended that students limit student loan borrowing to only what is needed to cover the cost of tuition and fees. Students may borrow up to $2,000 in student loans in excess of tuition and fees to cover their cost of attendance and retain eligibility for this scholarship. Excess loan eligibility dependent on individual student situation.
Requirements
Business Management associate degree program enrollment requirements
Prerequisites to enroll in Herzing's associate degree program include:
Completed high school diploma, GED or equivalent
Meet and interview with a Herzing University admissions advisor
Complete an enrollment application
With Herzing University advancing your career IS possible. We are here to help you take the first step.
Eligible states for enrollment: Alabama, Alaska, Arizona, Arkansas, California, Colorado, Connecticut, Delaware, District Of Columbia, Florida, Georgia, Hawaii, Idaho, Illinois, Indiana, Iowa, Kansas, Kentucky, Louisiana, Maine, Maryland, Massachusetts, Michigan, Minnesota, Mississippi, Missouri, Montana, Nebraska, Nevada, New Hampshire, New Jersey, New Mexico, New York, North Carolina, North Dakota, Ohio, Oklahoma, Oregon, Pennsylvania, Rhode Island, South Carolina, South Dakota, Tennessee, Texas, Utah, Vermont, Virginia, Washington, West Virginia, Wisconsin, and Wyoming.
Careers
What can I do with an associate degree in business management?
Earning an associate degree is a quick path to qualifying for many types of entry-level roles in business enterprises. Discover new career opportunities in accounting, accounts payable, business administration, marketing, human resources and much more.
Examples of potential jobs with a business management degree include:
Secretary
Administrative Assistant
Administrative Support Assistant
First-Line Supervisor
Administrative Supervisor
Office Supervisor
How can I advance my career? Earning a bachelor's degree in business management can help you qualify for the next level of managerial roles as a sales manager, operations manager, or administrative services manager. In addition, you may be eligible to apply up to 12 credits towards an Master of Business Administration (MBA) degree program and position yourself for jobs in business leadership.
FAQ
Frequently Asked Questions
A business management degree is an educational program that teaches students general skills for leading business operations at a strategic level.
As you earn your degree, you'll gain critical skills in accounting, management, business law, economics, marketing and sales.  You'll also choose electives that focus on your key interests in the business administration field.
In addition to specific subject knowledge, our online business management degree students learn how to:
Think critically in an ever-evolving business world
Develop innovative solutions to critical business issues
Communicate effectively - both verbally and in writing
Use industry-standard computer software for data collection and analysis.
Yes!
Virtually every organization needs professionals with the skills business degrees teach, so business management degree graduates have the opportunity to put what they've learned to work in all kinds of industries. There's also high potential for advancement as you gain experience. If you want to earn a degree with a strong return on investment, a business management degree could be right for you.
At Herzing University, it typically takes students 20 months to complete their bachelor's degree in business management.
How long it takes to earn your degree can vary widely based on your eligible transfer credit. Transfer up to 46 approved credits and you may be able to complete the program much faster.
Business management degrees provide the opportunity to develop versatile skills. Learn the basics of how businesses function in society and within the economy, and then go deeper into the knowledge you need to capably function in a leadership or leadership support role.
Herzing's business management degree program includes topics in:
Accounting
Finance
Business communication
Business law
Principles of marketing
Business ethics
Project management
Economics
Business management degrees are versatile. The critical thinking, leadership, and decision-making skills you learn in a business management program can apply to roles in virtually any industry, from hospitals to high finance. They're also specifically designed to set you on a path toward management-track roles, meaning upward mobility is built into the curriculum.
Herzing's degrees in business management are Bachelor of Science degrees. This program requires students to take a higher proportion of courses focused on the technical and practical aspects of their major. A Bachelor of Arts program typically features more liberal arts courses and electives.
Because of our intense focus on helping you build a career, we designed this degree to concentrate on providing you with the most possible opportunities to develop the marketable skills employers want.
Business management skills are strategic leadership skills. Graduates of a business management degree are prepared to manage the long-term growth of business operations. They learn to make decisions about people, processes, and projects. They also develop a broad base of skills in finance, accounting, organizational management, and more.
Business administration skills are more about day-to-day operations. In a business administration degree, students often choose a specialization area to focus on a specific business function, such as human resources. They'll still learn principles of other business functions, but their skill set will be more heavily weighted toward what they learned in their specialization coursework.
Learn more about the biggest differences between business management and administration.
Graduates typically work in an office environment, although office environments can vary greatly – from start-up agencies to established corporations. Offices may be located in an office building or on location at a manufacturing company or factory.
Some business graduates may be able to work from an online home office with occasional trips to the main office for meetings and presentations. Depending on the specific position, some travel may be required to satellite offices or client establishments.
As a business grad, you can typically expect a 40-hour work week, though extra hours may be required for bigger projects or tight deadlines. Those in upper management or with greater responsibility will typically work beyond the 40-hour standard. Executives often spend additional time attending professional events and staying current with industry trends. Full-time employees generally receive full benefits packages including health/dental insurance, paid vacation and sick time, and retirement/wealth savings or accrual plans (such 401(k), company stock, and profit-sharing).
According to the Bureau of Labor Statistics*,
Keep in mind these do not represent entry-level wages. Average pay can vary based on factors such as location of employment, education and experience level. Learn more about the average salary for business management careers.
Business degrees generally fall into two categories: business administration and business management. Within those categories, there are many different specializations and options.
Herzing currently offers six different business degree programs at the bachelor's degree level:
Take our quiz to determine which business degree path might be right for you based on your goals and personality.
Associate and Associate of Applied Science in Business Management Degree Programs
Showing 1 programs for the Online campus
This program prepares students with the necessary skills and academic knowledge for entry-level positions in various business enterprises. These career opportunities may be in areas such as accounting, accounts payable, accounts receivable, business administration, sales, marketing, and human resources.
Ready to get started?
Contact us to request more information
Accreditation
Accreditation & Disclosures
1. The Business Division at Herzing University has received specialized accreditation for its business programs through the International Accreditation Council for Business Education (IACBE) located at 11960 Quivira Road, Suite 300, Overland Park, Kansas, USA. For a list of accredited programs please refer to our IACBE member status page.
Herzing University is accredited by the Higher Learning Commission (hlcommission.org), an institutional accreditation agency recognized by the U.S. Department of Education.
* Bureau of Labor Statistics (BLS), U.S. Department of Labor, Occupational Outlook Handbook 2022. BLS estimates do not represent entry-level wages and/or salaries. Multiple factors, including prior experience, age, geography market in which you want to work and degree field, will affect career outcomes and earnings. Herzing neither represents that its graduates will earn the average salaries calculated by BLS for a particular job nor guarantees that graduation from its program will result in a job, promotion, salary increase or other career growth.
Eligible states for enrollment: Alabama, Alaska, Arizona, Arkansas, California, Colorado, Connecticut, Delaware, District Of Columbia, Florida, Georgia, Hawaii, Idaho, Illinois, Indiana, Iowa, Kansas, Kentucky, Louisiana, Maine, Maryland, Massachusetts, Michigan, Minnesota, Mississippi, Missouri, Montana, Nebraska, Nevada, New Hampshire, New Jersey, New Mexico, New York, North Carolina, North Dakota, Ohio, Oklahoma, Oregon, Pennsylvania, Rhode Island, South Carolina, South Dakota, Tennessee, Texas, Utah, Vermont, Virginia, Washington, West Virginia, Wisconsin, and Wyoming.