Make your difference in healthcare
You don't need to go to medical school and become a doctor to make a significant difference in the delivery of healthcare. As a health administrator you can work as a leader behind the scenes with other healthcare staff to help ensure patients receive the best possible treatment. 
Healthcare administration can be an excellent choice for current healthcare professionals who seek the highest levels in their field but want to transition from clinical care into management and administration. Or, for those with an undergraduate major in the natural sciences, business, or informatics intrigued by the opportunity to join a new, rapidly growing field.
According to the Bureau of Labor Statistics, employment of medical and health services managers is expected to increase 32% from 2020-2030. Earning a Master of Science in Healthcare Administration (MSHA, or MHA) can help you qualify for these highly demanded positions.
Go back to school online in the Herzing Everywhere Classroom: on your schedule, at your pace
Class topics include healthcare ethics, Information Technology (IT) management and assessment, organizational management, operations assessment and improvement, project management, public policy, compliance, and much more
Continue to advance your education in a postgraduate certificate program with several concentration options
Earn the education needed to take your healthcare career to the next level. With Herzing University as your lifelong partner in learning, your career success IS possible.
Classes Start January 10th
Learn More Today
Curriculum
MHA program classes & curriculum details
The Master of Science in Healthcare Administration curriculum is designed to prepare you to develop, plan, and manage healthcare operations and services across health care systems. Discover the skills and knowledge it takes to become a decision maker in healthcare, and become qualified for jobs in healthcare administration and management.
All lecture classes are delivered online through the Canvas learning management system. Online distance learning is available for students across the United States—please contact admissions for program eligibility in your state.
| Program | Monthsi | Credits |
| --- | --- | --- |
| Master of Science in Healthcare Administration (MHA) | 16 | 30-33 |
i. Average number of months for students to complete program
Tuition & Cost
Our goal is your career advancement. That's why we are always working to improve our curriculums and processes to make our Master of Science in Healthcare Administration program as affordable as possible while preparing you best for success in your work.
With Herzing University, you are never alone, and we offer many options to help you invest in yourself and earn your master's degree. Financial aid options include:
Requirements
MHA program enrollment requirements
Enrollment prerequisites to enroll in Herzing's MHA program include:
Completed bachelor's or graduate degree from a college or university accredited by an agency recognized by the U.S. Department of Education or have completed a three or four year bachelor's degree at a foreign college or university recognized as equivalent to a U.S. bachelor's degree by an approved foreign credential evaluator.
Meet and interview with a Herzing admissions advisor
Complete an application form
No minimum GMAT/GRE score is required for eligibility!
What kind of leader are you?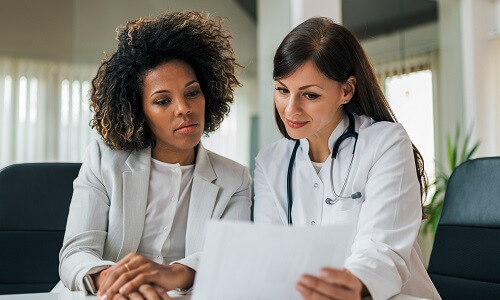 MHA pathway
A Master of Science in Healthcare Administration (MHA) program prepares leaders specifically for the healthcare industry. This is a common pathway for current healthcare professionals seeking the next career step into a managerial role, or those in clinical care looking to transition into a non-clinical leadership role.
Why choose MHA? If you have a wealth of experience in healthcare, have earned a healthcare-related bachelor's degree, and are fully committed to making your difference in the field, choosing an MHA program is right for you.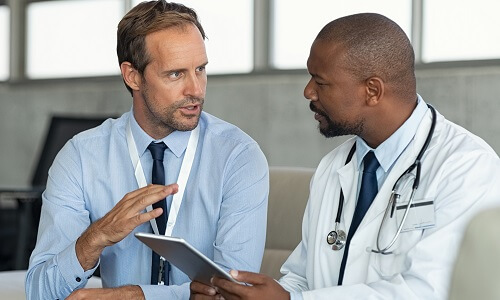 MBA pathway
A Master of Business Administration (MBA) with a concentration in Healthcare Management teaches a versatile skillset for business-oriented professionals. The curriculum is business-focused (finance, accounting, marketing, and more) with an emphasis on global healthcare concepts to prepare you for jobs in the field.
Why choose MBA? If you are strong in business-related skills, eager to continue climbing the ladder, have no prior healthcare experience or education, and see the growing opportunities on the horizon in healthcare management and administration, pursuing an MBA in healthcare management is right for you.
Master of Science in Healthcare Administration Degree Programs
Showing 1 programs for the Online campus
To learn more about this program, click the Request Info button to the right.
Ready to get started?
Contact us to request more information
Accreditation
Accreditation & Disclosures
Herzing University is accredited by the Higher Learning Commission (hlcommission.org), an institutional accreditation agency recognized by the U.S. Department of Education.
* Bureau of Labor Statistics (BLS), U.S. Department of Labor, Occupational Outlook Handbook 2020. BLS estimates do not represent entry-level wages and/or salaries. Multiple factors, including prior experience, age, geography market in which you want to work and degree field, will affect career outcomes and earnings. Herzing neither represents that its graduates will earn the average salaries calculated by BLS for a particular job nor guarantees that graduation from its program will result in a job, promotion, salary increase or other career growth.