Master's Degree
MHA Program Online
Master's in Healthcare Administration (MS)
Master's Degree
MHA Program Online
Master's in Healthcare Administration (MS)
Climb the ladder with a master's in healthcare administration
| | |
| --- | --- |
| Accreditation | Accredited by the Higher Learning Commission |
| Program length | 16 months |
| Credits to graduate | 30-33 credits |
| Transfer credit | Up to 9-12 approved credits |
| Format | 100% online classes you can take right at home |
| Enrollment | Full-time and part-time enrollment flexibility |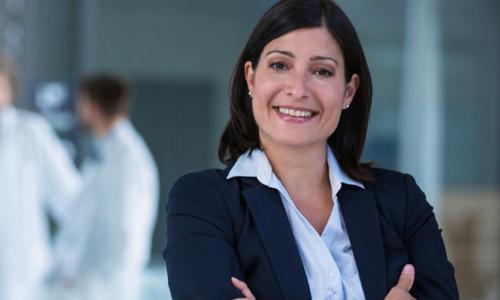 Overview: Master of Science in Healthcare Administration
The Master of Science in Healthcare Administration degree is a 30-33 credit graduate program which prepares you for a career as a leader in healthcare administration. 
The online degree program provides students with fundamental knowledge and skills in health information management, health policy and management, healthcare economics, healthcare operations assessment, and much more.

Career-focused curriculum
Discover the crucial knowledge and skills required to succeed in your work and build a foundation for continued career growth.

Flexible schedule
You can take classes during the day or in the evening. We strive to be as flexible as possible for busy non-traditional students.

Virtual services
Access to extensive virtual services, including academic advising, tutoring, support services, technical support and library services.

Lifelong support
We support your ongoing career advancement by providing comprehensive, personalized student services with lifelong career coaching.

Rolling admissions
No application deadlines to worry about. Apply when you're ready and prepare to get started soon.
Classes Start October 30th
Learn More Today
Curriculum
MHA program classes & curriculum details
The Master of Science in Healthcare Administration curriculum is designed to prepare you to develop, plan, and manage healthcare operations and services across health care systems. Discover the skills and knowledge it takes to become a decision maker in healthcare, and become qualified for jobs in healthcare administration and management.
All lecture classes are delivered online through the Canvas learning management system. Online distance learning is available for students across the United States—please contact admissions for program eligibility in your state.
| Program | Monthsi | Credits |
| --- | --- | --- |
| Master of Science in Healthcare Administration (MHA) | 16 | 30-33 |
i. Average number of months for students to complete program
Required Core Courses
All courses, 30.00 semester credit hours, are required.
BU 530 - Business Leadership Foundations 3.00
This course is designed to assess entry level business content knowledge and skills and validate both prior learning and experiential learning in the areas of business ethics, business leadership, global dimensions of leadership, human resource management, information technology management, strategic management and business integration, and the legal environment of business, accounting, finance, marketing, economics, analysis, operations and organizational behavior.
* Only required for students who do not have an undergraduate degree in Business, a closely related discipline or its international equivalent.
BU 650 - Healthcare Administration 3.00
This course explores the major components and organizational interrelationships in the U.S. healthcare delivery system across the continuum of care. Topics include the history of the delivery system, delivery institutions and models, policy implementation, and payment mechanisms. Variables of access, cost, and quality are introduced. Application of these topics in the areas of healthcare reform, social and cultural changes that affect the system, and alternative healthcare allow students to analyze critically these evolving healthcare issues.
BU 654 - Health Information Management 3.00
This course provides an overview of the role of information systems in healthcare organizations. Students will explore the technical, organizational, and cost-benefit issues related to healthcare information systems, including clinical decision support, integrated networking and distributed computing technologies, telemedicine applications, and artificial intelligence solutions. Students will develop and exercise analytical skills for appraising health information systems and will acquire practical experience using biomedical research databases, desktop application software, and electronic communication systems.
HA 610 - Health Policy and Management 3.00
This course takes an interdisciplinary approach to guide students in evaluating healthcare policy issues that impact decision making and outcomes in healthcare. Students will explore healthcare delivery systems and analyze issues which impact the delivery of healthcare and nursing at global, national, and state levels of government. Students will analyze the development, formulation, and implementation of policies and related economic issues that can influence healthcare practice today. In addition, the course includes topics such as the relationship between healthcare providers and patients, insurance policies, quality management, legislative liability issues, ethical decision making, and other policy issues.
HA 620 - Healthcare Economics, Finance, and Resource Management 3.00
This course focuses on optimizing the healthcare administration leader role and providing the healthcare administration leader student with an appreciation for the fiscal status of both the global health system and healthcare organizations.
HA 625 - Healthcare Law and Ethics 3.00
This course is designed to provide the healthcare administrative leader student with the knowledge and skills necessary to be an effective ethical leader and manager necessary to oversee the ethical operation of a healthcare organization. Students will learn how regulatory law affects a healthcare organization's operations within established rules intended to protect the public, promote access to care, and ensure that healthcare administration professionals adhere to high ethical and legal standards.
HA 630 - Marketing and Strategic Growth in Healthcare 3.00
This course focuses on the role of marketing and strategic growth in adding value to the healthcare organization. Major elements of the marketing and strategy processes to be covered include domestic and global market assessment, strategic marketing planning, the development of an effective marketing mix (product, price, promotion, and distribution) to create customer value, consumer/business buying behavior, and market research. Learners master the art of thinking globally and to utilize frameworks for acting locally. Students will analyze the environment at several levels in order to develop a concise strategic plan.
HA 635 - Healthcare Human Resources Management 3.00
This course covers the effective management of human resources in healthcare organizations, including concepts and techniques of personnel planning, job and performance evaluation, incentive and performance standards, accommodation of ethnic and cultural diversity in the workplace, and the impact of labor organizations on management. Current topics in human resource management recognize the dynamic environment for this field will be researched.
HA 640 - Healthcare Operations Assessment and Decision-Making 3.00
This course focuses on skills in operations assessment and decision making for healthcare organizations.  This course will introduce, and apply research methods and designs, knowledge-based research techniques, evidence-based practice, outcome evaluation, and evaluation of research processes. Grant writing and national guidelines will be covered. Students will be exposed to the critique of qualitative and quantitative research methods. Ethical issues in research and the value of healthcare administration research will be critically explored. In addition, students will be able to develop a research proposal or carry out a quality improvement project.
HA 645 - Quality Improvement and Patient Safety in Healthcare 3.00
This course provides students with the tools needed to manage operations and projects within a healthcare organization. Topics include demand forecasting and management, capacity planning and scheduling, inventory control, purchasing and materials management, facilities management, project management strategies and tactics, defining user needs and project scope, scheduling and budgeting, and performance objectives. Control methods, such as NAHQ concepts and principles, PERT/CPM, Gantt charts, project management software, and project audits, will also be covered.
HA 695 - Graduate Capstone Project 3.00
This course is designed as the final capstone project that provides the student with the opportunity to synthesize and apply knowledge and competencies acquired from the core healthcare administration courses.  Students will demonstrate application, analysis, integration, and evaluation in a real-world project or simulation.
Tuition & Cost
Tuition & Cost
The cost of tuition for the Master of Science in Healthcare Administration program is $615 per credit.
You can potentially earn even greater savings by transferring credit from prior college coursework, applying for financial aid, or potential partnership opportunities through your employer.
Our goal is your career advancement. That's why we are always working to improve our curriculum and processes to make our program as affordable as possible while preparing you best for success in your work.
 Scholarships & Financial Aid
You may be eligible for multiple scholarships and grants, both through Herzing University and several national scholarship websites.
 Military/Veteran Discounts
Veterans, Active Duty U.S. Servicemembers, and spouses may qualify for a 10% tuition discount or tuition reduction to $250 per credit.
Requirements
MHA program enrollment requirements
Enrollment prerequisites to enroll in Herzing's MHA program include:
Completed bachelor's or graduate degree from a college or university accredited by an agency recognized by the U.S. Department of Education or have completed a three or four year bachelor's degree at a foreign college or university recognized as equivalent to a U.S. bachelor's degree by an approved foreign credential evaluator.
Meet and interview with a Herzing admissions advisor
Complete an application form
No minimum GMAT/GRE score is required for eligibility!
Eligible states for enrollment: Alabama, Alaska, Arizona, Arkansas, California, Colorado, Connecticut, Delaware, District Of Columbia, Florida, Georgia, Hawaii, Idaho, Illinois, Indiana, Iowa, Kansas, Kentucky, Louisiana, Maine, Maryland, Massachusetts, Michigan, Minnesota, Mississippi, Missouri, Montana, Nebraska, Nevada, New Hampshire, New Jersey, New Mexico, New York, North Carolina, North Dakota, Ohio, Oklahoma, Oregon, Pennsylvania, Rhode Island, South Carolina, South Dakota, Tennessee, Texas, Utah, Vermont, Virginia, Washington, West Virginia, Wisconsin, and Wyoming.
What kind of leader are you?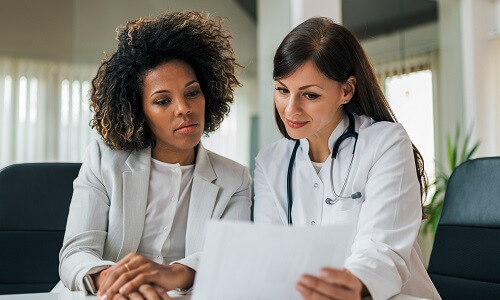 MHA pathway
A Master of Science in Healthcare Administration (MHA) program prepares leaders specifically for the healthcare industry. This is a common pathway for current healthcare professionals seeking the next career step into a managerial role, or those in clinical care looking to transition into a non-clinical leadership role.
Why choose MHA? If you have a wealth of experience in healthcare, have earned a healthcare-related bachelor's degree, and are fully committed to making your difference in the field, choosing an MHA program is right for you.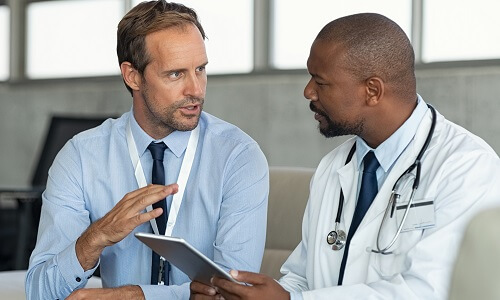 MBA pathway
A Master of Business Administration (MBA) with a concentration in Healthcare Management teaches a versatile skillset for business-oriented professionals. The curriculum is business-focused (finance, accounting, marketing, and more) with an emphasis on global healthcare concepts to prepare you for jobs in the field.
Why choose MBA? If you are strong in business-related skills, eager to continue climbing the ladder, have no prior healthcare experience or education, and see the growing opportunities on the horizon in healthcare management and administration, pursuing an MBA in healthcare management is right for you.
FAQ
Frequently Asked Questions
Earning a master's degree in healthcare administration can help you climb the ladder and qualify for managerial or administrative jobs in healthcare. Current bachelor's degree holders in either allied health or patient care roles can choose a health administration degree to learn the administrative and leadership skills necessary to better qualify for upper-level jobs and take the next big step in their healthcare career.
With a Master of Science in Healthcare Administration, you could potentially compete for jobs in medical and health services management, including job titles such as health manager, clinical director, clinical manager, nursing home administrator, and health information management director. Titles can vary widely based on the job's specific roles and responsibilities and associated healthcare department or discipline.
A master's degree is more than training for the job—it's training for your career. Earn an MHA and you can position yourself very well to advance from a day-to-day role executing healthcare processes into a big-picture role where you heavily influence those processes. The next step in your career is worth it!
In general, healthcare executives or administrators are responsible for directing and coordinating health services. Executives work closely with healthcare staff and business leaders to improve the delivery of healthcare for an organization.
Job descriptions and specific roles and responsibilities will vary by position, but typical duties include developing goals and objectives, ensuring compliance, supervising staff members, managing finances, managing budgets, represent the institution at board or investor meetings, and much more.
Healthcare management is the practice of administering the financial and operational aspects of delivering healthcare in hospitals, clinics, physician's offices and other healthcare institutions.
Healthcare management professionals act as a bridge between clinicians and upper management, insurers, and other third parties to ensure patients receive safe, cost-effective care that complies with laws and regulations.
There is a lot of overlap in terminology between roles in healthcare management vs. healthcare administration. However, they are unique career paths requiring distinct sets of skills:
Healthcare management. Healthcare managers deal in the overall operation of an organization. Their primary role is in leadership and the business side of healthcare.  Healthcare managers interact with stakeholders and other board members for organizational direction and planning, usually involves managing more than one department—or an entire clinic.
Healthcare administration. Healthcare administrators are more concerned with day-to-day operations. An administrator's focus is on daily staff management and administrative procedures within a department. Healthcare administrators usually report to healthcare managers, and work within individual departments as supervisors or manager support. They may be found in smaller, rural areas as office managers or other similar job titles depending on area, experience and availability.
Smaller healthcare institutions may merge the roles into single positions and use each term interchangeably, but bigger facilities will often specialize into unique roles and differentiate them more clearly in terms of management or administration.
Hospital administrators and other types of medical and health services managers most often need at least a bachelor's degree, although master's degrees are common in these roles and can be preferred by employers.
A Master of Science in Healthcare Administration equips you with the skills and knowledge to better qualify for upper-level administrative jobs.
Master of Science in Healthcare Administration Degree Programs
Showing 1 programs for the Online campus
To learn more about this program, click the Request Info button to the right.
Ready to get started?
Contact us to request more information
Accreditation
Accreditation & Disclosures
Herzing University is accredited by the Higher Learning Commission (hlcommission.org), an institutional accreditation agency recognized by the U.S. Department of Education.
View Herzing University Accreditation and Approvals
Eligible states for enrollment: Alabama, Alaska, Arizona, Arkansas, California, Colorado, Connecticut, Delaware, District Of Columbia, Florida, Georgia, Hawaii, Idaho, Illinois, Indiana, Iowa, Kansas, Kentucky, Louisiana, Maine, Maryland, Massachusetts, Michigan, Minnesota, Mississippi, Missouri, Montana, Nebraska, Nevada, New Hampshire, New Jersey, New Mexico, New York, North Carolina, North Dakota, Ohio, Oklahoma, Oregon, Pennsylvania, Rhode Island, South Carolina, South Dakota, Tennessee, Texas, Utah, Vermont, Virginia, Washington, West Virginia, Wisconsin, and Wyoming.
* Bureau of Labor Statistics (BLS), U.S. Department of Labor, Occupational Outlook Handbook 2022. BLS estimates do not represent entry-level wages and/or salaries. Multiple factors, including prior experience, age, geography market in which you want to work and degree field, will affect career outcomes and earnings. Herzing neither represents that its graduates will earn the average salaries calculated by BLS for a particular job nor guarantees that graduation from its program will result in a job, promotion, salary increase or other career growth.