Master's Degree
Accelerated RN to MSN
Online Program Options (ADN to MSN)
Master's Degree
Accelerated RN to MSN
Online Program Options (ADN to MSN)
Find your MSN career path with Herzing University
| | |
| --- | --- |
| Accreditation | CCNE accredited,1 Accredited by the Higher Learning Commission |
| Program length | As few as 20 months, depending on your chosen degree pathway - and no wait list! |
| Clinicals | We pledge your clinical placement |
| Format | 100% online classes with a hands-on clinical component |
| Concentrations | Choose from 8 MSN concentration options |
| QuickPaths | Go from ADN in nursing to MSN, or earn your Bachelor of Science in Nursing (BSN) along the way in our RN to BSN to MSN track |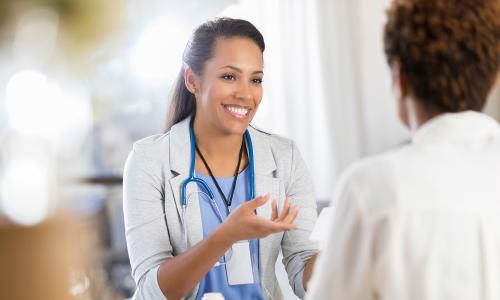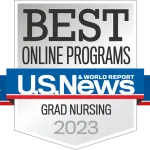 Overview: Accelerated RN to MSN Online Program 
The Accelerated RN to MSN program is a graduate-level pathway with multiple concentration options which prepares associate degree RNs for a variety of advanced nursing careers.
The online degree program provides students with fundamental knowledge and skills in advanced leadership and management, community and public health nursing, nursing informatics, health policy, and much more.

Career-focused curriculum
Discover the crucial knowledge and skills required to succeed in your work and build a foundation for continued career growth.

Flexible schedule
We work hard to help you maintain school-life balance, striving to be as flexible as possible for busy non-traditional students.

Virtual services
Access to extensive virtual services, including academic advising, tutoring, support services, technical support and library services.

Lifelong support
We support your ongoing career advancement by providing comprehensive, personalized student services with lifelong career coaching.

Rolling admissions
No application deadlines to worry about. Apply when you're ready and prepare to get started soon.
Classes Start January 8th
Learn More Today
Herzing University's RN to MSN Concentrations
Specialize in the delivery of acute and chronic care as an AGACNP.
Focus your study in the adult population and become an AGPCNP.
Make your mark in nursing as a leader or administrator.
Specialize in the pediatric population as a nurse practitioner.
Join a true profession of the heart as a PMHNP.
Choose your path to earn an MSN
RN to BSN to MSN Track
Earn your BSN on the way from RN to MSN and graduate with your MSN.
Curriculum built to help you earn a BSN and MSN faster
How long? 28-32 total months on average, depending on concentration
Earn a bachelor's degree that is preferred by some employers
Choose the MSN concentration that's right for you
Accelerated RN to MSN
Bridge directly from an ADN to MSN in the Herzing Accelerated RN to MSN program.
Curriculum built to accelerate your MSN completion
How long? As few as 20-24 months, depending on concentration
Ideal for nurses who are not required by their employer to hold a BSN
Choose the MSN concentration that's right for you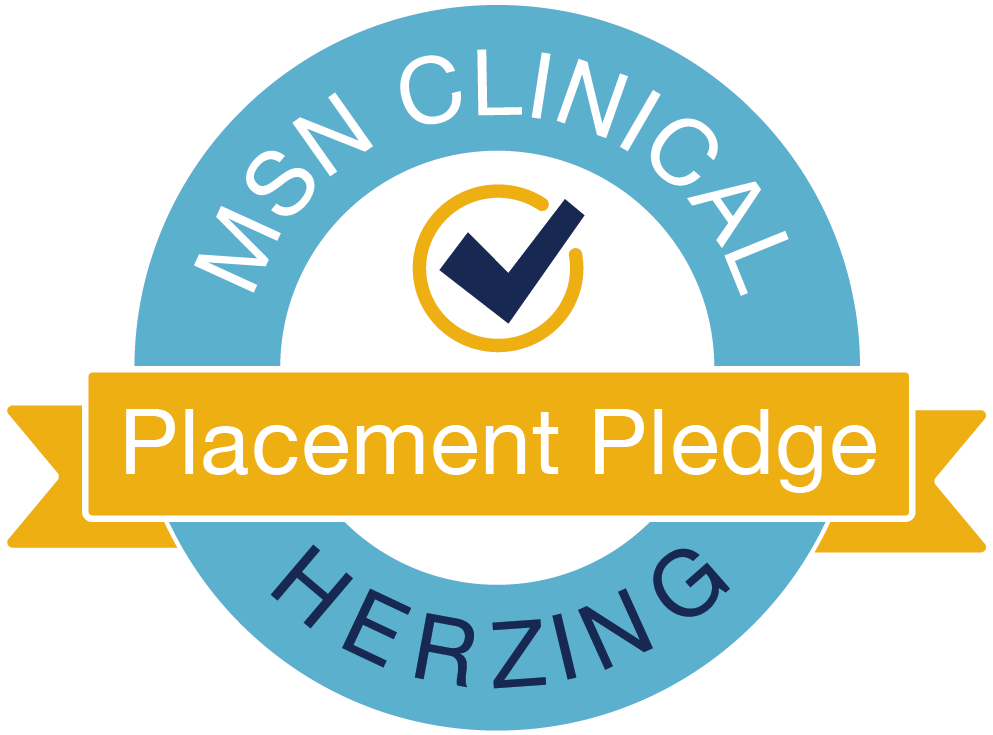 Your clinical placement is our pledge.
We understand securing clinical placement as part of an MSN degree program is one of the biggest concerns students face. At Herzing, we offer guidance and support through our step-by-step Clinical Guidance Process to ensure you can get the clinical practice experiences you need.
As a Herzing student, we'll encourage you to find your own preceptor and clinical sites as there are many benefits to doing so. However, we provide extensive support should you find difficulty along the way. With Herzing, you are never on your own.
Because of our strong relationships with healthcare providers across the U.S. and our comprehensive Clinical Guidance Process, we are confident in our ability to help you find clinical placement. So much so that if you are unable to find a clinical site on your own, we pledge to step in and help you secure clinical placement.*
* Subject to terms and conditions outlined in the enrollment documents.
Requirements
Requirements
RN to MSN program enrollment prerequisites
Enrollment requirements are consistent regardless of your concentration or whether you choose the accelerated RN to MSN or RN to BSN to MSN track. Prerequisites include:
Live in a state where Herzing University is authorized to offer the RN to MSN programi
Hold a current, active and unrestricted license as a registered nurse (RN) in the same state in which they practice
Hold an associate degree (ADN/ASN/AASN) in nursing from a nationally or regionally accredited college or university
Participate in an interview to identify your goals and if the RN to MSN will work for you
i. Eligible states for enrollment: Alabama, Alaska, Arizona, Arkansas, California, Colorado, Connecticut, Delaware, District Of Columbia, Florida, Georgia, Hawaii, Idaho, Illinois, Indiana, Iowa, Kansas, Kentucky, Louisiana, Maine, Maryland, Massachusetts, Michigan, Minnesota, Mississippi, Missouri, Montana, Nebraska, Nevada, New Hampshire, New Jersey, New Mexico, North Carolina, North Dakota, Ohio, Oklahoma, Pennsylvania, Rhode Island, South Carolina, South Dakota, Tennessee, Texas, Utah (all concentrations except PMHNP), Vermont, Virginia, West Virginia, Wisconsin.
Pathways to Success

Many of our online programs offer pathways for continued learning, which allow you to move from one degree, such as an associate degree, to a bachelor's degree, to a master's degree.

Flexible and Convenient

Earn your degree from the comfort of your own home. There are no designated times you must be online. You can log into your virtual classroom when it's convenient for you.

Personalized Attention

At Herzing, being online does not mean being alone.You'll receive the same personalized attention and career-focused education that we offer in our traditional classroom.

Online and/or On-Campus

Get the best of both worlds. Some of our degree programs are offered exclusively online and some programs are offered as a combination of both campus and online classes.
FAQ
Frequently Asked Questions
There are two types of general NPs: Adult Gerontology Primary Care Nurse Practitioners (AGPCNPs) and Family Nurse Practitioners (FNP). Both NPs provide ongoing health counseling, prevention and management for their patients.
The primary difference is the patient population they care for: FNPs practice across the lifespan in family practice, including pediatric, adult, and geriatric care. AGNPs work only with adolescent, adult, and geriatric patients.
If you are open to working with children you may choose the FNP path, while those who prefer to work with adults only may choose the AGNP path.
Nurse practitioners have an expanded scope of practice compared to registered nurses. In addition to RN duties, nurse practitioners may also write prescriptions, order lab tests, diagnose illnesses, and more (although specifics vary by state). NPs have greater autonomy in delivering patient care, and for that reason, the education requirement is higher. 
Learn more about the main differences between RN vs. NP.
Yes.
In the past, there were separate designations for Adult Nurse Practitioners (ANP) and Geriatric Nurse Practitioners (GNP). Now the two roles have been combined into Adult Gerontology Nurse Practitioner (AGNP). The knowledge and skills developed in an MSN-AGNP program will best prepare you to work with geriatric/elderly patients.
Graduating with an MSN and becoming board certified as a primary care nurse practitioner (AGPCNP-BC) will qualify you to practice as an NP and pursue a geriatric specialty.
Earning an MSN can open several doors to take your nursing career to the next level.
You might choose to become a nurse practitioner. There are many types of nurse practitioners with unique specialties you can consider pursuing. Herzing University offers multiple concentrations for current RNs seeking the next step up to nurse practitioner. View all of our online nurse practitioner programs.
Career opportunities in nursing also exist in nursing leadership, administration and education. By earning an MSN in Nursing Education you may qualify to teach nursing in clinical and/or academic settings. An MSN in Nursing Leadership and Administration helps you develop the skills and knowledge needed to become a decision maker, potentially qualifying for roles as a manager, director or executive.
There are many paths to reaching upper-level roles in nursing, and we exist to help you become qualified for them.
Earning an MSN with Herzing University can take anywhere from 16-32 months. Program length can vary depending on your current education, your chosen degree pathway, whether you enroll part or full time, and MSN concentration.
Typical full-time program lengths:
Nurse Practitioner program options (AGACNP, AGPCNP, FNP, PNP, PMHNP): 24-32 months
Nursing Education, Nursing Leadership and Administration, and Public Health programs: 16-28 months
MSN Direct Entry program: 20 months
There are several potential advantages to earning a master's degree:
Your role in patient care. Earning an MSN can help you specialize in the type of patient care you are most passionate about – or transition away from primarily patient care as an RN into roles in leadership, administration or education.
Earning potential. Moving up the career ladder beyond registered nurse can open up opportunities to specialize your expertise, get better at what you do and increase your pay.
Qualifications for more jobs. You never know when that dream job opens up and starts taking applicants. With an MSN, you'll have an even stronger resume to bring to the table for your next big job interview.
Open doors to further advanced education. By earning your MSN you may potentially consider a Doctorate in Nursing (DNP) or post-master's certificate programs in other concentrations to continue expanding your education and nursing credentials.
Earning potential can vary widely depending on your career path. Pay will depend on your depth of experience, degree level earned, your state of employment and the specific roles and responsibilities in the position.
According to the Bureau of Labor Statistics (BLS)*:
After earning a master's degree you may pursue further nursing credentials in a post-master's certificate in nursing program. Herzing offers multiple certificate options with concentrations in:
After earning master's-level preparation in the specialty of your choosing, you can then advance to the doctorate level by enrolling in our online Post Master's DNP program.
Earning an MSN or DNP represents a huge step forward in your education, but there is always more to learn. We are your lifelong partner in learning, dedicated to helping you earn the education needed to reach your highest career goals.
The faculty here make themselves available during their designated office hours, but if you need extra help, they will meet at times that will work for YOU.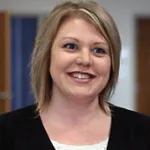 Nursing Program
Madison Campus
Accreditation
Accreditation & Disclosures
1. The baccalaureate degree program in nursing and master's degree program in nursing at Herzing University - Madison are accredited by the Commission on Collegiate Nursing Education (http://www.ccneaccreditation.org). Herzing University is approved to offer programs in an online learning modality through association with the main campus in Madison, Wisconsin.
Herzing University is accredited by the Higher Learning Commission (hlcommission.org), an institutional accreditation agency recognized by the U.S. Department of Education.
* Bureau of Labor Statistics (BLS), U.S. Department of Labor, Occupational Outlook Handbook 2022. BLS estimates do not represent entry-level wages and/or salaries. Multiple factors, including prior experience, age, geography market in which you want to work and degree field, will affect career outcomes and earnings. Herzing neither represents that its graduates will earn the average salaries calculated by BLS for a particular job nor guarantees that graduation from its program will result in a job, promotion, salary increase or other career growth.