Accelerating your next big career step IS possible
No matter the undergraduate nursing credential you have earned as a Registered Nurse (RN), Herzing University offers a pathway for you to earn a Master of Science in Nursing (MSN).
Our RN to MSN degree options are tailored for registered nurses with an associate degree (ADN/ASN/AASN) in nursing looking for the shortest path to earning an MSN:
An accelerated RN to MSN path for RNs seeking the shortest route to an MSN
An RN to BSN to MSN track for RNs who also want to earn a BSN on their way to earning an MSN
You have a choice of several MSN concentrations, including multiple nurse practitioner options, nursing education and nursing leadership and administration.
Herzing University exists to help you reach your highest career goals in nursing – and walk the path of YOUR choosing to get there. We are at your side every step of the way as your lifelong partner in learning.
Classes Start November 1st
Learn More Today
Choose your path to earn an MSN
RN to BSN to MSN Track
Earn your BSN on the way from RN to MSN and graduate with your MSN.
Curriculum built to help you earn a BSN and MSN faster
How long? 28-32 total months on average, depending on concentration
Earn a bachelor's degree that is preferred by some employers
Choose the MSN concentration that's right for you
Accelerated RN to MSN
Bridge directly from an ADN to MSN in the Herzing Accelerated RN to MSN program.
Curriculum built to accelerate your MSN completion
How long? As few as 20-24 months, depending on concentration
Ideal for nurses who are not required by their employer to hold a BSN
Choose the MSN concentration that's right for you
Herzing University's RN to MSN Concentrations
Specialize in the delivery of acute and chronic care as an AGACNP.
Focus your study in the adult population and become an AGPCNP.
Make your mark in nursing as a leader or administrator.
Join a true profession of the heart as a PMHNP.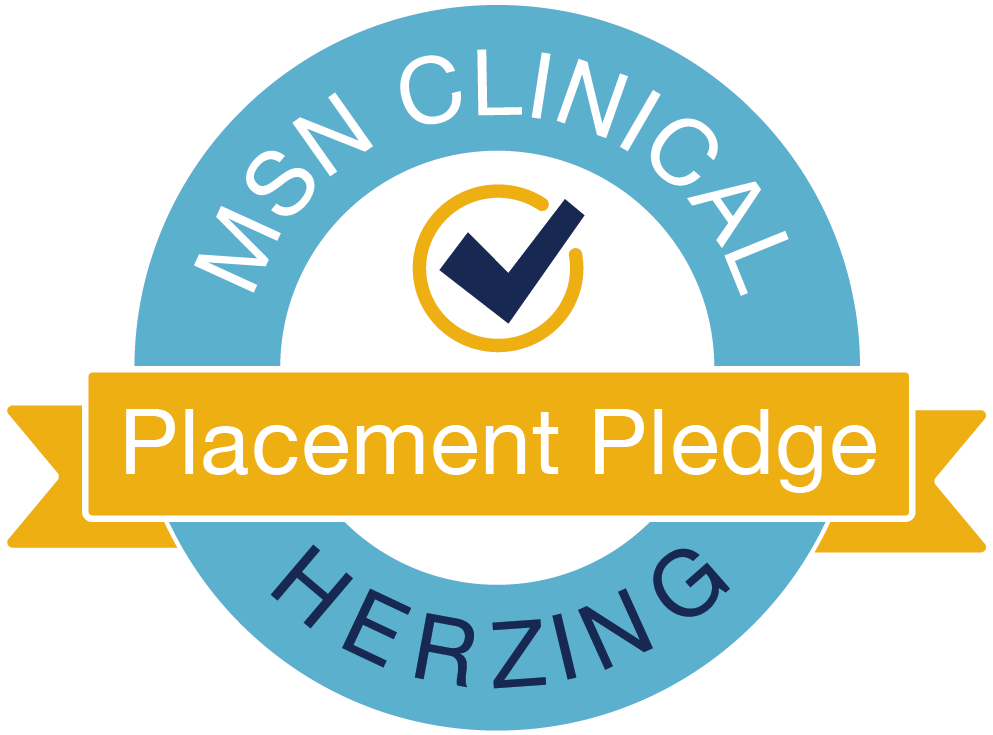 Your clinical placement is our pledge.
We understand securing clinical placement as part of an MSN degree program is one of the biggest concerns students face. At Herzing, we offer guidance and support through our step-by-step Clinical Guidance Process to ensure you can get the clinical practice experiences you need.
As a Herzing student, we'll encourage you to find your own preceptor and clinical sites as there are many benefits to doing so. However, we provide extensive support should you find difficulty along the way. With Herzing, you are never on your own.
Because of our strong relationships with healthcare providers across the U.S. and our comprehensive Clinical Guidance Process, we are confident in our ability to help you find clinical placement. So much so that if you are unable to find a clinical site on your own, we pledge to step in and help you secure clinical placement.*
* Subject to terms and conditions outlined in the enrollment agreement.
Requirements
Requirements
RN to MSN program enrollment prerequisites
Enrollment requirements are consistent regardless of your concentration or whether you choose the accelerated RN to MSN or RN to BSN to MSN track. Prerequisites include:
Live in a state where Herzing University is authorized to offer the RN to MSN program
Hold a current, active and unrestricted license as a registered nurse (RN) in the same state in which they practice
Hold an associate degree (ADN/ASN/AASN) in nursing from a nationally or regionally accredited college or university
Participate in an interview to identify your goals and if the RN to MSN will work for you
Pathways to Success

Many of our online programs offer pathways for continued learning, which allow you to move from one degree, such as an associate degree, to a bachelor's degree, to a master's degree.

Flexible and Convenient

Earn your degree from the comfort of your own home. There are no designated times you must be online. You can log into your virtual classroom when it's convenient for you.

Personalized Attention

At Herzing, being online does not mean being alone.You'll receive the same personalized attention and career-focused education that we offer in our traditional classroom.

Online and/or On-Campus

Get the best of both worlds. Some of our degree programs are offered exclusively online and some programs are offered as a combination of both campus and online classes.
Accreditation
Accreditation & Disclosures
1. The baccalaureate degree program in nursing and master's degree program in nursing at Herzing University - Madison are accredited by the Commission on Collegiate Nursing Education (http://www.ccneaccreditation.org). Herzing University is approved to offer programs in an online learning modality through association with the main campus in Madison, Wisconsin.
Herzing University is accredited by the Higher Learning Commission (hlcommission.org), an institutional accreditation agency recognized by the U.S. Department of Education.
* Bureau of Labor Statistics (BLS), U.S. Department of Labor, Occupational Outlook Handbook 2020. BLS estimates do not represent entry-level wages and/or salaries. Multiple factors, including prior experience, age, geography market in which you want to work and degree field, will affect career outcomes and earnings. Herzing neither represents that its graduates will earn the average salaries calculated by BLS for a particular job nor guarantees that graduation from its program will result in a job, promotion, salary increase or other career growth.