Post Master's Certificate
Nursing Education
Post Master's Certificate (Nurse Educator)
Post Master's Certificate
Nursing Education
Post Master's Certificate (Nurse Educator)
Your new career path in nursing education awaits
| | |
| --- | --- |
| Accreditation | Accredited by the Higher Learning Commission |
| Program length | 8 months |
| Credits to graduate | 16 credits |
| Paying for school | You can earn up to 85% in loan forgiveness through the Nurse Faculty Loan Program (NFLP)1 |
| Clinicals | We pledge your clinical placement! |
| Format | 100% online classes |
| Get started | 6 start dates per year |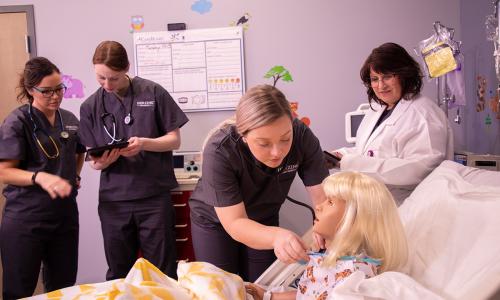 Online Post Master's Nursing Education Program
The Post Master's Certificate in Nursing Education is a 16-credit post-graduate program which prepares you for a career as a nurse educator. 
The online certificate program provides students with fundamental knowledge and skills in teaching/learning strategies, instructional design, curriculum development and evaluation, roles of nurse educators, and much more.

Career-focused curriculum
Discover the crucial knowledge and skills required to succeed in your work and build a foundation for continued career growth.

Flexible schedule
We work hard to help you maintain school-life balance, striving to be as flexible as possible for busy non-traditional students.

Virtual services
Access to extensive virtual services, including academic advising, tutoring, support services, technical support and library services.

Lifelong support
We support your ongoing career advancement by providing comprehensive, personalized student services with lifelong career coaching.

Rolling admissions
No application deadlines to worry about. Apply when you're ready and prepare to get started soon.
Classes Start October 30th
Learn More Today
Nursing education certificate program classes & curriculum details
Designed for nurses who already hold an MSN, our online Post Master's Certificate in Nursing Education program provides students with the academic knowledge, skills, and expertise to become nurse educators in diverse healthcare and academic environments. Courses consist of specialty concentration courses and a clinical course.
| Program | Monthsi | Credits |
| --- | --- | --- |
| Post Master's Certificate Nursing Education (PMCNE) | 8 | 16 |
i. Average number of months for students to complete the program attending full-time
Required Courses in Nursing Education Certificate program (Including Graduate Practicum)
16.00 semester credit hours are required. NU 610, NU 621, and NU 636 will be required if not completed successfully with the prior Master of Science in Nursing degree.
NU 525 - Technology and Nursing Informatics in Advanced Practice 3.00
This course provides an overview of the integration of technology and nursing informatics in various healthcare environments. Legal, ethical, and cultural issues directing use of technology are examined. The influence of technology on patient outcomes will be explored.
or NU 530 Organizational Systems and Behaviors Semester Credit Hours: 3.00
NU 600 - Teaching/Learning Strategies 3.00
This course focuses on the fundamentals of teaching and learning by examining a variety of teaching, learning, and instructional designs, and strategies. General principles, theories, and methodologies related to learning and instructional development will be addressed. Issues of learners' engagement and the process of incorporating best practices into the classroom will be examined.
NU 617 - The Nurse Educator Roles 1.00
This course is designed to assist graduate students in synthesizing knowledge, skills, research, technology, and experiences from previous education courses in relation to implementing the role of the nurse educator. Theories of effective teaching and learning, and the theoretical principles and concepts that apply to nursing education will be analyzed.
NU 635 - Curriculum Development and Evaluation 3.00
This course explores the praxis, philosophies, principles, theories, and strategies in planning, development, implementation, and evaluation of curriculum. Students will define, analyze, and design a mock curriculum model for an institution or for an organization that requires staff development. The model curriculum will be reviewed and critiqued to provide the student with an opportunity to appreciate curriculum development, evaluation, and revision. Other issues that will be addressed include accreditation, program review, course and class objective, course and program evaluation, and valid and reliable tools for learner's measurement of outcomes.
NU 681 - Advanced Nursing Practice Clinical Practicum for Nurse Education 2.00
Building on the student's undergraduate level of nursing practice, this seminar/clinical course will provide the opportunity for the nurse educator student to advance their clinical knowledge, promote innovative thinking, and test new potential solutions to clinical/practice issues. The student will self-select a practice setting environment, outside their current field of practice, which may include acute care, long term care, home health, community-based settings and educational settings to further their professional development as a master's level nurse.
NU 683 - Graduate Onsite Practicum in Education 3.00
The capstone/clinical experience is the culminating experience of the graduate nursing program and provides the student with the opportunity to synthesize and apply knowledge and competencies acquired from the core and track courses. All students enrolled in the NU program education track are required to complete a final capstone practicum to exhibit mastery and expertise as a nurse educator. The student in the onsite practicum course will complete a clinical practicum with a mentor in an approved nursing education or staff development setting.
PD 600 - Applied Scholarship 1.00
This course is an opportunity for the graduate student to explore and reflect on the state of scholarship and rigor for solving problems within the profession. Questions such as: Is it appropriate? What are the challenges to scholarship, rigor and improvement in the profession? What strategies can improve the profession? How might I as a graduate student and professional a) improve my own scholarship as well as b) contribute to the scholarship and improvement of the profession will be asked and answered allowing for the development of a personal and professional career plan, including scholarly improvement.
Tuition & Cost
Tuition & Cost
The cost of tuition for the Post Master's in Nursing Education program is $615 per credit.
You can potentially earn even greater savings by transferring credit from prior college coursework, applying for financial aid, or potential partnership opportunities through your employer.
Our goal is your career advancement. That's why we are always working to improve our curriculum and processes to make our program as affordable as possible while preparing you best for success in your work.
 Scholarships & Financial Aid
You may be eligible for multiple scholarships and grants, both through Herzing University and several national scholarship websites.
 Military/Veteran Discounts
Veterans, Active Duty U.S. Servicemembers, and spouses may qualify for a 10% tuition discount or tuition reduction to $250 per credit.
You can
earn up to 85%

in loan forgiveness through the NFLP.

Commit to a career as a nursing instructor and you can potentially save immensely on cost as part of the National Faculty Loan Program (NFLP).

You'll need to find a full-time position within 12 months after graduation. The longer you remain employed full-time, the more you can save—up to 85% over 4 years.2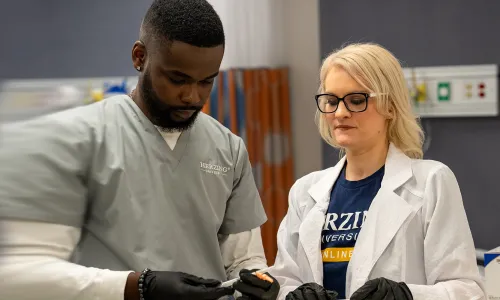 Admission prerequisites
The post master's nursing education certificate program is open to registered nurses who:
Hold a Master of Science in Nursing degree (MSN) from an accredited university or college.
Hold a current, active and unrestricted license as a registered nurse in the state in which they live (Note: Holding a multi-state, compact state license and being a resident in a compact license state will be deemed to have met this requirement).
Eligible states for enrollment: Alabama, Alaska, Arizona, Arkansas, California, Colorado, Connecticut, Delaware, District Of Columbia, Florida, Georgia, Hawaii, Idaho, Illinois, Indiana, Iowa, Kansas, Kentucky, Louisiana, Maine, Maryland, Massachusetts, Michigan, Minnesota, Mississippi, Missouri, Montana, Nebraska, Nevada, New Hampshire, New Jersey, New Mexico, North Carolina, North Dakota, Ohio, Oklahoma, Pennsylvania, Rhode Island, South Carolina, South Dakota, Tennessee, Texas, Utah, Vermont, Virginia, West Virginia, and Wisconsin.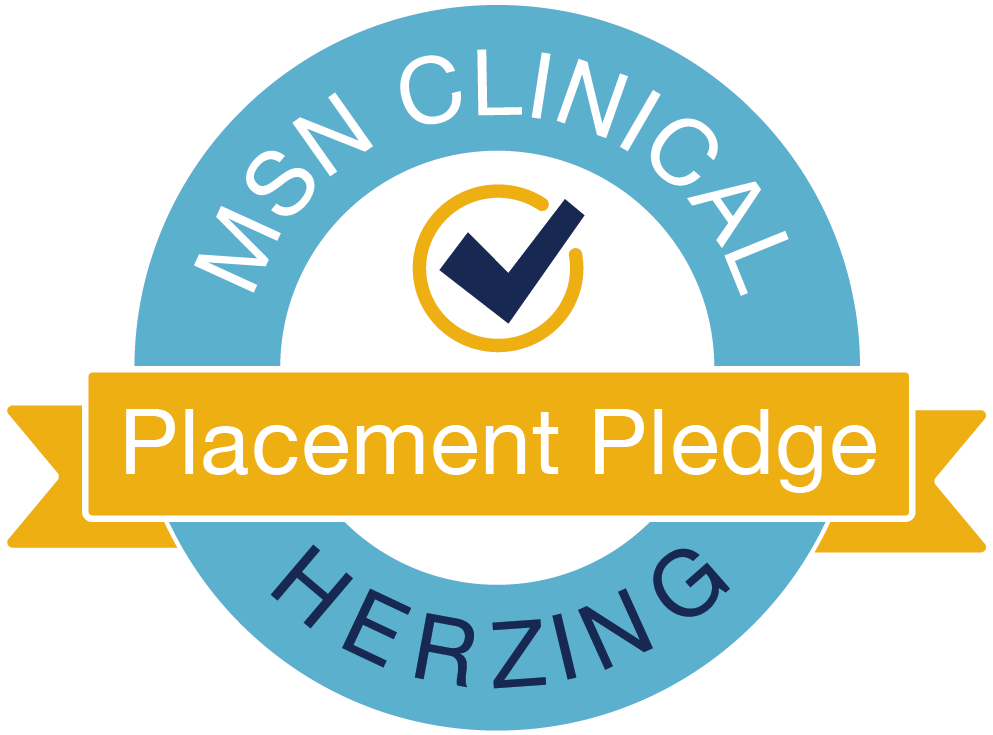 Your clinical placement is our pledge.
We understand securing clinical placement as part of a post master's certificate nursing program is one of the biggest concerns students face. At Herzing, we offer guidance and support through our step-by-step Clinical Guidance Process to ensure you can get the clinical practice experiences you need.
As a Herzing student, we'll encourage you to find your own preceptor and clinical sites as there are many benefits to doing so. However, we provide extensive support should you find difficulty along the way. With Herzing, you are never on your own.
Because of our strong relationships with healthcare providers across the U.S. and our comprehensive Clinical Guidance Process, we are confident in our ability to help you find clinical placement. So much so that if you are unable to find a clinical site on your own, we pledge to step in and help you secure clinical placement.*
* Subject to terms and conditions outlined in the enrollment documents.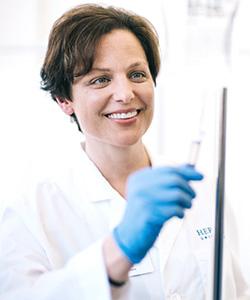 Herzing's Post-Master's Certificate in Nursing Education program provides busy professionals with the flexibility and convenience of completing coursework online. Full-time and part-time options available.
We are committed to helping you achieve academic success.
As a student in our nursing education certificate program, you will learn from dedicated Doctoral-prepared faculty and have Master-prepared academic coaches available to you who offer one-on-one assistance, coaching, and support.
FAQ
Frequently Asked Questions
You'll need a great education, plenty of clinical experience, excellent communication skills, a passion for healthcare and a real desire to make a difference—and an eagerness to share your experiences with others. The best teachers are those who are truly passionate and pass that along to their students. A great teacher goes a lot further than the essentials.
Perhaps most important is a commitment to a life of learning. If you possess these crucial skills for a nurse educator, this might be the career you're looking for.
The National League of Nursing identifies the following as the primary nurse educator core competencies:
Facilitate learning
Facilitate learner development and socialization
Use assessment and evaluation strategies
Participate in curriculum design and evaluation of program outcomes
Function as a change agent and leader
Pursue continuous quality improvements in the nurse educator role
Engage in scholarship
Function within the educational environment
No, a nurse educator is not considered an APRN (Advanced Practice Registered Nurse). A nurse educator can be called an APRN only with a separate credential as one of the following:
Nurse Practitioner (NP)
Certified Registered Nurse Anesthetist (CRNA)
Certified Nurse Midwife (CNM)
Clinical Nurse Specialist (CNS)
A post master's certificate (PMC), also referred to as a "post-graduate" certificate, is designed for nurses who hold a Master of Science in Nursing (MSN) degree and seek additional certification in a separate field.
Herzing University offers several post master's certificates for MSN-prepared nurses looking to transition in or out of clinical-based practice:
AGACNP - Adult Gerontology Acute Care Nurse Practitioner (program length: 20 months)
AGPCNP - Adult Gerontology Primary Care Nurse Practitioner (program length: 20 months)
FNP - Family Nurse Practitioner certificate (program length: 16-20 months)
NE - Nursing Education certificate (program length: 8 months)
NLA - Nursing Leadership & Administration (program length: 8 months)
PMHNP: Psychiatric Mental Health Nurse Practitioner certificate (program length: 20 months)
A post master's certificate from Herzing University provides the education, training, and practical experience you need to take the next big step in your nursing career.
We offer multiple options for current nurses of all types, including pathways for ASN/ADN, BSN, and MSN degree holders.
View our available online Nursing Education programs.
Nurse educators generally practice in one or both of:
Academic setting. Universities, colleges, trade schools, etc.
Clinical setting. Hospitals, clinics, other healthcare organizations, etc.
The Bureau of Labor Statistics reports these 5 industries provide the highest level of employment for nurse educators in 2018:
Colleges, Universities, and Professional Schools
Junior Colleges
General Medical and Surgical Hospitals
Technical and Trade Schools
Business Schools and Computer and Management Training
The Herzing Post Master's Certificate in Nursing Education program may be completed in 8 months when attending full-time. Complete the 16-credit program and you'll be eligible to sit for the Certified Nurse Educator exam and become a certified nurse educator (CNE).
With the proper education and experience, nurse educators may specialize in two different ways:
Type of care. High-demand areas of care will seek nurse educators with those specialties— possibilities including adult health/gerontology, psychiatric & mental health, pediatrics, public health and many others. Demand for all specialties will fluctuate based on evolving demographics and long-term industry trends.
Student education level. Educators may favor training students in one of several levels of nursing, including practical/vocational nursing, registered nursing (associate or bachelor's degree), master's degree or doctoral degree level positions.
Yes, according to the American Association of Colleges of Nursing (AACN),  Nursing faculty shortages are limiting student capacity at a time when the need for registered nurses continues to rise.
The AACN's 2018-2019 Enrollment and Graduations in Baccalaureate and Graduate Programs in Nursing report found that "nursing schools turned away 75,029 qualified applicants from baccalaureate and graduate nursing programs in 2018 due to an insufficient number of faculty, clinical sites, classroom space, clinical preceptors, and budget constraints."
The AACN cites the following primary reasons for the nurse educator shortage:
Faculty age continues to climb, and a wave of retirements is expected over the next 10 years
Higher compensation in clinical settings draws candidates away from faculty roles
Master's and doctoral nursing programs are not generating enough candidates for nurse educator programs
The result is that nurse educators are in very high demand. The Bureau of Labor Statistics projects a 18% increase in employment from 2022-2032, significantly higher than most other types of postsecondary teachers.*
Do I need to get certified?
Certification or licensing isn't currently required for nurse educators, but it can help you stay competitive in the job market and potentially increase your earning potential.
Graduates from a postgraduate certificate in nursing education program (who also hold an MSN degree) are eligible to take the Certified Nurse Educator (CNE) exam from the National League for Nursing (NLN).
We recommend you take this step to get certified, earn an edge on the job market and get off to a fast start in your career as a nurse educator.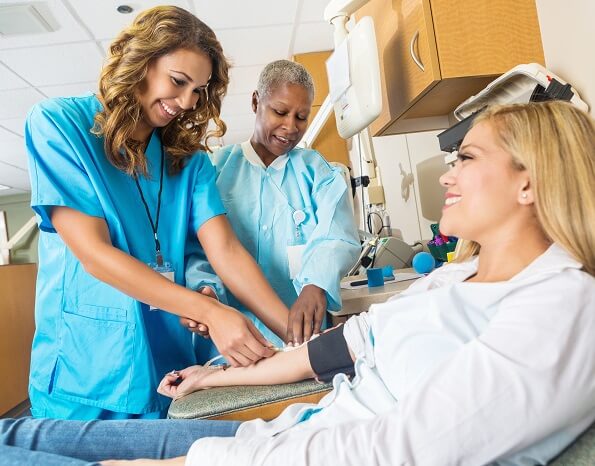 Disclosures
Accreditations
Accreditations & Disclosures
1. In exchange for post-graduation employment as nurse faculty meeting specific criteria, the program authorizes the cancellation of up to 85% of any such loan (plus interest thereon).
Herzing University is accredited by the Higher Learning Commission (hlcommission.org), an institutional accreditation agency recognized by the U.S. Department of Education.
* Bureau of Labor Statistics (BLS), U.S. Department of Labor, Occupational Outlook Handbook 2021. BLS estimates do not represent entry-level wages and/or salaries. Multiple factors, including prior experience, age, geography market in which you want to work and degree field, will affect career outcomes and earnings. Herzing neither represents that its graduates will earn the average salaries calculated by BLS for a particular job nor guarantees that graduation from its program will result in a job, promotion, salary increase or other career growth.