Diploma or Associate
Medical Assisting Programs
Online Classes/Training
Diploma or Associate
Medical Assisting Programs
Online Classes/Training
Choose your online medical assisting educational pathway
| | |
| --- | --- |
| Accreditation | Accredited by the Higher Learning Commission |
| Programs | Multiple undergraduate options: choose a diploma or associate degree program |
| Transfer credit | Up to 18-45 approved credits |
| Format | Online classes + hands-on clinical labs & externship |
| Certification | Prepare for the Certified Clinical Medical Assistant (CCMA) or Registered Medical Assistant (RMA) certification exam – we pay for your first attempt! |
| QuickPaths | Discover career advancement possibilities in one of Herzing's many bachelor's degree options in healthcare, including health sciences, healthcare administration—or even nursing |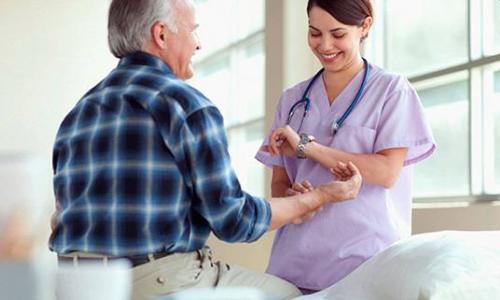 Choose Your Pathway in Medical Assisting
Medical assisting options include diploma and associate degree programs which prepare you for a career as a medical assistant.
Our online programs provide fundamental knowledge and skills in medical terminology, administrative skills for the medical office, insurance claims, processing and adjudication, ethics and professionalism, and much more.

Career-focused curriculum
Discover the crucial knowledge and skills required to succeed in your work and build a foundation for continued career growth.

Flexible schedule
You can take classes during the day or in the evening. We strive to be as flexible as possible for busy non-traditional students.

Virtual services
Access to extensive virtual services, including academic advising, tutoring, support services, technical support and library services.

Lifelong support
We support your ongoing career advancement by providing comprehensive, personalized student services with lifelong career coaching.

Rolling admissions
No application deadlines to worry about. Apply when you're ready and prepare to get started soon.
Classes Start January 8th
Learn More Today
Follow your career pathway with Herzing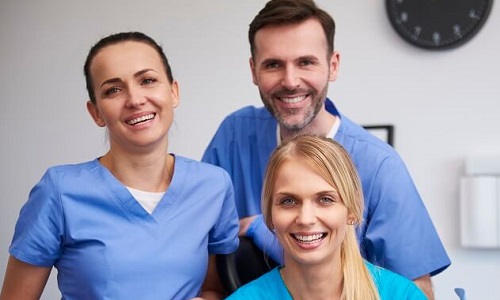 Program length: 10 months
Classes: View the curriculum
Credential earned: Diploma in Medical Assisting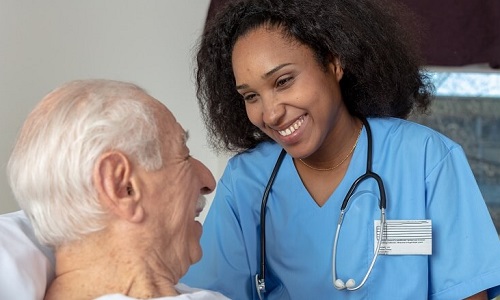 Program length: 20 months
Classes: View the curriculum
Credential earned: Associate of Science in Medical Assisting Services
Clinicals & externship: how the program works
There are two requirements to complete the medical assisting program outside of regular classes:
Two terms prior to the externship, you will be required to take two clinical courses. Most coursework will be completed online, but you will also be required to meet with a proctor at a healthcare facility (possibly a Herzing campus) to demonstrate mastery in medical assisting skills. Prior to your labs you will need to take and pass a Student Readiness Training (SRT) proctorship. You must complete a Basic Life Support (BLS) CPR class from the American Heart Association or the American Red Cross as part of the requirement.
You will complete 180 hours at a medical clinic or doctor's office in an eight-week period during your final term—Monday-Friday during daytime hours. Depending on the requirements of your externship site, expect about 25-40 hours per week. Herzing's clinical coordinator can assist you in your search, but it will be your responsibility to locate and secure a proctor and externship site in your geographic area during your Student Readiness Training Seminar (SRT).
Finding a proctor for your clinicals. Herzing's Proctor Prep SRT seminar provides guidance on how to search and secure a proctor to assist in your clinical courses. This course is usually scheduled two terms before the first clinical course. In order to succeed, you'll need to be in frequent communication with the SRT instructor. You will have access to a clinical coordinator who will assist in your search, but ultimately it is your responsibility to secure proctorship.
Contact us and we can provide answers to any further questions you have about the clinical/externship component of the medical assisting program.
Certification
Get educated and certified
Our goal is to maximize your chance of finding a job as soon as possible after graduation.
That's why both our diploma and associate degree curriculums include prep for key medical assisting certification exams:
Diploma program: Certified Clinical Medical Assistant (CCMA) from the National Healthcareer Association (NHA)
Associate degree program: Registered Medical Assistant (RMA) from the American Medical Technologists (AMT)
In each program we pay for your first attempt upon successful completion of the program.
After earning your diploma or degree and a certification you'll be ready to become a vital contributor for a team of healthcare professionals.1
Your many career possibilities in medical assisting
Medical assistants are typically responsible for a variety of clinical and administrative tasks, including scheduling appointments, insurance claims, preparing exam rooms, taking patients' weight and vital signs, drawing blood and potentially much more. Exact scope of practice will vary by state, and every employer will have their own expectations depending on the position.
Medical Assistant Ranked #11 Best Health Care Support Jobs of 2023 by U.S. News & World Report
You will collaborate with nurses, doctors and other healthcare professionals to deliver the best possible patient care. This can be a really good next step for current nursing assistants (CNA) looking to advance their healthcare career outside of nursing.
Medical assisting represents a strong foundation to not only join a growing field, but to gain meaningful healthcare experience and advance your career to the next level.
According to the Bureau of Labor Statistics, employment of medical assistants is expected to increase 14% from 2022-2032, much faster than the average across all U.S. occupations.*
Now is a great time to begin working towards becoming a medical assistant and join a career path poised for excellent growth.
More interested in an administrative role? If you have a preference for office administration tasks more so than direct patient care, you can pursue an education directly focused on these areas. Learn more about our online medical office administration program (diploma and associate degree options available).
FAQ
Frequently Asked Questions
According to the Bureau of Labor Statistics, these are the most common places of employment for medical assistants:
Physician's offices
Hospitals
Offices of other health practitioners
Outpatient care centers
Retirement communities / assisted living
A career in medical assisting involves a diverse array of roles and responsibilities. Depending on the practice you work for and department you are in, your normal everyday tasks can vary widely.
Potential tasks include (but not limited to):
Answering the phone and greeting patients
Informing physicians about patient concerns
Scheduling appointments
Gather patient information: contact info, insurance info, etc.
Measuring patient vital signs
Taking blood pressure, pulse and respirations
Setting up exam rooms for procedures
Visual and hearing tests
Drawing blood
Pregnancy tests
Making patients comfortable during an appointment
No matter what's required in your day-to-day experience on the job, what ties everything together is your professionalism, care for patients and attention to detail. Your resourcefulness will make you a valuable resource in a fast-paced healthcare environment.
Read more about a typical day in the life of a medical assistant and what you can expect after getting a job in the field.
Beginning your career as a medical assistant is a great way to build a strong foundational education in healthcare, gain meaningful real-world experience and prepare yourself to continue growing professionally.
What is the next level after medical assistant? It depends on your strengths, preferences and overall career goals in healthcare.
Many fields in healthcare are potential landing spots for medical assistants looking to specialize or branch into a new career path, including healthcare management, health information management, nursing (you may consider going from medical assistant to RN), and more.
Herzing University offers many degree and diploma programs for practicing medical assistants to take a leap and embark on a new career path. Our health sciences degree program is designed to help you complete your bachelor's degree and advance your career to the next level.
While practical nurses (LPN) and medical assistants often perform similar tasks, there are a few key differences to be aware of, including:
Educational requirements
Average salary
Scope of practice
Ongoing career opportunities
Future outlook for jobs
Learn more about the difference between practical nursing and medical assisting and how to go from MA to LPN.
Because medical assistants can wear so many different hats there are many important skills needed to thrive in different healthcare environments:
Professionalism. In many positions you will need to handle customer service tasks, basic patient care and clearly communicate physician information to patients. Medical assistants must demonstrate professionalism and tact when interacting with patients.
Attention to detail. Medical assistants may gather patient contact or insurance information and keep medical records organized. You must be meticulous and highly detail oriented to succeed.
Compassion. Making patients comfortable and empathizing with their concerns is crucial ensuring patients are calm and collected for medical procedures.
Multi-tasking. Staying organized and measured in the face of quickly changing circumstances and a lengthy "to-do" list will make you indispensable to a healthcare team.
These are just a few key medical assistant skills that will help you excel in medical assisting and beyond to many other career opportunities in healthcare.
According to the Bureau of Labor Statistics (BLS), medical assistants earn an average salary of $40,700 per year ($19.57 per hour).* As you earn more experience and gain more skills, your earning opportunity will improve.
The BLS also projects growing demand for medical assistants in coming years, predicting an 14% increase in employment from 2022-2032. It's a good time to get your foot in the door and work towards your new career.
Your choice depends on the career path you'd like to pursue.
If your number one priority is finding a job as a medical assistant as quickly as possible, a diploma program may be a better choice. You can earn a diploma in a year or less when attending full-time and be ready to enter the workforce as a certified medical assistant.
If you envision medical assisting as step one on a long career path in healthcare, you may prefer to choose the associate degree program. In addition to core medical assisting courses, you will take general education classes you can transfer into a bachelor's degree program in the future. Baccalaureate options for medical assistants include healthcare administration, health sciences and health information management. Earning an associate degree will likely only take a few months longer and position you very well for the next step in your education.
Students in the online program will take the RMA exam during their review course – which is a requirement to pass. Herzing will pay for the exam once.
Certification is not always required, but job duties may be limited in certain states if you don't get certified.
Even if you aren't legally required to be certified, many employers will require certification and it will make you available for more job opportunities, better pay and greater chance for advancement.
Sitting for and passing either the Registered Medical Assistant (RMA) exam or Certified Clinical Medical Assistant (CCMA) exam may open many more doors to start your career as a medical assistant.
Medical assistants typically have a greater role in patient care, and may perform tasks like taking vital signs, providing injections or medications or aiding in patient exams.
Medical office/administrative assistants practice in a clerical role rather than in direct patient care, responsible for organizing patient records, scheduling appointments, answering phones or filing paperwork.
The online medical assisting program (both diploma & degree) feature three main components:
Online classes. Much of the coursework can be completed in the online component of the program.
Clinical labs. You will be required to complete two clinical courses and meet with a proctor outside of class to ensure you are mastering key medical assisting skills.
Externship. Over an eight-week period during your final term you will be required to complete 180 hours of hands-on experience in a medical clinic or healthcare facility. We can guide you in your search, but it is your responsibility to find and secure an externship site.
Our goal is to fully prepare you to thrive in your new career. The clinical and externship hands-on component of the program is crucial to helping you get the experience you need to become a medical assistant right out of school.
Change Your Life with a Degree From Herzing
Herzing University is here to help change your life for the better. By enrolling, Herzing will work with you to help earn your degree and make you possible.
"I chose Herzing University because I felt like part of the Herzing family before I even began school," says Herzing University student Marquita.
Medical Assisting Degree Programs
Showing 2 programs for the Online campus
To learn more about this program, click the Request Info button to the right.
To learn more about this program, click the Request Info button to the right.
Ready to get started?
Contact us to request more information
Accreditation
Accreditation & Disclosures
1. Certification in this program is not a state requirement.
Herzing University is accredited by the Higher Learning Commission (hlcommission.org), an institutional accreditation agency recognized by the U.S. Department of Education.
* Bureau of Labor Statistics (BLS), U.S. Department of Labor, Occupational Outlook Handbook 2022. BLS estimates do not represent entry-level wages and/or salaries. Multiple factors, including prior experience, age, geography market in which you want to work and degree field, will affect career outcomes and earnings. Herzing neither represents that its graduates will earn the average salaries calculated by BLS for a particular job nor guarantees that graduation from its program will result in a job, promotion, salary increase or other career growth.
Eligible states for enrollment: Alabama, Alaska, Arizona, Arkansas, California, Colorado, Connecticut, Delaware, District Of Columbia, Florida, Georgia, Hawaii, Idaho, Illinois, Indiana, Iowa, Kansas, Kentucky, Louisiana, Maine, Maryland, Massachusetts, Michigan, Minnesota, Mississippi, Missouri, Montana, Nebraska, Nevada, New Hampshire, New Jersey, New Mexico, New York, North Carolina, North Dakota, Ohio, Oklahoma, Oregon, Pennsylvania, Rhode Island, South Carolina, South Dakota, Tennessee, Texas, Utah, Vermont, Virginia, Washington, West Virginia, Wisconsin, and Wyoming.
My clinicals helped prepare me for the office, while my externship helped me gain a true feeling for my life as a Medical Assistant. I found that time flew by during my enrollment with Herzing.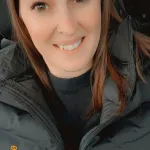 Healthcare Program
Online Campus