Take classes online and find your calling in healthcare
Enjoying a rewarding career while making an impact in your community IS possible. Become a medical assistant, become qualified for your first job and earn valuable training and experience in a healthcare institution. Medical assisting can be an excellent springboard to further career opportunities in healthcare.
Medical assisting offers you unique opportunity to get a fast start in a rapidly growing field. The Bureau of Labor Statistics projects employment of medical assistants will rise 19% from 2019-2029, much faster than the average across all U.S. occupations.*
Go back to school to earn your medical assistant training in as little as 10 months with our diploma program - or earn your associate degree in as few as 16-20 months. You'll be trained to be a vital part of day-to-day work at healthcare facilities and doctors' offices.
Learn online in Herzing's Everywhere Classroom: take classes on your schedule, at your pace
Offered online with labs and externship
Flexibility: choose full or part-time options
Advance your career: continue your undergraduate education with Herzing bachelor's degree pathways in health sciences, healthcare administration—or even nursing
If you have the personality to put patients at ease and the skills to provide office support, you could have a great future as a medical assistant. Your first step is getting educated.
Classes Start October 31st
Learn More Today
Follow your career pathway with Herzing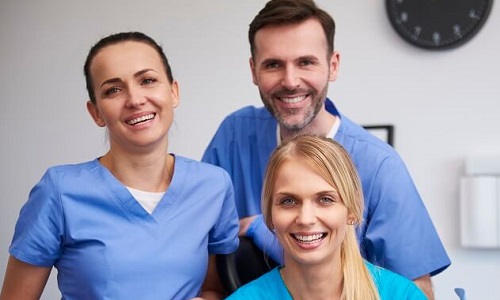 Program length: 10 months
Classes: View the curriculum
Credential earned: Diploma in Medical Assisting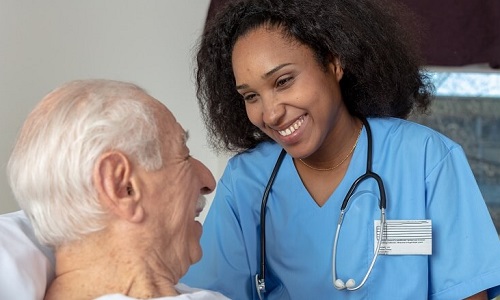 Program length: 20 months
Classes: View the curriculum
Credential earned: Associate of Science in Medical Assisting Services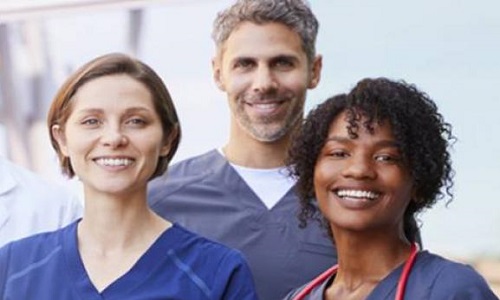 Clinicals & externship: how the program works
There are two requirements to complete the medical assisting program outside of regular classes:
Two terms prior to the externship, you will be required to take two clinical courses. Most coursework will be completed online, but you will also be required to meet with a proctor at a healthcare facility (possibly a Herzing campus) to demonstrate mastery in medical assisting skills. Prior to your labs you will need to take and pass a Student Readiness Training (SRT) proctorship. You must complete a Basic Life Support (BLS) CPR class from the American Heart Association or the American Red Cross as part of the requirement.
You will complete 180 hours at a medical clinic or doctor's office in an eight-week period during your final term—Monday-Friday during daytime hours. Depending on the requirements of your externship site, expect about 25-40 hours per week. Herzing's clinical coordinator can assist you in your search, but it will be your responsibility to locate and secure a proctor and externship site in your geographic area during your Student Readiness Training Seminar (SRT).
Finding a proctor for your clinicals. Herzing's Proctor Prep SRT seminar provides guidance on how to search and secure a proctor to assist in your clinical courses. This course is usually scheduled two terms before the first clinical course. In order to succeed, you'll need to be in frequent communication with the SRT instructor. You will have access to a clinical coordinator who will assist in your search, but ultimately it is your responsibility to secure proctorship.
Contact us and we can provide answers to any further questions you have about the clinical/externship component of the medical assisting program.
Your many career possibilities in medical assisting
Medical assistants are typically responsible for a variety of clinical and administrative tasks, including scheduling appointments, insurance claims, preparing exam rooms, taking patients' weight and vital signs, drawing blood and potentially much more. Exact scope of practice will vary by state, and every employer will have their own expectations depending on the position.
Medical Assistant Ranked #10 Best Health Care Support Jobs of 2022 by U.S. News & World Report
You will collaborate with nurses, doctors and other healthcare professionals to deliver the best possible patient care. This can be a really good next step for current nursing assistants (CNA) looking to advance their healthcare career outside of nursing.
Medical assisting represents a strong foundation to not only join a growing field, but to gain meaningful healthcare experience and advance your career to the next level.
According to the Bureau of Labor Statistics, employment of medical assistants is expected to increase 18% from 2020-2030, much faster than the average across all U.S. occupations.*
Now is a great time to begin working towards becoming a medical assistant and join a career path poised for excellent growth.
More interested in an administrative role? If you have a preference for office administration tasks more so than direct patient care, you can pursue an education directly focused on these areas. Learn more about our online medical office administration program (diploma and associate degree options available).
Medical Assisting Degree Programs
Showing 2 programs for the Online campus
To learn more about this program, click the Request Info button to the right.
The introduction of students to the overall operation of the physician's office is the basic objective of this diploma program. Students are trained to assist the physician in the examination room, perform routine laboratory procedures, and handle financial records, correspondence, insurance forms, and other administrative functions. Our ultimate goal is to prepare students to successfully gain entry level employment as a medical assistant.
Ready to get started?
Contact us to request more information
Accreditation
Accreditation & Disclosures
1. Certification in this program is not a state requirement.
Herzing University is accredited by the Higher Learning Commission (hlcommission.org), an institutional accreditation agency recognized by the U.S. Department of Education.
* Bureau of Labor Statistics (BLS), U.S. Department of Labor, Occupational Outlook Handbook 2020. BLS estimates do not represent entry-level wages and/or salaries. Multiple factors, including prior experience, age, geography market in which you want to work and degree field, will affect career outcomes and earnings. Herzing neither represents that its graduates will earn the average salaries calculated by BLS for a particular job nor guarantees that graduation from its program will result in a job, promotion, salary increase or other career growth.
Eligible states for enrollment: Alabama, Alaska, Arizona, Arkansas, California, Colorado, Connecticut, Delaware, District Of Columbia, Florida, Georgia, Hawaii, Idaho, Illinois, Indiana, Iowa, Kansas, Kentucky, Louisiana, Maine, Maryland, Massachusetts, Michigan, Minnesota, Mississippi, Missouri, Montana, Nebraska, Nevada, New Hampshire, New Jersey, New Mexico, New York, North Carolina, North Dakota, Ohio, Oklahoma, Oregon, Pennsylvania, Rhode Island, South Carolina, South Dakota, Tennessee, Texas, Utah, Vermont, Virginia, Washington, West Virginia, Wisconsin, and Wyoming.