Bachelor's Degree
Dental Hygiene Bridge Program
Go from AS to BS Online
Bachelor's Degree
Dental Hygiene Bridge Program
Go from AS to BS Online
Bridge to a bachelor's in dental hygiene in as little as 1 year
| | |
| --- | --- |
| Accreditation | Accredited by the Higher Learning Commission |
| Transfer credit | Up to 90 approved credits |
| Format | Offered online through our campus in Minneapolis, Minnesota; students must be a resident of Minnesota |
| Eligibility | Built for licensed dental hygienists who hold a CODA accredited associate degree in dental hygiene |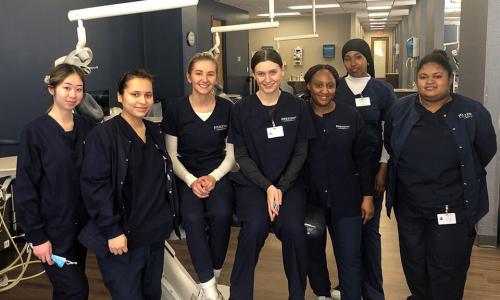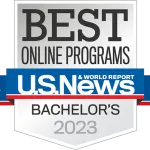 Bachelor of Science in Dental Hygiene - Bridge
The Bachelor of Science in Dental Hygiene - Bridge degree is a 120-hour undergraduate program which prepares you to advance your degree and practice as a dental hygienist. 
The bridge program provides students with fundamental knowledge and skills in dental hygiene research, technology in dental hygiene, contemporary issues in dental hygiene, and much more.
Ranked #2 Best Health Care Support Jobs of 2023 by U.S. News & World Report

Career-focused curriculum
Discover the crucial knowledge and skills required to succeed in your work and build a foundation for continued career growth.

Flexible schedule
We work hard to help you maintain school-life balance, striving to be as flexible as possible for busy non-traditional students.

Experienced faculty
Get face-to-face instruction from experienced and credentialed faculty with real-world success in the field.

Lifelong support
We support your ongoing career advancement by providing comprehensive, personalized student services with lifelong career coaching.

Rolling admissions
No application deadlines to worry about. Apply when you're ready and prepare to get started soon.
Available at the Minneapolis campus only
Curriculum
Dental Hygiene bridge program classes & curriculum details
The Bachelor of Science in Dental Hygiene – Bridge program is open to licensed dental hygienists who have completed an associate degree in dental hygiene from a CODA accredited program. Students must be a Minnesota resident and maintain Minnesota residency throughout the program.
The goal of the program is to prepare students with the knowledge and higher-level skills to effectively lead, manage, and teach in the dental hygiene profession. The curriculum gives students a path from an associate degree to a bachelor's degree by completing the equivalent of one additional year of advanced curriculum. Students can choose to complete a practicum in dental hygiene education or clinical practice management.
Both required dental hygiene courses and general education courses are delivered online.
| Program | Monthsi | Credits |
| --- | --- | --- |
| Bachelor of Science in Dental Hygiene - Bridge | 12 | 120 |
i. Average number of months for students to complete program
Required Courses in Dental Hygiene
All courses, 15.00 semester credit hours, are required.
DH 301 - Dental Hygiene Research 3.00
This course is designed as an introduction to the role of evidence-based dentistry (EBD) and research. The two goals of this course are: 1) to develop skills in the scientific methods of research in an effort to develop evidence-based decision making for optimal patient care; and 2) to develop skills needed to critically assess current and relevant scientific literature in relation to research design and principles for individual patient care needs. To make this learning more meaningful, students will apply the knowledge gained to patient care.
DH 305 - Cultural Diversity in Dental Hygiene 3.00
This course focuses on cultural diversity and how to begin the journey of becoming culturally competent in our society. It examines our own cultural beliefs, values, and practices and other cultures in the dental healthcare system. This course will teach the student how to develop cultural competence by acquiring the ability to provide care to patients with diverse backgrounds, values, beliefs, and behaviors, including tailoring delivery of care to meet patients' social, cultural, and linguistic needs. The course is also designed to understand the concept of culture and the hygienist's cultural awareness of the relationships between Westernized medicine and traditional health practices and recognition of selected cultures within the United States. Providing quality patient care through understanding cultural differences will be explored.
DH 310 - Technology in Dental Hygiene 3.00
This course focuses on exploring the various diagnostic, therapeutic, and educational uses of technology in dental hygiene. These technologies include digital radiographs, intra-oral images, automatic probes, and lasers used in dentistry. This course will show dental hygienists how to enhance their oral hygiene instructions with the use of technology.
DH 315 - Leadership in Dental Hygiene 3.00
Leadership is an essential part of the oral health profession, and developing leadership skills is a multifaceted undertaking. This course provides the students with the opportunity to explore the leadership theories, styles, behaviors, and attitudes that enhance the delivery of patient care and professional success. Specific content includes comparing and contrasting leadership and management, personal philosophy development, dental hygiene mentorship, strategic planning, shared governance, interdisciplinary collaboration, political action, professional and team development, and healthcare trends. This course will empower the student to take charge of their career and leadership potential.
DH 405 - Contemporary Issues in Dental Hygiene 1.00
This course examines current societal and professional issues and their impact on dental hygiene practice. Topics include, but are not limited to, advanced practice models to expand oral health services, counseling regarding smoking cessation, recent medical advances in the field of dentistry, and legal policy issues currently impacting dental hygiene.
DH 460 - Dental Hygiene Capstone 2.00
This capstone course is designed to provide students an opportunity to synthesize, analyze, and apply their knowledge and skills through the design, implementation, and completion of a senior capstone. The student will create a paper or project that reflects comprehensive knowledge and ability to reflect, connect, and then produce work based on their learning experiences throughout the Bachelor of Science in Dental Hygiene program.
Elective Courses in Dental Hygiene
3.00 semester credit hours are required.
DH 427 - Teaching and Theories of Learning 3.00
This course examines educational theories, methodology, assessment, and competency-based education in dental hygiene. Specific topics include didactic instructional methodologies, clinical instructional methodologies, lesson planning, and formative and summative evaluation.  Students must perform a minimum of 22.5 hours of teaching observations.
DH 428 - Clinical Practice Management 3.00
This course examines elements needed to manage a successful clinical practice. Specific topics include finance for the dental clinic, marketing, human resource management and development, technology and the dental clinic, and theories of organizational management.  Students will be required to observe a dental office manager for a minimum of 22.5 hours.
Required Courses in Programmatic Support
13.00 semester credit hours are required.
HC 305 - Healthcare Human Resource Management 2.00
This course focuses on the links that exist among strategy, organizational design, behavior, and human resource management in the healthcare environment. Students will learn about diversity, recruiting and retaining staff, job analysis, training and development, leadership development, physician practice management, medical staff relations, and labor relations.
HC 310 - Medical Law and Ethics 3.00
The course will emphasize both legal questions and ethical considerations in the modern medical organization. Contracts and physician patient relationships will be addressed. Legal proceedings, such as interrogatories and depositions, will be described. In the area of medical ethics, the issues of patient confidentiality and standards will be addressed.
HC 401 - Current Issues in Healthcare 3.00
This course is designed to provide a forum for the contemporary issues related to healthcare. Improving access, ensuring quality, and controlling costs are addressed.
HC 402 - Organizational Development and Leadership in Health Care 3.00
This course introduces benchmark leadership and management skills needed in today's health care organizations. Key topics include: leadership practices, human resource management, strategic planning, systems management, quality improvement, and professional communication and ethics.
PD 121 - Professional Development I 1.00
This course is designed to introduce students to methodologies that will prepare them for academic and professional success.  Topics include but are not limited to Canvas support, student support services, e-books, university policies, resumes, self-reflection, time management, goal setting, and strategies for anxiety reduction.
PD 202 - Professional Development II 1.00
This course provides an opportunity for students to critically examine their skills and develop a plan to further their career and own financial literacy. Topics include research, job searching, developing career documents, refining interview and communication skills, and creating a personal budget.
Required Courses in General Education
Students enrolled in this bachelor's degree program must complete the following 12 semester credit hours.
EN 304 - English Composition II 3.00
This course requires students to analyze discourse communities, execute a well-designed academic research project, apply reading strategies to academic texts, and use texts as models for writing.  Analyzing discourse communities involves identifying how communication conventions change in different contexts.  Designing and executing an academic research project involves formulating research questions, conducting primary and/or secondary research, synthesizing ideas from multiple sources, discussing findings, and presenting the results in APA format.  Applying reading strategies to academic texts involves using a process for reading, identifying text features, evaluating sources, and organizing reading notes.  Using texts as models for writing involves analyzing and imitating the scope, structure, methods, use of evidence, and tone common to academic writing.
HU 340 - Humanities and Contemporary Popular Culture 3.00
This course builds on Introduction to Humanities and continues exploring how visual art, philosophy, music, religion, literature, and modern popular culture influence the formation of the individual and the cultural beliefs and social values evident in the world around us.  Students will use analysis skills to examine artifacts of popular culture from multiple perspectives, including examples from among these possible areas of analysis: social media and cyber-culture, popular music, contemporary literature, film, television, magazines, videos, advertising, and graphic novels.
This course presents the study of basic statistical theory and concepts. Topics include statistical probabilities, measures of central tendency, measures of variation, hypothesis testing, regression, and correlation.
SS 350 - Social Issues and Technology 3.00
This course will examine the influence of technological development on American society. Emphasis will be placed on analyzing political, ethical, religious, social, and intellectual implications of technology. Topics may include technologies related to: energy; environmental degradation; human population growth, warfare and law enforcement; personal privacy; artificial intelligence; medicine and bio-genetic engineering.
Tuition & Cost
Tuition & Cost
When you accept the 10% tuition discount from our Financial Commitment Scholarship, the cost of tuition for the Dental Hygiene Bridge program is $464 per credit.1
You can potentially earn even greater savings by transferring credit from prior college coursework, applying for financial aid, or potential partnership opportunities through your employer.
Our goal is your career advancement. That's why we are always working to improve our curriculum and processes to make our program as affordable as possible while preparing you best for success in your work.
 Scholarships & Financial Aid
You may be eligible for multiple scholarships and grants, both through Herzing University and several national scholarship websites.
 Military/Veteran Discounts
Veterans, Active Duty U.S. Servicemembers, and spouses may qualify for a 10% tuition discount or tuition reduction to $250 per credit.
i. Financial Commitment Scholarship eligibility requirements: Recommended that students limit student loan borrowing to only what is needed to cover the cost of tuition and fees. Students may borrow up to $2,000 in student loans in excess of tuition and fees to cover their cost of attendance and retain eligibility for this scholarship. Excess loan eligibility dependent on individual student situation.
Dental Hygiene bachelor's program enrollment requirements
Prerequisites to enroll in the Herzing University Dental Hygiene program include:
Completion of a high school diploma, GED or equivalent
Meet and interview with a Herzing University admissions advisor
Complete an enrollment application
Please contact admissions for more information.
Your career success is possible.
It's never too late to better yourself, earn an education, and find the career path you've always wanted to walk. We exist to help you get there.
Bachelor of Science in Dental Hygiene - Bridge Degree Programs
Showing 1 programs for the Online campus
The goal of the dental hygiene program is to prepare students with the knowledge and skills required to manage and maintain a dental clinic, effectively instruct dental hygiene students, and build upon previous learned education in dental hygiene. This program prepares students with the necessary skills and academic knowledge for entry-level leadership opportunities with an emphasis on dental hygiene. It is structured as a "three-plus-one" degree where students who have already completed a typically lengthy associate degree in dental hygiene (in the range of 90 semester credit hours) can top off that degree with an advanced curriculum. Combined, this gives the graduate both the technical grounding in a dental hygiene program (from earlier training in dental hygiene from their associate-level studies) and the higher-level skills to effectively lead, manage, and teach in the dental hygiene profession.
Ready to get started?
Contact us to request more information
Come visit our campus in Minneapolis, Minnesota to learn more about Herzing's Dental Hygienist Bridge program and how we can help you reach your career goals.
Minneapolis Campus
435 Ford Road
St. Louis Park, Minnesota 55426

 (612) 360-2484
View all Minneapolis degree programs.
Accreditation
Accreditation & Disclosure
Bachelor of Science in Dental Hygiene-Bridge: The Commission on Dental Accreditation (CODA) does not accredit stand-alone degree-completion (bridge) programs such as the Bachelor of Science in Dental Hygiene-Bridge. The bridge program is available only to students who have already graduated from a CODA-accredited dental hygiene program with an associate degree and hold an active license, as well as being in good standing as a dental hygienist. Students must be a Minnesota resident and maintain Minnesota residency throughout the program. (Students are advised to consult with employers of preference as to the importance of accreditation on their hiring decisions.)
Herzing University is accredited by the Higher Learning Commission (hlcommission.org), an institutional accreditation agency recognized by the U.S. Department of Education.