Transition from military medic to Registered Nurse (RN)
| | |
| --- | --- |
| Degree pathways | Choose an Associate of Science in Nursing (ASN) or Bachelor of Science in Nursing (BSN) Bridge option |
| Locations | Available at multiple Herzing campus locations; ASN option available only at Orlando and Tampa campuses |
| Accreditation | ACEN accredited ASN program option,1 CCNE accredited BSN program option,2 Accredited by the Higher Learning Commission |
| Program length | 16-28 months, depending on your degree choice |
| Credits to graduate | 70-120 credits |
| Format | Online gen eds + core on-campus courses; you may also choose to take the online BSN bridge option with 100% online didactic classwork |
| Tuition | Veterans and Active Duty U.S. Servicemembers may be eligible to earn a 10% tuition discount, or tuition reduction to $250 per credit |
Begin your new career path in nursing
You can take full advantage of your deep experience as a military medic to more quickly transition into a career as a Registered Nurse (RN).
No matter your prior experience, you cannot become an RN without earning an undergraduate nursing degree. Our Associate of Science in Nursing (ASN) and Bachelor of Science in Nursing (BSN) Bridge options are designed for experienced healthcare professionals like you who seek a faster path to a nursing career.
If you're considering a career change to nursing, your first step is to get educated. Herzing University's bridge options can help you earn your nursing degree faster and jumpstart your new career:
Associate degree option. Consider our 16-month Associate of Science in Nursing (ASN) bridge option for military medics offered at our Orlando and Tampa campuses.
Bachelor's degree options. Choose our 28-month Bachelor of Science in Nursing (BSN) Bridge option for military medics offered at multiple campus locations. Or choose our online option.
Both degree pathways represent step one towards becoming an RN and will position you well to advance your education in the future.
You've developed your medical skills and gained valuable experience as a military medic—and we exist to help you turn that hard-earned experience into a rewarding, fulfilling career. We know you are possible.
Classes Start January 9th
Learn More Today
Locations
On-campus program locations
Our bridge options are available at 7 ground campus locations, each offering extensive student resources and support as you pursue your undergraduate nursing degree. Our BSN bridge option is also available online.
You served us—now, we serve you
The first Herzing campus was founded in 1965 by Henry Herzing, a proud veteran of the U.S. Navy. The strength, diligence, and determination he brought from the service into higher education set the standard we work to uphold every day.
We are committed to serving you with the same integrity with which you served your country. Our goal is to provide you with the education and support services you need to help you find the career success you deserve.
We are thrilled to have earned the 2022-2023 Military Friendly® School designation by VIQTORY, publisher of G.I. Jobs® and Military Spouse.® It is Herzing's second time receiving the recognition, the first coming in 2021.
Cost & Financial Aid
We are always working to improve our curriculum and processes to make going to college as affordable as possible. The total cost of the program varies based on many factors, including the campus you attend, degree path you choose, prior college credit you may be able to transfer, and eligible financial aid.
U.S. Veterans and Active Duty U.S. Servicemembers may be eligible for a 10% tuition discount or a tuition discount to $250 per credit.
You may also qualify for a wide variety of Chapter and Federal benefits including Post-911, Montgomery GI Bill, Federal Tuition Assistance, and more.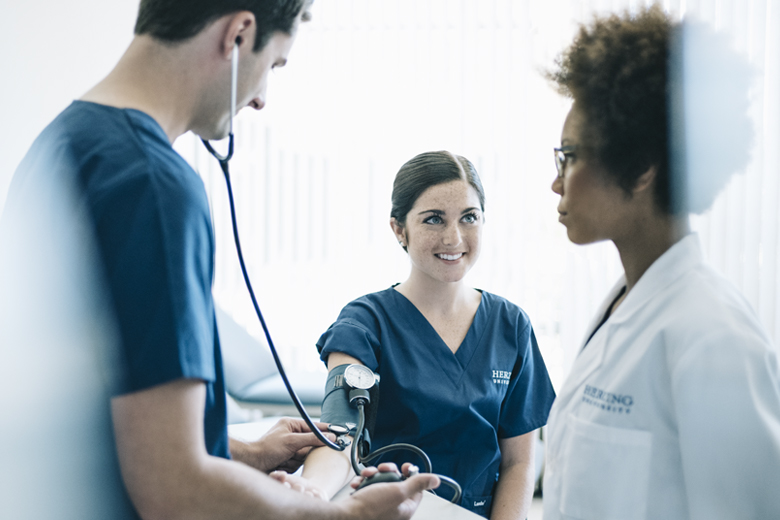 Enrollment requirements
Our ASN and BSN Bridge programs offer the opportunity for many types of military medics to earn an undergraduate nursing degree, including:
Air Force Medical Technicians
Army Combat Medic (68W)
Army Practical Nursing Specialist (MOS 68C)
Hospital Corpsman (E-1 HR, E-2 HA, E-3 HN and above)
Navy Hospital Corpsman (HM)
In addition, to be considered for admission, you must hold a high school diploma or equivalent (Diploma, HSED or GED) and meet the following criteria based on your cumulative GPA:
Cumulative GPAi
Science Requirement
TEASii
3.50–4.00
None
None
3.00–3.49
3.00 GPA in college scienceiii
None
2.50 and higher
None
Composite TEAS of 58

i. Students with 18 or more transferable collegiate credits will be assessed on their collegiate cumulative GPA. Otherwise, the high school GPA will be used.

ii. The Test of Essential Academic Skills (TEAS) from the Assessment Technology Institute (ATI).

iii. Based on your cumulative GPA in these college science courses: Anatomy & Physiology I and II, Biology, Chemistry, and Microbiology. Two of these courses must be used to calculate science GPA. Any of these courses completed must be included in the calculation, and no others. If you do not meet this requirement, you must score a composite score of 58 or higher on the TEAS. A grade of "B" or better must be earned for transfer credit to be awarded for Anatomy & Physiology, regardless of whether it was included in the calculation.
Disclosures & accreditation
1. Associate of Science in Nursing: The Associate of Science in Nursing program at the Orlando/Tampa location has an accredited status with the Florida Board of Nursing (4042 Bald Cypress Way, Tallahassee, Florida, 32399-3252, 850-245-4125, (www.floridasnursing.gov). Consequently, graduates are eligible to sit for the National Council of State Boards of Nursing (NCLEX-RN) licensing exam upon successful completion of the program. Passing this exam allows graduates to apply to the State Board of Nursing for licensure as a registered nurse.
The Associate of Science in Nursing program at Herzing University at the Orlando campus (with off-campus instructional site in Tampa) located in Winter Park, Florida is accredited by the: Accreditation Commission for Education in Nursing (ACEN), 3390 Peachtree Road NE, Suite 1400 Atlanta, GA 30326, (404) 975-5000. The most recent accreditation decision made by the ACEN Board of Commissioners for the Associate of Science in Nursing program is Continuing Accreditation. View the public information disclosed by the ACEN regarding this program at http://www.acenursing.com/accreditedprograms/programsearch.htm.
2. The baccalaureate degree program in nursing at Herzing University Brookfield, Kenosha, Madison, Minneapolis and Orlando are accredited by the Commission on Collegiate Nursing Education (http://www.ccneaccreditation.org). This accreditation includes the baccalaureate degree program offered at the satellite Herzing University Tampa location. Herzing University is approved to offer programs in an online learning modality through association with the main campus in Madison, Wisconsin.
Herzing University is accredited by the Higher Learning Commission (hlcommission.org), an institutional accreditation agency recognized by the U.S. Department of Education.