Bridge to the next level in your nursing career
CCNE-accredited*
No wait list!
Program length: as few as 20-28 months depending on your chosen degree pathway
100% online coursework with a hands-on clinical component
Herzing pledges your clinical placement
Prepare to sit for the Certified Nurse Educator exam upon graduation
Go from ADN to MSN in Nursing Education in our accelerated RN to MSN program, or earn your BSN on the way in our RN to BSN to MSN-NE track
Your career path in nursing education begins here
Take a big step in your nursing career by earning an MSN degree with a concentration in Nursing Education (NE). Build the career-focused skills needed to become a master's-prepared nurse educator and begin educating the nurses of tomorrow.
Our RN to MSN-NE degree options are designed for registered nurses with an associate degree (ADN/ASN/AASN) in nursing looking for the shortest, most advantageous path to becoming a nurse educator:
An accelerated RN to MSN-NE path for RNs seeking the fastest route to an MSN in Nursing Education
An RN to BSN to MSN-NE track for RNs who also want to earn a BSN on their way to earning an MSN
Take 100% online classes and develop practical experience in the clinical component of the program. Earn your degree in nursing education working side-by-side with experienced certified nurse educators who can show you the way.
We exist to help you reach your highest career goals. Team up with a lifelong partner in learning and your career teaching the next generation of nurses IS possible.
Classes Start September 8th
Learn More Today
Choose your path to go from RN to MSN-NE
RN to BSN to MSN-NE Track
Earn your BSN on the way from RN to MSN in Nursing Education and graduate with your master's degree in nursing.
Curriculum built to help earn your BSN and MSN faster
How long? 28 total months on average
Earn a bachelor's degree that is often required by employers
Accelerated RN to MSN-NE
Bridge directly from an ADN to MSN in Nursing Education in the Herzing Accelerated RN to MSN program.
Curriculum built to accelerate your MSN-NE completion
How long? 20 months on average
Ideal for nurses who are not required by their employer to hold a BSN
RN to MSN-NE classes and curriculum details
The Herzing RN to MSN in Nursing Education degree program prepares students for both academic and clinical roles in nursing education, from core undergraduate nursing courses to graduate-level courses refining specialty skills in nursing education.
All classes are delivered online with 180 total required clinical hours.
| Program | Months* | Credits |
| --- | --- | --- |
| Master of Science in Nursing (MSN) with a Concentration in Nursing Education - Accelerated RN-MSN (MSNNEA) | 20 | 52 |
*Average number of months for students to complete program
RN to BSN to MSN-NE track
This track combines our online RN to BSN and BSN to MSN-NE degree programs. You can view their respective curriculums with all course information here: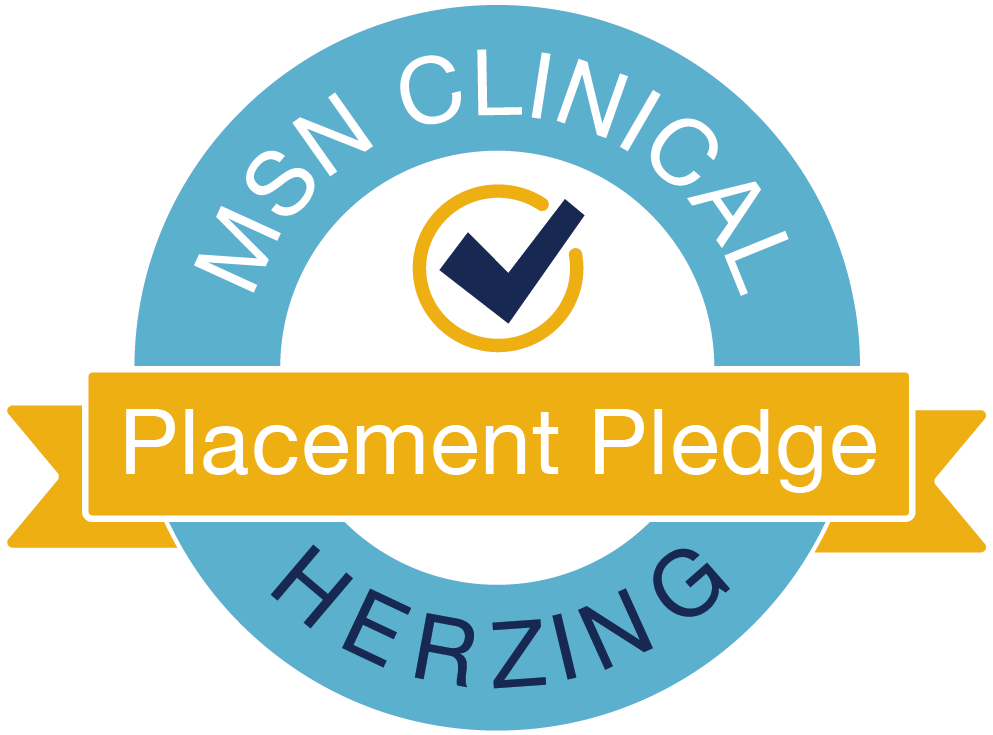 Your clinical placement is our pledge.
We understand securing clinical placement as part of an MSN-NE program is one of the biggest concerns students face. At Herzing, we offer guidance and support through our step-by-step Clinical Guidance Process to ensure you can get the clinical practice experiences you need.
As a Herzing student, we'll encourage you to find your own preceptor and clinical sites as there are many benefits to doing so. However, we provide extensive support should you find difficulty along the way. With Herzing, you are never on your own.
Because of our strong relationships with healthcare providers across the U.S. and our comprehensive Clinical Guidance Process, we are confident in our ability to help you find clinical placement. So much so that if you are unable to find a clinical site on your own, we pledge to step in and help you secure clinical placement.*
* Subject to terms and conditions outlined in the enrollment agreement.
Ready to take the
next step

?
Enrollment fee WAIVED now through August 31st
Find out which degree program is right for you. Call 1-800-596-0724 to learn more about Herzing's programs.
Requirements
RN to nurse educator program enrollment prerequisites
Enrollment requirements are the same whether you choose the accelerated RN to MSN-NE or RN to BSN to MSN-NE track. Prerequisites include:
Live in a state where Herzing University is authorized to offer the RN to MSN program
Hold a current, active and unrestricted license as a registered nurse (RN) in the same state in which they practice
Hold an associate degree (ADN/ASN/AASN) or diploma in nursing from a nationally or regionally accredited college or university
Participate in an interview to identify your goals and determine if the program is right for you
Your career options as a nurse educator
As a nurse educator, your role will be to help best educate nursing students and prepare them to transition from school to a professional working environment. You can work in a classroom, office setting, or teach in a hospital/clinic setting providing staff education and development.
Additional responsibilities may include:
Supervising nursing lab and clinical education
Demonstrate nursing through simulation activities and debriefing
Delivering lectures and facilitating classroom discussion
Provide feedback as students interact with patients
Design curriculum and instruction to ensure courses meet state accreditation requirements
Oversee student teaching, internships and research
According to the Bureau of Labor Statistics, employment of nursing instructors is expected to rise 20% from 2018-2028, well above the average of 5% across all U.S. occupations.
Now is a great time to begin earning the education you need to join a rapidly growing field in healthcare.
How can I continue advancing my career? Nurse educators considering additional education or credentials in patient care may consider pursuing a post-master's certificate in Family Nurse Practitioner (FNP). 
Disclosures
Accreditation
Accreditation & Disclosures
*The baccalaureate degree program in nursing and master's degree program in nursing at Herzing University - Madison are accredited by the Commission on Collegiate Nursing Education (http://www.ccneaccreditation.org). Herzing University is approved to offer programs in an online learning modality through association with the main campus in Madison, Wisconsin.