Associate Degree
Health and Human Services
Associate of Science
Associate Degree
Health and Human Services
Associate of Science
Program highlights
| | |
| --- | --- |
| Accreditation | Accredited by the Higher Learning Commission |
| Format | 100% online classes |
| Degree pathways | Earn a 2-year degree and transfer credit into a BS-HHS, or pursue related bachelor's degree majors in allied health, nursing, business, or others |
| QuickPaths | Transfer credit, stackable credentials, and adaptive learning technology build a faster pathway to a higher education with Herzing University |
Associate of Science in Health and Human Services
The Associate of Science in Health and Human Services is a 60-credit undergraduate program which prepares you for a wide variety of potential career pathways in community health.
The online degree program provides students with fundamental knowledge and skills in human resource management, behavioral health in communities, social problems and policy, human development across the lifespan, and much more.

Career-focused curriculum
Discover the crucial knowledge and skills required to succeed in your work and build a foundation for continued career growth.

Flexible schedule
You can take classes during the day or in the evening. We strive to be as flexible as possible for busy non-traditional students.

Virtual services
Access to extensive virtual services, including academic advising, tutoring, support services, technical support and library services.

Lifelong support
We support your ongoing career advancement by providing comprehensive, personalized student services with lifelong career coaching.

Rolling admissions
No application deadlines to worry about. Apply when you're ready and prepare to get started soon.
Classes Start January 8th
Learn More Today
Curriculum
Program classes & curriculum details
All didactic (lecture-style) classes are delivered online, and there is no field work, practicum, or internship included as part of the program. You can personalize your education by utilizing 10 open elective credit hours.
| Programs | Monthsi | Credits |
| --- | --- | --- |
| Associate of Science in Health and Human Services | 24 | 60 |
i. Average number of months for students to complete the program attending full-time
Required Courses in Behavioral Health
All courses, 9.00 semester credit hours, are required.
BH 200 - Diversity, Equity, and Inclusion 3.00
This course introduces the topics of diversity, equity, and inclusion within the behavioral health sector.  Students will examine the topics of diversity and difference in the areas of gender, political views, physical abilities, race, class, culture, sexual orientation, religion, age, and mental health. This course will provide the tools to improve equity and inclusion within the behavioral health sector through engagement with others, identifying and addressing unconscious bias, understanding the concept of social stratification, examining microaggressions, fostering an inclusive climate, discussing oppression and suppression, and privilege. Students will demonstrate how to effectively engage with clients, recognize the dignity and worth of all people, and demonstrate self-awareness and cultural humility.
BH 210 - Ethics in Behavioral Sciences 3.00
This course examines the ethical, legal, and professional issues facing behavioral health professionals.  It is designed to introduce critical ethical issues, problem-solving, ethical decision-making models, theory, the intersection of law, values, and ethics, HIPPA, client rights, mandated reporting laws, ethical conduct, and conflicting values. This course will also explore ethical principles such as informed consent, self-determination, conflict of interest, dual relationships, transference and countertransference, boundaries, professionalism, privacy, and confidentiality.
BH 250 - Behavioral Health in Communities 3.00
This course examines the way in which communities and individuals interact. The processes involved with social change, diversity, and citizen participation will be considered. Topics will also include how to plan, assess, and evaluate tools in working with the community, apply knowledge and theory of human systems, and explore community issues and solutions.
Required Courses in Business and Human Resources
All courses, 6.00 semester credit hours, are required.
BU 106 - Introduction to Business 3.00
This course introduces the environment of American business with an overview of various topics that serve as a foundation for further study of business. Topics include the environments in which businesses operate, the organizational structures of businesses, management functions in an enterprise, and the challenges of managing marketing, operations, information technology, finance, and human resources.
HR 100 - Introduction to Human Resource Management 3.00
Students in this course explore contemporary concepts and techniques essential to managing corporate human resources. Topics include resource planning, staffing, and rewards as well as developing and maintaining positions and people.
Required Courses in Health and Human Services
All courses, 15.00 semester credit hours, are required.
HH 110 - Introduction to Health and Human Services 3.00
This course introduces you to the field of health and human services. You will explore how the field of human services has evolved throughout history and how this has shaped current programs, services, populations served, and policy. Topics include the role and function of health and human service professionals, a foundation of assessment skills to examine present conditions in our society, and societal barriers that contribute to the need for health and human services. You will examine the roles and opportunities within the health and human services field.
HH 220 - Human Development Across the Lifespan 3.00
This course examines human development theories and life stages. Students will acquire an understanding of basic human development theories including sociocultural, biopsychosocial, and social change. Students will apply these theories to developmental stages from infancy through aging. In addition, this course will explore developmental milestones, challenges, common interventions for each stage in life, and an understanding of the capacities, limitations, and resiliency of human systems.
HH 240 - Social Problems and Policy 3.00
This course provides a study of social problems and the policies that address them. Topics include identification of how current legislation impacts human services delivery, how public and private values impact legislation and interpretation of policy, how sociopolitical issues impact service delivery and the development of the profession, identification of resources to address and impact policy, and introduction to laws that govern the profession.
HH 250 - Case Management and Crisis Intervention 3.00
This course explores the key components of case management and crisis intervention. Topics include case management techniques, tools, and challenges, application of assessment, planning, and evaluation tools in working with individuals, how to identify resources and conduct referrals, assessment, and analysis of needs of clients through observation, interviewing, active listening, consultation, and research, and how to engage in conflict.  Students will obtain the skills to conduct crisis and suicide prevention, assessment, and interventions, discuss how to recognize the dignity and self-worth of others, demonstrate self-awareness, professional use of self and empathy, develop skills congruent with the code of ethics, clients right to self-determination and the least restrictive environment, an understanding of resilience, and advocate for equity and inclusion.
HH 260 - Health and Human Services for Families and Groups 3.00
This course explores how to apply knowledge, theory, and skills in working with families and groups within Health and Human Services. Students will acquire skills and knowledge to work with families and groups: including the application of theory, assessment, planning, and evaluation.   Topics will also include:  how to identify resources and conduct referrals, discuss how to recognize the dignity and self-worth of others, demonstrate self-awareness, professional use of self and empathy, develop skills congruent with the code of ethics, group facilitation skills, family systems, and advocate for equity and inclusion.
Open Elective Courses
A minimum of 10.00 semester credit hours is required.
Required Courses in General Education
Students enrolled in this associate degree must complete a minimum of 18.00 semester credit hours. 
EN 104 - English Composition I 3.00
This course introduces the principles and practices of effective written communication. Topics include writing for various audiences and purposes, using the writing process to develop and maintain unity and coherence, and incorporating research into written work. Critical thinking in the writing and reading processes will also be covered and may include addressing assumptions underlying an argument, using sound logic in support of claims, including evidence relevant to the purpose and position of the document, refuting counterarguments, analyzing information, and synthesizing information from multiple sources.
EN 111 - Information Literacy 3.00
This course introduces students to the process of conducting research, integrating research into written work, and understanding information literacy as a sociocultural phenomenon.  The research process involves assessing the rhetorical situation, engaging in preliminary research, developing research questions, taking stock of current knowledge, identifying gaps in current knowledge, using appropriate search tools and strategies, critically reading and evaluating information, and refining search strategies as necessary.  Integrating sources into written work involves understanding why, when, and how to use and document sources.  Microsoft Word will be used to format documents according to APA standards. Understanding information literacy as a sociocultural phenomenon involves identifying barriers to entering scholarly conversations and examining the way various cultures view information as a commodity, means of education, means to influence, and a means of negotiating and understanding the world. 
HU 140 - Cultural Diversity 3.00
This course will explore the construction, evolution, and application of categories and stereotypes related to the concept of the "other."  Students will study discrimination, or "othering," and how it operates in our contemporary culture among members of marginalized groups, including the categories of ethnicity, gender, socio-economic status, and inclusivity.  In addition, students will explore cultural diversity in a global context. In order to understand what it means to be human, students will analyze relevant historical and contemporary cultural texts through the lens of the Humanities to examine the importance of embracing cultural difference.  Cultural texts may include: works of literature, drama, and poetry; music; theatre; film; advertisement; visual art; architecture; and more.
MA 109 - College Algebra 3.00
This course covers topics of algebra including linear functions, equations, inequalities, systems of equations in two variables, polynomial functions, quadratic equations, and rational and radical equations.
This course will introduce a psychological analysis of human behavior. Students will learn to apply a variety of theoretical perspectives in interpreting human behavior. Topics may include: psychological research methods; stages of human development; learning theories; personality; and abnormal psychology.
SC 270 - Environmental Literacy 3.00
Environmental literacy is the study of how individuals and society act successfully in daily life to relate to each other and to natural systems, and how they might do so sustainably.    This course will examine how scientific principles are applied to environmental issues. 
Courses transferred from other accredited colleges may also be used to meet these requirements.
Personal and Professional Development Courses
2.00 semester credit hours are required.
PD 121 - Professional Development I 1.00
This course is designed to introduce students to methodologies that will prepare them for academic and professional success.  Topics include but are not limited to Canvas support, student support services, e-books, university policies, resumes, self-reflection, time management, goal setting, and strategies for anxiety reduction.
PD 202 - Professional Development II 1.00
This course provides an opportunity for students to critically examine their skills and develop a plan to further their career and own financial literacy. Topics include research, job searching, developing career documents, refining interview and communication skills, and creating a personal budget.
Tuition & Cost
Tuition & Cost
The cost of tuition for the Associate of Science in Health and Human Services program is $415 per credit.
You can potentially earn even greater savings by transferring credit from prior college coursework, applying for financial aid, or potential partnership opportunities through your employer.
Our goal is your career advancement. That's why we are always working to improve our curriculum and processes to make our program as affordable as possible while preparing you best for success in your work.
 Scholarships & Financial Aid
You may be eligible for multiple scholarships and grants, both through Herzing University and several national scholarship websites.
 Military/Veteran Discounts
Veterans, Active Duty U.S. Servicemembers, and spouses may qualify for a 10% tuition discount or tuition reduction to $250 per credit.
Requirements
Enrollment requirements
Prerequisites to enroll in the Associate of Science in Health and Human Services program include:
Completion of a high school diploma, GED or equivalent
Meet and interview with a Herzing University admissions advisor
Complete an enrollment application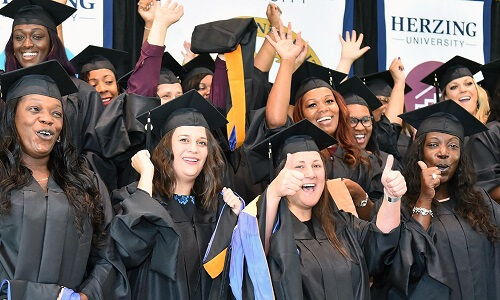 Degree Pathways
Find your educational pathway with Herzing University
We are proud to offer many degree pathways across all undergraduate and graduate levels.
Earning an associate degree in Health and Human Services can build a foundation for you to pursue all sorts of different educational opportunities.
Undergraduate degrees
After earning an associate degree in HHS, you can potentially transfer credit into an HHS bachelor's degree program—or choose related bachelor's degree programs in psychology, allied health, nursing, or business.
Graduate degrees
Pursue a bachelor's degree in HHS in the future and you can potentially earn dual credit towards a Master of Social Work (MSW) or Master of Business Administration (MBA)—or explore healthcare administration or nursing.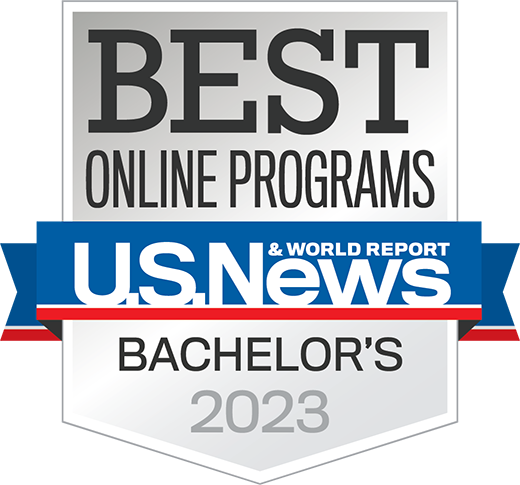 Herzing University is ranked by U.S. News & World Report among the best online bachelor's degree programs in 2023.
Accreditation & Recognition
Our accredited & recognized online school
We strive to earn rank as one of the top private, nonprofit universities in the United States. Just as you work every day to become the best version of yourself, so do we as a university.
We are proud to have attained institutional accreditation in addition to industry recognition for our accomplishments helping students earn a college education and find career success.
Herzing University is institutionally accredited by the Higher Learning Commission (hlcommission.org), a regional accreditation agency recognized by the U.S. Department of Education.
Careers
What can I do with an associate degree in health and human services?
An associate degree curriculum provides you with foundational skills and knowledge to pursue many different types of entry-level positions in health and human services.
You'll also take a selection of general education and elective courses, which can better tailor your education to the type of job you're looking for after graduating.
Potential job titles include, but are not limited to:
Case Work Aide
Family Service Assistant
Daycare Assistant
Behavioral Health Technician
Human Service Worker
Prevention Coordinator
Volunteer Coordinator
Rehabilitation Specialist
Social Services in Nursing Homes
Addictions Counselor
Salary potential & job outlook
FAQ
Frequently Asked Questions
The highest degree level we offer in health and human services is the undergraduate bachelor's degree program.
If you want to advance your education to the master's degree level in the future, we have many potential pathways you may consider. You can potentially earn dual credit towards a Master of Social Work (MSW) or Master of Business Administration (MBA)—or choose to pursue more healthcare-focused options in healthcare administration or nursing.
Yes, but it may be more appropriate to say psychology is an important element in the delivery of human services—among other fields.
Psychology represents a discipline that is a crucial component in human services, though a degree in psychology can be applied in jobs outside of the generally accepted category of "human services" jobs.
Yes, earning a degree in human services is worth it!
You'll earn a good educational foundation to pursue jobs making real, impactful change for individuals and their communities. You can become a difference maker, and advancing your education is an important first step towards success in your new career path.
Get your start in human services with a university dedicated to your success. We are your lifelong learning partner devoted to making your rewarding career possible.
How long it takes depends on several factors, including your prior college education and the degree path you choose.
We offer three different entry points into the field of human services:
All program length estimates are averages based on full-time enrollment.
The range of jobs you can potentially apply for with an associate degree in health and human services can make this number difficult to identify.
However, the Bureau of Labor Statistics provides figures for the occupational grouping Social and Human Service Assistants, containing some of the most common types of professions in human services you can qualify for with an associate degree education.
According to the BLS, Social and Human Service Assistants earn an average annual salary of $41,600 per year ($20.00 per hour).* Pay can vary based on your education, experience level, and state of employment.
There is some overlap when it comes to careers in human services and social work. In both career fields you'll be helping individuals and/or communities solve problems and find better social outcomes. Degree programs typically cover introductory behavioral health and global topics relevant to both career pathways.
However, jobs in human services typically focus on the health of communities at large, while social workers tend to place more focus on helping individuals and their families. Human service workers apply interdisciplinary skills to solve many types of problems in communities, while social workers help those in need to secure access to important social resources.
For instance, our Bachelor of Science in Health and Human Services curriculum includes study of nonprofit organization management, grant writing and fundraising, program planning and development, and volunteer, board, and community development.
On the social work side, our Master of Social Work curriculum zooms in on social services primarily for individuals and families, including clinical social work theory and practice, social policy and services, clinical social work interventions, and more.
Associate of Science in Health and Human Services Degree Programs
Showing 1 programs for the Online campus
To learn more about this program, click the Request Info button to the right.
Ready to get started?
Contact us to request more information
Disclosures
Disclosures
1. Certification in this program is not a state requirement.
* Bureau of Labor Statistics (BLS), U.S. Department of Labor, Occupational Outlook Handbook 2022. BLS estimates do not represent entry-level wages and/or salaries. Multiple factors, including prior experience, age, geography market in which you want to work and degree field, will affect career outcomes and earnings. Herzing neither represents that its graduates will earn the average salaries calculated by BLS for a particular job nor guarantees that graduation from its program will result in a job, promotion, salary increase or other career growth.