Bachelor's Degree
Accelerated BSN (ABSN)
Program Option for Non-Nurses
Bachelor's Degree
Accelerated BSN (ABSN)
Program Option for Non-Nurses
Enroll in Herzing's Accelerated BSN nursing program
| | |
| --- | --- |
| Accreditation | CCNE accredited,1 Accredited by the Higher Learning Commission |
| Program length | As few as 20 months, typically completed in 24 months (pending transfer credit)2 |
| Credits to graduate | 120 credits |
| Transfer credit | Up to 90 approved credits |
| Format | Online general education classes + core on-campus nursing classes |
| Benefits | Experience high-fidelity simulation to enhance learning opportunities; rigorous clinical training experience with our community healthcare partners; learn from credentialed faculty with real-world hospital and patient care experience; earn dual credit towards a Master of Science in Nursing (MSN) |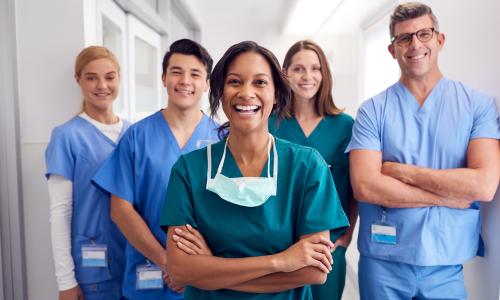 Overview: Accelerated BSN Program Option
The Accelerated Bachelor of Science in Nursing (ABSN) option is a 120-credit undergraduate program which prepares you for a career as a registered nurse.
The on-campus degree program, available at 7 campus locations, provides students with a non-nursing bachelor's degree with fundamental knowledge and skills in pathophysiology and pharmacology, clinical nursing, health assessment, gerontological nursing, mental health nursing, and much more.
 

Career-focused curriculum
Discover the crucial knowledge and skills required to succeed in your work and build a foundation for continued career growth.

Flexible schedule
We work hard to help you maintain school-life balance, striving to be as flexible as possible for busy non-traditional students.

Experienced faculty
Get face-to-face instruction from experienced and credentialed faculty with real-world success in the field.

Lifelong support
We support your ongoing career advancement by providing comprehensive, personalized student services with lifelong career coaching.

Rolling admissions
No application deadlines to worry about. Apply when you're ready and prepare to get started soon.
Classes Start January 8th
Learn More Today
Megan earned a second degree and found her calling
"This has been a dream come true—to finally find a career choice that actually taps into what I'm really passionate about."
Locations
On-campus program locations
The Herzing University Accelerated BSN program is available at 7 ground campus locations, each offering extensive student resources and support as you pursue your bachelor's degree.
Why Herzing
Why should I choose Herzing University?
Herzing University provides the education you need to pursue a second career in nursing and become a new you.
Our goal is YOUR success. Graduating from the Herzing University accelerated BSN nursing program, passing the NCLEX and becoming a registered nurse shows employers you have the education needed to care for patients, proves your tremendous work ethic, and illustrates your immense qualification for a nursing job.
Get dual credit for a master's degree program
The curriculum in our accelerated BSN option includes MSN courses that will count toward one of our Master's of Science in Nursing (MSN) degree programs.  As you pursue nursing as a second degree with Herzing, you will have this dual credit benefit that can save you time, money and provide another level of academic rigor.
As an alternative, you may consider our online MSN Direct Entry program for non-nurses. You can potentially earn your MSN in as few as 20 months (without first earning a BSN).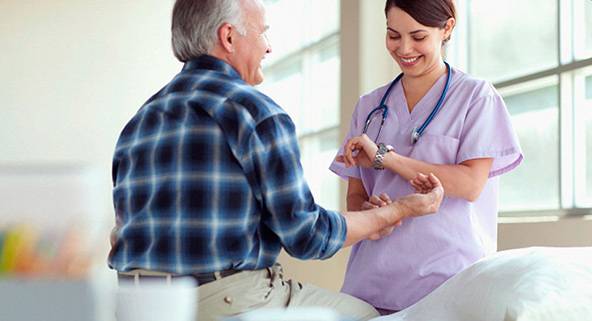 Requirements
Enrollment requirements
To be considered for admission into the Accelerated BSN program, you must:
Hold a high school diploma or equivalent (Diploma, HSED or GED)
Have earned a bachelor's degree from a postsecondary institution that is accredited by an agency recognized by the U.S. Department of Education or from a foreign college or university recognized as equivalent to a U.S. bachelor's degree 
You must also meet the following criteria based on your cumulative GPA:
Cumulative GPAi
Science Requirement
TEASii
3.50–4.00
None
None
3.00–3.49
3.00 GPA in college scienceiii
None
2.50 and higher
None
Composite TEAS of 66

i. Cumulative GPA may be calculated from all credits earned, including those in addition to the earned bachelor's degree.

ii. The Test of Essential Academic Skills (TEAS) from the Assessment Technology Institute (ATI).

iii. Based on your cumulative GPA in these college science courses: Anatomy & Physiology I and II, Biology, Chemistry, and Microbiology. Two of these courses must be used to calculate science GPA. Any of these courses completed must be included in the calculation, and no others. If you do not meet this requirement, you must score a composite score of 66 or higher on the TEAS. A grade of "B" or better must be earned for transfer credit to be awarded for Anatomy & Physiology, regardless of whether it was included in the calculation.
Careers
Your second career as a nurse awaits.
Herzing's accelerated nursing program puts you on the fastest path to getting your bachelor's degree and becoming a registered nurse.
You'll be very qualified for a job that's in high demand—the Bureau of Labor Statistics predicts a 6% increase in RN employment from 2022-2032, above the national average across all occupations.*
What kinds of jobs you can get with a BSN
Earning your bachelor's of science in nursing qualifies you for specialty roles and responsibilities as a registered nurse. You'll have the credentials for specialty care, including pediatric care, geriatric care, intensive care and more—or progress into a managerial or administrative position as you earn more experience.
Getting a BSN opens many doors to pursue the career you want. Continuing your education with an MSN degree to become a nurse practitioner, nurse educator or nurse leader can help you land a dream job in a private practice or in a leadership role.
Accelerated BSN Option Degree Programs
Showing 1 programs for the Online campus
To learn more about this program, click the Request Info button to the right.
Ready to get started?
Contact us to request more information
FAQ
Frequently Asked Questions
You can expect fast-paced learning with no traditional breaks over the course of the program.
Surviving nursing school takes hard work and commitment. However, starting a new career is never easy—and a demanding profession requires demanding training.
It's a challenge just like any other bachelor's degree program – but compressed into a shorter window it can feel much more demanding. Rest assured you'll have strong support every step of the way from Herzing faculty, staff and your fellow students to ensure you remain on track.
According to the Bureau of Labor Statistics, the average salary for registered nurses is $89,010 per year ($42.80 per hour)*. Nurses with a bachelor's degree tend to fall on the upper side of that average due to their advanced education and their qualification to help hospitals earn Magnet Recognition.
The BLS projects a 6% increase in need for registered nurses from 2022-2032.* RNs are in demand, and earning a BSN can help your resume stand out and give you a better chance of getting the job you really want.
Herzing University has no requirement for how much you can or can't work during nursing school. Many ABSN program students work part-time while pursuing their ABSN coursework and clinicals. However, we recommend prioritizing your education as much as you can afford. The accelerated BSN program is very demanding and our priority is for you is to be successful.
If you're considering a second career and want to go from non-nurse to nurse practitioner, degree pathways with Herzing University include:
Option 1:
Earn your BSN in an accelerated BSN nursing program in as few as 20 months (24 months for most students).
Earn your master's degree through our online MSN FNP program in 20 months.
Our accelerated BSN program is available in Minneapolis, MN, Nashville, TN, Orlando, FL, Tampa, FL and 3 locations in Wisconsin (Kenosha, Brookfield and Madison).
Option 2:
Earn a Master of Science in Nursing (MSN) in 20 months by enrolling in our online MSN Direct Entry program
Earn a post master's FNP certificate in 16-20 months
Our ASN program is available in Akron, OH, Birmingham, AL, Nashville, TN, Orlando, FL, and Tampa, FL. You may also elect to earn your BSN on the way by enrolling in our online RN to BSN program. Non-nurses who want to become an NP must first earn an undergraduate nursing degree before applying for an MSN program.
These are average estimates for full-time enrollment and can vary for each student. Fully commit to starting your second career and Herzing University can help you become eligible to sit for the FNP certification exam in 3-4 years to become a certified family nurse practitioner in your state.
If you're considering a second career as a nurse but concerned about the workload in an accelerated program, there are several other paths you can take:
You can first become a Licensed Practical Nurse (LPN). In 1 year you can earn a diploma in Practical Nursing and become an LPN. From there you can determine if you want to become a registered nurse.
Get an associate's degree and become an RN. You can earn your associate degree in nursing and become a registered nurse in 20 months—this is the quickest way to become an RN outside of an accelerated program.
A traditional BSN program. Enroll in our 3-year bachelor's of science in nursing program, earn your degree and become a highly qualified registered nurse. You can choose an on-campus program or our online BSN program.
It's our goal to help you succeed in your second career. We'll work with you to determine the best fit.
There are many different nursing specialties to choose from. Depending on your personality, educational background and preferred working environment you can follow your own personalized path in the nursing profession.
Here are a few popular nursing specialties you may consider:
You can take our nursing personality quiz to get a better idea of what you might prefer in your nursing career.
With Herzing University you are never alone. It's our goal to provide all students an affordable, career-driven education. Financial aid options include:
You can find an estimate for tuition and expenses by using the Herzing University tuition wizard.
Our requirements for the accelerated BSN nursing program option are higher given the rigorous nature of the coursework and how fast it moves.
Herzing University's goal is to help you find a path to a new career in nursing. If you're worried a low GPA will keep you from being able to enroll, please get in touch with us and schedule an appointment with an admissions advisor. We may be able to work out a better solution for you.
Yes! If you're fully committed to a new career in nursing, an accelerated BSN program is the fast track to earning your degree and getting a job with high earning potential as soon as possible.
Disclosures
Accreditations
Accreditations & Disclosures
1. The baccalaureate degree program in nursing at Herzing University Atlanta, Brookfield, Kenosha, Madison, Minneapolis and Orlando are accredited by the Commission on Collegiate Nursing Education (http://www.ccneaccreditation.org). This accreditation includes the baccalaureate degree program offered at the satellite Herzing University Tampa location.
2. Students who need to complete science prerequisites may require 24 months to complete the program. The 20 months moves very fast and isn't for everyone. If you need a little breathing room, that's OK! Our goal is to help you get your degree and do it at a pace that's most comfortable for you.
Herzing University is accredited by the Higher Learning Commission (hlcommission.org), an institutional accreditation agency recognized by the U.S. Department of Education.
* Bureau of Labor Statistics (BLS), U.S. Department of Labor, Occupational Outlook Handbook 2022. BLS estimates do not represent entry-level wages and/or salaries. Multiple factors, including prior experience, age, geography market in which you want to work and degree field, will affect career outcomes and earnings. Herzing neither represents that its graduates will earn the average salaries calculated by BLS for a particular job nor guarantees that graduation from its program will result in a job, promotion, salary increase or other career growth.