Jessica Amos
Initially, I was intimidated to pursue a degree in Medical Office Administration. However, I knew that I loved to help people and that healthcare is a career that would last a lifetime. No matter what, there's always something new to learn and I love being kept on my toes.
That drew me to the field, but I also decided to return so that I could help my daughter. I wanted her to have a passion for lifelong learning, so I decided to lead by example. Both reasons led me to Herzing, which I initially found on Facebook.
Once I read through the reviews and researched their graduation rate, I determined that this was the school for me. All this time later, I'm glad I made that choice!
Throughout my journey, I managed to earn my Medical Assisting Diploma and then went on to get my Associate in Medical Office Administration as well. These are no small achievements, and I'm happy I decided to attend Herzing to reach them. Their faculty and staff helped me so much along the way!
Speaking of which, I'd like to give a special shout-out to Teresa and Mrs. Jackie Gordon for all that they've done to help me.
Teresa was the first person I spoke to in Admissions, and I thought she was the sweetest person. Getting over the first hurdle was easy with her help, and she was always there. If she couldn't answer a question right away, she always got back to me as soon as she figured it out.
Mrs. Jackie Gordon was the one teacher I loved during my Medical Assistant training. I had many moments where I wanted to give up, especially when the COVID pandemic hit, yet she was always there to help and tell me she believed in me. I felt that I was always able to ask her, and all my teachers, anything.
I found that Herzing gave me enough time to complete my work, and even if it was a challenge at times, I was still able to plow through my classes! To truly succeed, I found that time management was quite a helpful skill. You can't succeed in your classes without it!
In particular, I found that my case study course was very valuable to my education. In it, I learned how to deal with different situations that might occur in a medical setting. Thanks to this course, I feel that I will be able to navigate my career better now that I know how to deal with a variety of situations. This, combined with my Cultural Diversity course, really make me feel well-prepared to start my career.
As a grad, moving is on my agenda since my husband is an active military member. Once we relocate to our new duty station, I'm planning on seeking out employment in the area. I'm even considering returning to Herzing to get a higher degree depending on how things go!
If I had to leave any advice to aspiring students, I would say the following: don't ever underestimate the value of note-taking, and even if things get difficult, never give up! Working in this field is so rewarding, and you'd be surprised what a little perseverance can do!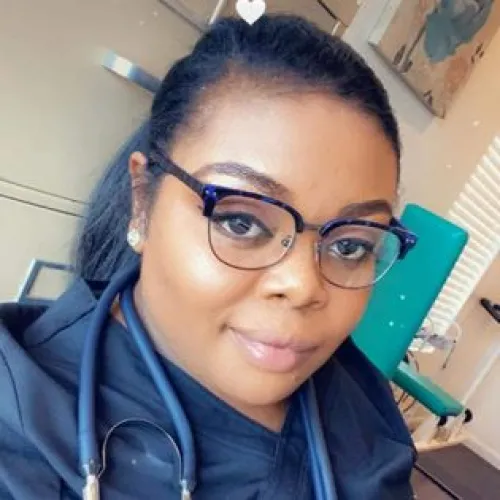 Jessica Amos
Healthcare Student