Michelle Wilton
Life is a journey! As we take steps in life, we need to be prepared for twists and turns that are presented before us. This stage in my journey began in January of 2009 when my father was having brain surgery. This was the day I realized that I needed to be in the Operating Room assisting patients just like my father!

I have always been the type of person to set my mind to something and just do it and this is what I did! So, this is the beginning of a "New Journey" in my life of Surgical Technology! I began researching to find the best school for me to receive my education and one that was fully accredited. I was truly blessed in finding just the right school in a timely manner. It all began with my first interview and tour of the school, which led to me paying my enrollment fee on the very same day! My mind was made up from the moment I stepped foot on the campus grounds. I chose Herzing University-Orlando Campus to obtain an Associates of Science Degree in Surgical Technology. Just two weeks later, I was sitting in my very first class.

There were many times that I thought I was too old to start a new educational journey, but then I realized that Herzing was a perfect fit. Herzing offered night classes as well as online courses, which in turn was very convenient for me. I am a wife and a mother of three young children. I felt very strongly about having a course of study which I could complete quickly, but at the same time obtaining the best education possible. I attended class four nights a week, after making sure my family was properly taken care of.

My life drastically changed in a blink of an eye! I quickly engaged myself within my education as well as the school itself. I was hired as a work study, as an assistant to the Nursing Program Chair. I also sat on the Advisory Board for the Surgical Technology Program, served on the fundraiser committees as well as serving as the Phi Theta Kappa President for the Herzing-Orlando Campus as well. Herzing was a perfect fit for me as a team player of the campus and as a student!

One of the most important factors that Herzing offers to all students is preparing each student for the career world. This gave me firsthand experience writing a resume and cover letter and then to the techniques and skills of behavioral interviewing. This gave me the confidence to be able to enter any interview and be able to express myself as an individual and a potential employee. I was prepared above and beyond all expectations when I successfully sat in the multiple interviews that I have experienced at my new place of employment.

When I first stepped foot into the facility for my clinical rotation, I was very comfortable because I knew that I was trained at a "First Class" rate. My instructors took me in the palm of their hand to teach and guide me through every step of the learning process. Yes, there were many twists and turns along my path that made me feel that I was not going to make it through, but with the help and support of Herzing and being an actual person, not just a number on the campus roles; I too, am now a successful graduate!

I have now completed a new chapter in my journey of life! With the support system at Herzing"from all departments, starting in the front office all the way back to my individual teachers, I am now an employed Surgical Technologist and proved to myself "I can do it!" I was very fortunate and blessed to be offered a position upon completion of my rotation. I can now say that I was prepared more than I had EVER thought. If you have an interest in changing careers, the time is never too late. Being prepared is the key and Herzing can help you achieve that. As we take steps in our lives, we need to be prepared for what lies ahead in our path. The part of my journey that began the day my father had brain surgery is now ending with me being part of the Neuro Surgery Team.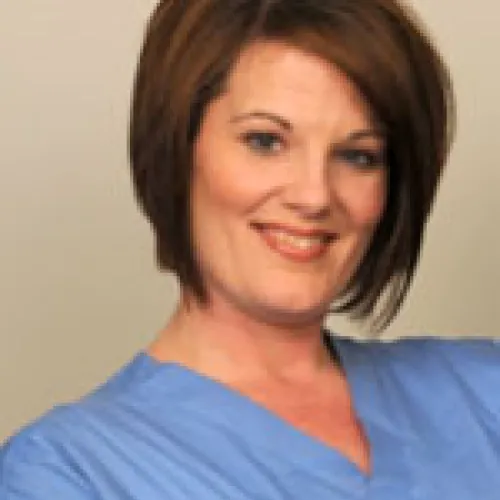 Michelle Wilton
Healthcare Student