Nariah Jenkins
I didn't have any previous knowledge about Herzing – I simply took a leap of faith and applied. I'm so glad I did, as this was the best experience I've ever had in my life!
Great people are working at Herzing. For starters, I had great instructors that were a huge help to me and kept me on track. I also had an advisor who was the BEST! She helped me so much, and I appreciate and love her for everything she's helped me accomplish.
As great as everything was, it didn't come without a few setbacks. For example, my externship was very difficult, and I found it hard to fit it into my schedule. Thankfully, I eventually found a job that allowed me to work alongside my externship so that I could stay on track financially and in school.
Unfortunately, my grandfather died while I was studying as well. This was another challenge to overcome, but I just kept pushing forward. I learned through these experiences to be strong and never give up!
I love helping people. My goal in life is to help others by doing whatever makes them happy, and I am going to do that with this degree!
As a graduate, I'm going to be a Medical Assistant at a health center and plan on returning to Herzing to become a BSN.
To anyone returning to school: don't give up! Reach out for help when you need it, and always double-check your work. You can achieve your dreams at Herzing!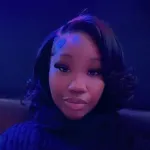 Nariah Jenkins
Healthcare Student