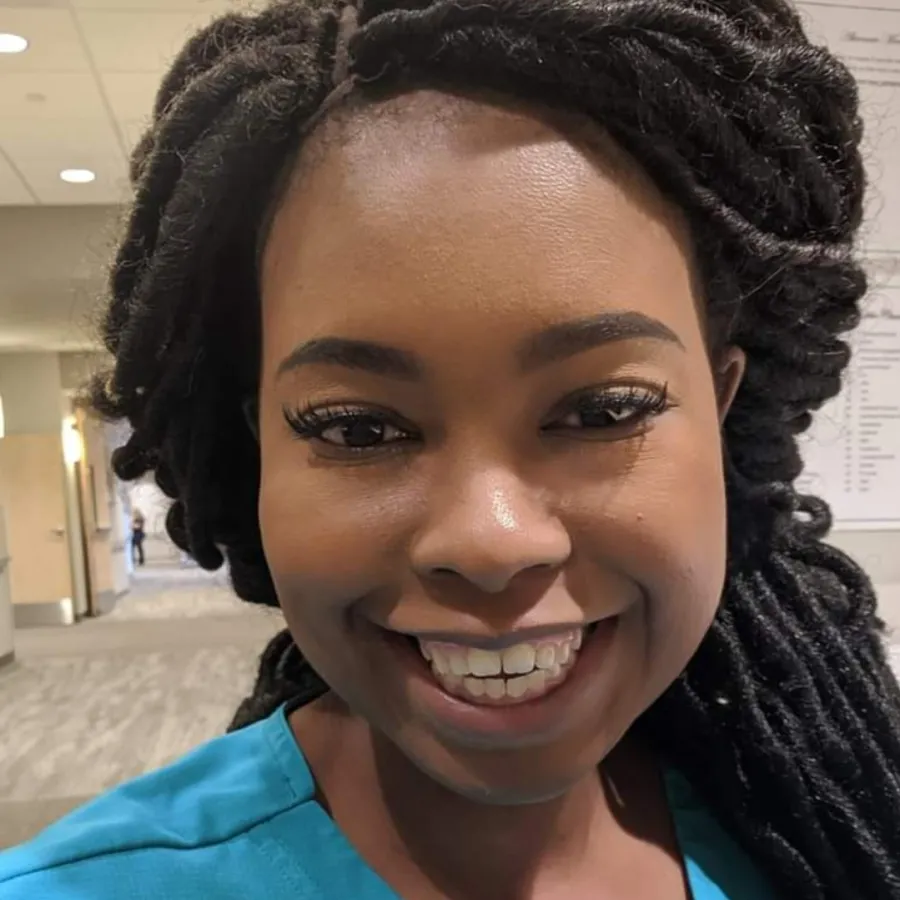 Shambretta Johnson
Herzing Alumni
"Whenever you're feeling defeated, remember to hit pause - not quit."
This was the advice that Shambretta Johnson used to motivate herself during tough times, and it remains a sentiment she applies to her role as a medical assistant every day. 
But before she became a healthcare hero, Shambretta struggled to find her calling. She was unsure of what pathway she wanted to embark on until her research led her to Herzing University-Madison's online medical assisting program.
"As soon as I spoke to the admissions team, I felt reassured and encouraged," Shambretta shared. "I knew I made the right choice enrolling at Herzing."
Like 20% of the population, Shambretta faces a daily battle with dyslexia . This was something that influenced the way she looked for programs, and the approach she took for reaching her educational goals. 
"Because of my learning disability, I have always felt as if I'm at a disadvantage," Shambretta said. "I'm especially appreciative of the way Herzing's staff worked with me to create a plan and helped me succeed. I could call them whenever I needed them and felt confident that they truly wanted to help."
Shambretta's educational experience was challenging to say the least. 
"It was simultaneously the hardest and most rewarding experience of my life," Shambretta said.
While she was in school, Shambretta was faced with homelessness and spent time living out of her car. In the face of adversity, she continued to persevere in her classes, and ultimately graduated with her medical assisting degree in 2022. 
The last few years, while challenging, have given Shambretta valuable clarity and motivation to keep going. 
"I learned a lot about the strength that comes from asking questions and reaching out for help," she noted. "I took advantage of all the resources and materials available to me from Herzing and continue to use them to this day."
As a medical assistant, Shambretta is proud to be a part of a team that shares her passion for helping those in need. She applies her positive attitude to her work and gets joy out of seeing the difference she is making in other people's lives. But the road for Shambretta doesn't stop there.
"I'm already thinking about my next goal. I want to go back to school and earn my Bachelor's in Healthcare Administration from Herzing, so I can continue my career at a higher level," Shambretta shared. "While I appreciate and celebrate the goals I've already achieved, I'm always pushing myself to move forward and look for the next goal to work towards."
Goal setting continues to play a major role in Shambretta's life and is a focal point for how she remains so determined and driven. Overcoming unthinkable challenges and continuing to stay positive through it all is something she uses to motivate her further. She calls it her "why".
"I encourage all students to identify their 'why' and use that as a compass throughout their education," Shambretta said. "I've been through so much already. I've overcome a lot, so I know I can handle anything," she continued. "I'm here to help others and I can't give up on myself because that means I'm giving up on them."
Whether it's the horrors of homelessness, the difficulties of dyslexia, or the uncertainty of what the next day will bring, Shambretta's story is one that every person can relate to and her drive to maintain her smile and keep going is something that shines through her every action. As she continues to set, achieve, and extend her goals, her unwavering positivity and perseverance will continue to lead her to greater success, at Herzing and beyond.