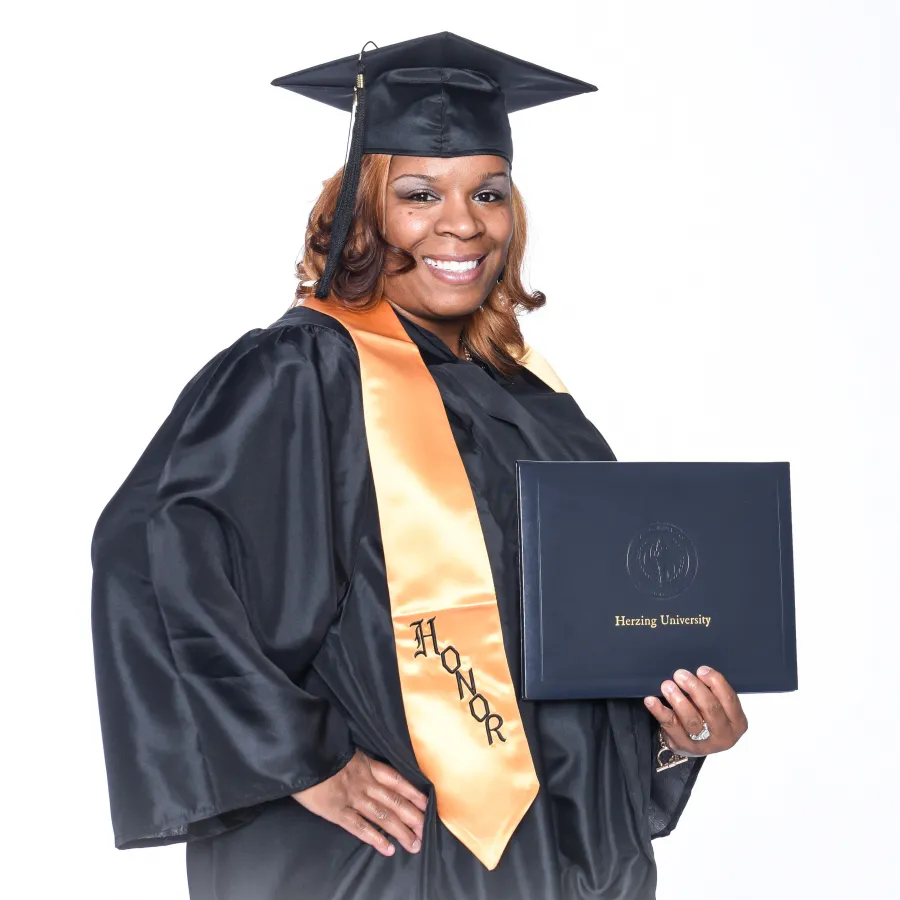 Sharee A. Smith
Herzing Alumni
Every business today has some reliance on computers, driving the need for skilled IT professionals through the roof. With the Bureau of Labor Statistics estimating an additional 667,600 new IT jobs and 13% growth in IT-related jobs over the next decade, those who love working with computers are seeing countless new opportunities beginning to pop up. This includes Sharee A. Smith.
Growing up during the generation where computers were just beginning to be introduced into the home, Sharee's dad bought a Commodore 64 when she was in the seventh grade, and it opened her eyes to all new possibilities.
"That's really when I fell in love with computers; that computer was like another friend to me," Smith said. "The curiosity I developed about computers never went away and once I started making my own decisions, this was what I knew I wanted to do for a career."
School had always come easy for Sharee but pursuing her bachelor's degree was intense. Herzing was Sharee's school of choice. She decided to return to school eight years post-graduation to continue her professional development in 2018. It was Herzing's willingness to allow flexible scheduling — plus access to specialized simulation software — that won over the working mother of three.
Sharee was constantly busy, but her determination and work ethic allowed her to maintain a 4.0 GPA and graduate Summa Cum Laude in the Fall of 2019 with her bachelor's degree in Information Technology.
"I was always in communication with my professors letting them know what I had going on and made sure to have classmates that I could turn to if needed," Smith recalled. "I was stretched pretty thin for that year and a half, but Herzing's staff were very accommodating and understanding towards my situation. Any time I felt like there was a chance of falling behind, I had the support system around me to keep me going."
For Sharee, the greatest advantage of Herzing's program was learning about the latest technology. Ever-evolving, hopeful IT professionals are only as good as the technology they are familiar with and, according to Sharee, at Herzing they learned about "the latest and greatest" technological advancements. Her attendance at Herzing has also reflected in the job and interview opportunities she had coming out of school.
Now a Service Desk Analyst for a manufacturer of building products and materials, Sharee is exactly where she had hoped to be. In many ways, hers is a career that not enough women have had the opportunity to pursue.
"As a woman, I can see how underestimated and underrated we are within the IT industry," said Smith. "One of my professors was very candid with me about it. He pushed me to excel and learn as much as I could. The foundational challenge for us is how overlooked we are and how we must keep proving ourselves regarding Information Technology."
Women remain highly underrepresented in the IT industry, making up only 28% of current computing jobs while leaving the workforce at a rate 50% higher than men — a trend not aided by the global coronavirus pandemic. But Smith was undeterred in her effort to find a career path, and pursue an education at Herzing that helped to unlock new opportunities and start a job that she enjoys.
To other women, Smith would share the same advice she has believed in since day one, that "you have to be your authentic self. Allow yourself to shine, but never try to be someone else. Your gifts and talents will make room for you, and you will be a success story."