Discover what it takes to become a detective
Interested in pursuing a more specialized role in law enforcement? Do you have a knack for getting to the bottom of a problem and finding a solution? Then you might want to consider steps to becoming a detective or criminal investigator.
Becoming a detective often requires a degree in a criminal justice related field, as well as some previous experience in law enforcement. 
Take these 6 steps to become a detective: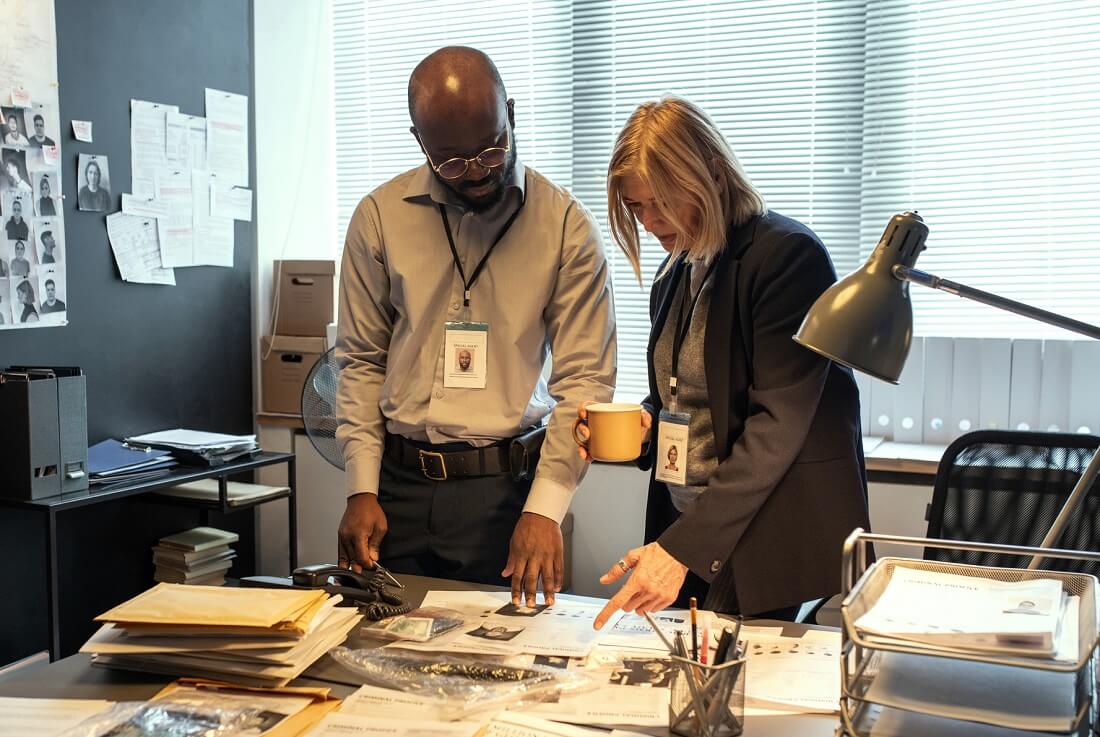 1. Understand what a detective does
The primary responsibility of a detective is to collect and analyze information related to criminal cases. Some of these duties may include but are not limited to:
Interviewing witnesses
Examining documents (such as photographs or financial records)
Observing suspect behavior in real time.
Most importantly, you will play a key role in solving complex crimes.
Detectives are known for their ability to connect the dots and compile evidence that leads to an arrest, or a conviction of a crime. Their work is different from a police officer's in that detectives spend the majority of their time analyzing evidence of a crime that's already been committed as opposed to actively deterring crime.
Typically, detectives will specialize in a relevant field such as homicide, drugs, or even fraud. They will often work on a crime from the discovery of the event until an arrest or trial is held.
At the end of the case, a detective may be asked to present their findings to a court of law which can then be used to build a case against a potential suspect. 
3. Earn work experience in law enforcement
Eligibility for certifications typically includes some mix of education and professional experience in the field.
Detectives usually begin their careers as police officers, so in many cases you might earn the work experience before earning the degree required for the job you're after.
Another way to potentially gain exposure to law enforcement is volunteering in community or public events. Participating in these events can show your desire to work with other people to build a better community.
As part of our criminal justice and homeland security programs, we offer elective internships to give you an opportunity to experience working in the field in which you've been educated.
Because you will also be working with experienced instructors, you will also have the opportunity to ask the experts what they recommend participating in to earn work experience. Working in a computational or statistical analysis lab can also be beneficial because your work as a detective will often involve analyzing and interpreting data.
4. Get certified
Certifications allow you to become further specialized in your role as a detective.1 Below are a few common types of certifications for detectives:
5. Meet local credentialing requirements1
What is required to become a detective can vary from community to community. As such, there are typically local credentialing requirements.
Generally, most detective-based positions will require some form of college education, preferably in a criminal justice related field.
Before committing to a degree path, you should check the requirements in your state to get a better idea of what will be expected of you to qualify for jobs as a detective or criminal investigator.
6. Find your first job as a detective
Once you've earned an education, professional experience, and relevant certification,1 you'll greatly increase your qualification for a job as a detective.
If a degree is all that stands between you and that big promotion to the job you've always wanted, we exist to help you earn it. Our programs are designed for your professional success. Take a big step towards your bright future with Herzing University.
1. Certification is not a state requirement.
---
* Bureau of Labor Statistics (BLS), U.S. Department of Labor, Occupational Outlook Handbook 2021. BLS estimates do not represent entry-level wages and/or salaries. Multiple factors, including prior experience, age, geography market in which you want to work and degree field, will affect career outcomes and earnings. Herzing neither represents that its graduates will earn the average salaries calculated by BLS for a particular job nor guarantees that graduation from its program will result in a job, promotion, salary increase or other career growth.
Classes Start July 10th
Learn More Today