Find your career path
At first glance, human services and social work look closely related: both professions focus on helping people and communities thrive. However, there are some major differences in the two fields in terms of schooling, career paths and focus.
Generally speaking, human services workers tend to work with groups of individuals to help support communities, while social workers are clinicians who provide direct services and advocate for individuals and families within a community.
In this article, we'll compare more of the similarities and differences between human services and social work fields and how you can start on the path to workings in these areas.
Banner Image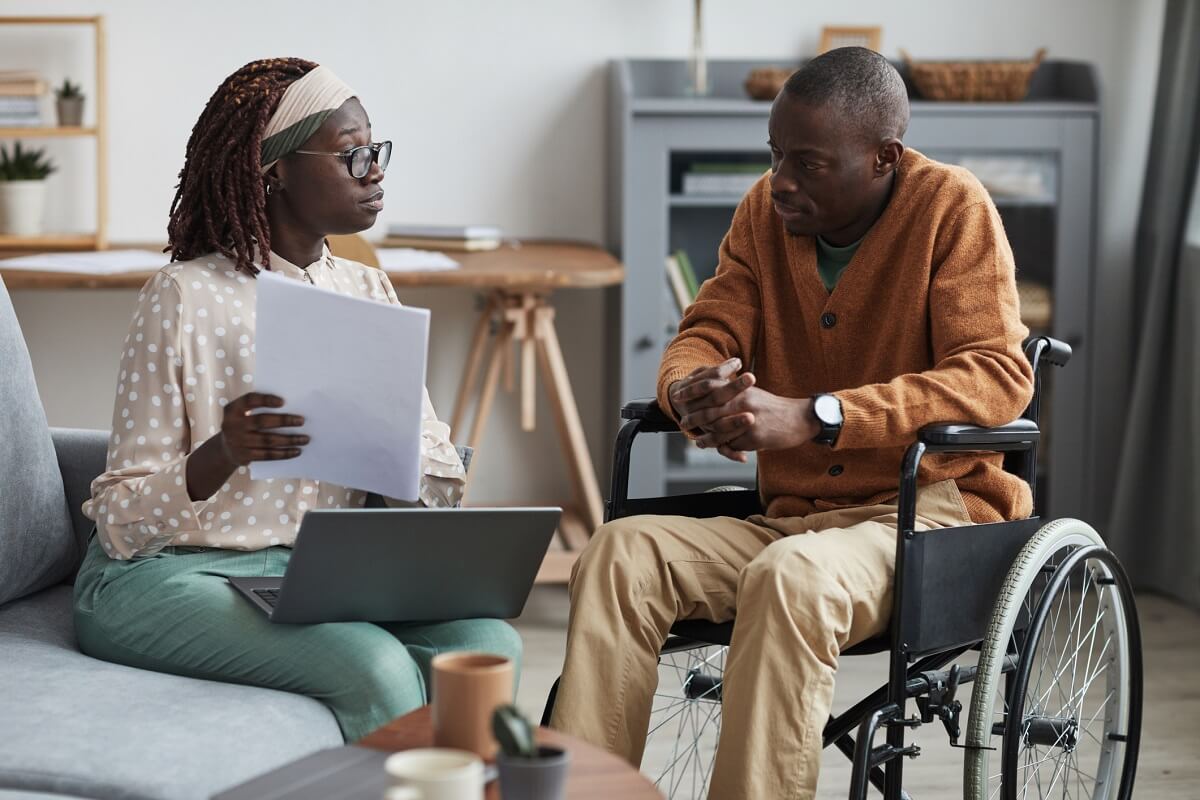 1. What they do: job duties, roles, and responsibilities
What is a social worker?
Social workers are often licensed professionals who help individuals, and their families, improve their quality of life through counseling, advocacy and education. They are trained to help people address challenges such as mental health, poverty, unemployment, substance abuse and other issues.
 Social workers often fall into four main categories of focus:
Healthcare, including medical, nursing home or hospice care
Mental health and substance abuse
Child, family and school social work
Community social workers, helping empower communities to thrive
Social workers are employed in a variety of settings, including schools, child welfare and community and mental health agencies, criminal justice, hospitals and other healthcare settings.
What is a human services worker?
Human services workers help communities and the general public meet basic needs such as food, shelter, and physical and mental health. They provide assistance through community programs, education and advocacy, and may work with larger government agencies to secure grants and funding for programs.
Because human services is an interdisciplinary field that includes aspects of sociology, psychology and education, there are a wide range of applicable jobs. Examples of jobs you can get with a degree in human services include:
Community advocate
Social services assistant
Social or community service manager
2. Education: what degree do you need?
What degree do I need to become a social worker?
To become a social worker, you need either a bachelor's or a master's degree in social work from a CSWE accredited program.  There are numerous degree pathways that can lead to a Master of Social Work (MSW).1 You don't need to hold a bachelor's degree in social work to qualify; you can apply for an MSW program regardless of your prior bachelor's degree major.
If you have yet to earn a bachelor's degree, you could choose to pursue a Bachelor of Science in Health and Human Services. You can develop fundamental skills in behavioral health you can potentially utilize in a future master's degree program in social work.
You may also consider a Bachelor of Social Work (BSW) program at the undergraduate level.2
A key component of a BSW and MSW is field work, which requires students to complete 400 (BSW) or 900 (MSW) hours of supervised social work experience working directly with clients in an agency in their own community. These agencies can include hospitals, mental health agencies, schools, government, social welfare agencies or other organizations that are involved with helping individuals cope with and overcome problems.
Once you've earned an MSW, you can potentially take additional steps to become a Licensed Clinical Social Worker (LCSW). As an LSCW, you are qualified to offer advanced clinical services or one-on-one psychotherapy.
Herzing's MSW program is clinically focused and includes courses in clinical social work theory and practice, social policy and services and clinical social work interventions including mental health assessment and diagnosis. Students get hands-on experience in the social work industry through their field practicum to fully prepare for success after graduation.
What degree do I need to become a human services worker?
To become a human services professional, you can begin by earning a college credential in human services including a diploma, associate degree, or a bachelor's degree in health and human services. These curriculums will prepare you for different types of roles in community services, including leadership and management.
For example, a bachelor's degree in health and human services program includes courses in nonprofit organization management, grant writing and fundraising, program planning and development, and volunteer, board and community development.
Unlike social work, health and human services degrees do not typically require a field internship to graduate. This may be a benefit to students with a busy schedule and could allow them to graduate sooner.
3. Salary: how much can you make?
Pay can vary widely depending on the specific job role, your education, and experience. Here's a general breakdown of average salaries across job categories associated with both fields, according to the Bureau of Labor Statistics: *
4. Job outlook: demand across both fields
The need for both human services and social work jobs are expected to grow in the coming years.
Employment for both Social and Human Service Assistants and Social and Community Service Managers is expected to rise 12% from 2021-2031, faster than the average across all U.S. occupations.*
Which role is right for you?
If you desire to help individuals and communities thrive, and you have good communication skills and empathy, a career in human services or social work may be a great fit.
When considering which path to take, it may be helpful to evaluate whether you would like to focus more on one-to-one relationships in social work, or larger community-wide initiatives in the human services field. It's also helpful to look at longer-term plans: are you interested in opening your own counseling practice as an LSCW? Or would you like to earn your MBA and lead a nonprofit?
No matter what your choice, Herzing University has the educational pathways to help you build your career and make a difference in people's lives.
Disclosures
1. Individuals considering the Master of Social Work program should be aware that state certification/ licensure requirements and eligibility to apply for certification/licensure vary from state to state. While certification/licensure is not a requirement for certain types of jobs, in some states, it may be required for any positions titled 'Social Worker' and to refer to yourself as a Social Worker in professional settings.
2. Herzing University does not currently offer a bachelor's degree program in social work (BSW).
3. Certification in this program is not a state-specific requirement.
---
* Bureau of Labor Statistics (BLS), U.S. Department of Labor, Occupational Outlook Handbook 2021. BLS estimates do not represent entry-level wages and/or salaries. Multiple factors, including prior experience, age, geography market in which you want to work and degree field, will affect career outcomes and earnings. Herzing neither represents that its graduates will earn the average salaries calculated by BLS for a particular job nor guarantees that graduation from its program will result in a job, promotion, salary increase or other career growth.
Classes Start October 30th
Learn More Today