Master's Degree
MBA in Data Analytics
Online Degree Program
Master's Degree
MBA in Data Analytics
Online Degree Program
Become a valued resource with an MBA in data analytics
| | |
| --- | --- |
| Accreditation | IACBE accredited,1 Accredited by the Higher Learning Commission |
| Transfer credit | Up to 9-12 approved semester credit hours |
| Format | Earn your MBA online or at select campus locations - full time or part-time |
| GMAT/GRE | No GMAT/GRE required for admissions! |
| Certification | Opportunity to earn Associate Certified Analytics Professional (aCAP) designation prior to graduation |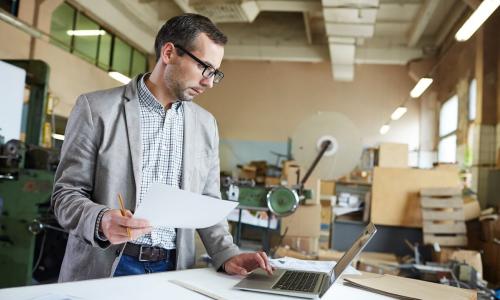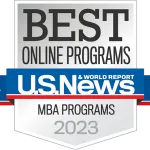 Overview: Online MBA in Data Analytics
The Master of Business Administration (MBA) in Data Analytics program is a 33-36 credit graduate program which prepares you to become a leader in the field of business analytics.
The online degree program provides students with fundamental knowledge and skills in core business leadership topics, as well as topics in applied statistics, analysis methods, business analytics, data visualization, and much more.

Career-focused curriculum
Discover the crucial knowledge and skills required to succeed in your work and build a foundation for continued career growth.

Flexible schedule
You can take classes during the day or in the evening. We strive to be as flexible as possible for busy non-traditional students.

Virtual services
Access to extensive virtual services, including academic advising, tutoring, support services, technical support and library services.

Lifelong support
We support your ongoing career advancement by providing comprehensive, personalized student services with lifelong career coaching.

Rolling admissions
No application deadlines to worry about. Apply when you're ready and prepare to get started soon.
Classes Start October 30th
Learn More Today
Curriculum
MBA in Data Analytics Curriculum
This program allows students to gain valuable skills and experience with the concepts and tools used within data analytics. Herzing University's MBA in Data Analytics curriculum is focused on the business aspects of data analytics with a concentration on understanding how to make effective decisions. You can gain experience using a variety of industry-standard software such as Tableau, OpenRefine, Microsoft Power BI, Talend and more.
Earn your MBA online, with at least partial class availability offered at our Atlanta campus. A minimum of 33-36* semester credit hours is required.
| Program | Monthsi | Credits |
| --- | --- | --- |
| Master of Business Administration with a Concentration in Data Analytics | 14 | 33-36 |
i. The program can be completed in as few as 14 months.
Program availability varies by location
Required Foundation Course(s) 3-6 Semester Credit Hours
BU 530 - Business Leadership Foundations 3.00
This course is designed to assess entry level business content knowledge and skills and validate both prior learning and experiential learning in the areas of business ethics, business leadership, global dimensions of leadership, human resource management, information technology management, strategic management and business integration, and the legal environment of business, accounting, finance, marketing, economics, analysis, operations and organizational behavior.
* Only required for students who do not have an undergraduate degree in Business, a closely related discipline or its international equivalent.
BU 550 - Research Methods and Decision-Making 3.00
This course focuses on skills in research and decision making for the academic and business environment. Topics include the development of research and writing skills, development of decision-making skills, and reflection and review of research activities. Students research and write academic and business papers, specify decisions, characterize alternatives, apply judgment, manage peer pressure, and implement ethical decisions.
Required Core MBA Courses - 21 Semester Credit Hours
BU 600 - Leadership and Organizational Behavior 3.00
High-performing organizations are driven by leaders who enable people to be effective both individually and as part of work teams. Integrating current and emerging leadership strategies, this course helps students develop leadership knowledge and skills, identify critical business challenges in an era of global competition, and act to turn those challenges into opportunities. This course presents strategies for evaluating personal leadership strengths and weaknesses as well as building leadership capacity in employees to increase individual and team performance and lead positive changes in culture and organizational performance.
BU 610 - Finance and Accounting for Decision-Making 3.00
This course covers both financial and managerial accounting as they apply to decision making in the organization. Students will explore the similarities and differences between financial accounting information and managerial accounting information with a focus on selecting the appropriate information based on internal and external needs. Students will learn how to identify and collect the appropriate accounting information to assist them in making decisions and reporting information.
BU 615 - Marketing and New Product Development 3.00
This course focuses on the role of marketing and the marketing department in adding value to the organization. Major elements of the marketing process to be covered include domestic and global market assessment, strategic marketing planning, the development of an effective marketing mix (product, price, promotion, and distribution) to create customer value, consumer/business buying behavior, and market research.
BU 620 - Technology and Innovation 3.00
This course introduces students to the knowledge and skills needed to manage technology organizations in an increasingly competitive global environment through the successful use of innovation and creativity. The course provides a consistent process for the formulation, implementation, and assessment of technology business strategy and presents a framework for the birth, growth, maturation, and decline of business innovation. Students will analyze technology issues in various business sectors throughout the course and develop findings and recommendations.
BU 630 - Project and Operations Management 3.00
This course provides students with the tools needed to manage operations and projects within an organization. Topics include demand forecasting and management, capacity planning and scheduling, inventory control, purchasing and materials management, facilities management, project management strategies and tactics, defining user needs and project scope, scheduling and budgeting, and performance objectives. Control methods, such as PERT/CPM, Gantt charts, project management software, and project audits, will also be covered.
BU 690 - Business Integration & Strategic Planning 3.00
This course focuses on how mission, vision, and values come together to inform the strategic planning process in an organization. The dynamic global environment that modern businesses operate in requires managers to master the art of thinking globally and to utilize frameworks for acting locally. Students will analyze the environment at a number of levels in order to develop a concise strategic plan.
BU 695 - Graduate Capstone Project 3.00
This course is designed as the final capstone project, where students will demonstrate application, analysis, integration, and evaluation in a real-world project or simulation. The capstone experience gives each student the opportunity to demonstrate his/her ability to utilize what he/she has learned in the program.
or
BU 697 - Graduate Internship 3.00
The course is the final class in the graduate experience. The student will participate in a minimum of 135 hours of "on-the-job" experience under direction of a work-site supervisor in an approved organization agreeing to sponsor the internship. The experience must be outside of the student's current scope of work and the deliverables clearly demonstrate leadership and the acquisition of new knowledge and skills. The student and work-site supervisor will determine the scope of work and deliverables needed to demonstrate all graduate program core student learning outcomes. Evaluations of the level of proficiency demonstrated by the intern will be completed by both the faculty member and the work-site supervisor from the sponsoring organization. This course is offered in a 16-week format only.
Additional Required Data Analytics Concentration Courses
A minimum of 9.00 semester credit hours is required.
BU 682 - Applied Statistics for Data Analysis 3.00
This class focuses on the mathematical and conceptual foundations of statistics within the context of data analysis.  Students will be exposed to applied applications of probability and statistical techniques.  Additionally, students will be introduced to the fundamental methods of data science and data analytics.  Students will explore the ethics and privacy concerns related to the field. Software tools will be used throughout the course.
BU 684 - Analysis Sources, Methods and Models 3.00
This course explores and evaluates the various methods and standard models used to approach business problems.  Consideration of data sources (including data mining, text mining and databases) and project plans/life cycles will be addressed. Students will assemble data from multiple sources and develop plans, processes, and conclusions. Software will be used throughout the course.
BU 686 - Business Analytics and Data Visualization 3.00
This course allows students to apply data analysis methods to practical business problems.  Multiple functional areas will be addressed including marketing analytics as well as supply & demand forecasting.  Students will utilize industry best practices in the analysis, solution recommendation and visualization of cases.  Software will be used throughout the course.
Course prerequisites may be waived if the student has prior equivalent coursework or the approval of the Graduate Dean.
Tuition & Cost
Tuition & Cost
When you accept the 10% tuition discount from our Financial Commitment Scholarship, the cost of tuition for the MBA in Data Analytics program is $554 per credit.1
You can potentially earn even greater savings by transferring credit from prior college coursework, applying for financial aid, or potential partnership opportunities through your employer.
Our goal is your career advancement. That's why we are always working to improve our curriculum and processes to make our program as affordable as possible while preparing you best for success in your work.
 Scholarships & Financial Aid
You may be eligible for multiple scholarships and grants, both through Herzing University and several national scholarship websites.
 Military/Veteran Discounts
Veterans, Active Duty U.S. Servicemembers, and spouses may qualify for a 10% tuition discount or tuition reduction to $250 per credit.
i. Financial Commitment Scholarship eligibility requirements: Recommended that students limit student loan borrowing to only what is needed to cover the cost of tuition and fees. Students may borrow up to $2,000 in student loans in excess of tuition and fees to cover their cost of attendance and retain eligibility for this scholarship. Excess loan eligibility dependent on individual student situation.
Requirements
MBA program enrollment requirements
Enrollment prerequisites to enroll in Herzing's MBA program include:
Completed bachelor's or graduate degree from a college or university accredited by an agency recognized by the U.S. Department of Education or have completed a three or four year bachelor's degree at a foreign college or university recognized as equivalent to a U.S. bachelor's degree by an approved foreign credential evaluator.
Meet and interview with a Herzing admissions advisor
Complete an application form
No minimum GMAT/GRE score is required for admission!
Eligible states for enrollment: Alabama, Alaska, Arizona, Arkansas, California, Colorado, Connecticut, Delaware, District Of Columbia, Florida, Georgia, Hawaii, Idaho, Illinois, Indiana, Iowa, Kansas, Kentucky, Louisiana, Maine, Maryland, Massachusetts, Michigan, Minnesota, Mississippi, Missouri, Montana, Nebraska, Nevada, New Hampshire, New Jersey, New Mexico, New York, North Carolina, North Dakota, Ohio, Oklahoma, Oregon, Pennsylvania, Rhode Island, South Carolina, South Dakota, Tennessee, Texas, Utah, Vermont, Virginia, Washington, West Virginia, Wisconsin, and Wyoming.
Our MBA programs are leadership degrees designed for working professionals, and the Masters in Data Analytics is no different. Delivered through our online learning platform, the program offers flexibility and convenience without sacrificing rigor or solutions-oriented knowledge.
Our degree provides:
An in-demand concentration focused on business aspects of the growing field of data analytics
Broad, executive-level understanding of business functions through our MBA core
Experience working with widely-accepted analysis approaches and with industry-standard software
A focus on producing actionable insights that can support decision-making processes
Development of data presentation skills that effectively communicate to and persuade key stakeholders
Alignment with skills and knowledge requirements for the Associate Certified Analytics Professional (aCAP) Certification from INFORMS
Our online data analytics MBA features an accelerated format that lets you graduate in as little as 14 months and qualify to become a data analyst. Working in small classes led by industry professionals, you can grow both personally and professionally while developing skills for a highly desirable and fast-growing discipline.
Careers
Data Analytics Career Prospects
According to a 2017 study by IBM, Burning Glass, and the Business-Higher Education Forum, demand for data scientists in business is expected to grow 28% by 2020. Additionally, most of those jobs—59%—will be in finance and insurance, IT, and professional services.
While some employers may choose to hire young statistics graduates, many more employers will be looking to bring in industry-experienced professionals who also have data analysis capabilities. Your professional history, combined with the focus on producing practical business intelligence our program provides, can help you compete in the job market.
Possible job titles related to this degree may include:
Business Analyst
Business Intelligence Analyst
Business Intelligence Manager
Business Intelligence Specialist
Data Analyst
Data Manager
Data and Analytics Manager
Institutional Research Associate
Institutional Research Manager
Knowledge Manager
Statistician
Advancing Your Career
You can advance in business analytics-related roles and increase your chance for higher pay in data analytics roles by gaining progressive experience and responsibility. You can also pursue a wide variety of industry certifications for data analytics professionals. In addition to the aCAP qualification our program aligns with, there are certification options specific to various software publishers, including IBM, Microsoft, Oracle, SAS, and more.
MBA - Data Analytics Degree Programs
Showing 1 programs for the Online campus
This program prepares an existing or emerging organizational or team leader with the necessary skills and academic knowledge for management positions in various business enterprises. These career opportunities may be in areas such as accounting, finance, business administration, sales, marketing, human resources, information systems, project management, production and operations. Application of theory to practice is emphasized through a problem-based/solutions-based curriculum, grounded in a framework of ethical leadership and global competition.
Ready to get started?
Contact us to request more information
Accreditations
Accreditations & Disclosures
1. The Business Division at Herzing University has received specialized accreditation for its business programs through the International Accreditation Council for Business Education (IACBE) located at 11960 Quivira Road in Overland Park, Kansas, USA. For a list of accredited programs please refer to our IACBE member status page.
Download the IACBE Public Disclosure of Student Achievement
Herzing University is accredited by the Higher Learning Commission (hlcommission.org), an institutional accreditation agency recognized by the U.S. Department of Education.
Eligible states for enrollment: Alabama, Alaska, Arizona, Arkansas, California, Colorado, Connecticut, Delaware, District Of Columbia, Florida, Georgia, Hawaii, Idaho, Illinois, Indiana, Iowa, Kansas, Kentucky, Louisiana, Maine, Maryland, Massachusetts, Michigan, Minnesota, Mississippi, Missouri, Montana, Nebraska, Nevada, New Hampshire, New Jersey, New Mexico, New York, North Carolina, North Dakota, Ohio, Oklahoma, Oregon, Pennsylvania, Rhode Island, South Carolina, South Dakota, Tennessee, Texas, Utah, Vermont, Virginia, Washington, West Virginia, Wisconsin, and Wyoming.
Herzing's MBA program taught me to think critically and strategically. My instructors had experience that brought a real-world feel to the classes, and they helped me understand how I could apply classroom learnings in the workplace. Since graduating from the MBA program, I have become a better leader and manager within my organization.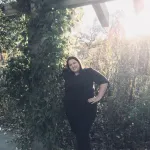 Business Program
Online Campus