Banner Image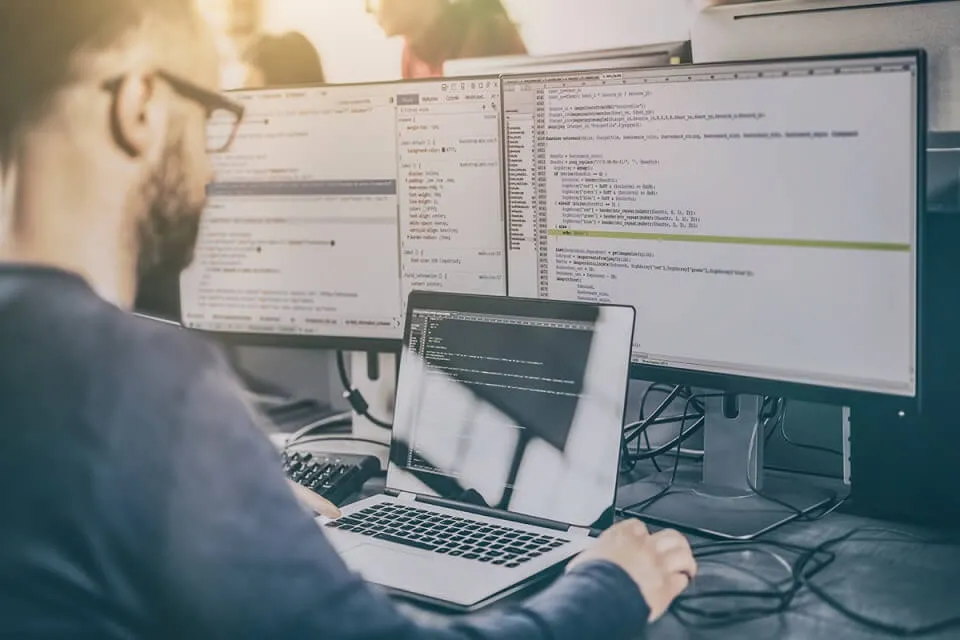 Employment opportunities in the tech industry are booming, especially in programming. In fact, programming jobs are growing 12 percent faster than the average for all occupations, according to recent findings by job market research firm BurningGlass.
Programmers can find job opportunities in a variety of industries, including the financial sector, government, healthcare and marketing/advertising. Programming skills can also be applied in the emerging field of data security.
With remote and flexible work options, high job security and the opportunity to blend creativity with high-demand technical skills, programming-related careers are some of the highest-rated technology jobs today.
Here is a look at some of the most popular programming-related careers:
Software Developer
Software developers design the technologies and systems that we rely on many times per day for business, entertainment or daily living. Consider your online shopping experiences, a typical day at your job, or your favorite apps. Software developers play a large role in shaping all of those online experiences.
Successful software developers are both highly creative and technically skilled. They collaborate with clients to design software that best meets their needs, but they also work with computer programmers who write the code for new applications. With the advent of mobile technology, there's even greater opportunity for software developers to help businesses adapt their operations for a mobile-first, tech-savvy generation of customers.
Employment for software developers is expected to grow by 26% from 2022-2032.*
Web Developer
Not only do web developers write the code for websites, they also design the look of the site so that is both visually appealing and user-friendly. Web developers must have extensive knowledge of a variety of programming languages, such as HTML, JavaScript and SQL. Employers might require a bachelor's degree in computer science or programming for back-end or more specialized web development positions.
According to the BLS, web development jobs are projected to grow by as much as 17% from 2022-2032. Much of this growth will be in the e-commerce industry, as more retailers look to expand or redesign their online offerings.
Systems Analyst
Computer systems analysts evaluate an organization's IT systems and help them decide which upgrades are needed to improve efficiencies. Some analysts might work within an organization to address IT needs, or for an IT consulting firm. As organizations continue to implement new data management systems, employment for systems analysts is expected to increase. The BLS predicts steady employment growth of 10% from 2022-2032.
Database Developer
Database developers are responsible for building and creating data management systems for organizations. Database developers must be skilled in basic computer programming languages and also be proficient in writing database-specific code like Structured Query Language (SQL).
Database developers serve as a liaison between the database administrators, who maintain the system, and the actual users of the database. Therefore, they must know how to communicate effectively with different groups of people, some of which have the technical knowledge and others merely user-based knowledge.
Computer Programmer
An entry-level job in computer programming can open the door to any of the careers mentioned above. Programmers are tasked with writing the code, maintaining, debugging and testing systems and software. Ranked the #11 Best Technology Job of 2023 by U.S. News, a career in computer programming offers upward mobility into more advanced programming roles, as well as perks such as flexible hours and telecommuting. Discover how much computer programmers make on average and find an estimate in your state.
---
* Bureau of Labor Statistics (BLS), U.S. Department of Labor, Occupational Outlook Handbook 2022. BLS estimates do not represent entry-level wages and/or salaries. Multiple factors, including prior experience, age, geography market in which you want to work and degree field, will affect career outcomes and earnings. Herzing neither represents that its graduates will earn the average salaries calculated by BLS for a particular job nor guarantees that graduation from its program will result in a job, promotion, salary increase or other career growth.
Classes Start January 8th
Learn More Today