Bachelor's Degree
Interdisciplinary Studies
Online Bachelor's Degree Program
Bachelor's Degree
Interdisciplinary Studies
Online Bachelor's Degree Program
Program highlights - build your bachelor's degree
| | |
| --- | --- |
| Accreditation | Accredited by the Higher Learning Commission |
| Program length | 32 months |
| Open electives | 40 of 90 credits are open electives without any restrictions or expiration date! |
| Transfer credit | Up to 90 approved credits |
| Format | 100% online classes + professional studies capstone |
| Pathways | Build your degree: pick 2 of 6 career-focused disciplines: business, criminal justice, health and human services, healthcare administration, network security, and psychology |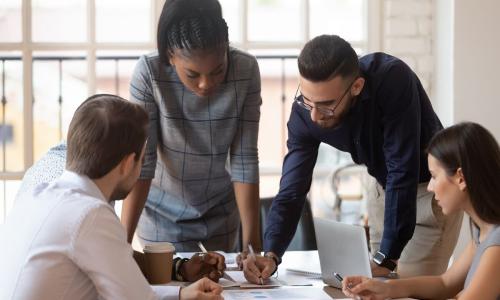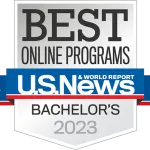 Overview: Interdisciplinary Studies Bachelor's Degree
The Bachelor of Science in Interdisciplinary Professional Studies degree is a 120-credit undergraduate program which prepares you for a career path catered to your strengths. The online degree program provides students with fundamental knowledge and skills in multiple potential focus areas: business, criminal justice, health and human services, healthcare administration, network security, and psychology.

Career-focused curriculum
Discover the crucial knowledge and skills required to succeed in your work and build a foundation for continued career growth.

Flexible schedule
You can take classes during the day or in the evening. We strive to be as flexible as possible for busy non-traditional students.

Virtual services
Access to extensive virtual services, including academic advising, tutoring, support services, technical support and library services.

Lifelong support
We support your ongoing career advancement by providing comprehensive, personalized student services with lifelong career coaching.

Rolling admissions
No application deadlines to worry about. Apply when you're ready and prepare to get started soon.
Classes Start October 30th
Learn More Today
Interdisciplinary Studies
What is an interdisciplinary studies degree?
For job applicants holding a high school diploma and no college degree, finding "bachelor's degree" listed as required education on every job posting can be very discouraging.
A bachelor's degree in interdisciplinary studies is a great choice if you're looking for a degree to best qualify you for the job you want.
Transfer up to 90 credits from prior college courses, earn your bachelor's degree faster and begin building your exciting new career.
All from the comfort of your own home. Herzing's program is 100% online.
Definition
Interdisciplinary studies is the combination of two or more disciplines into a single path of study.
It is where multiple well-beaten educational paths intersect and create something new.
Curriculum
Choose online classes that are right for you
By choosing 2 of 6 discipline areas, your education will include classes spanning a wide variety of subjects. You can build the curriculum you need to help you excel in your unique career path.
All classes are delivered online.
| Program | Monthsi | Credits |
| --- | --- | --- |
| Bachelor of Science in Interdisciplinary Professional Studies | 32 | 120 |
i. Average number of months for students to complete program
Program availability varies by location
Required Courses in Interdisciplinary Professional Studies
All courses, 6.00 semester credit hours, are required.
ID 250 - Introduction to Interdisciplinary Professional Studies 3.00
The course will introduce the concept of Interdisciplinarity and its value in raising questions about complex issues that transcend the confines of single disciplines within the context of a diverse society. Key concepts covered in the course will include the history, components, and development of Interdisciplinarity Studies. Interdisciplinarity provides the opportunity to draw upon and integrate knowledge from multiple disciplines, generating a new perspective that can be applied to problem-solving. The course will establish a conceptual framework that students will employ throughout their program of study and for the completion of their capstone project. 
ID 450 - Interdisciplinary Professional Studies Capstone 3.00
The course provides the opportunity for students to draw upon the knowledge, skills and competencies developed from engagement in coursework from two disciplines, supplemented by General Education curriculum, to solve a complex problem. Students will identify an authentic problem; demonstrate the ability to engage with others to understand multiple perspectives of the problem; determine the strengths and weaknesses of the two disciplinary assessments of the problem; demonstrate systems thinking approach to defining the problem; evaluate the impact that society values, ideological beliefs, cultural norms, and public policies have upon definition of the problem; and propose a solution supported by an interdisciplinary perspective.
Required Concentration Areas-Choose Two
18.00 semester credit hours, in each chosen area, are required.
Required Courses in Business Concentration
All courses, 18.00 semester credit hours, are required.
BU 106 - Introduction to Business 3.00
This course introduces the environment of American business with an overview of various topics that serve as a foundation for further study of business. Topics include the environments in which businesses operate, the organizational structures of businesses, management functions in an enterprise, and the challenges of managing marketing, operations, information technology, finance, and human resources.
BU 206 - Business Law I 3.00
This course provides a study of the American legal system and its effect on business and business organizations. Topics include an overview of the ethical issues that businesses encounter, the foundation of the American legal system, business ethics, torts, intellectual property, criminal law, cyber crimes, contracts, and sales and leases.
BU 302 - Leadership and Organizational Behavior 3.00
The focus of this course is to introduce students to the basic principles of human behavior that effective managers use when managing individuals and groups in organizations. The overall goal of this course is to develop an understanding of the key issues managers need to master in order to manage the interface between people and organizations. Topics include theories relating to individual differences in abilities and attitudes, attribution, motivation, group dynamics, power and politics, leadership, conflict resolution, organizational culture, and organizational structure and design.
BU 327 - Business Ethics 3.00
The focus of this course is to explore the role and importance of business ethics in the workplace. The student will develop an understanding of the concepts and principles of business ethics as they relate to employees and employers, business to business, and on a corporate level. Students will examine business ethics, employee relations, and managerial decision-making processes through discussion and analysis of cases involving ethical issues. Topics will include ethical and moral issues in the workplace, distinguishing between the law, morals, and ethics, the relationship between ethics and social responsibility, and consequences of unethical/ethical decisions.
BU 345 - Project Management 3.00
This course provides instruction in the principles and concepts of project management. Topics include project management concepts, needs identification techniques, proposed solutions preparation, the project life cycle, the project manager's responsibilities and skills, the composition of an effective project team, types of project organizations, project communication and documentation, project planning, scheduling, and control, resource planning, and cost planning and performance evaluation.
BU 421 - Operations Management 3.00
This course provides students with the tools they need to analyze processes in order to create value across a network of customers, enterprises, and supply chain partners. This course will explore the role of management and how communication tools are used to efficiently manage operations across a global supply chain.
Required Courses in Criminal Justice Concentration
All courses, 18.00 semester credit hours, are required.
CJ 105 - Introduction to Criminal Justice 3.00
This course provides instruction on the components of the American criminal justice system: courts, police, and corrections. Students will utilize critical thinking skills to discern the balance between individual rights and public order as they pertain to the criminal justice process. Students must demonstrate knowledge of the criminal justice system and processes through examinations, assigned papers, and reports. Additionally, students will participate in field and classroom experiences created to explore the various career opportunities within the criminal justice system.
CJ 115 - Criminal Law 3.00
This course covers the key components of criminal law and its enforcement. While the primary focus is substantive criminal law, other topics include an overview of the criminal law process, defenses, and jurisdiction of the courts. The primary emphasis is on substantive criminal law, including its statutory codification. The course will examine crimes against persons, property, and peace and order in detail and analyze the essential elements and burdens of proof required for a conviction.
CJ 215 - Crisis Intervention 3.00
This course covers both basic and advanced knowledge and the skills required to provide effective crisis intervention services. Students are introduced to the methods and techniques of crisis intervention employed by professionals in the field. Students will evaluate the human stress response to crisis intervention and examine post-traumatic stress and other disorders. Ethical issues are also considered.
CJ 340 - Probation and Parole 3.00
This course will explore issues and trends within community-based corrections and evaluate rehabilitative and monitoring methods utilized by probation and parole departments. 
CJ 360 - Victimology 3.00
This course is designed to introduce students to the study of victims and the relationship these victims have with offenders in the criminal justice system. In this course students will evaluate crime victims and focus on the physical, emotional, and financial harm victims suffer due to crime. Students will examine victim-offender relationships, the interactions between victims and the criminal justice system, and identify national, state and local resources for crime victims. The course analyzes the challenges victims face and how the criminal justice system deals with the offender-victim relationship. Students will critically evaluate the development of victim rights in the United States and examine the impacts of specific crimes on victims.
CJ 420 - Narcotics and Drug Abuse 3.00
This course evaluates drug policies, the war on drugs, drug abuse, and the legalization of drugs. This course analyzes and discusses complex ideas relating to drug enforcement within the criminal justice system.
Required courses in Health and Human Services Concentration
All courses, 18.00 semester credit hours, are required.
HH 110 - Introduction to Health and Human Services 3.00
This course introduces you to the field of health and human services. You will explore how the field of human services has evolved throughout history and how this has shaped current programs, services, populations served, and policy. Topics include the role and function of health and human service professionals, a foundation of assessment skills to examine present conditions in our society, and societal barriers that contribute to the need for health and human services. You will examine the roles and opportunities within the health and human services field.
HH 220 - Human Development Across the Lifespan 3.00
This course examines human development theories and life stages. Students will acquire an understanding of basic human development theories including sociocultural, biopsychosocial, and social change. Students will apply these theories to developmental stages from infancy through aging. In addition, this course will explore developmental milestones, challenges, common interventions for each stage in life, and an understanding of the capacities, limitations, and resiliency of human systems.
HH 240 - Social Problems and Policy 3.00
This course provides a study of social problems and the policies that address them. Topics include identification of how current legislation impacts human services delivery, how public and private values impact legislation and interpretation of policy, how sociopolitical issues impact service delivery and the development of the profession, identification of resources to address and impact policy, and introduction to laws that govern the profession.
HH 312 - Nonprofit Organization Management 3.00
This course explores how to apply knowledge, theory, and skills in working with organizations and an introduction to nonprofit management. Topics will include how to identify and use appropriate resources and referrals, apply knowledge and theory of the interaction of human systems within organizations and communities, and apply planning tools and strategies and evaluation strategies to nonprofit agencies. This course will introduce the knowledge, skills, and theory to develop Health and Human Services administration, leadership, and management, legal, ethical, and regulatory considerations.
HH 342 - Program Planning and Development 3.00
This course will develop an understanding of program development and planning within the Health and Human Service field. Topics will include program planning, assessment, and development.  Students will acquire skills in assessing needs, developing strategies to develop new programs, developing goals and plans of action, leadership in program development, understanding of human resource needs, financial management in development, public relations, and risk management. Topics will also examine how to obtain, assess, and synthesize data from multiple sources.
HH 430 - Interdisciplinary Care 3.00
This course will provide the opportunity to explore interdisciplinary care between health care systems and human services. Students will be invited to examine the collaboration between the two systems through the ability to assess and analyze the needs of communities through interdisciplinary care. Students will learn how to engage with conflict, how to actively collaborate, and provide or acquire a consultation. Topics will also examine the impact of sociopolitical issues, risk management, and how to apply ethics, values, and laws that govern the two systems, and commonly shared agencies, roles, and populations.

Required Courses in Healthcare Administration Concentration
All courses, 18.00 semester credit hours, are required.
HC 220 - Delivery of Healthcare: Public and Private 3.00
This course introduces students to the delivery of public and private healthcare. The course explains past, present, and future influences in U.S. healthcare delivery.  Students will be introduced to causes, characteristics, and key components of healthcare delivery including: financing, insurance, delivery, and payment. Curriculum will cover provider organizations and settings in healthcare; processes enabling effective delivery of healthcare services to patients; and coordination of healthcare services.  Students will also explore key components of healthcare utilization in the Unites States.
HC 250 - Conflict Resolution 3.00
This course is designed to introduce students to concepts and principles of managing and resolving individual and group conflicts in the healthcare industry. Students will explore conflict, human/social interaction, and group theories to develop skills and knowledge needed to analyze complex conflict and dispute situations at workplaces.  Students will understand how to involve the appropriate parties in resolution of conflict, conduct constructive negotiations, and determine dispute resolution policies and interventions. Students will explore constructive alternative dispute resolution (ADR) processes and procedures.
HC 305 - Healthcare Human Resource Management 2.00
This course focuses on the links that exist among strategy, organizational design, behavior, and human resource management in the healthcare environment. Students will learn about diversity, recruiting and retaining staff, job analysis, training and development, leadership development, physician practice management, medical staff relations, and labor relations.
HC 310 - Medical Law and Ethics 3.00
The course will emphasize both legal questions and ethical considerations in the modern medical organization. Contracts and physician patient relationships will be addressed. Legal proceedings, such as interrogatories and depositions, will be described. In the area of medical ethics, the issues of patient confidentiality and standards will be addressed.
HC 311 - Management of Patient Records 1.00
This course covers the structure and content, technical evaluation and completion, and retention and storage of patient health records in acute care and non-acute care settings. Best practices in health record documentation will be reviewed.
HC 401 - Current Issues in Healthcare 3.00
This course is designed to provide a forum for the contemporary issues related to healthcare. Improving access, ensuring quality, and controlling costs are addressed.
HC 402 - Organizational Development and Leadership in Health Care 3.00
This course introduces benchmark leadership and management skills needed in today's health care organizations. Key topics include: leadership practices, human resource management, strategic planning, systems management, quality improvement, and professional communication and ethics.
Required Courses in Network Security Concentration
All courses, 18.00 semester credit hours, are required.
IS 122 - Programming Logic 3.00
This course provides instruction in fundamental object-oriented programming concepts. Topics include problem solving and algorithm development, programming standards, variables, data types, operators, decisions, repetitive statements, modularity, methods, attributes, objects, classes, arrays, file I/O, and software testing and debugging, all within an object-oriented programming framework. Concepts may be introduced with a visual tool. Topics are demonstrated and implemented in a higher-level contemporary language such as Java or C#.
IS 123 - Computer Networks 3.00
This course provides instruction in network design and technologies using the Open Systems Interconnection (OSI) model. Topics include network fundamentals, the OSI model, network operating systems, TCP/IP fundamentals and utilities, network installation and upgrades, network remote access configuration and protocols, network administration and security, fault tolerance and disaster recovery considerations and procedures, and network troubleshooting procedures.
IS 183 - Database Concepts and Applications I 3.00
This course provides an introduction to fundamental principles and guidelines for designing, developing, and implementing secure relational databases. Topics include: Database as a Service (DBaaS); entity relationships as foundations of relational database design; ensuring data integrity; the use of standard SQL as a means of developing complex queries; and the use of comparison operators to customize data presentation for reporting.
IS 187 - Computer Architecture and Troubleshooting I 3.00
This course provides instruction in microcomputer software and hardware concepts using the latest technology and troubleshooting techniques. Topics include the function and purpose of hardware and software, system board components and memory management, working with floppy and hard drives, supporting input and output devices, multimedia technology, supporting operating systems, printers, and notebook computers, troubleshooting fundamentals, applying disaster-recovery techniques and developing maintenance plans, and working with networks and the Internet.
IS 192 - Linux Administration 3.00
This course introduces the capabilities and features of Linux as a multi-user operating system. Topics include planning and installing a Linux system, using and managing desktop interfaces, working with Linux shells and text files, performing system administration and management tasks such as file system management, application, process, and module management, network services installation and configuration, system security evaluation and enhancement, performance tuning, and troubleshooting techniques.
NT 181 - Network and Server Operating Systems 3.00
This course develops knowledge and skills in Microsoft Windows client and server operating systems. Topics include installing the client and server operating systems, planning, installing, managing, and troubleshooting server roles, features, and network services, implementing and conducting administration of resources, implementing, managing, and troubleshooting hardware devices and drivers, monitoring and optimizing performance, reliability and availability, managing, configuring, and troubleshooting storage use, configuring and troubleshooting the desktop environment and network connections, implementing, managing, and troubleshooting network protocols, and implementing, monitoring, and troubleshooting security.
Required courses in Psychology Concentration
All courses, 18.00 semester credit hours, are required.
PS 130 - Career Paths in Psychology 3.00
In this course students will be introduced to the career paths available to an individual with a degree in psychology. Students will learn the skills crucial for professional life after graduation and they will develop a plan to cultivate and market these skills.
PS 210 - Psychology of Child and Adolescence 3.00
This course examines the development that occurs between conception and the prepubescent period. Biological, cognitive and sociocultural factors that influence development will be considered.
PS 303 - Social Psychology 3.00
This course examines how the individual behaves in a social environment. Topics such as groups, stereotypes, attitudes and social influence will be considered.
PS 323 - Psychology of Gender 3.00
This course examines gender as a psychological construct. The biological, cognitive and sociocultural factors that influence gender development will be considered. Implications of gender roles will be discussed.
PS 350 - Cognitive Psychology 3.00
This course examines the research and theory related to cognitive processes. Topics discussed will include sensation and perception, memory, language and learning.
PS 360 - Psychopathology 3.00
This course examines the major categories of psychological disorders. Emphasis will be placed on symptomatology, etiology and diagnosis.
Open Elective Courses
A minimum of 40.00 semester credit hours is required.
Required Courses in General Education
Students enrolled in this bachelor's degree must complete a minimum of 36.00 semester credit hours in general. 12.00 Semester Credit Hours in Communications EN 104 English Composition I EN 111 Information Literacy  EN 116 Speech  EN 304 English Composition II   9.00 Semester Credit Hours in Humanities HU 140 Cultural Diversity  HU 240 Introduction to Humanities  HU 340 Humanities and Contemporary Popular Culture​   6.00 Semester Credit Hours in Mathematics MA 109 College Algebra  MA 320 Statistics​   6.00 Semester Credit Hours in Behavioral Science PS 101 Psychology  SS 350 Social Issues and Technology​   3.00 Semester Credit Hours in Science SC 270 Environmental Literacy  Transfer students may transfer courses that are within 1.00 semester credit hour of the courses listed above to meet these discipline requirements. Any resulting deficiency in the total of 36.00 semester credit hours required in general education may be made up with general education electives from any of the listed disciplines.
Personal and Professional Development Courses
A minimum of 2.00 semester credit hours is required.
PD 121 - Professional Development I 1.00
This course is designed to introduce students to methodologies that will prepare them for academic and professional success.  Topics include but are not limited to Canvas support, student support services, e-books, university policies, resumes, self-reflection, time management, goal setting, and strategies for anxiety reduction.
PD 202 - Professional Development II 1.00
This course provides an opportunity for students to critically examine their skills and develop a plan to further their career and own financial literacy. Topics include research, job searching, developing career documents, refining interview and communication skills, and creating a personal budget.
Requirements
Interdisciplinary studies program enrollment prerequisites
Enrollment requirements include:
Hold a high school diploma, GED or equivalent
Meet with a Herzing University admissions advisor
Fill out an enrollment application
Careers
What can I do with a degree in interdisciplinary studies?
Herzing University's interdisciplinary studies degree program emphasizes a career-focused course of study across six unique areas:
Business
Criminal Justice
Health and Human Services
Healthcare Administration
Network Security
Psychology
You can customize a degree program tailored to your career goals consisting of two of these professional discipline areas.
An additional 40 credits in open elective courses allows you further opportunity to specialize your degree to emphasize what's most relevant to your personalized career path.
FAQ
Frequently Asked Questions
Degrees in general, multidisciplinary or interdisciplinary studies are by their nature more flexible that alternatives more focused to specific industries.
Herzing University offers many flexible alternatives for online bachelor's degree programs devoted more exclusively to behavioral health, business, healthcare, public safety or technology, including:
Each degree option offers courses designed to help you qualify for many types of jobs within their respective areas of focus.
A few possible ways students can build a degree to match the career of their choice:
Students working in a healthcare institution looking ahead to qualify for administrative positions may concentrate their study in business and healthcare administration.
Students working in IT interested in working in the government or public safety fields may consider concentrating in network security and criminal justice.
Students who dream of running their own business in the fast-paced technology industry may choose to concentrate in business and network security.
Students interested in pursuing career pathways in behavioral health may choose to concentrate in health and human services and psychology.
The primary difference between a BS and BA degree is the general positioning of their curriculums:
Bachelor of Arts (BA): typically concerns a wider variety of liberal arts subjects not directly related to the major. Offered in fields such as the humanities, social sciences, foreign languages and communication.
Bachelor of Science (BS): typically more strictly focused on the subject matter directly related to the major. Often offered in technical subjects like computer science, physical sciences, nursing or mathematics.
All of Herzing University's programs are highly career-focused, designed to provide the education you need to position you for the job you want and excel in your career.
A major is a primary discipline of study and a degree is the credential you earn proving your proficiency in any particular major.
There isn't always a degree designed for every major.
That's where an interdisciplinary studies degree can fill the gap. Combine concentrations and develop a foundational education in multiple disciplines to fully prepare for new opportunities bridging multiple established industries.
Yes!
Earning a bachelor's degree emphasizing your unique skillset helps you develop the foundational knowledge you need to find a great job and truly excel.
The first step to a new exciting career of your choosing IS possible with Herzing University.
General and interdisciplinary studies (sometimes called "integrated studies") are often used interchangeably, but there is a fundamental difference between the two types of degree programs.
General studies programs typically cover a wide variety of course topics to provide students with broad skills in critical thinking to encourage lifelong learning.
Interdisciplinary/integrated studies programs are more career-focused than general studies, a combination of disciplines designed to help students pursue a particular career path.
There are many advantages to earning a degree spanning multiple disciplines, including:
Better qualify for the job. Employers with a unique approach to their workforce may require a unique set of skills, and an interdisciplinary studies degree with relevant concentrations can help show you've got what it takes.
Adaptability. The modern economy is always in flux and there isn't always a degree relevant to every new opportunity. A multidisciplinary focus can help you adapt more smoothly to changes within your field.
Earn your degree faster. Depending on the prior college classes you've taken, you may be able to transfer much more of your credit compared to a traditional bachelor's degree program.
According to 2017 data from the Bureau of Labor Statistics, bachelor's degree holders can earn a significantly higher salary than those with no degree. Bachelor's-level occupations earned a median annual wage of $72,830 per year, nearly double the $37,690 median wage across all U.S. occupations.
The BLS also projects a greater employment increase among jobs typically requiring a bachelor's degree. They report bachelor's-level occupations are expected to grow 10% from 2016-2026—compared to the 7% projected average for all occupations.*
Interdisciplinary Studies Degree Programs
Showing 1 programs for the Online campus
The Interdisciplinary Professional Studies program provides a course of study that allows a student to explore connections between traditional academic areas, and to pursue their emerging scholarly interests in the intersections between multiple disciplines and methodologies. This program offers an unparalleled opportunity to explore more than one discipline while developing strengths in multiple fields. Students will work closely with their advisers and professors to select courses from across the curriculum that will maximize their ability to simultaneously consider a topic, subject, or problem from the differing perspectives of independent disciplines. The customized degree plan allows students to achieve their academic goals within the parameters of degree requirements and prerequisites. The interdisciplinary program equips students with a broad array of relevant skills that provide entry into a multitude of occupational opportunities.
Ready to get started?
Contact us to request more information
My advice for current students is to keep pushing and make sure to spread out homework to stay on track!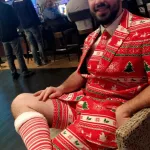 Business Program
Online Campus
Accreditation
Accreditation & Disclosures
Herzing University is accredited by the Higher Learning Commission (hlcommission.org), an institutional accreditation agency recognized by the U.S. Department of Education.
* Bureau of Labor Statistics (BLS), U.S. Department of Labor, Occupational Outlook Handbook 2021. BLS estimates do not represent entry-level wages and/or salaries. Multiple factors, including prior experience, age, geography market in which you want to work and degree field, will affect career outcomes and earnings. Herzing neither represents that its graduates will earn the average salaries calculated by BLS for a particular job nor guarantees that graduation from its program will result in a job, promotion, salary increase or other career growth.