Banner Image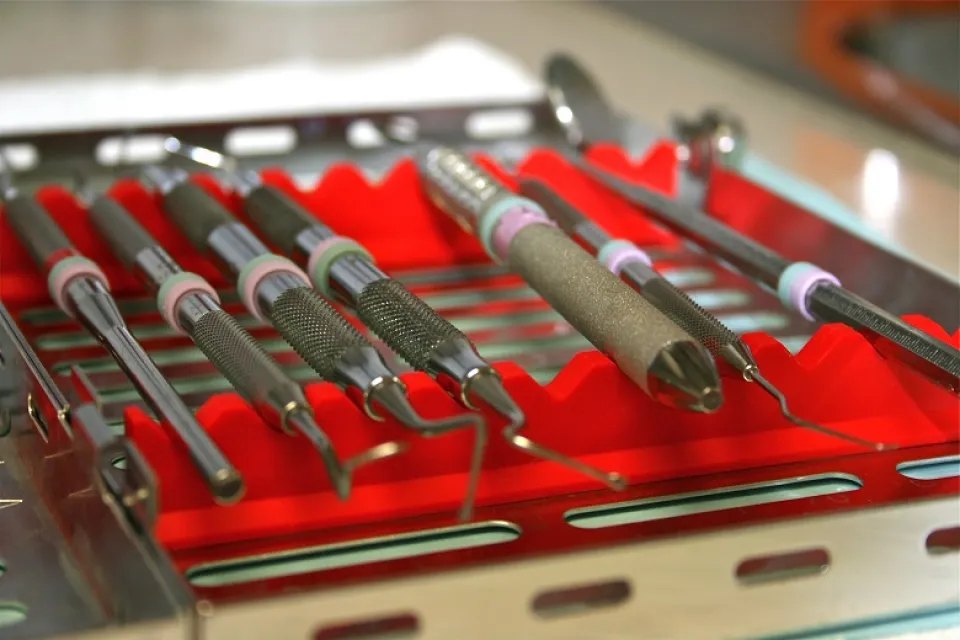 Dental hygienists are dental professionals who work closely with other members of the dental team such as dentists, dental assistants and front desk staff.  Dental hygienists are most known for their clinical work, but they can also serve in several other roles, such as educator, researcher, administrator/manager and advocate. 
Some dental hygienists work their entire careers clinically, while others may start their career by working clinically for several years before moving to a different role of their choice.  Regardless of their desired role, all dental hygienists must complete a dental hygiene program before they can become certified to work with patients.
How long does it typically take to complete a dental hygiene program?
The length of a dental hygiene program varies by institution.  Earning an Associate of Science in Dental Hygiene typically take two years, while earning a Bachelor of Science in Dental Hygiene typically takes four years. Many institutions also require students to fulfill several prerequisites before they can begin the dental hygiene program. Herzing University offers a Bachelor of Science in Dental Hygiene in Minneapolis, Minnesota you may complete in three years with no prerequisites for program entry. Current dental hygienists who hold an associate degree may be eligible to enroll in our Dental Hygiene Bridge program.
At the end of a dental hygiene program, graduates must successfully complete a series of licensure exams for the state they choose to work in. The exams needed for licensure in Minnesota include: The National Dental Hygiene Board Examination (NBDHE), Central Regional Dental Testing Services (CRDTS) clinical exam and a state jurisprudence exam.
What does a dental hygienist do?
The range of services that dental hygienists can perform varies in each state. In Minnesota, dental hygienists are able to perform many services under general supervision, meaning the dentist must give his or her consent for the services to be performed. This gives dental hygienists a certain degree of freedom while treating patients. 
Clinical dental hygienists often have a large amount of flexibility in creating their own schedule.  Some hygienists choose to work three days a week, while others choose to work five days a week.  A typical schedule consists of six to ten patients per day, depending on the age of the patient and the procedure(s) being performed. 
Four of the skills you will master as a dental hygienist:
• Perform and interpret dental x-rays:
Dental hygienists often take x-rays (also known as radiographs) in order to gather information for a dental exam.  Although dental hygienists are not licensed to make an official diagnosis, dentists appreciate when a dental hygienists summarize their findings of possible areas of decay, periodontal bone levels and other artifacts prior to the dental exam
• Perform oral cancer screenings:
Oral cancer screenings should be completed as a part of every assessment. While dental hygienists cannot diagnose a patient with oral cancer, they can inform the dentist's recommendation for treatment or suggest that the patient be referred to a pathologist or oral surgeon for further evaluation. 
• Perform preventative and non-surgical periodontal procedures: 
Dental hygienists focus on prevention.  A major part of dental prevention is receiving regular dental cleanings.  Preventative dental cleanings include child prophylaxis and adult prophylaxis, which are thorough cleanings meant to remove plaque and stains from the teeth. Dental hygienists can also provide other types of "dental cleanings" that fall under the preventative or non-surgical categories, such as scaling and root planing. The dental hygienist will perform an initial assessment of the patient's current oral condition to determine the type of cleaning that is necessary.
Give local anesthetic injections:
In Minnesota and several other states, dental hygienists are able to administer local anesthetic to their patients to keep them comfortable during certain procedures, such as scaling or root planing. In some cases, dental hygienists also administer local anesthetic when a patient is undergoing a filling or tooth extraction.
Dental hygienists are an invaluable part of the dental team. In a clinical role, they assist the dentist in performing a variety of different dental procedures in order to ensure a patient's oral health. Dental hygienists also help assess a patient's oral condition and provide the necessary treatment. Become a dental hygienist and you can master many different skills, all of which will help you provide exceptional dental care for your patients.
Ashley Chouinard, MS, LDH is the Department Chair for the Dental Hygiene program at Herzing University-Minneapolis. Professionally, Mrs. Chouinard has worked in the dental field as a Licensed Dental Hygienist, Dental Hygiene Supervisor and a Dental Office Assistant. Ashley works diligently to bring current in-the-field experiences to the classroom each day. Ashley earned her Master of Science degree in Education from the University of Wisconsin-Stout, her Bachelor of Science in Community Health from St. Cloud State University and her Associates of Science degree in Dental Hygiene from Normandale Community College.
Classes Start January 8th
Learn More Today