Start your dental career as a hygienist
When you visit a dentist, the first person you may see is a dental hygienist.
Licensed Dental Hygienists (LDH), sometimes also called Registered Dental Hygienists (RDH), provide preventative dental care such as child and adult prophylaxis, fluoride treatments, sealants, take X-rays, and more. If you're interested in a career in helping people maintain good oral health, here are four steps to take to become a dental hygienist.
Take these 4 steps to become a dental hygienist: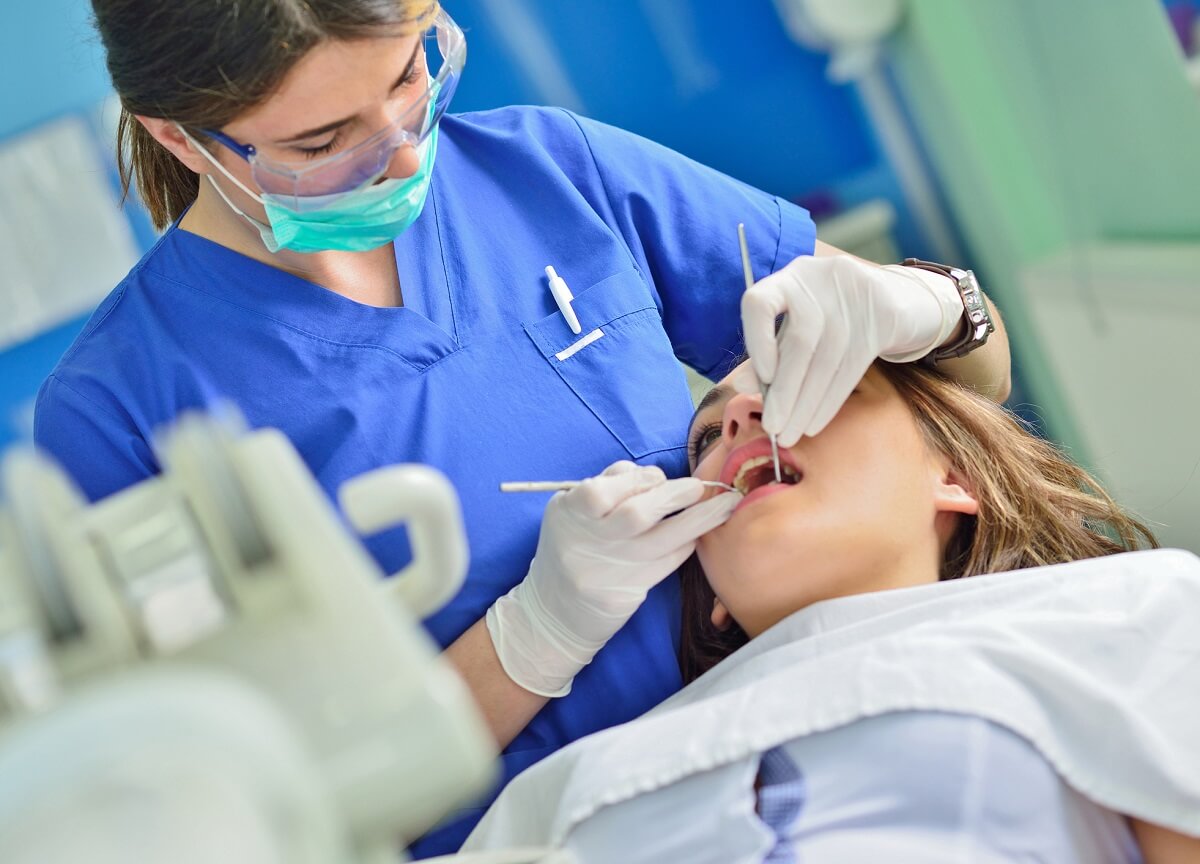 1. Understand the role of a dental hygienist
Dental hygienists are licensed professionals who help patients maintain good oral health. They work under the supervision of a dentist to provide preventive care, non-surgical periodontal treatments, and teach patients how to practice good oral hygiene. Dental hygienist duties include:
Perform preventative and non-surgical periodontal therapy treatments
Perform screening procedures, such as X-rays and periodontal assessments
Apply fluoride and sealants
Provide oral health instructions to patients
Document findings and procedural notes
Other delegated duties outlined by the regulatory body in the state in which they are licensed
Dental hygienists are different from dental assistants. The role of a dental assistant varies from state to state, but mainly focuses on supporting the dentist during procedures. Many skills do transfer from dental assisting to dental hygiene.
Dental hygienist duties also differ from dentists. For example, dental hygienists may describe issues with a patient's teeth or gums but cannot provide a diagnosis of the condition. Instead, dental hygienists report their findings to the dentist, who provides patients with a diagnosis and treatment options.
2. Get educated
A common question is can you become a dental hygienist without a degree?
No! To become a dental hygienist, you need to have a college degree.
The minimum level of education required to become a dental hygienist is an associate degree from a school accredited by the Commission on Dental Accreditation.1
However, many dental hygienists choose to pursue a bachelor's degree in dental hygiene because it may increase earning potential and career advancement.
Dental hygiene degree programs prepare students by offering both classroom and clinical education. With this, students are able to work directly with patients while being supervised by licensed faculty members.
3. Pass your board exams and get licensed
Dental hygienists must be licensed in order to practice.
To become certified as a Licensed Dental Hygienist (LDH), you must first earn a degree from a CODA-accredited program1 and pass all licensure exams required by the state in which you are seeking licensure.
In Minnesota, the Board of Dentistry requires the National Board Dental Hygiene Examination, an accepted regional (hands-on) examination, and the Minnesota Jurisprudence Examination.
Frequently Asked Questions
Yes, you can work while in dental hygiene school, but due to the rigorous program, it is challenging to balance working with courses.  Many students recommend working very limited hours. Each student is unique, so talk with your program advisor on how to balance your classes and study time with any work requirements.
The highest degree you can earn in the field of dentistry is a doctorate in dentistry – either a Doctor of Dental Surgery (DDS) or Doctor of Medicine in Dentistry (DMD).
A dental hygiene degree is not one of the qualifications needed to apply for dental school. While it's possible to use your experience as a hygienist to transition into a career as a dentist, you will likely have minimal advantage when applying for dental school.
Working as a dental hygienist can be a challenging but rewarding job. Earning your degree in dental hygiene requires organization, communication skills, soft-skills, and problem-solving skills.
As a licensed dental hygienist, you will use these skills as you help patients maintain good oral health.
The average hourly wage for a dental hygienist is $40.80, according to the BLS. The average annual salary was $84,860.* Pay may vary based on additional factors, such as experience, employer, and the city or state of employment.
Before starting dental hygiene school, it may be helpful to shadow or interview a dental hygienist. Talking with dental providers is one of the best ways to learn about the dental hygiene field, what typical days are like, and what training is needed.
4. Find your first dental hygienist job
Once you have earned your degree and become a licensed dental hygienist, it's time to find your first job!
The employment outlook for dental hygienists is bright, with employment expected to grow 7% from 2022-2032, so there are many opportunities to have a career helping people achieve good oral care.*
Learn more about our dental hygiene bachelor's degree program, available at our Minneapolis campus
1. The Associate of Applied Science in Dental Assisting and the Diploma in Dental Assisting programs are accredited by the Commission on Dental Accreditation. The Commission is a specialized accrediting body recognized by the United States Department of Education. The Commission on Dental Accreditation can be contacted at (312) 440-4653 or at 211 East Chicago Avenue, Chicago, IL 60611-2678.  The Commission's web address is: http://www.ada.org/en/coda. Consequently, graduates are eligible to take the examinations leading to certified dental assistant (CDA®) certification through the Dental Assisting National Board (DANB).
---
* Bureau of Labor Statistics (BLS), U.S. Department of Labor, Occupational Outlook Handbook 2022. BLS estimates do not represent entry-level wages and/or salaries. Multiple factors, including prior experience, age, geography market in which you want to work and degree field, will affect career outcomes and earnings. Herzing neither represents that its graduates will earn the average salaries calculated by BLS for a particular job nor guarantees that graduation from its program will result in a job, promotion, salary increase or other career growth.
Classes Start January 8th
Learn More Today