Banner Image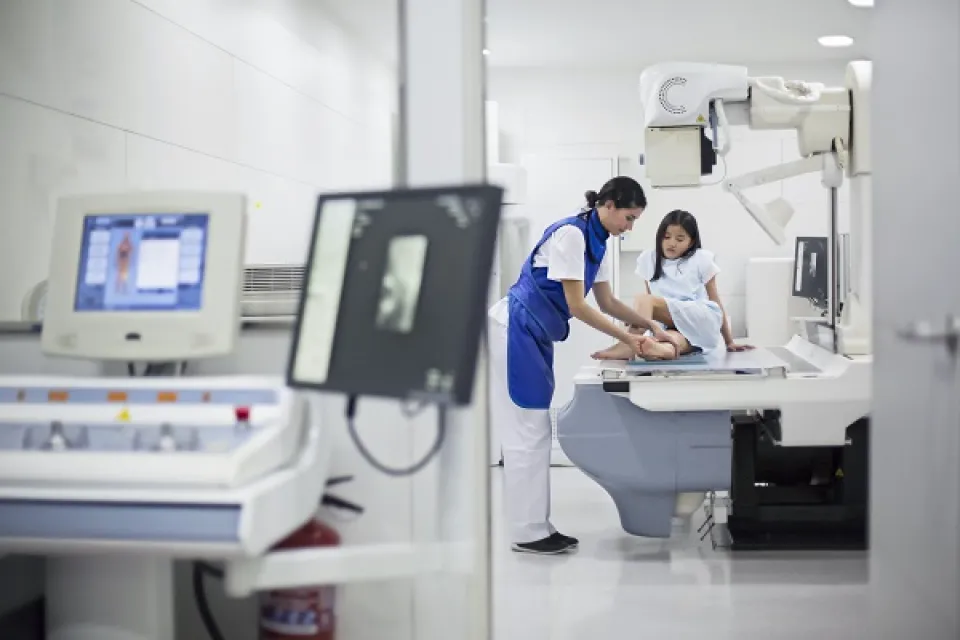 Advancements in radiologic technology have revolutionized medical care for everything from broken bones to cancer treatment.
As an integral part of the medical imaging staff, radiology technologists help support key members of the healthcare team, such as doctors and registered nurses, by performing X-ray exams and other diagnostic imaging procedures.
A career in radiology requires a specialized blend of technical and soft skills, and can be a perfect fit for those who are interested in science and technology as well as hands-on patient care.
What do radiology technologists do?
Radiology technologists ensure a patient's diagnostic X-rays are performed correctly. They assist doctors by preparing a patient for the exam, explaining the exam procedure to the patient, and positioning the patient correctly so that the body can be appropriately radiographed.
Radiology technologists may often work with patients who are scared, confused or in pain, especially when assisting on trauma or surgical x-ray procedures, according to an expert from the American Society of Radiology Technologists. Because of this, they need to have strong communication skills to calm and comfort patients throughout the duration of the exam.
In addition to their patient care duties, radiology technologists must be well-versed in radiographic technology and equipment. They not only operate high-tech radiographic machinery but also use computers to develop and manage x-ray images.
Why should I consider a career as a radiology technologist?
Advancement opportunities: The radiology field offers diverse opportunities for specialization and career advancement. With experience, radiology technologists often pursue careers in MRI and CT imaging, mammography, nuclear medicine and more.
Job security: The aging baby boomer population has contributed to an increase in demand for healthcare services nationwide. Older patients that suffer from chronic pain and more frequent fractures, sprains and breaks will continue to rely on radiology professionals for accurate diagnoses and effective treatment. The U.S. Bureau of Labor Statistics predicts a 9 percent increase in employment for radiology technologists and related careers through 2030.
Diverse work environments: Radiology technologists work in many patient-care settings, including hospital emergency rooms, outpatient facilities, physician offices and laboratories that specialize in diagnostic imaging.
How do I become a radiology technologist?
Radiology technologists need to have at least an associate's degree in radiologic technology to work in entry-level radiology positions at hospitals and physician offices. Many technologists may choose to advance their careers with a bachelor's degree in radiology in order to gain access to supervisory or highly specialized positions. Herzing University's radiologic technologist associate degree program in Orlando, Florida provides the education you need to become a radiology tech and thrive in your new career.
Classes Start January 8th
Learn More Today