Choosing your NP specialty
Family Nurse Practitioners (FNP) and Pediatric Nurse Practitioners (PNP) are two important types of NPs with unique capabilities to treat different types of patients. If you're weighing your NP specialty options, there are a few critical points of comparison between FNPs and PNPs you should know about before deciding on a potential career path.
Here are five key differences between working as an FNP vs. PNP:
Banner Image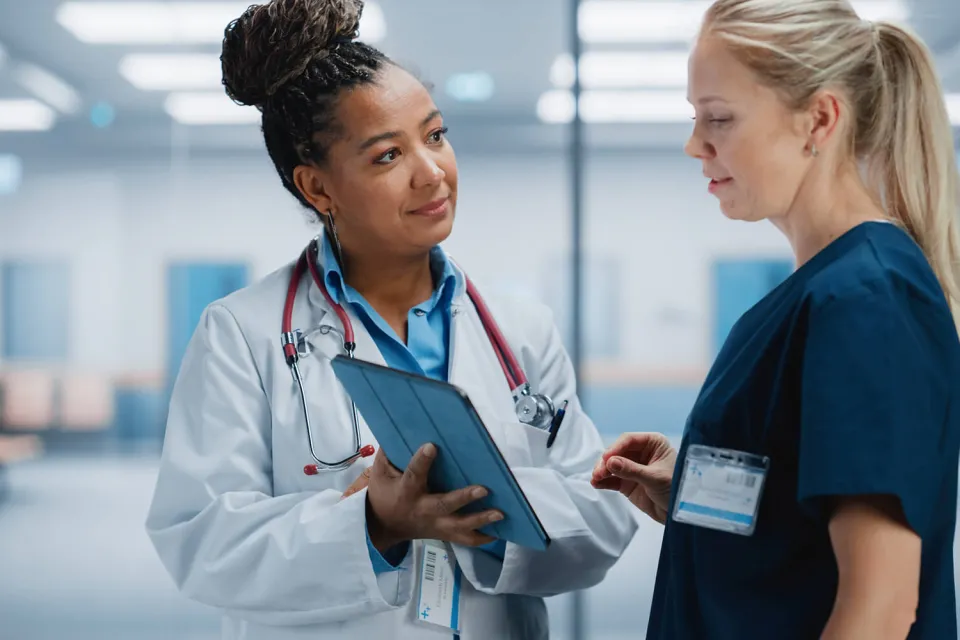 1. Patient population
The primary difference between pediatric nurse practitioners and family nurse practitioners is the patient population you serve. Pediatric NPs focus their care on only pediatric patients, while FNPs provide care across the lifespan, including adult and elderly patients.
If you are interested in caring for kids (infants, children, adolescents, and young adults) and only kids, you may prefer specializing in the narrower pediatric specialty.
If you are also open to working with patients across the lifespan, you may prefer to choose the broader family specialty.
2. Employment and job outlook
Employment of nurse practitioners across all specialties is expected to rise significantly over the next decade. According to the Bureau of Labor Statistics, employment of nurse practitioners is projected to increase 46% from 2021-2031, making it the fastest growing occupation in the United States.
Nurse practitioners are much more commonly certified in the family specialty (FNP) than in pediatrics (PNP).
According to the American Association of Nurse Practitioners (AANP), the majority of NPs' primary certification area is family (70.3%), while only 2.4% identify pediatrics (primary care) as their primary certification area.
However, this does not properly convey the potential need for nurse practitioners capable of caring for the pediatric patient population.
A 2019 white paper from the Journal of Pediatric Health Care predicts a "critical shortage" of PNPs, citing several reasons why the PNP specialty is poised for increased demand in coming years. FNPs may not be able to meet the need for pediatric care on their own, as the adult and elderly populations will continue to demand much of their time and attention. The white paper states most FNPs "report their total pediatric population in practice to be less than 25%."
Combined with the overall projected growth for nurse practitioners in general, now is an excellent time to consider earning the education needed to compete for a growing number of available PNP jobs in the future.
3. Salary
The Bureau of Labor Statistics reports nurse practitioners across all specialties earn an average salary of $118,040 per year ($56.75 per hour).*
According to the AANP survey, both family and primary care pediatric nurse practitioners earn a total income very close to the BLS estimates. NPs with a primary certification in FNP report a total income of $115,000 per year, while those in PNP report a total income of $119,000 per year.
Keep in mind these values can fluctuate over time and are based only on a subset of survey respondents. You can make a good salary as a nurse practitioner in either specialty.
4. Where they work
Both FNPs and primary care PNPs can work in similar environments given they are both primary care NPs. They commonly work in private practices, outpatient care centers, hospitals, and physician's offices.
Pediatric nurse practitioners commonly work in children's hospitals, private practice, and school-based health facilities, according to the 2022 PNCB Pediatric Nursing Demographic Report. Some PNPs certified in acute care may work in urgent care or other critical care departments.
Because of the narrower patient population, pediatric nurse practitioners are more likely to work in pediatric-focused healthcare facilities. FNPs can work in a wider variety of institutions due to their broader scope of practice across the lifespan.
5. Degree program curriculums
MSN programs in both specialties share a selection of core advanced nursing courses appropriate for all Advanced Practice Registered Nurses (APRN).
In addition, each concentration's curriculum reflects the unique focuses in terms of patient population—in both didactic and clinical practicum coursework.
Our MSN-FNP program concentration courses:
Health Promotion Across the Life Span
Clinical Decision-Making
Adult Healthcare
Roles for Nurse Practitioners
Geriatric Healthcare
Healthcare of Women Across the Lifespan
Healthcare of Infants, Children, and Adolescents
Our MSN-PNP program concentration courses:
Health Promotion Across the Life Span
Roles for Nurse Practitioners
Healthcare of Infants, Children, and Adolescents
Clinical Decision-Making for the PNP
Pediatric Primary Care Nurse Practitioner I, II
Pediatric Primary Care Nurse Practitioner Practicum
Choose Herzing University and you can earn the career-focused education you need to succeed as either an FNP or PNP.
Frequently Asked Questions
Advancing to nurse practitioner allows you to expand your skillset and potentially earn greater autonomy in your work. While both types of nurses work with the pediatric patient population, most of the differences relate to the general difference between the RN and NP roles.
A few of the biggest differences between RN and NPs include:
Nurse practitioners can act as a primary care provider, and can potentially spend more time with patients and build longer-term relationships
Nurse practitioners can prescribe medications
Nurse practitioners can diagnose patients and write treatment plans
Nurse practitioners may enjoy a greater work/life balance, as they may have more control over their working schedule
The DNP represents the terminal degree in nursing, meaning it's the highest degree you can earn in nursing. It's one level higher than the MSN. The main differences include:
Curriculum differences
Certification requirements
Enrollment trends
Salary potential
How long it takes to earn
Learn more about the difference between MSN vs. DNP.
While there are many different types of nurses who work with the pediatric patient population, there are two specific types of pediatric nurse practitioners: primary care pediatric NPs (PNP-PC) and acute care pediatric NPs (PNP-AC).
The PNCB Pediatric Nursing Demographic Report, published in December 2022, states there were 20,254 certified CPNP-PC professionals and 4,419 certified CPNP-AC professionals. Most CPNP-PCs work in private practice, while most CPNP-ACs work in inpatient treatment at children's hospitals.
Working with kids can be incredibly rewarding—particularly for primary care pediatric NPs who can help their patients have a healthy childhood and grow from infancy, through adolescence, and into adulthood.
Even within pediatrics alone you'll encounter great patient diversity in the age range from birth to roughly 21 years old. Every day will bring new challenges with young people at different stages of development and health issues for you to solve.
Kids are fun!—and some of the most determined, impressive patients you'll ever work with.
A pediatric nurse practitioner (PNP) is a specialized Advanced Practice Registered Nurse (APRN) who cares for newborns, infants, toddlers, adolescents, and young adults.
Because their patients range in age from infants to young adults, PNPs work with both the patient and their family to provide the right resources and care, including education and emotional support.
Learn more about the general roles and responsibilities of pediatric nurse practitioners.
The answer really depends on the state where you'd be working. There are a few basic levels of practice: full, reduced and restricted.
Explore this map from the American Association of Nurse Practitioners to discover your state's standards and get an understanding of what it means.
Over the course of your education, you'll learn much more detail about the scope of practice for family nurse practitioners vs. other roles in healthcare.
This will depend largely on the board of nursing stipulations in your state. In some instances, it may be permissible for PNPs to see patients past the 18-21 age range who are typically transitioning from pediatric to adult care.
How to take the first step
If you have yet to become an RN, you don't need to decide immediately. You can enroll in an undergraduate nursing degree program now and choose your master's degree pathway in the future.
And nothing is permanent! You can change specialties and continue your education in the future. For instance, if you become a PNP and decide you'd like to explore working as an FNP, you can enroll in a post master's FNP certificate program and earn FNP certification in less than 2 years.
There is no limit to your potential! We exist to help you find your successful career path in nursing.
---
* Bureau of Labor Statistics (BLS), U.S. Department of Labor, Occupational Outlook Handbook 2021. BLS estimates do not represent entry-level wages and/or salaries. Multiple factors, including prior experience, age, geography market in which you want to work and degree field, will affect career outcomes and earnings. Herzing neither represents that its graduates will earn the average salaries calculated by BLS for a particular job nor guarantees that graduation from its program will result in a job, promotion, salary increase or other career growth.