1. Understand what a social worker does
Social workers provide assistance to individuals, families and communities to address problems in their everyday lives. They can work in a "macro" role directly coordinating with organizations or policymakers, or a "micro" role focusing on individuals and their families. 
The job description varies—social workers can have a wide variety of duties: 
Find those in need of help
Work with people in all stages of life from birth to end of life
Assess their situation: what they need, who supports them, what their goals are and develop interventions and strategies to help
Collaborate with community resources to offer a network of care and refer clients accordingly
Diagnose and treat mental, behavioral, and emotional health problems
Maintain clear case files and records
Raise awareness and advocate for solutions at the local, state, or even national level
Navigate crisis situations, such as child abuse, family and community violence, or health emergencies
In general, there are two basic categories of social workers (duties will vary by job—there can be overlap):
Clinical social workers (CSW) and Licensed Clinical Social Workers (LCSW) can diagnose and treat mental, behavioral, and emotional disorders.1
These professionals provide direct support to individuals, families, groups, and communities to develop strategies to deal with difficult situations.
Advanced generalist social workers
These social workers provide services at all levels, including supervisory positions. They may draft grant proposals, balance budgets or put together policies for social service organizations.
They provide services at all levels, addressing a variety of social problems through micro, mezzo, and macro systems to bring about organizational and community change.
Skills to succeed in social work: Social workers are problem solvers with excellent communication, interpersonal, and organizational skills. You'll need to be comfortable under stress, adaptable in dynamic situations to successfully facilitate effective solutions for diverse populations.
Your resilience and persistence in the face of unpredictable results defines your success in social work. While things may not always go your way, you'll discover intense fulfillment when they do.
2. Consider a potential specialty
While nothing is set in stone before you even begin your education, it's never too early to begin considering what kind of social worker you'd like to become.
There are three unique types of social workers explicitly identified by the Bureau of Labor Statistics (BLS):
Mental health and substance abuse social workers are typically LCSWs who help clients deal with addictions or mental illness.1
A caseworker in this field must be capable of facilitating support groups or "step" style programs. Demand for mental health social workers is expected to rise rapidly over the next decade, with the BLS predicting an employment increase of 15% from 2020-2030.
Healthcare or medical social workers help clients adjust their lifestyle in response to injury, illness, or disease. Healing requires more than physical diagnosis and treatment—social workers can help people manage a significant change in day-to-day life.
According to the BLS, medical social workers most often work in hospitals, but can also work in individual and family services, home health care services, or nursing care facilities.
These types of social workers work closely with children, adult, and/or elderly clients to provide those who are most vulnerable with the community support they need.
Some social workers may focus on children, helping to facilitate adoptions, find foster families, or attempt to reunite families. Others may assist in finding housing, seek adult protective services, or apply for benefits such as food stamps.
If you have a good idea of what specialty is right for you, you can potentially look for educational programs with concentrations in these areas to best prepare you for career success.
We've developed our master's degree program in accordance with these popular categories, and offer concentration options in Mental Health, Medical, and Children, Families, and Aging.
3. Earn undergraduate education
If you have yet to earn a college degree, or you currently hold an associate degree, you'll first need to earn a bachelor's degree before entering the field of social work.
If you have already earned a bachelor's degree, you can begin working towards earning a master's degree and step towards becoming a social worker.
Do I need a bachelor's degree major in social work? No, you don't need to have majored in social work at the bachelor's level to apply for a master's degree program in social work.
Can you be a social worker without a bachelor's degree? In the case of entry-level, nonclinical jobs in the social work field (not "Social Worker"), a bachelor's degree in social work (BSW) is commonly the minimum educational requirement. However, in a nonclinical role your scope of practice will be limited, and you will not be able to become a Licensed Clinical Social Worker (LCSW) without an MSW.
Prior college education in human services, psychology, community health, sociology, education, or criminal justice represent a logical foundation for a career in social work. But it's not required. You can begin your graduate education without a social work major at the bachelor's level.
Your potential career possibilities as a social worker expand greatly once you've earned a master's degree.
4. Complete a master's degree program
The biggest step to become a social worker is earning your master's degree.
There are a few key things to keep in mind as you're looking for the Master of Social Work (MSW) program that's right for you:
Full-time/part-time flexibility. Commit full-time and you can complete your degree in as little as 2 years. But you may also elect a part-time extended option that will likely take around 4 years to complete.
Online vs. in-person. Are you interested in distance learning, or do you prefer to take classes in a live school environment?
Career-focused study. Does the program emphasize developing career-focused skills, and how well is it reflected in the curriculum?
Availability and start date. Some programs are highly competitive with few available seats and/or enroll new students less frequently.   
Our online program offers several start dates throughout the year, featuring three unique specializations with options for both full-time and part-time study.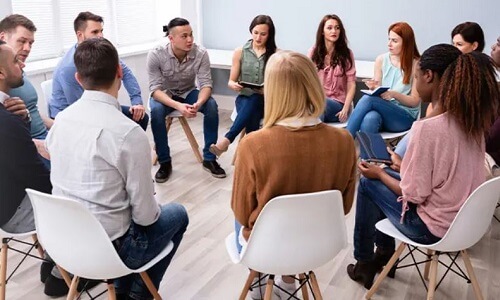 | | |
| --- | --- |
| Length | As few as 24 months |
| Credits | 60 |
| Format | Online |
| Eligibility | Current bachelor's degree holders in a non-social work major |
| Classes | View the curriculum |
5. Research certification and licensure1
Once you've graduated with a master's degree in social work, it's time to work towards certification and licensure in the state in which you plan to practice.
Every state has their own set of requirements to become an LCSW and practice, so you'll need to research the rules in your state.
You'll need to take the licensing exam from the Association of Social Work Boards (ASWB) to begin the process.
Learn more about what you need to do in your state to get your first license.
6. Begin your career
Once you've earned an MSW and applied for licensure, you are ready to begin your career and make a significant impact on individuals and their communities.
Your first step is your education. We exist to help you build the knowledge and skills you need to sustain the long, rewarding career you've always wanted.
1. Individuals considering the Master of Social Work program should be aware that state certification/ licensure requirements and eligibility to apply for certification/licensure vary from state to state. While certification/licensure is not a requirement for certain types of jobs, in some states, it may be required for any positions titled 'Social Worker' and to refer to yourself as a Social Worker in professional settings.
---
* Bureau of Labor Statistics (BLS), U.S. Department of Labor, Occupational Outlook Handbook 2020. BLS estimates do not represent entry-level wages and/or salaries. Multiple factors, including prior experience, age, geography market in which you want to work and degree field, will affect career outcomes and earnings. Herzing neither represents that its graduates will earn the average salaries calculated by BLS for a particular job nor guarantees that graduation from its program will result in a job, promotion, salary increase or other career growth.
Classes Start July 11th
Learn More Today