Meet the Faculty at Herzing University New Orleans
Department Chair for Business – Bio
Kervin Doyle was born in Shreveport, Louisiana where he attended C. E. Byrd High School. Upon graduation, he attended Southern University and fell in love with the college life of a student. Upon graduating with a degree in Political Science, he enrolled in the Southern University Law Center and obtained his Juris Doctorate. In 1981 Mr. Doyle began his teaching career at Southern University-Shreveport and started a small law practice. While at Southern University, he was the acting head of the Sociology Department. His career has included being In-House Counsel for the Department of Health and Hospital, prosecutor, criminal defense attorney and personal injury attorney.
Mr. Doyle returned to graduate school in 1995 and obtained his Master's in Public Administration with an emphasis in non-profit management in 1996. Mr. Doyle has worked in the area of non-profit management for the past (14) years; which has included program development, marketing, budgets, tax-exempt status and licensure. Mr. Doyle returned to the classroom in 2000 at Remington College in Metairie, Louisiana where he taught some general education courses, but found his niche in the criminal justice program. His hobbies include reading, movies, bowling and travel. He also prides himself on his culinary skills.
Mr. Doyle currently serves as the Business Department Chair at Herzing University – New Orleans Campus, but enjoys teaching no matter what the subject matter. Bringing the subject matter alive to the students and partnering with them in the learning process makes for a great classroom dynamic.
Kervin Doyle
Department Chair for Business
---
Department Chair for Medical Assisting – Bio
Delores Price was born in Barbados and graduated from Lynch's Secondary School there. She lived in Boston for 18 years and relocated to Georgia in 2003. She has had a passion for academics for 15 years. She truly enjoys what she does for our students; motivating, educating, and sharing her professional experiences in healthcare. She has been a certified medical assistant for over 23 years. She earned her Bachelor's degree in Health Administration from the University of Phoenix in 2008. She has her Master's degree in Business Administration also from the University of Phoenix. She enjoys meeting new people, reading, traveling, and spending time with her family.
Delores Price
Department Chair for Medical Assisting
---
Department Chair for Surgical Technology – Bio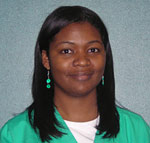 Ms. Zaitasha A. Stepter is a native of New Orleans and a graduate of McDonogh 35 Senior High School, the Community College of the Air Force, the University of New Orleans, and the University of Memphis. In 1997, she became a surgical technologist after enlisting into the United States Air Force. In 2006 she became a Registered Nurse and currently works part time on various critical care units in the New Orleans area. Ms. Stepter has been teaching at Herzing since 2007 and could not be happier. She's always wanted to teach and says she "absolutely loves every detail" of her life. She currently serves as the Department Chair of Surgical Technology.
Zaitasha Stepter
Department Chair for Surgical Technology
---
Department Chair for General Education – Bio
A native of New Orleans, Susan C. Gebhardt has been an Associate Professor with Herzing University for seven years. She has a B.A. in English and an M.F.A. in Drama and Communications-Creative Writing from the University of New Orleans with a concentration in poetry and writing pedagogy.
She has taught English composition, creative writing, and speech for seventeen years. Her poems have been published in The New Orleans Review and The Southern Review.  
As a Screen Actors Guild member, her credits include regional and national voiceovers, which include the HBO series Treme. As an on-screen actor, she has accrued national and international credits.
When she is not teaching or auditioning, she enjoys reading history and biographies, gardening, biking on the Mississippi River levee, performing, and writing.
Susan C. Gebhardt
Department Chair for General Education