Leverage your accounting skills into a career in data analysis
Going from accountant to data analyst can be a logical career change for those looking to leverage their experience in accounting and finance into a broader role in analytics. While accountants may be financially-focused, their skills in analyzing large sets of data and numbers are applicable to the daily duties of a data analyst. Not only can you work with similar skillsets as a data analyst, but you can also broaden your potential career paths as analytics professionals often have a wide variety of job possibilities to choose from.
Rest assured, if you are questioning whether a degree in accounting is right for you and you're considering a career path in data analytics, we have the resources you need to make that decision.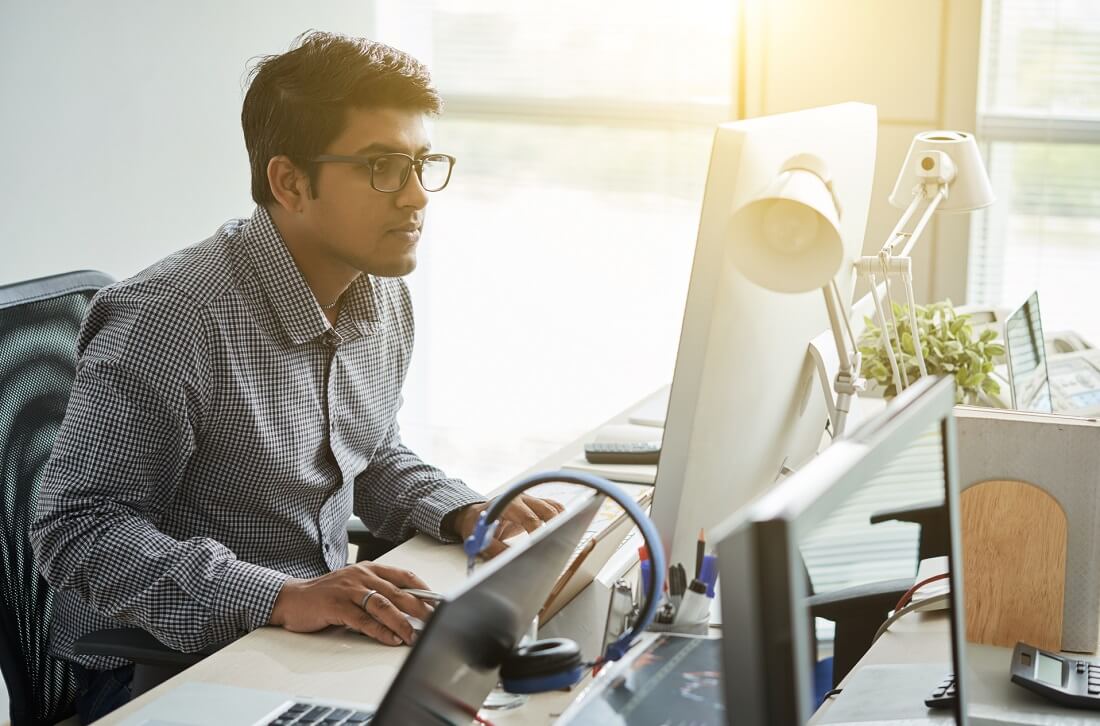 What skills transfer from accounting to data analytics?
The common denominator with accounting and data analytics is the ability to work with large sets of data. From an education standpoint, being able to work with large sets of data requires extensive knowledge and understanding in the field of statistics. In many situations as a data analytics professional, you will be called upon to use your analytical skills to evaluate business-related insights and how the company can use those insights to achieve their objectives.
Most likely, whether you are an accountant or data analytics professional, you will also be working with software like Microsoft Excel or Tableau. Both of these programs are considered an industry standard for any analytics professional.
How is data analytics different from accounting?
An accountant will work almost exclusively with financial information within the company: revenue vs. expenses, inventory counts, collected sales tax, to name a few, while a data analyst will have more breadth with the kind of data they are working with. For example, a data analyst could spend time researching market trends, compiling the current impact of a company product on the environment, utilizing big data for predictive modeling, auditing data collection procedures, or even graphing the comparison between the company product and a competitor product.
While it is still possible in a data analytics position that you may work with your company's financial data, your boundaries as a data analytics professional can be greater and you will have opportunities to pursue other interests.
What kinds of positions are available in data analytics?
Below is a list of possible positions you could potentially qualify for if you are considering becoming a data analyst:
If you have a passion for product development and how that product may impact a business's current ventures, then you should consider becoming a market research analyst. A market research analyst studies consumers' behavior and how a company might change its product and/or marketing over time to attract new consumers.
Operations Research Analyst
As an operations research analyst, your main objective within the company will be to solve complex business problems through the allocation of resources. While that might sound vague and cover a lot of potential objectives, it speaks more to your skills as a data analytics professional that's able to work with complex, diverse sets of data to achieve desired business outcomes.
A management consultant will help businesses find ways to improve efficiencies and cut costs with the ultimate goal of the company becoming more profitable over time. Not only will you need exceptional analytical and problem-solving skills, but you will also need a strong business background. A position in management consulting is also an excellent career path for MBA holders/seekers.
How can I switch educational tracks if I've already committed to accounting?
We offer several data analytics degree programs to help you build foundational knowledge and skills—with an emphasis on Information Technology (IT) concepts. Each program offers you the opportunity to transfer in prior college credits.
Current bookkeepers and payroll accountants may consider our bachelor's degree program (you can transfer up to 90 approved credits), while accountants who already hold a bachelor's degree may prefer to pursue an MBA with a concentration in data analytics. If you are an accountant with a master's degree, such as a Certified Public Accountant (CPA), and want to pivot to a data analytics-based role, we provide a post master's certificate in data analytics option you can complete in as few as 8 months.
Take the next step with Herzing
It's never too late to transition to the career path of your choosing.
We exist to help make your bright future possible.
---
* Bureau of Labor Statistics (BLS), U.S. Department of Labor, Occupational Outlook Handbook 2022. BLS estimates do not represent entry-level wages and/or salaries. Multiple factors, including prior experience, age, geography market in which you want to work and degree field, will affect career outcomes and earnings. Herzing neither represents that its graduates will earn the average salaries calculated by BLS for a particular job nor guarantees that graduation from its program will result in a job, promotion, salary increase or other career growth.
Classes Start January 8th
Learn More Today