Bridge your career from DA to DH
As a dental assistant, you've gained experience in a dental office working alongside a team of professionals, including dentists and hygienists. You're likely familiar with a variety of duties, from working alongside dentists to taking radiographs, scheduling appointments, sterilizing dental equipment, and educating patients about healthy oral habits. If you're seeking further education in the field of dentistry, you may be interested in becoming a dental hygienist.
Learn more about the job, what degree is required, and how you can get on track to an exciting new career in the dental field. Here's what you need to know about transitioning your career to dental hygiene: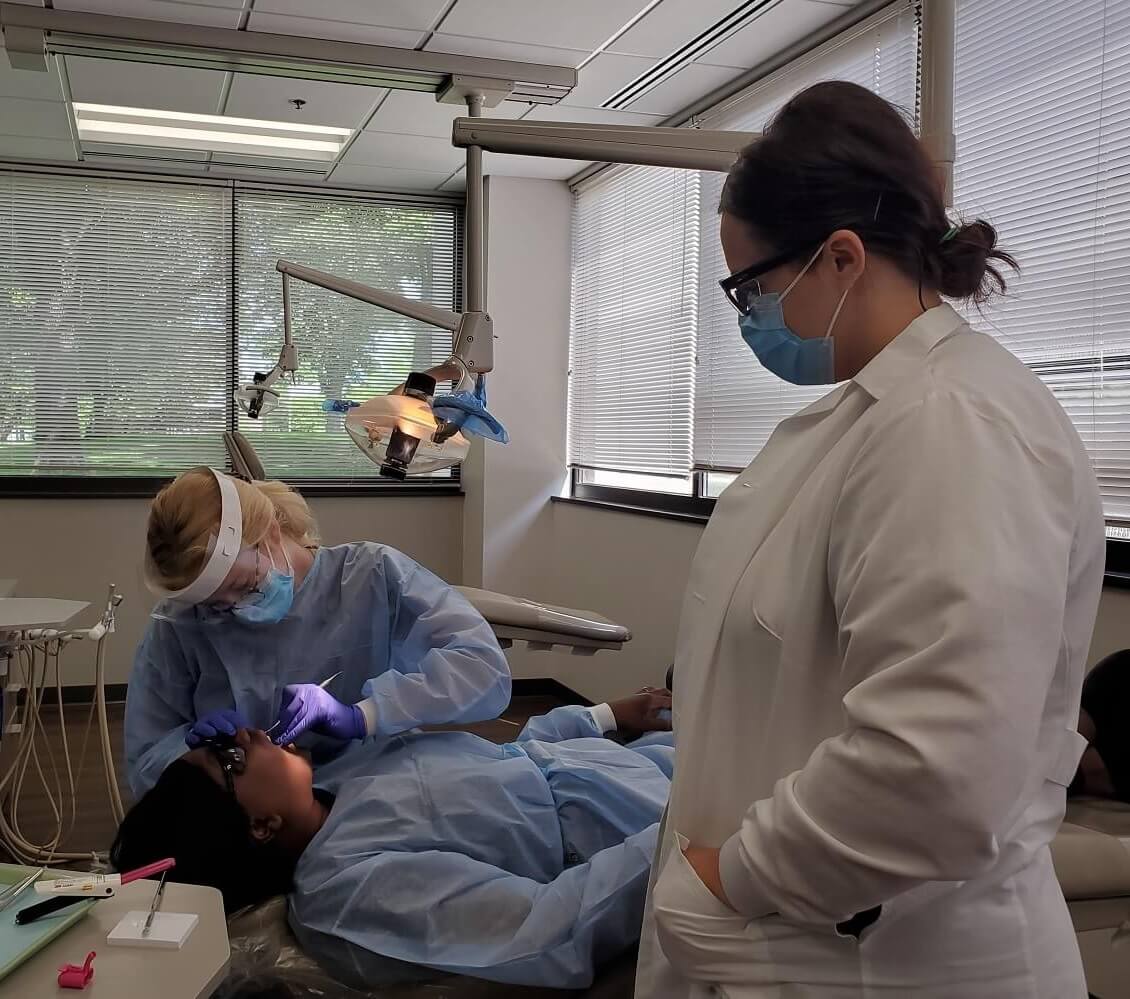 1. Dental hygienist job duties and responsibilities
Licensed dental assistants and dental hygienists may share a similar job description and duties (for example, both may take radiographs, perform mechanical polishing, document patient findings, etc.). However, there is a key difference in the two roles: dental hygienists have an increased scope of practice, including periodontal therapy and working a little more independent.
Dental hygienists are licensed professionals who help maintain good oral health. Working with dentists, they provide gingival and periodontal therapy, document patient findings, collaborate with the dentist in treatment planning, and educate patients on how to achieve and maintain good oral health.
Dental hygienist job duties also include:
Remove plaque and tartar (hard and soft deposits) from the teeth as a part of a prophylaxis or periodontal therapy
Apply preventive materials, such as fluoride and sealants
Provide nutritional counseling, oral hygiene instructions, etc.
It's important to remember that dental hygienist duties are different from those of the dentist. A dental hygienist can document assessment findings related to a patient's teeth, or gingiva, and head and neck areas but he or she cannot provide a diagnosis. Instead, the hygienist will share their findings with the dentist, and the dentist will provide the patient a diagnosis and treatment plan.
2. Dental hygienist education requirements
To become a licensed dental hygienist, you must earn a minimum of an associate degree from a school accredited by the Commission on Dental Accreditation; you cannot practice without a license. However, many dental hygienists choose to pursue a bachelor's degree, because having one can potentially help increase earning potential and career advancement.
Dental hygiene degree programs prepare students by offering both classroom and clinical education. During the clinical education part, students are able to work directly with patients while being supervised. When you are in your final semester of the dental hygiene program, you will work with your program chair to register for your required exams needed for licensure—the National Board Dental Hygiene Exam (NBDHE), regional practical exam (CDCA ADEX or CRDTS), and a state Jurisprudence exam for the state in which you plan to practice.
3. Salary potential
The average salary for a dental hygienist is $84,860 per year ($40.80 per hour) according to the Bureau of Labor Statistics.*
This represents a significant step up from the average salary for dental assistants ($44,710 per year, $21.50 per hour). Pay may vary based on additional factors, such as experience, employer, and the city or state of employment.
On top of that, the job outlook for dental hygienists is very positive. Employment of dental hygienists is expected to grow 7% from 2022-2032, faster than average compared to other U.S. occupations.*
4. How long it takes
Typically, it takes two to four years to become a dental hygienist. This includes a mix of classroom, laboratory instruction, and clinical practice components. Our Bachelor of Science in Dental Hygiene program can be completed in as few as three years (36 months) and is designed to help students who reside in Minnesota to be prepared to take the exams to become a licensed dental hygienist.
Some students first earn their diploma or associate degree in dental assisting. If you already have an associate or bachelor's degree, you may be able to receive transfer credit for some of your previously completed courses.   
When your coursework is complete, you can become a licensed dental hygienist (LDH) by passing the National Board Dental Hygiene Examination, a regional practical exam, and jurisprudence exam in the state in which you plan to practice.
Note: If you are already a dental hygienist, who resides in Minnesota, but would like to pursue your bachelor's degree, we also offer students an AS to BS bridge program in dental hygiene that can be completed in as little as 1 year.
5. Clinical requirements
As part of their degree, dental hygiene students have both classroom laboratory, and clinical practice. The non-clinical courses provide a strong educational foundation for working in the dental industry, and generally include classes in medical emergencies, histology, embryology, orofacial structures, periodontology, general and oral pathology, dental management technology, radiography, and pain management etc.
In addition, accredited dental hygiene programs include laboratory and clinical requirements. During these courses, students provide direct patient care in a supervised clinical setting. Clinical courses assist students in applying what they have learned in the classroom and laboratory to build their skills in a real work setting, so they can be prepared as possible to transition into their career as a dental hygienist.
As a part of clinical courses students will perform patient assessments, oral health education, preventative dental care, and periodontal therapies. Each clinical course becomes more advanced than the last, preparing students to work as a licensed dental hygienist.
6. How hard it is
Earning your bachelor's degree in dental hygiene takes dedication and hard work, but having experience working as a dental assistant is a great foundation.
In a dental hygiene program, you'll learn new, advanced skills that can help you grow in an industry you already enjoy, and you can help patients achieve and maintain oral health.
---
* Bureau of Labor Statistics (BLS), U.S. Department of Labor, Occupational Outlook Handbook 2022. BLS estimates do not represent entry-level wages and/or salaries. Multiple factors, including prior experience, age, geography market in which you want to work and degree field, will affect career outcomes and earnings. Herzing neither represents that its graduates will earn the average salaries calculated by BLS for a particular job nor guarantees that graduation from its program will result in a job, promotion, salary increase or other career growth.
Classes Start October 30th
Learn More Today