Leverage your skills into a new career
If you've worked as a help desk representative for a significant amount of time, you may have aspirations to expand your skill set and learn more about what's possible in the technology space. One possible career path you may consider is a position as a software developer or engineer.
While the daily responsibilities and duties of a software developer versus a help desk representative are very different, both positions require a general understanding of computers, data, networks, and servers.
Your experience and skills developed in a technical support role can be a springboard to a new career path in software development.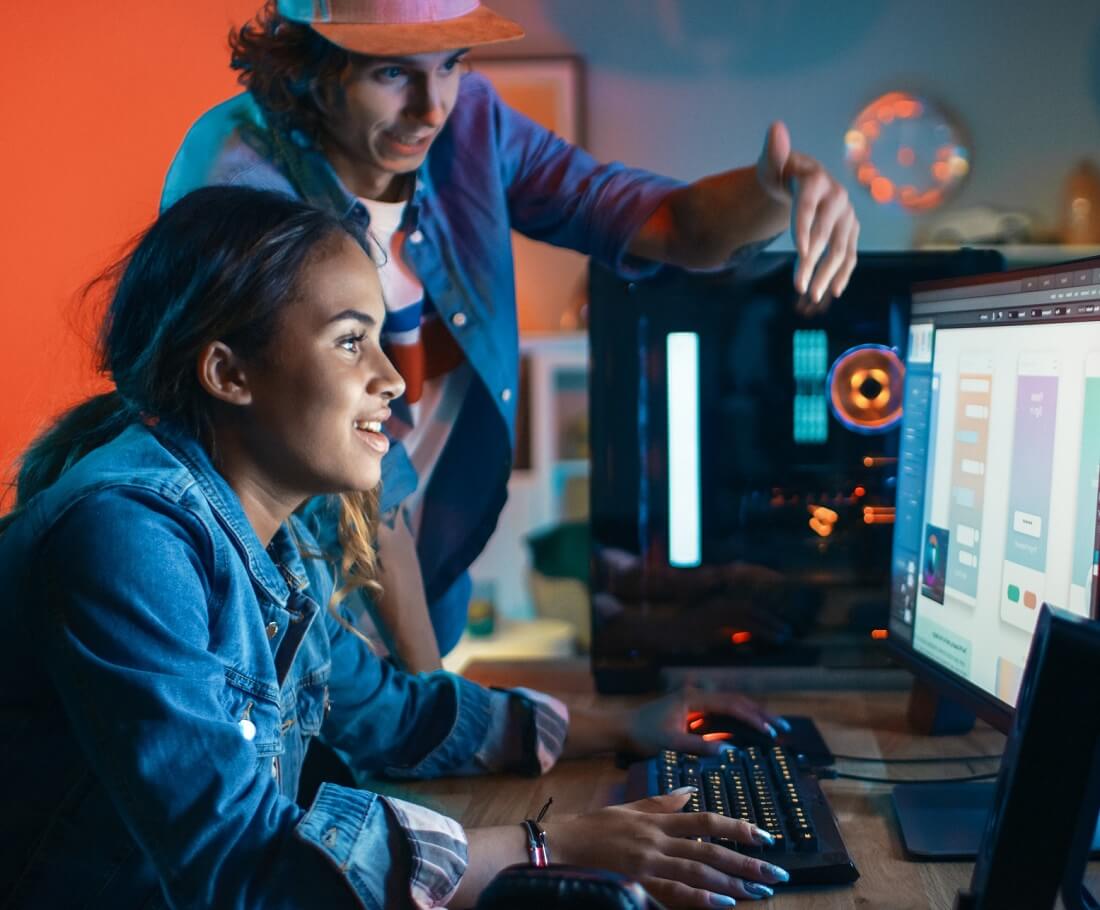 Qualifications
Prepare to expand your qualifications
Going from help desk representative to software development will require additional education. However, you will already have technical experience under your belt that will be desirable for future employers—and customer service skills that can translate well into a software development team, where clear communication is vital.
Furthermore, you will already have a foundation for understanding important topics in software development, including:
Computer networks
Computer architecture and troubleshooting
Computer science
Database concepts and applications
Computer security
According to the Bureau of Labor Statistics, employment of software developers is expected to rise 26% from 2022-2032, faster than the average across all U.S. occupations.
In addition to a reported annual average salary of $132,930 ($63.91 per hour), software development represents a high-paying, in-demand job both now and in the future.*
It's a great time to begin earning the education you need to compete for jobs on this quickly growing career path.
Create
Go from troubleshooter to creator
As a help desk representative, you may work with a database of usernames and passwords for the purpose of resetting user login information, but, as a software developer you could end up writing the application that allows support users to access this database, which requires a deeper technical understanding of how the application functions.
This only scratches the surface of what's possible with a career in software development. As a software developer, your primary focus is creating documents in the virtual space, which could include user profiles, e-commerce pages, or even real-time data analytics for your company for both desktop and mobile applications.
Skills
Learn flexible skills for a variety of projects
Beyond working with more technical and specialist skillsets in the field of software development, you can potentially find great diversity in your work across a wide array of industries. Many businesses can benefit from improving their virtual infrastructure, and consistently invest in their own systems to improve the experience for both employees and customers.
Whether it's a restaurant that needs to improve their virtual infrastructure for how they handle customer orders or a new business that wants to implement a system for managing their virtual inventory, your choices are almost without end.
Your first step: get educated
The courses in software development at Herzing University prepare you for this type of work and put you on the fast track to your next job in software development. We offer 100% online coursework (with an optional internship or capstone project at the bachelor's degree level) that will give you skills to help get your foot in the door as soon as possible.
Our associate and bachelor's degree programs are designed for beginners, so if you feel unsure about your current technical skillset, understand there is no experience required. Your background in IT can give you a leg up over students who have zero professional experience in a help desk/tech support role.     
We also offer free resources to allow you to practice or pursue any of your ideas in the virtual workspace. Even if you're remote and taking classes alone, rest assured we're prepared to set you up for career success as a software developer.
Even if a career specifically in software development doesn't interest you, but you still want to grow your technical skillset, we highly encourage you to check out our other career options in the technology space at Herzing University. We offer the same type of resources for careers in networking and cyber security, which are also careers slated for growth1 and still carry relevance with respect to current technical support jobs, such as help desk representatives.
1. According to the Bureau of Labor Statistics (BLS), employment of Computer and Information Systems Managers is expected to rise 15% from 2022-2032. Employment of Information Security Analysts is expected to rise 32% from 2022-2032.*
---
* Bureau of Labor Statistics (BLS), U.S. Department of Labor, Occupational Outlook Handbook 2022. BLS estimates do not represent entry-level wages and/or salaries. Multiple factors, including prior experience, age, geography market in which you want to work and degree field, will affect career outcomes and earnings. Herzing neither represents that its graduates will earn the average salaries calculated by BLS for a particular job nor guarantees that graduation from its program will result in a job, promotion, salary increase or other career growth.
Classes Start January 8th
Learn More Today