Banner Image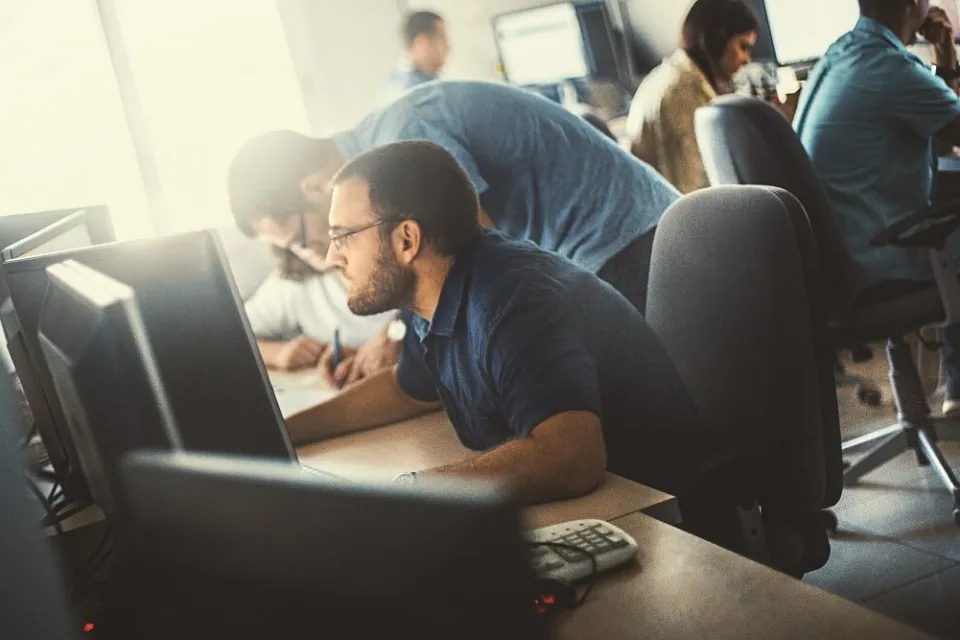 According to from the U.S. Bureau of Labor Statistics (BLS), the average salary for computer programmers is $96,650 per year ($46.46 per hour).
Computer programmer salaries will vary depending on the industry and location of the job and the programmer's qualifications, skills and seniority. Keep in mind this is not an entry-level estimate – you will need to work towards reaching this level of pay.
The BLS reports that the top industries which employed computer programmers in 2021 were:
Computer Systems Design and Related Services - $88,150 average wage
Scientific Research and Development Services - $132,700 
Software Publishers - $131,430
Colleges, Universities, and Professional Schools - $84,240
Management of Companies and Enterprises - $102,430
State
Per hour
Per year
Alabama
$42.33
$88,040
Alaska
$44.42
$92,390
Arizona
$43.60
$90,680
Arkansas
$41.05
$85,390
California
$51.59
$107,300
Colorado
$40.82
$84,900
Connecticut
$42.49
$88,370
Delaware
$43.72
$90,930
District of Columbia
$57.22
$119,010
Florida
$38.50
$80,070
Georgia
$43.94
$91,390
Hawaii
$41.88
$87,100
Idaho
$34.80
$72,380
Illinois
$48.23
$100,320
Indiana
$41.14
$85,560
Iowa
$35.15
$73,110
Kansas
$40.19
$83,590
Kentucky
$35.97
$74,810
Louisiana
$41.28
$85,870
Maine
$41.52
$86,360
Maryland
$45.83
$95,320
Massachusetts
$49.12
$102,170
Michigan
$36.31
$75,520
Minnesota
$42.28
$87,940
Mississippi
$34.35
$71,450
Missouri
$39.71
$82,590
Montana
$39.62
$82,410
Nebraska
$37.59
$78,180
Nevada
$42.23
$87,830
New Hampshire
$40.16
$83,530
New Jersey
$44.70
$92,980
New Mexico
$35.66
$74,180
New York
$43.89
$91,290
North Carolina
$46.73
$97,200
North Dakota
$37.15
$77,260
Ohio
$41.56
$86,440
Oklahoma
$39.45
$82,050
Oregon
$40.39
$84,010
Pennsylvania
$44.60
$92,760
South Carolina
$38.44
$79,960
South Dakota
$28.00
$58,250
Tennessee
$41.79
$86,930
Texas
$49.35
$102,650
Utah
$40.94
$85,160
Vermont
$45.08
$93,760
Virginia
$49.59
$103,150
Washington
$85.20
$177,210
West Virginia
$38.08
$79,210
Wisconsin
$43.11
$89,670
Wyoming
$37.09
$77,140
Computer programmers play a critical role in the function of the global, technology-driven economy. They write, test, and maintain the code that creates software programs and applications. Their day-to-day duties will generally include:
Using computer languages such as C++, Java, Python and more to write programs
Testing and "debugging" programs by editing mistakes in computer code
Updating existing programs
Utilizing integrated development environments (IDEs) or code libraries to create and test code
Computer programmers also typically work very closely with software developers. As a result, programmers may also participate in the program design process, creating models showing how the program will work and designing aspects of the user interface as well as writing the code for it.
Job titles for computer programmers
Different companies will use different job titles when recruiting computer programmers. According to O-Net Online, some of the alternative titles may include:
Analyst Programmer
Application Programmer Analyst
Computer Programmer Analyst
Internet Programmer
Java Developer
Web Applications Programmer
Web Programmer
Discover more detail about what you can do with a degree in programming.
Job outlook for computer programmers & related occupations
According to the BLS, overall job openings for computer programmers look set to decline by 10% nationwide over the 2019-2029 period. This is likely due to continued offshoring of entry-level programming jobs. As a result, the job market for some types of computer programmers will be very competitive.
However, note that with the right computer programming and development skills, it's possible to be qualified to pursue many computer programming-related roles which are projected to grow quickly, including:
Outlook for programming-related job roles
Job / Career
Proj. increase*
Web developer
13% (BLS)
Computer systems analysts
7% (BLS)
Software developers
22% (BLS)

* - Indicates the BLS projection for growth in employment from 2020-2030.
If web development or software development interest you, Herzing University offers degree programs uniquely designed for these types of specialized careers. Herzing University offers a software development degree program (associate or bachelor's degree) and a computer networking bachelor's degree program.
Having the right qualifications and skills in programming, web/software development or computer systems can help you stand out in job market and pursue fast-evolving, exciting career opportunities.
How to become a computer programmer
At Herzing University, our online Bachelor of Science in Computer Programming program offers students comprehensive preparation for computer programming roles and the foundation of skills necessary to move into software development, database management, and analyst roles. The program features:
Project-based learning which replicates the cooperative workflow found in many programming work environments
An emphasis on web and mobile application programming and development skills—among the most in-demand skills employers are looking for
Virtual programming labs featuring state-of-the-industry tools and processes
Flexible online learning you can complete anywhere
Dual MBA credit option, so you can add up to 12 credits of master's-level management skills to your profile
Find out more about how to become a computer programmer in as few as 36 months of online study: contact Herzing University today!
---
* Bureau of Labor Statistics (BLS), U.S. Department of Labor, Occupational Outlook Handbook 2021. BLS estimates do not represent entry-level wages and/or salaries. Multiple factors, including prior experience, age, geography market in which you want to work and degree field, will affect career outcomes and earnings. Herzing neither represents that its graduates will earn the average salaries calculated by BLS for a particular job nor guarantees that graduation from its program will result in a job, promotion, salary increase or other career growth.
Classes Start October 30th
Learn More Today