What makes a great pediatric nurse practitioner?
Do you enjoy caring for and working with children? Does nursing appeal to you, or are you a nurse ready to advance your career?
Becoming a Pediatric Nurse Practitioner (PNP) may be a great career fit.
It takes a certain skillset to both succeed at the job and love doing it! We've listed seven key skills below which are essential for career success as a PNP.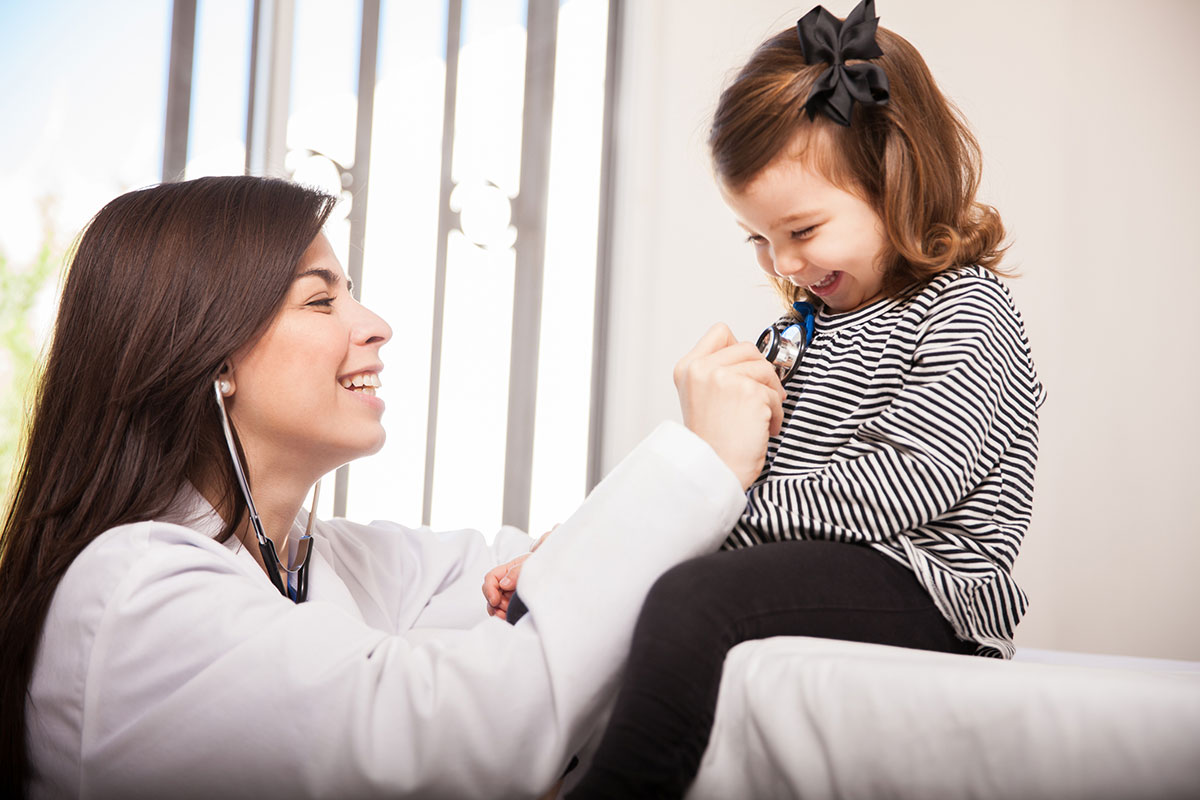 1. Strong communication skills
As a pediatric NP you will communicate with a large population of patients and families, ranging from newborns to young adults. Having strong communication skills will help you break down complex medical terms into plain language.
Communicating with patients and their families in a way they are able to understand helps them be more cooperative with procedures, understand the risks and benefits of treatment, and reduces anxiety.
Additionally, you may also work with other medical professionals, including physicians and nurses. It is important that you communicate clearly and effectively, in order to make care decisions as a team.
2. Sharp critical thinking skills
No two patients are the same, so you need to be able to think critically in order to treat a variety of illnesses and needs. By using critical thinking, pediatric NPs can gather important information they need about their patients, so they can develop the right plan of action for treatment. Having a strong educational foundation can help build these important skills.
Additionally, a PNP's day can be very fast paced and you may see a lot of patients. It's important that you think quickly on your feet, so you can provide the best care to each patient and shift plans as needed.
3. Leadership skills
PNPs are an important part of a medical team and can potentially serve in leadership roles. Having strong leadership skills will help you delegate and assign duties as needed.
Leadership skills will help you build trust with patients and their families, which will produce better patient compliance and health outcomes.
4. Collaboration skills
No nurse works alone, which is why teamwork is so important.
As a PNP, you will work closely with physicians, as well as nurses, certified nursing aides, and other staff. The ability to collaborate on care plans and daily tasks is important to keeping a smooth routine and workflow so you can focus on patient care.
5. The ability to stay calm under pressure
A PNP's day is often fast paced, particularly if you work in an acute care or hospital setting. During a single shift you may diagnose and treat a wide range of conditions, symptoms, and injuries—sometimes very quickly. Being able to remain cool under pressure is an important skill.
However, this is a beneficial skill for primary care pediatric NPs as well. When you have to deliver difficult news to patients and their families, you must stay calm, clear, and professional. The family needs your support and leadership more than ever in these circumstances.
6. Compassion
Every day, PNPs see patients that need care, from wellness checks, to emergencies, to life-threatening illnesses. Patients may be scared, angry, and confused.
It's critical that pediatric PNPs exhibit genuine compassion, patience, and empathy in order to best support their patients, both emotionally and physically.
What is a PNP and what do they do?
A PNP is a Registered Nurse (RN) who has earned at least a Master of Science in Nursing (MSN) degree. PNPs are considered Advanced Practice Registered Nurses (APRN). There are some similarities to a Family Nurse Practitioner (FNP)—though a PNP's main focus is on the youngest patient populations.
PNPs provide care for children of all ages, from newborns to young adults. Their roles and responsibilities include providing comprehensive patient care, well-child and physical exams, diagnosing illnesses, developing treatment plans, and providing health education to children and their families. A PNP may specialize in:
Pediatric Primary Care (well-child care and prevention/management of common pediatric acute illnesses and chronic conditions)
Pediatric Acute Care (acute, complex, critical, and chronic illness across a variety of care settings).
They work closely with physicians and medical teams in hospitals, clinics and schools. In some cases, a PNP may be the primary source of care for an individual or family.
Being a PNP is a demanding job and requires rigorous education and experience. However, it is a rewarding career for those who embrace the role.
Take the next step
If you enjoy nursing and caring for children, becoming a PNP may be a great career choice.
Herzing offers multiple pathways for current RNs, including:
Learn more about Herzing's PNP options and start your path to a rewarding career today!
---
* Bureau of Labor Statistics (BLS), U.S. Department of Labor, Occupational Outlook Handbook 2021. BLS estimates do not represent entry-level wages and/or salaries. Multiple factors, including prior experience, age, geography market in which you want to work and degree field, will affect career outcomes and earnings. Herzing neither represents that its graduates will earn the average salaries calculated by BLS for a particular job nor guarantees that graduation from its program will result in a job, promotion, salary increase or other career growth.
Classes Start October 30th
Learn More Today