Begin your IT education and get your career moving
Your unique technical, creative and problem-solving skillset can be a perfect fit for a career in information technology. Take the first key step: get educated, position yourself for a good entry-level job, and build a foundation for career advancement.
By enrolling in an IT diploma program focusing on in-demand technical support concepts, you'll become qualified for key certifications like CompTIA A+, Network+ and Security+ and prepared for success right from the start. Our online diploma program is designed to help you graduate with a career-focused credential fast, so you can find work and begin walking your new career pathway as you continue to develop your skills.
Learn online in Herzing's Everywhere Classroom: on your schedule, at your pace
Course subjects include programming logic, database concepts and applications, computer networks, operating systems, network security, network infrastructure, and more
Earn college-level credit you can transfer into an Associate of Science or Bachelor of Science in Information Technology
The Bureau of Labor Statistics projects employment of computer support specialists to grow 9% from 2020-2030, faster than the average across all U.S. occupations. The time is now to build your IT skills and join this growing career field.
We exist to help you better yourself and find greater success in your work. You are possible with Herzing University.
Classes Start February 7th
Learn More Today
Curriculum
IT Technical Support diploma classes & curriculum details
Our diploma program provides you with an understanding of foundational IT skills required to support both users and information systems in typical organizational environments. Learn how computer networks work, administration of Windows-based desktops and Linux-based desktops and servers, the fundamentals of database design and administration, implementation of basic security systems, and much more.
The career-focused curriculum is designed to help you succeed in your first job in a generalist IT support role.
All classes are delivered online through the Canvas learning management system.
| Program | Monthsi | Credits |
| --- | --- | --- |
| Diploma in Information Technology - Technical Support | 8 | 24 |
i. Average number of months for students to complete program
Certifications
Get educated, and get certified
Complete our diploma program and we will pay for your exam prep and first exam attempts for three key CompTIA certifications:1
CompTIA A+. Master and confirm your core IT skills and knowledge necessary for success in a variety of IT support positions.
CompTIA Network+. Show employers you've got the ability to configure, manage, and troubleshoot IT infrastructure.
CompTIA Security+. Prove your proficiency in basic IT security skills required for roles in cyber security and systems administration.
Our goal is to fully prepare you with the comprehensive skillset needed to excel professionally immediately upon graduating. Earning formal education in IT support and getting certified is a great way to maximize your qualification for a good job straight out of school.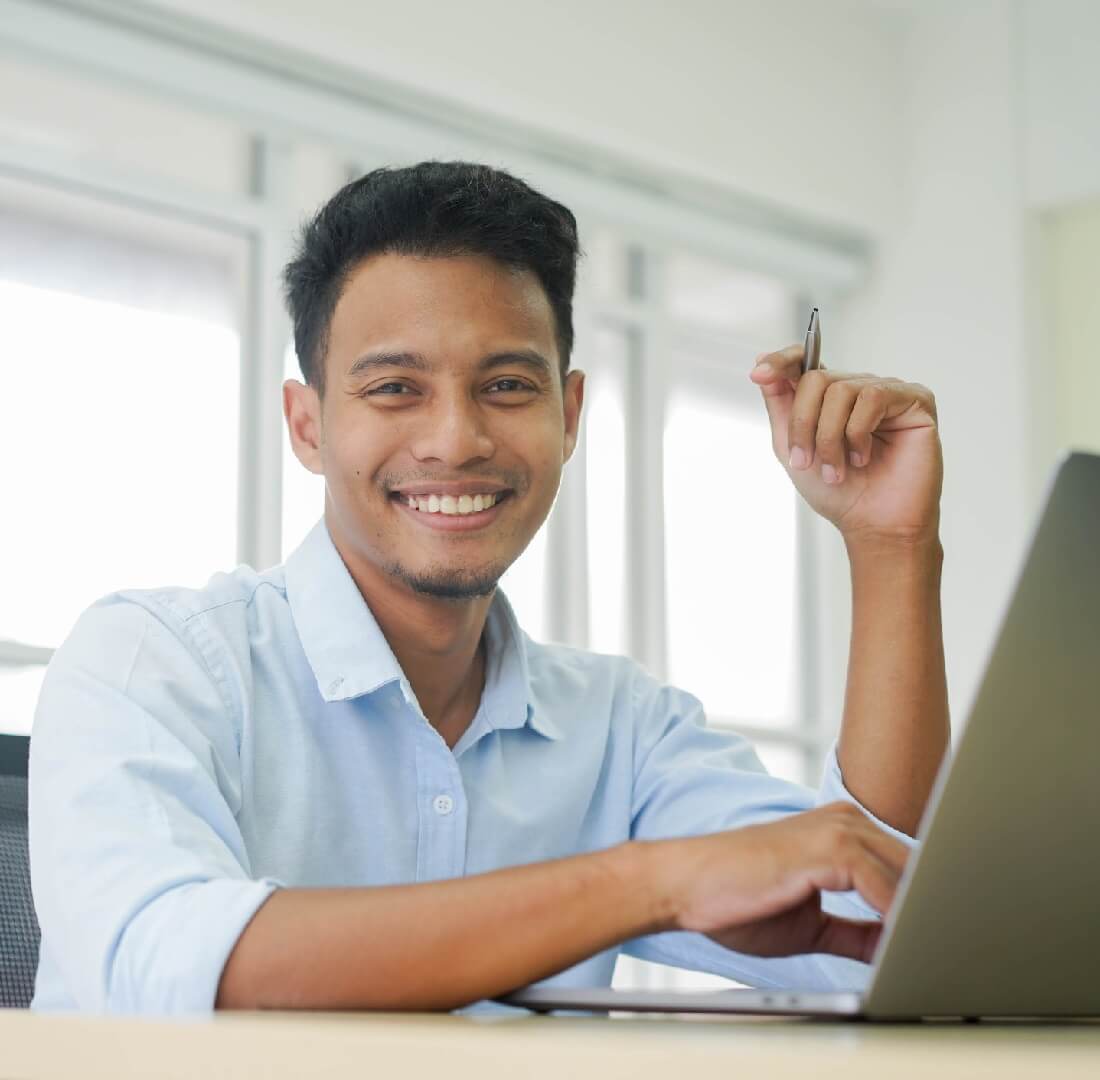 Tuition & Cost
Our goal is your career advancement. That's why we are always working to improve our curriculums and processes to make our IT diploma program as affordable as possible while preparing you best for success in your work.
With Herzing University, you are never alone, and we offer many options to help you invest in yourself and earn your diploma. Financial aid options include:
Requirements
Enrollment requirements
Prerequisites to enroll in the Herzing University Information Technology Technical Support diploma program include:
Hold a high school diploma, GED or equivalent
Meet with a Herzing admissions advisor
Fill out an enrollment application
With Herzing University advancing your career IS possible. We are here to help you take the first step.
FAQ
Frequently Asked Questions
Because IT is such a diverse field requiring a wide array of skills and personality types, there's a really good chance there's an IT job out there that's right for you.
A career in information technology could be right for you if you:
Enjoy working with computers
Can work well in a wide range of environments
Find technical problem-solving very satisfying
Work well alone and in a team
We've put together a quiz that helps you determine the IT degree that's right for you.
The best first step you can take towards becoming an IT support technician is earning a foundational education in IT.
Earning an IT technical support diploma or an associate degree in information technology can help you build the skills and knowledge you need to succeed in your first job as an IT support tech. Class topics include computer networks, database concepts, computer architecture and troubleshooting, Linux administration, network infrastructure administration, and much more.
How long it takes to earn an information technology degree depends on the degree level you choose. With Herzing University, programs last from less than 1 year to just under 3 years:i
Diploma in Information Technology - Technical Support: 8 months
Associate of Science in Information Technology: 16 months
Bachelor of Science in Information Technology: 32 months
i. Average number of months for students to complete each program
The best way to gain experience in the field of IT is to get educated and start working! A great way to find a good entry-level job is to become educated in the field of IT, ready to thrive right from your first day without as steep of a learning curve.
While it may be possible to find an IT-related position, such as computer network support specialist, by taking minimal postsecondary classes, employers may require an associate or bachelor's degree from potential applicants.
Every job and every employer will have their own set of requirements depending on the job. Given how quickly things can evolve in the world of information technology, your best preparation for any future job roles, or advancement, is continuing your education.
Your potential salary can vary widely depending on your career path. Information technology covers a broad array of jobs, from entry-level positions in user support to advanced managerial or executive-level roles.
According to the Bureau of Labor Statistics (BLS), the 25th percentile wage estimate for computer network support specialists is $50,730 per year, while computer and information systems managers can potentially earn well beyond $100,000 per year.* There are many other jobs in IT you may pursue falling within that general range, including computer programmer, software developer, information security analyst, database administrator, and much more.
In the field of IT, you can build the career of your choosing and potentially make an excellent salary no matter which path you walk.
Information Technology (IT) is a broad and evolving career field encompassing a wide variety of tasks and core competencies. Because of this there are many types of IT degrees to choose from in addition to IT management, including:
Bachelor's degree holders may consider additional graduate and post-graduate education in IT, including master's degrees or post-master's certificates.
Herzing University's post-baccalaureate programs emphasize the business side of technology, including MBA options in data analytics and technology management, and a post-master's certificate in IT management.
Diploma in Information Technology - Technical Support Degree Programs
Showing 1 programs for the Online campus
To learn more about this program, click the Request Info button to the right.
Ready to get started?
Contact us to request more information
Accreditation
Accreditation & Disclosures
Herzing University is accredited by the Higher Learning Commission (hlcommission.org), an institutional accreditation agency recognized by the U.S. Department of Education.
1. Certification is not a state requirement. Payment for first exam attempt(s) requires meeting certain University guidelines, including passing specified courses, completion of exam preparation materials, and more. Please contact admissions for more information.
* Bureau of Labor Statistics (BLS), U.S. Department of Labor, Occupational Outlook Handbook 2020. BLS estimates do not represent entry-level wages and/or salaries. Multiple factors, including prior experience, age, geography market in which you want to work and degree field, will affect career outcomes and earnings. Herzing neither represents that its graduates will earn the average salaries calculated by BLS for a particular job nor guarantees that graduation from its program will result in a job, promotion, salary increase or other career growth.