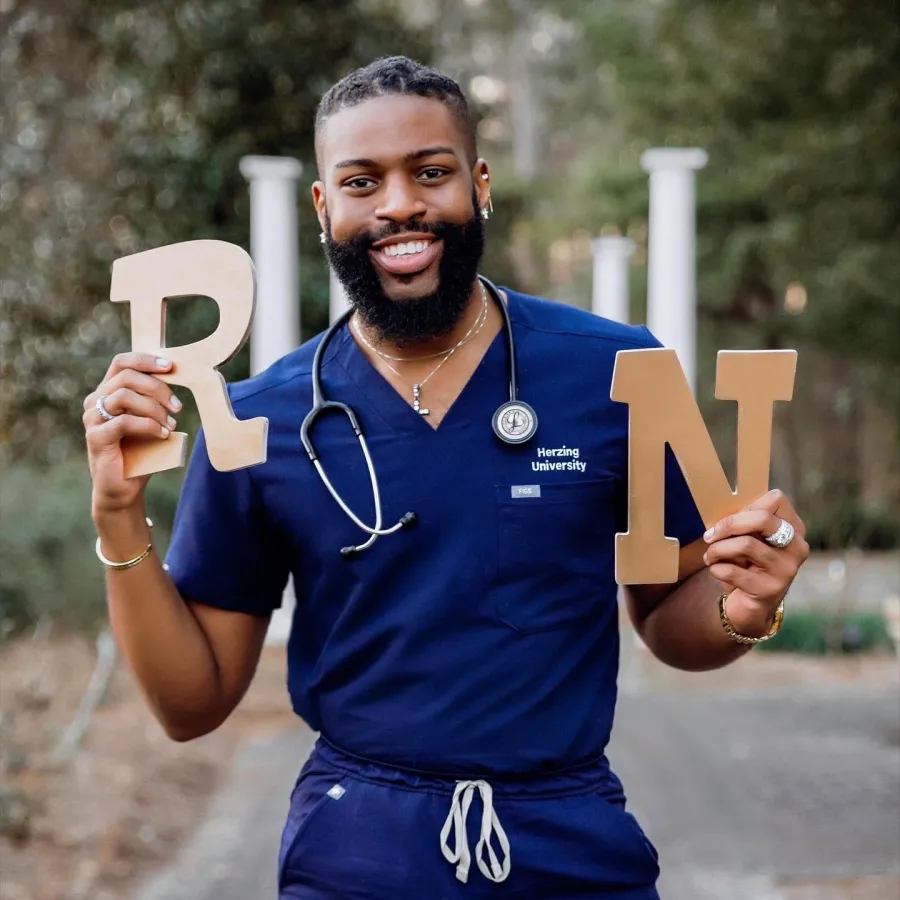 Asi Ituen
Herzing Alumni
Asi Ituen enrolled in the Bachelor of Science in Nursing (BSN) program at Herzing University's Atlanta campus after high school. He was inspired to follow in the nursing footsteps of both his mother and grandmother.
He was drawn to Herzing because the BSN program could be completed in three years, rather than the 4-year programs at other schools he researched. He started classes in January 2017 while also working full time as a certified nursing assistant (CNA). 
"I was pretty anxious about starting nursing school because I knew it was going to be unlike anything I had done before," Asi said. "I was also the youngest person in my classes. I looked around and saw parents and others who were juggling so much more than me, and it motivated me to take my studies seriously."
His core nursing classes were challenging, but Asi leaned on the support of his family and classmates. Near his final semester, he started to worry about taking the National Council Licensure Examination (NCLEX).  
"I took some time off work and cut off social media to hit the books," Asi said. "I also reached out to my classmates for help with studying, as we had become like family throughout the program." 
He also found support in Ayana Emory, the director of career development at Herzing's Atlanta campus. She helped Asi and his classmates prepare to enter the workforce by encouraging them to complete their resumes, create LinkedIn profiles and apply for jobs.
"She was very hands-on and did wonders for me," he said. "I was nervous about job interviews, so she even set up mock interviews with me to help me practice and prepare."
Asi passed the NCLEX and got hired as a registered nurse (RN) in the medical surgery unit at a downtown Atlanta hospital in early 2021. 
"At Herzing, I had completed three medical-surgery clinicals, so now I feel like I know what I'm doing on the floor thanks to that experience," he said. "The adjustment wasn't too hard for me, and I'm enjoying applying what I learned in school to real-life situations."
As a Black man, he's also happy that he's able to help diversify the nursing workforce. 
"It's important for patients to feel comfortable and feel like their caregiver understands them," he said. "It's easier to build trust and ultimately leads to better health outcomes for the patient." 
His advice for aspiring nurses is to study "because it gets hard." 
"Don't procrastinate, don't make excuses and lean on your support system," Asi said. "Listen to your professors and then really dig into the material until you understand it."
Looking back, Asi knows he made the right decision by going to Herzing. 
"Herzing isn't a traditional college, and I'm grateful for that," he said. "Being with a group of focused, dedicated adults in my cohort pushed me and helped me grow."