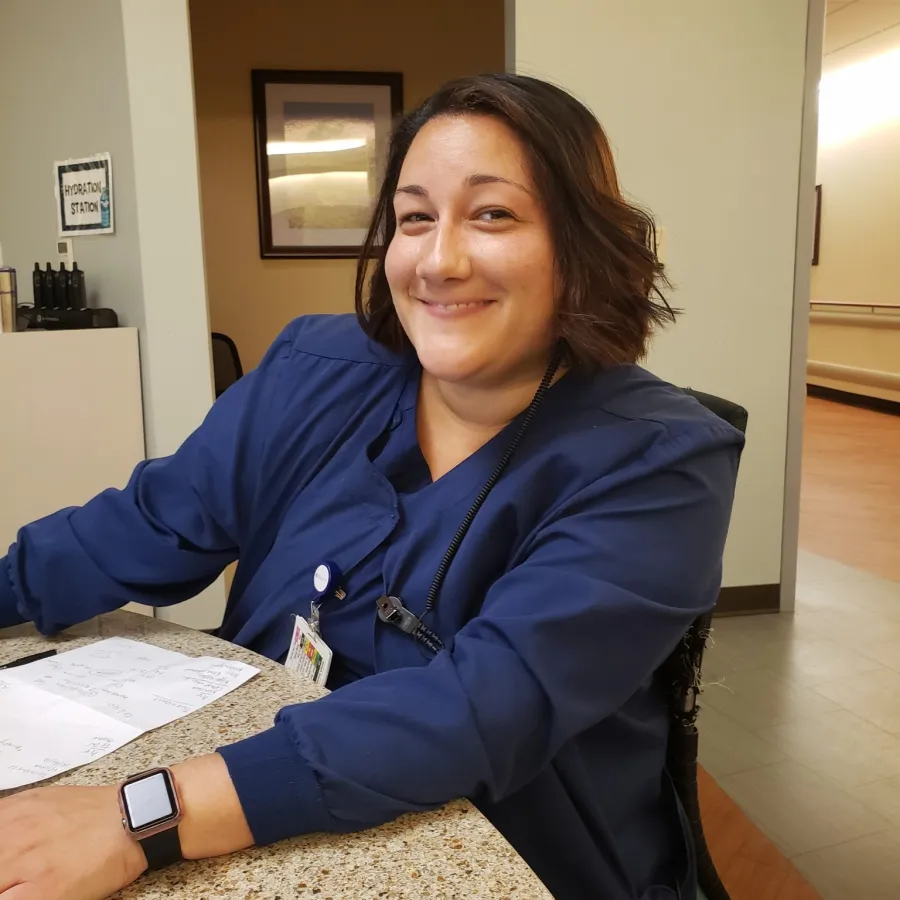 Melissa Rios
Herzing Alumni
Melissa Rios wasn't sure she had what it took to become a nurse. She thought her learning disability would hinder her in nursing school, so she chose an "easy degree" the first time she went to college.
It wasn't long after graduating that she felt a calling to do something different. She hadn't been able to find a job using her degree and working at a call center wasn't fulfilling.
"I'm not doing this the rest of my life," Melissa told herself. "If I fail, I fail, but I want to follow my passion. I'm not going to let my learning disability determine my future."
In March 2015, she enrolled at a local college and started working toward her Associate of Science in Nursing (ASN). Just six months before graduating, the school abruptly closed and left Melissa with what she feared might be wasted time and no degree.
After hearing that Herzing would honor some of the credits she'd already earned, Melissa enrolled in the Bachelor of Science in Nursing (BSN) program at Herzing's Orlando campus in 2017. Herzing also provided a scholarship that covered her first semester.
She was thrilled to get back on track, but nursing school wasn't without its challenges.
"Nursing school is unlike any other educational program, and it's a completely different way of thinking," Melissa said. "There are a lot of gray areas in nursing school, and that was something I really struggled with. Herzing helped a lot - the professors truly care for their students."
Halfway through the nursing program, she failed a class. Instead of letting that define her, she accepted the challenge. She leaned on her Herzing nursing family, read books and reviewed thousands of practice questions until she couldn't absorb any more information. She started passing her courses with flying colors.
In 2018, Melissa graduated from Herzing University-Orlando with her BSN degree and passed the NCLEX on her first attempt. She took a position at Adventist Health as an ER grad nurse and quickly realized it wasn't for her, as it was tough to keep up with the critical care so early in her career. She then transitioned to an inpatient position in the same hospital as a Medical-Surgical Telemetry Orthopedic Nurse. She relied on her educational experiences to help guide her decisions and build her confidence as a new nurse.
Melissa's diverse clinical experiences in nursing school helped her decide what kind of nurse she wanted to be and what environment she'd like to work in. She completed her clinicals in a nursing home, a rehab center, and multiple units in a couple of different hospitals, including labor and delivery and transplants. She eventually found her passion for in-home care and now works as a Certified Nursing Assistant for Home Care Now in Lake Mary, Florida.
"Herzing prepared me for real-life nursing," Melissa said. "I learned how to adapt, think critically and be there for my patients."
For others interested in a nursing career, Melissa offers a few pieces of advice. "Choose a school that's accredited and takes the time to talk to people who have been there," she said. "Second, find a support system. You're going to need the consistent support of friends and family to get you through school."
"Most importantly," she stated, "is if you're struggling, reach out to whoever you can, including classmates, faculty and your loved ones."
"Don't let setbacks discourage you," she said. "Use failure to fuel your fire and return to your classes, assignments and exams with a vengeance."
In the future, Melissa hopes to earn a master's degree in nursing leadership or nursing education, but, for now, she plans to continue learning and grow as an RN.