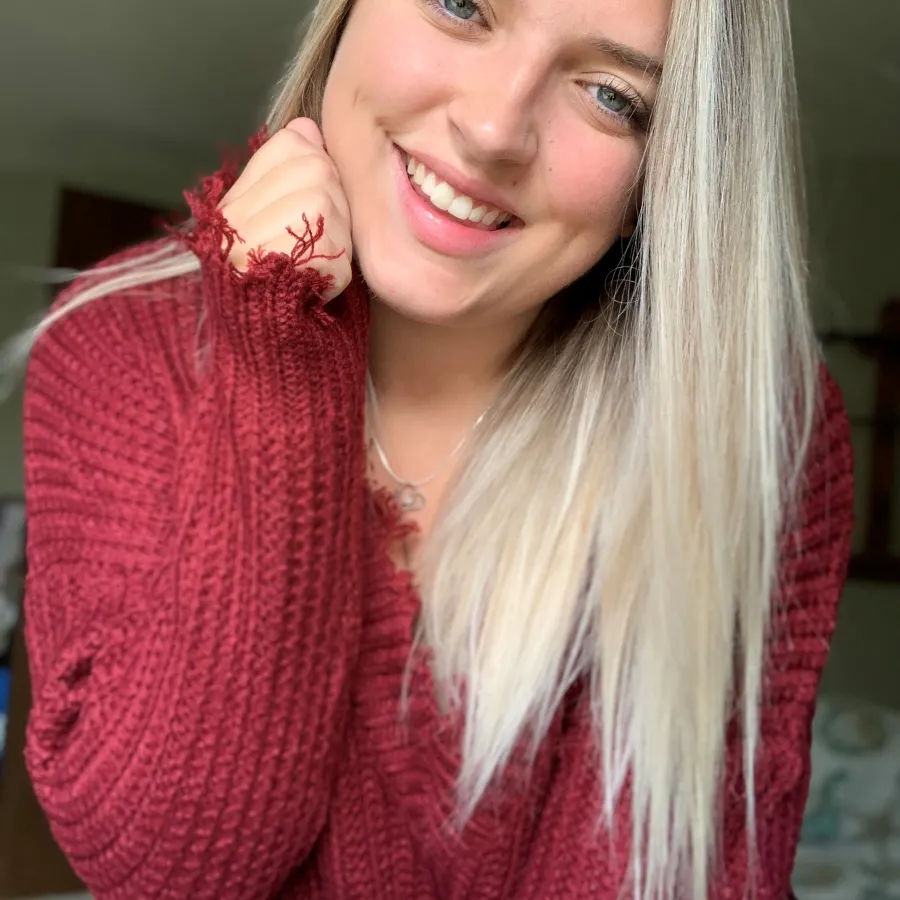 Samantha Sprasky
Herzing Alumni
Like many nurses, Samantha Sprasky first realized she wanted to go into the field after witnessing the quality of care and the comfort nurses provided to a loved one. In 2014, shortly after she graduated high school, Samantha's brother became very ill and was admitted to a children's hospital where he stayed for several weeks.  
"My brother went through the hardest time in his life, and the nurses that took care of him also tried to make his hospital stay as enjoyable as possible," Samantha said. "They spent time with him and made him laugh. When he came home, I helped take care of him, and that's when I truly knew I was called to become a nurse."
Not long after her brother was discharged from the hospital, Samantha started her healthcare career journey by becoming a Certified Nursing Assistant (CNA). Two years later, she decided to start the Bachelor of Science in Nursing (BSN) program at Herzing's Kenosha campus while working full time. 
While in school, Samantha completed several clinical experiences, including one at a local medical center in Kenosha – an employer she had her eyes set on.  
"I knew I wanted to work there, so I worked hard to make an impression on the nurses and managers," Samantha said. "I always made sure to check in with them and ask 'how can I help?'"
After finishing her clinical experience, which included working in the medical, surgical and oncology units, Samantha was hired as a CNA – one step closer to her goal. She trained to work as a CNA in every department at the hospital, which proved helpful later on. During her final year at Herzing, Samantha took a nurse externship in addition to working as a CNA and going to school full time. 
While it was a lot to balance, Samantha's passion for nursing and her instructors helped fuel her through it. 
"I liked the small class sizes at Herzing and the fact that the instructors really got to know the students," Samantha said. "They would make themselves available whenever we needed help, and I still talk to many of them now."
Samantha graduated in fall 2019, passed the NCLEX and was immediately hired as a full-time registered nurse (RN). Because she already had experience working across units and floors within the hospital, she was assigned to the "float pool" and works wherever they need her most. 
"I love being in the float pool because I get to care for everyone," she said. "I can be in the women's health unit one day and in cardiology or neurology the next. It's a special opportunity for a new grad."
Now, amidst the COVID-19 pandemic, Samantha has been working in her hospital's dedicated coronavirus unit. She said it's been an interesting experience. She's learned a lot by working closely with pulmonary and infectious disease doctors. She's also become more comfortable communicating with patients' families who are not allowed to visit patients.   
"I never want a patient's family wondering how their loved one is doing or what the plan of care is because they couldn't be in the hospital with them," Samantha said.
That same thoughtful nature and passion for nursing led a patient's family to nominate Samantha for a DAISY Award this year. The DAISY Award recognizes nurses for the work they do for their patients and families.  
"It means so much to me that this family went out of their way to express their gratitude to me for doing what I love," she said. "I truly wasn't expecting this during my first year as a nurse."
Looking ahead, Samantha said she's considering Herzing's BSN to MSN program option, especially since she has already earned a few credits toward her master's degree through Herzing's dual credit offering.
"I'm still learning new things every day and identifying what my strongest skills are," Samantha said. "I'll use this information to help me decide which MSN program I'm best suited for when the time comes. Until then, I'll keep focusing on taking care of people and providing the best care possible, like my brother was cared for."