1. Know sterile processing's central role
The sterile processing department in a hospital is commonly referenced as the "heartbeat" of the hospital.
Just as the heart is the delivery hub for oxygen and nutrients for distribution throughout the body, the central service department is where surgical instruments and medical devices are decontaminated, inspected, reassembled, sterilized and packaged for delivery throughout the hospital.
Surgeons, doctors, nurses and medical staff can't do their jobs without the many sterilized tools and instruments needed to care for patients—just how the brain, lungs and other organs can't function without a dependable beating heart.
What does a sterile processing technician do?
Sterile processing techs ensure medical instruments are properly inspected, cleaned, and sterilized for use across a hospital, clinic, physician's office or other healthcare institution.
Technicians typically work in a Sterile Processing Department (SPD) in a hospital, sometimes called a Central Sterile Services Department (CSSD) or Central Supply Department (CSD). Sterile processing is a fast-paced, technical and detail-oriented job requiring high focus and clear collaboration with other medical staff.
Techs must follow strict processes for different types of equipment, using computers to track progress and provide verification that all instruments are accounted for and properly serviced.
Sterile processing techs do not work directly with patients, but their work is imperative to ensure every patient achieves positive health outcomes.
This can be a great starting point for more introverted personality types looking to quickly begin a new career path, become comfortable in a hospital environment, build valuable skills, and truly help those in need.
2. Get educated in sterile processing
While earning a college degree or professional certificate is not always a requirement to find work as a sterile processing technician, it's difficult to step into a job with no experience or foundation of knowledge in medical terminology, medical instruments or sterilization processes.
A sterile processing department can be an intimidating place for those new to the profession. You are surrounded by highly specialized instrumentation, machinery, and equipment; all of which you will need to be familiar with—with little margin for error!
The best way to prepare for success in your first entry-level job is to begin training in sterile processing.
Our 24-credit sterile processing diploma program is designed to help you build a strong foundation for success right from the start.
Build your medical vocabulary, learn to identify surgical instrumentation and become well-versed in the cycle of sterilization—and confidently step into your first job as a sterile processing technician.
Earn Professional Experience
3. Earn professional experience
After earning an education in sterile processing, the next step is to begin earning professional experience. It's time to find your first job!
Job postings for sterile processing technicians may only require a high school diploma or GED. By holding a diploma in sterile processing, you'll be in a great position to separate yourself from the rest and be truly qualified for the job rather than simply meet the minimum requirements.
After earning your first job and beginning to gain professional experience, you'll be walking the next path to becoming certified.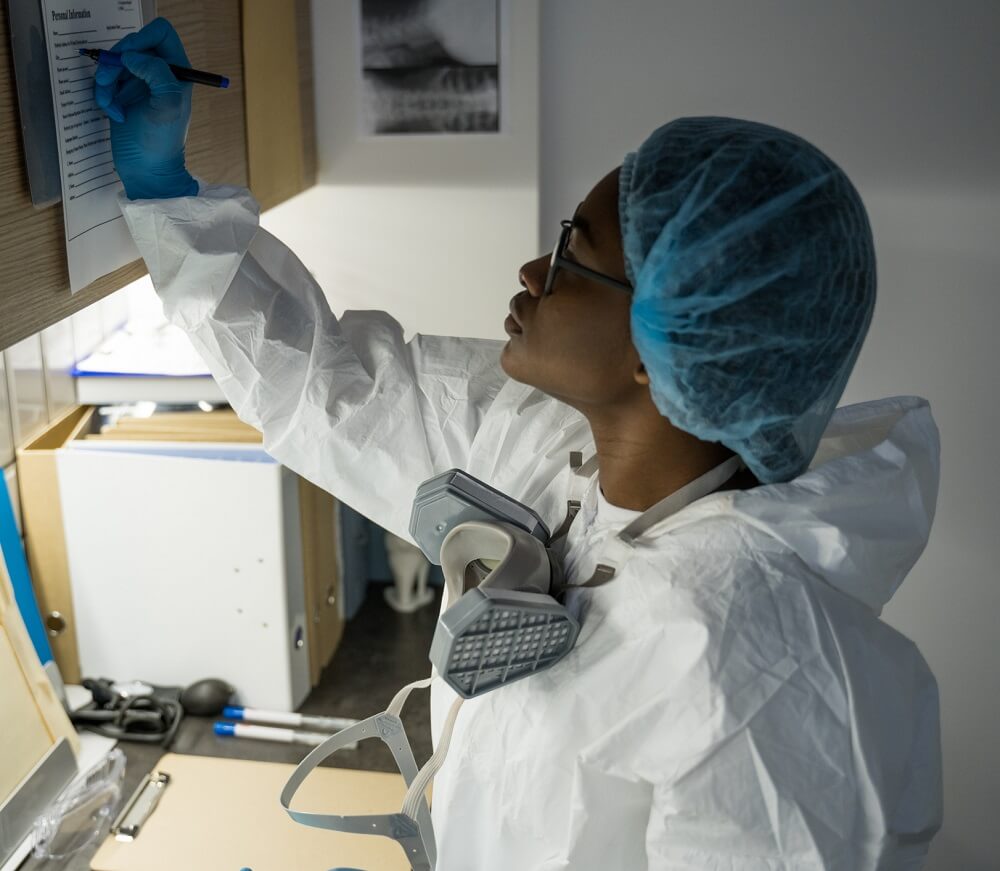 4. Get certified/licensed
Becoming certified is the best way to solidify your place in the field and continue your career pathway in healthcare.
Certification proves to employers you're highly competent in sterile processing, capable not only of succeeding in an entry level role as a tech, but growing into a reliable ongoing contributor for a sterile processing department.
Our diploma program helps you prepare for the Certified Registered Central Service Technician (CRCST) certification from the International Association of Healthcare Central Service Material Management (IAHCSMM).
Before sitting for the exam you'll need to earn at least 400 professional hours of experience–about 10 weeks.
After meeting the 400-hour threshold you'll be ready to sit for the CRCST exam.
How hard is the certification exam?
According to IAHCSMM, out of 8,289 CRCST exams taken in 2019, 77% passed the test. The exam is not a walk in the park! You'll need to be well-prepared both academically and professionally to pass the exam and become certified.
The computer-based CRCST exam is 3 hours, containing 150 multiple choice questions testing your knowledge of cleaning, decontamination, disinfection, patient care equipment, sterilization process, and more.
Get educated, study hard, and you'll be in the best possible position to pass the exam and become certified.
5. Continue your career and advance
As an experienced CRCST, you'll be well positioned for a sustainable healthcare career with many potential opportunities for advancement.
Besides climbing the ladder within a sterile processing department and adopting more senior responsibilities, sterile processing technicians can potentially work towards becoming a surgical technologist, which requires an associate degree in surgical technology.1 Those who earn a sterile processing diploma now may transfer that credit into a surgical technology program and greatly decrease the time needed to earn a degree.
To qualify for job opportunities requiring a bachelor's degree, you may also choose to pursue a bachelor's degree in health sciences in the future.
We want to help you reach your highest career goals in healthcare. Take your first step with Herzing University and make your new career path possible.
1. The Herzing Associate of Science in Surgical Technology is currently available at our New Orleans campus.
---
* Bureau of Labor Statistics (BLS), U.S. Department of Labor, Occupational Outlook Handbook 2020. BLS estimates do not represent entry-level wages and/or salaries. Multiple factors, including prior experience, age, geography market in which you want to work and degree field, will affect career outcomes and earnings. Herzing neither represents that its graduates will earn the average salaries calculated by BLS for a particular job nor guarantees that graduation from its program will result in a job, promotion, salary increase or other career growth.
Classes Start July 11th
Learn More Today