Career possibilities in healthcare management
Healthcare is one of the fastest-growing industries today, featuring many different positions with unique educational requirements.
The field of healthcare management offers both a competitive salary and strong job growth, making it an attractive career choice for those interested in both healthcare and business.
Whether you are a healthcare professional looking to take the next step, or you are just beginning your healthcare career, a degree in healthcare management can help you unlock the door to many exciting career opportunities.
According to the Bureau of Labor Statistics (BLS), employment in healthcare management is projected to grow 28% from 2022-2032, as healthcare organizations strive to adapt to a changing healthcare landscape.* Hospitals and other healthcare organizations will need additional healthcare management professionals to oversee patient and health services. This growth is due in part to an aging baby boomer population that has driven higher demand for healthcare services in recent years.
Data from the BLS shows the average salary for healthcare managers was $127,980 per year ($61.53 per hour) across the United States.* This projection is not a typical starting salary for recent graduates of a healthcare management program but is reflective of the national average. Salary will also vary according to state and experience level.
What jobs can you get with a healthcare management degree?
Many students choose to pursue a health administration degree in order to gain the business skills required for a management role in the healthcare field. Here are some potential jobs you could land with a bachelor's degree:
Healthcare Department Manager. Healthcare department managers oversee a specific department or team within an organization. They may oversee nursing, surgery or physical therapy departments and will have different responsibilities based on their specialty. If you already have work experience as a nurse or medical assistant, for example, becoming a healthcare manager is one way you can advance your healthcare career.
Healthcare Finance Manager. Healthcare finance managers are responsible for the day-to-day financial management of a healthcare organization or practice. Specific responsibilities could include managing cash flow, designing budgets and evaluating compensation. They might also track and report on the financial health of the organization or department. If you are interested in the business of healthcare and enjoy working with numbers, this could be a good fit for you.
Quality and Improvement Manager. As a quality and improvement manager, you would be responsible for ensuring that your organization complies with current care standards. You might also oversee the evaluation of current processes and determine areas for improvement. Some quality and improvement managers also lead workshops and training seminars to help other members of the healthcare team stay up to speed with best practices. In addition to earning your bachelor's degree, you will need several years of experience and additional certification to become a quality and improvement manager.
Healthcare Administrator. Healthcare administrators might manage one hospital or oversee an entire healthcare system. They are in charge of ensuring smooth operations and can also play a role in long-term planning for the organization. Healthcare administrators must have at least a bachelor's degree, but a master's degree in healthcare management is often required for continued career advancement. Nurses considering jobs in healthcare administration can also find unique administrative roles in nursing departments, although specialty degrees such as a Master of Science in Nursing Leadership and Administration can help you qualify best for these roles.
Physician Practice Manager. Physician practice managers lead a healthcare organization's business strategy. Specific responsibilities include managing budgets, developing new strategies to grow the business, and overseeing day-to-day operations. Many employers prefer candidates to have a master's degree in healthcare or business management for these roles.
You can expect these kinds of positions to require applicants to have an associate degree in healthcare administration or management:
Administrative Support Specialist
Administrative Coordinator
Medical Secretary
Patient Service Representative
Operations Assistant
Your day-to-day tasks will include working and communicating with medical personnel to facilitate the everyday options of the institution, including staffing, patient relations, inventory control and scheduling.
If you're interested in the field of health information technology, you may also consider the health information management career pathway. Learn more about how to become a health information manager, including typical job responsibilities, certifications, and unique degree requirements.
What type of degree do I need?
Healthcare management is a deep and growing field and Herzing University offers three levels of education in healthcare management to offer students a personalized career path catered to their professional goals. Each program may be completed online and opens a variety of different career paths: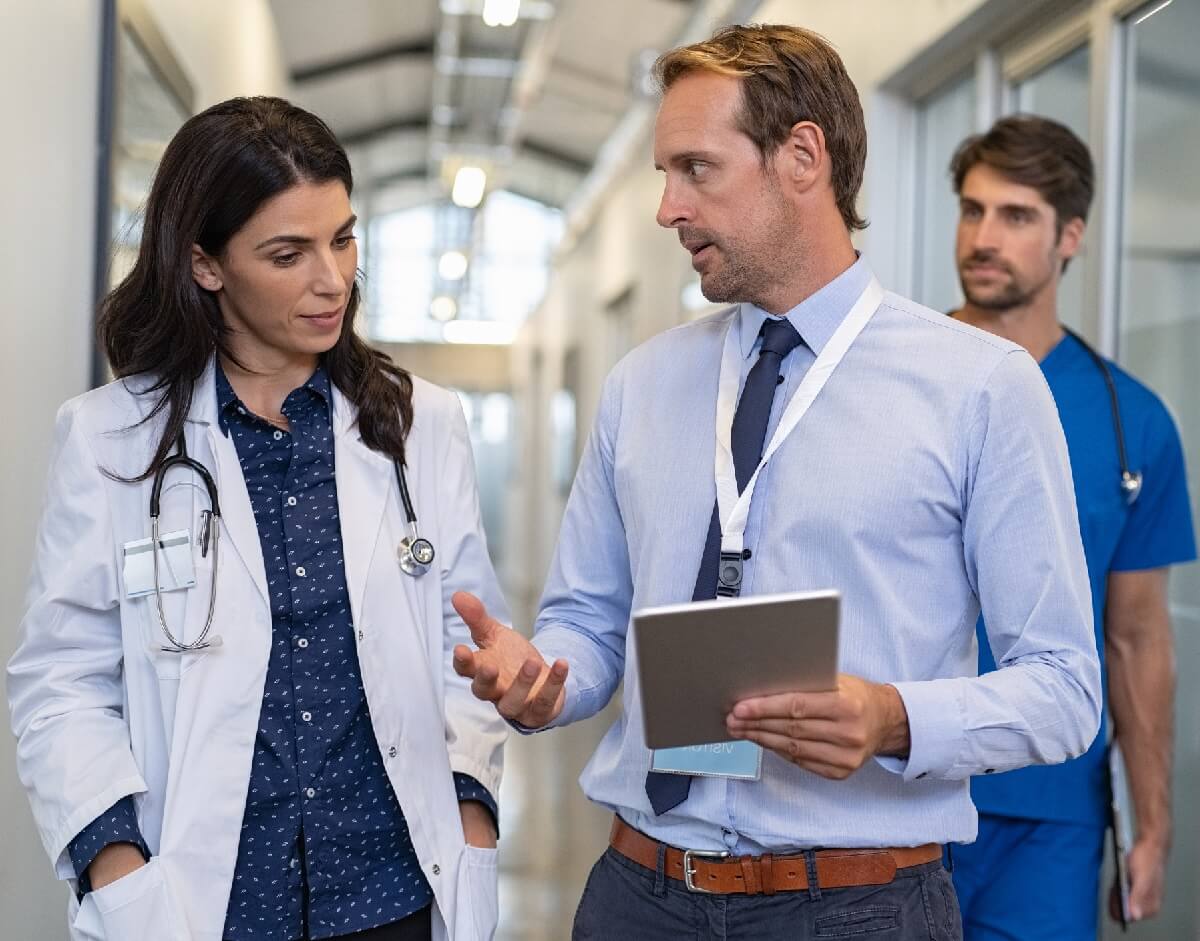 Do I need an MBA?
If you are currently a healthcare professional looking to make the jump from clinical practice to management, an MBA in Healthcare Management is the best track for you. Through an MBA program, you will gain the specialized knowledge and expertise in modern healthcare issues, trends and tools that you need to succeed in upper-management roles. Earning your master's degree in business administration can qualify you for leadership roles in healthcare management, including:
Healthcare Administrator
Healthcare Consultant
Healthcare Manager
Program Director
Chief Executive Officer (CEO)
Chief Operations Officer (COO)
Chief Compliance Officer (CCO)
Development Director
Several years of experience working in the healthcare industry plus an MBA in Healthcare Management will make your resume jump out to potential employers.
As a healthcare manager, you'll learn the inner workings of the healthcare system. Your management skills will allow you to serve as a competent and capable leader, helping hospitals, small practices, insurance companies and a variety of other institutions navigate the changing healthcare environment.
What skills do you need?
Being successful in the field of healthcare management requires strong leadership qualities and management skills. As with any leadership position, excellent oral, written and interpersonal communication skills are also necessary.
If you are interested in learning more about the business side of healthcare and enjoy thinking strategically and making important decisions, healthcare management could be the right career path for you.
If you're interested in pursuing a leadership role within the healthcare industry, healthcare management could be the right path for you.
---
* Bureau of Labor Statistics (BLS), U.S. Department of Labor, Occupational Outlook Handbook 2022. BLS estimates do not represent entry-level wages and/or salaries. Multiple factors, including prior experience, age, geography market in which you want to work and degree field, will affect career outcomes and earnings. Herzing neither represents that its graduates will earn the average salaries calculated by BLS for a particular job nor guarantees that graduation from its program will result in a job, promotion, salary increase or other career growth.
Classes Start January 8th
Learn More Today