Banner Image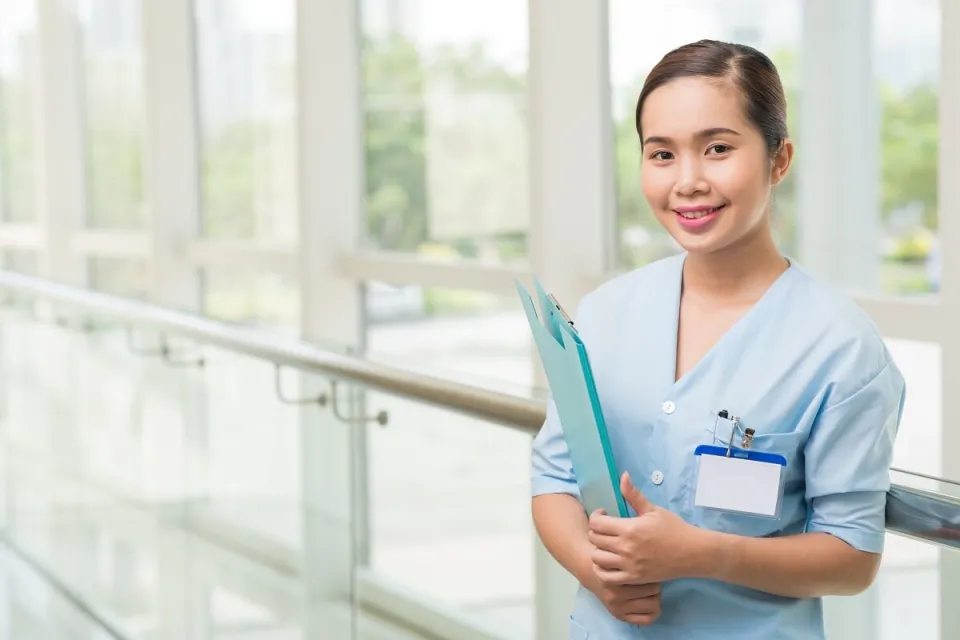 Working in healthcare can lead to a very rewarding career. If you are looking for a fast way to start your career in healthcare, you might consider becoming a medical assistant. Medical assistants are an important part of the medical field and can help in both administrative and clinical roles in a healthcare facility.
Medical assistants are in demand according to the Bureau of Labor Statistics (BLS), who projects 14% growth between 2022-2032. If you are interested in pursuing your medical assisting diploma or degree, now is a great time to start your education.*
Typical medical assistant duties, roles and responsibilities
If you are the type of person who loves a lot of variety in their work, then medical assisting could be the career for you! Medical assistants have a variety of responsibilities that differ according to practice. They work on many levels of patient care, from their interactions before an appointment to assisting with direct patient care. Some of their responsibilities include, but are not limited to:
Recording patient history and personal information
Scheduling patient appointments
Assisting patients as they first enter the office
Process insurance payments
Measure vital assigns such as taking blood pressure, pulse and respiration
Set up exam rooms for examinations
Gathering patient information such as billing and contact information
Drawing blood and pregnancy tests
And making sure the patient is comfortable during an appointment
While a medical assistant's daily routine can differ greatly depending on the type of medical assistant job, having attention to detail, a professional manner and caring can help you have a successful career.
How do these duties differ from other positions?
Because of the diverse role that medical assistants play in healthcare, they are often mistaken for licensed practical nurses (LPN), physician assistants or nursing assistant. Although there is some overlap in responsibilities, medical assistants are their own unique profession. Medical assistants usually work in medical facilities where LPNs and nursing assistants usually working in hospitals and nursing facilities.
Medical Assistant vs. LPN
Both LPNs and medical assistants work under a practicing doctor or nurse. Medical assistants may help administer medication and assist a doctor during an exam, which is like LPNs, but they have differing responsibilities. In some states, LPNs can insert catheters, administer intravenous drips and even assist in the delivery of an infant. Medical assistants carry have a more administrative role especially as healthcare organizations adopt an electronic health record (EHR).
There is also a vast difference in educational requirements. In order to become a nurse, you will have to not only complete a nursing program, but also sit for some form of the National Council Licensure Exam (NCLEX) either for practical nurses or for registered nurses (RN) in order to become a nurse. While a medical assistant can become a nurse with additional education and licensure, the medical assisting program at Herzing does not directly transfer into any nursing programs.
There are also other requirements to become a medical assistant. While it is not required, some medical assistants will choose to become certified in order to give themselves more competitive leverage in the job market. Medical assistants are eligible to sit for the Registered Medical Assistant (RMA) or Certified Clinical Medical Assistant (CCMA) exam. Herzing University will even pay for the first attempt for medical assisting graduates.
Medical Assistant vs. Physician Assistants
Physician assistants work directly under a practicing physician although their specific duties can vary greatly according to practice, physician and state. One major difference between medical assistants and physician assistants is that physician assistants can examine, diagnose and treat patients sometimes in the absence of a physician. While medical assistants can offer support, they do not act in the place of a physician.
Medical Assistant vs. Nursing Assistant
A nursing assistant plays a more direct role in patient care by providing basic care to patients usually in hospitals and long-term care facilities. They assist with dressing and grooming, deliver patient meals and sometimes help patients eat and drink. While medical assistants will help with patient care, their role generally functions under a physician, such as sterilizing medical equipment and helping patients who come into a medical office.
Some nursing assistants may have to complete a CNA program approved by their state and complete a final certification exam before being registered to work in nursing homes and long-term care facilities. In some states, passing this exam allows them to become certified nursing assistants (CNAs) but other states require additional education and licensure.
How do I become a medical assistant?
You can become a medical assistant by choosing your degree, getting certified and gaining work experience.
Some employers of medical assistants may require either a diploma in medical assisting or an associate degree in medical assisting. Both degrees are a fast way to enter the healthcare industry and learn basic skills to develop a successful career.
At Herzing University, you can earn your diploma in medical assisting in as few as 10 months and will qualify you for some entry-level positions. Some students will opt for the associate degree in medical assisting program which can be completed in as little as 16 months. Earning your associate degree can provide for better job opportunities in medical assisting, but may also provide for more clear educational pathways later such as a Bachelor of Science in Healthcare Administration, or even going from MA to registered nurse.
According to the BLS, medical assistants most commonly work in physicians' offices, hospitals and outpatient care centers, but they are not limited to only working in these environments. If you are someone who likes a lot of change and travel, then you might consider becoming a traveling medical assistant. Traveling medical assistants will work in a variety of different locations depending on when and where they are needed.
---
* Bureau of Labor Statistics (BLS), U.S. Department of Labor, Occupational Outlook Handbook 2022. BLS estimates do not represent entry-level wages and/or salaries. Multiple factors, including prior experience, age, geography market in which you want to work and degree field, will affect career outcomes and earnings. Herzing neither represents that its graduates will earn the average salaries calculated by BLS for a particular job nor guarantees that graduation from its program will result in a job, promotion, salary increase or other career growth.
Classes Start October 30th
Learn More Today