Banner Image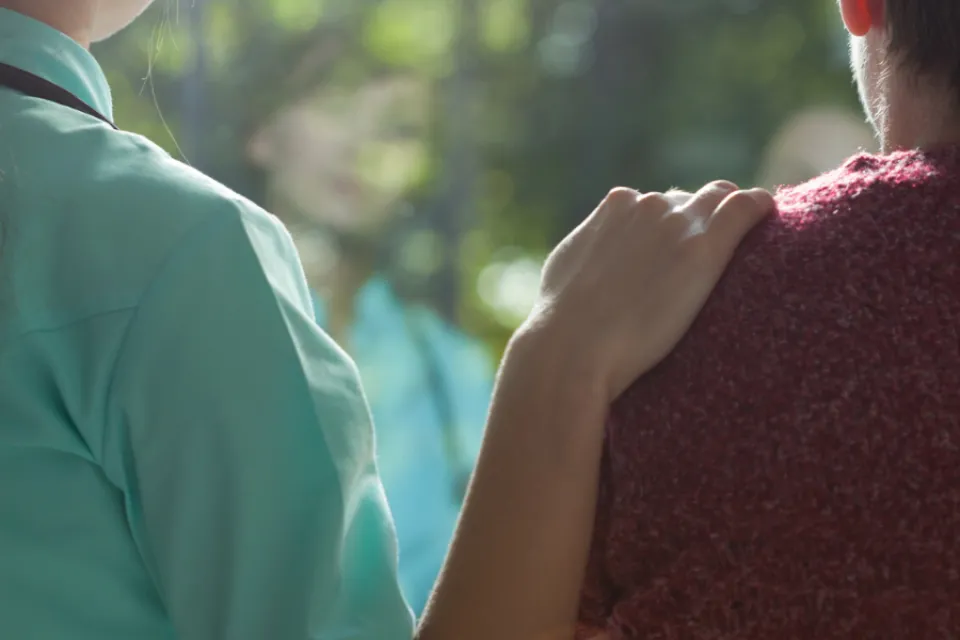 One in five U.S. adults live with some level of mental illness and the number is expected to grow, according to the National Institute of Mental Health. As a result of this increasing need, the American Psychiatric Nurses Association (APNA) predicts that the country will need an additional 250,000 mental health professionals within the next five years.
Psychiatric-mental health nurse practitioners (PMHNP) are one of the nursing professionals that support and care for patients suffering from mental health conditions. Here's what you should know about PMHNPs and how to become one.
What is a psychiatric-mental health nurse practitioner?
A PMHNP provides aid and treatment for those with mental health conditions and/or substance use disorders. Their tasks include assessing, diagnosing and treating the mental health needs of a patient. This can be done through types of therapy or prescribed medications and require physical and/or psychosocial evaluation of patients.
Some common conditions they are known for treating include anxiety, depression, insomnia, dementia, substance abuse and much more.
What skills are needed as a psychiatric mental health nurse practitioner?
There are several skills PMHNPs need to be successful in their field such as:
Interpersonal skills: As a PMHNP, you will work closely with clients who are in a vulnerable state. It is your job to help patients feel safe and supported as they undergo treatment, which requires outstanding interpersonal skills. Empathy, warmth and engagement are examples of some of the communication techniques you will need when working with someone struggling with a mental health condition.
Patience: PMHNP jobs demand a significant amount of sensitivity and patience. Treating patients with mental health conditions can be challenging due to situations such as uncooperative clients and difficulties in diagnosing complicated conditions. Part of a PMHNP's job can include individual counseling and depending on the severity of the situation, may be required to help dress and groom patients.
Organization: PMHNPs are tasked with creating individual care plans for every patient while also working with primary doctors to ensure every treatment is communicated and correctly carried out. Having an organized system can simplify a PMHNP's responsibilities and is needed in a hectic work environment like a hospital or other healthcare facility.
Where do psychiatric mental health nurse practitioners work?
PMHNPs can work in various healthcare sites with patients ranging from children to the elderly. Many PMHNPs work in private practices or hospitals, but PMHNPs can also find opportunities in correctional facilities, home healthcare organizations, mental health facilities and schools that offer mental and emotional support for students. How much psychiatric nurse practitioners make can vary based on the type of institution they work for.
How do you become a psychiatric mental health nurse practitioner?
Typically to become a PMHNP, students must complete an associate's degree in nursing (ASN) or a bachelor's degree in nursing (BSN), a nursing master's or doctoral degree program and a certification exam.
Herzing University offers multiple online psych NP programs for students interested in becoming a PMHNP. Our new, online Master of Science in Nursing – Psychiatric Mental Health Nurse Practitioner (MSN-PMHNP) program is designed for nurses with a BSN. With this program, not only will students graduate with a Master of Science in Nursing (MSN) and a PMHNP concentration, but they'll also qualify for the Board Certified PMHNP (PMHNP-BC) exam. The program is designed to be completed in about 24 months and allows students to learn at a pace that works for them and their schedules.
The program is also available as an RN to MSN-PMHNP pathway for registered nurses who hold an associate degree.
Current master degree holders may consider our post-master's PMHNP certificate program to transition into this new specialty in less than two years.
No matter where you are in your nursing career, Herzing offers an online educational pathway for you to take the next big step.
To learn more about all of Herzing University's nursing pathways, visit the nursing programs page!
---
* Bureau of Labor Statistics (BLS), U.S. Department of Labor, Occupational Outlook Handbook 2022. BLS estimates do not represent entry-level wages and/or salaries. Multiple factors, including prior experience, age, geography market in which you want to work and degree field, will affect career outcomes and earnings. Herzing neither represents that its graduates will earn the average salaries calculated by BLS for a particular job nor guarantees that graduation from its program will result in a job, promotion, salary increase or other career growth.
Classes Start January 8th
Learn More Today